This moist and flavorful bakery-style caramel apple bread is glazed with a thick and crunchy caramel icing. It's bursting with cooked, juicy apples and warm, fall flavors. The perfect bread for Thanksgiving or Christmas dinner!
Is there a reason why you wouldn't want to glaze your apple bread with caramel icing? My answer is no, and luckily, most of you think the same way I do – I know this because yesterday when I asked you on Instagram to-glaze-or-not-to-glaze, your answer was yes almost unanimously. Great answer! That's why I love you guys so much.
Let's talk about caramel apple bread!
This apple dessert recipe is a classic recipe, the kind you'll be happy to find in any bakery. It's bready and crusty but also moist and tender. It's full of flavor with bits of apples.
How do you make caramel apple bread?
Apple bread is a quick bread, and therefore, very easy to make.
Mix all the dry ingredients in a bowl, including the flour, salt, spices, and baking soda.
In a separate bowl, combine the wet ingredients and simply combine the two together with a rubber spatula.
Lastly, fold in the apples.
Pour the batter in a parchment-lined loaf pan and bake for about an hour at 350F degrees.
How to make the caramel glaze
Unlike my classic recipe for caramel which requires you to caramelize sugar on the stovetop, this recipe is made simply by combining and heating brown sugar, butter, and cream.
Combine the brown sugar, butter, and cream in a pot on the stove and bring to a boil. Cook for about 2 minutes and turn off the heat.
I let the caramel mixture cool slightly and then add powdered sugar. The sugar helps to get that old-fashioned sweet, thick, crunchy glaze.
Once the bead is out of the oven and cooled, pout the glaze over the top and let it set.
What kind of apples should I use for apple bread?
That depends on your taste. One of my favorites and go-to apples for any baked recipe is Granny Smith. It's tart and tangy with a firm texture that doesn't get mushy after cooking like some other types of apples. In my cake and apple recipes, I usually use a combination of sweeter apples, like Pink Ladies, with Granny Smiths to get a more complex flavor and texture.
Other firm apples that retain their shape after cooking are Jonathan or Jonagold (they are between sweet and tart), Braeburn which has a spicy-sweet flavor (but I prefer using it in pies), Gala and Honey Crisp. Gala is a crispy apple and it's wonderfully sweet. Honey Crisp is quite firm and more sweet than tart, so it's great when combining with other apples.
Softer and sweeter apples I really like are Pink Lady and Golden Delicious. While I love Golden Delicious apples because they are deliciously sweet, the flesh doesn't stay as firm as some other types of apples when baked. I did try to bake my bread with them, and it was delicious.
More of the best apple dessert recipes: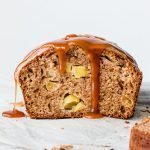 Caramel Apple Bread
---
Ingredients
1¾

cups

(250 g) all-purpose flour

2

teaspoons

baking powder

¼

teaspoon

baking soda

½

teaspoon

salt

1

teaspoon

ground cinnamon

1

cup

(200 g) granulated sugar (replace up to half with brown sugar)

2

large eggs

1/3

cup

(80 ml) flavorless oil such as canola

1

teaspoon

vanilla extract

3/4

cup

(180 ml) yogurt

1

large apple

(or 2 small ones), peeled and chopped into cubes
Glaze:
3/4

cup

(150 g) brown sugar

1/3

cup

(80 ml) heavy cream

3

tablespoons

(40 g) unsalted butter

1-2

tablespoons

powdered sugar
Instructions
Preheat oven to 350F/175C. Grease a 9x5-inch loaf pan.

In a large bowl mix together flour, baking powder, baking soda, salt, cinnamon, and sugar.

In a medium bowl whisk the egg, then add oil, vanilla extract and yogurt until combined. Pour the wet ingredients into the dry ingredients and mix just until combined. Fold in the chopped apple. Pour the batter into prepared loaf pan.

Bake for 50-60 minutes until a toothpick inserted into the center of the bread comes out clean. If the top is getting too brown while baking, cover pan loosely with aluminum foil. Allow to cool completely in the pan on a wire rack.

To make the glaze: In a medium saucepan, mix together sugar, heavy cream, and butter and bring to a boil. Reduce the heat to medium-low and let the mixture simmer for 1-2 minutes, whisking occasionally. Remove saucepan from the heat, and let cool slightly. Add 1 tablespoon powdered sugar and whisk until smooth and combined. Mixture should be thick, if it's still liquid, add another tablespoon until thick but pourable. Spread caramel mixture evenly over the bread.

Bread can be stored in an airtight container at room temperature for 3 days or in refrigerator for 5 days. Serve at room temperature.