Soft and airy buns with just the right amount of chocolatey flavor.
The way I see it, the world of sweets is divided into two main groups: the chocolate ones, and the non-chocolate ones. While I do see the appeal of both groups, I'll always prefer the chocolate version of anything, and if there is no chocolate version, I'll make sure to create one myself. So today instead of classic buns we're making chocolate buns.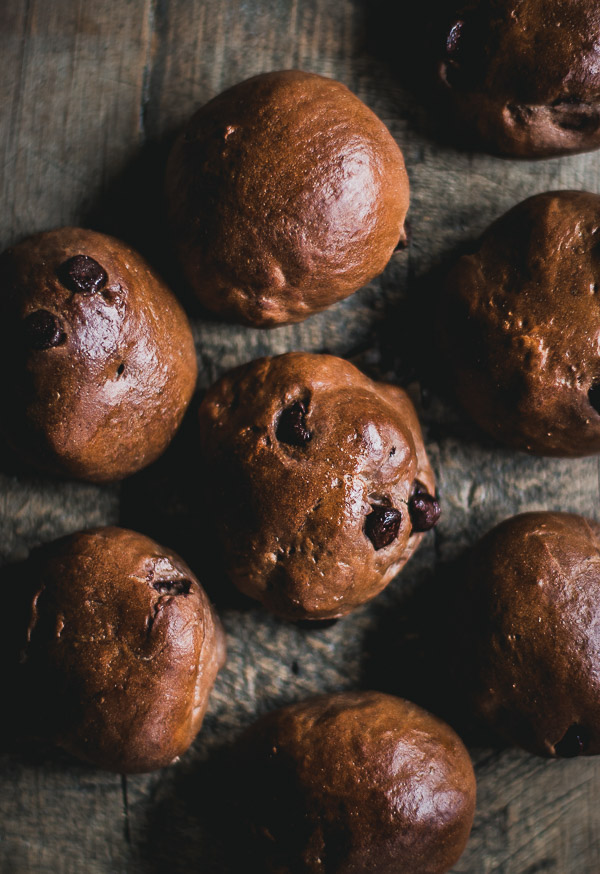 To make these chocolate buns, I took my simplest bun recipe and added cocoa and chocolate chips to it. In my experiments, I started with much more cocoa powder and chocolate for a deep chocolate flavor, but it resulted in too-dense buns, so I cut down the amount. I also added more sugar, because I can. The buns have a subtle yet noticeable flavor of chocolate that is perfect if you plan on eating four in a row like I did. They are unbelievably soft, and almost melted in my mouth when they were fresh from the oven. They are my new special treat to bring to brunches as both kids and adults go crazy for them.
Chocolate Buns
---
Ingredients
3½

cups

(500 g/17.5 oz) all-purpose flour

3

tablespoons

(20 g/0.7 oz) cocoa powder (I use Dutch process)

6

tablespoons

(75 g/2.7 oz) granulated sugar

2¼

teaspoons

(7 g/0.25 oz) instant yeast

1½

teaspoons

salt

1

cup

(240 ml) water, lukewarm

¼

cup

(60 ml) whole milk, lukewarm

1/2

stick

(55 g/2 oz) unsalted butter, cubed and softened to room temperature

2/3

cup

(100-120 g) chocolate chips or chunks
Instructions
Place flour, cocoa powder, sugar, and yeast in the bowl of a standing mixer and mix until combined, then stir in salt. Attach the dough hook and add water, milk, and butter. Mix on low-medium speed until dough comes together, 2-3 minutes, then continue mixing for another 7 minutes, until dough is soft and elastic and pulls away from the sides of the bowl. Add chocolate chips and keep kneading for a few more seconds until combined.

Place dough in a large bowl brushed with oil, and toss to coat (the fat will keep the dough from drying out). Cover with plastic wrap and let sit in a warm place or on the counter for 1.5-2 hours, or until doubled in size.

When the dough has risen, gently punch it to remove air. Divide the dough into 20 equal portions (each weighing about 50 grams) and shape each one into a smooth ball. Arrange on two baking sheets lined with parchment paper, keeping as much space between them as possible. Cover and let rest for 60 minutes or until again doubled in size.

About 20 minutes before baking, preheat oven to 350F/175C.

Bake buns for 15-20 minutes. Allow pan to cool on a wire rack for 5 minutes, then transfer buns to a wire rack to cool completely.

Serve warm or at room temperature.

Buns are best the same day they are made, but can be frozen for up to 2 months.