These garlic knots are super soft, airy, and fluffy, and they are full of buttery garlic flavor and aroma. They are always a hit at brunches or dinner parties.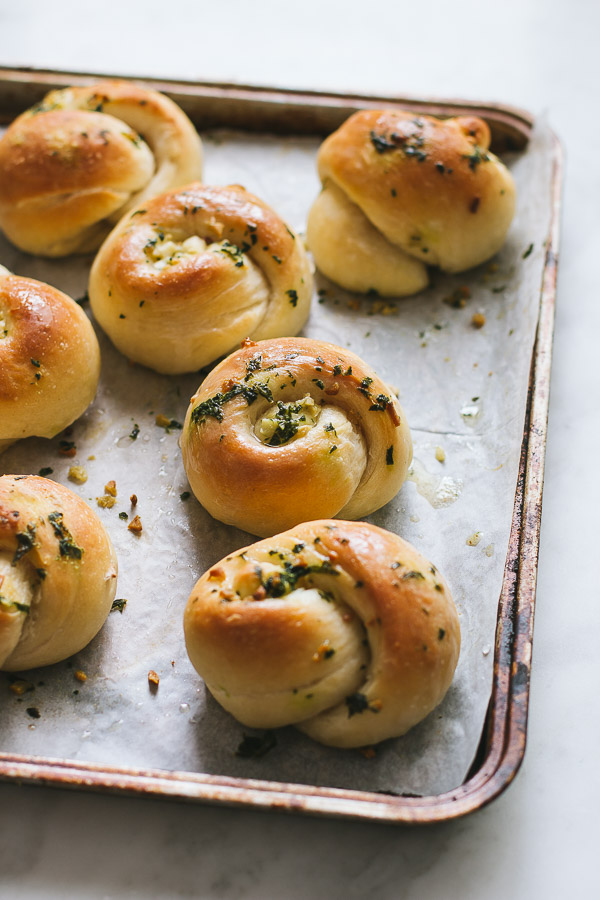 Last weekend we had a dinner hosted by our friends—the kind of dinner where you prepare yourself a week in advance, making lists and brainstorming recipes to figure out what to bring. Although I always promise myself that I won't work as hard for the next one or make as much food, I always do. And although I was surprisingly asked not to bring anything at the last minute, that wasn't really an option. It never is. So I brought a dessert – which, from experience, people expect me to bring even if they tell me not to – and these irresistible, fluffy, and delightfully garlic knots.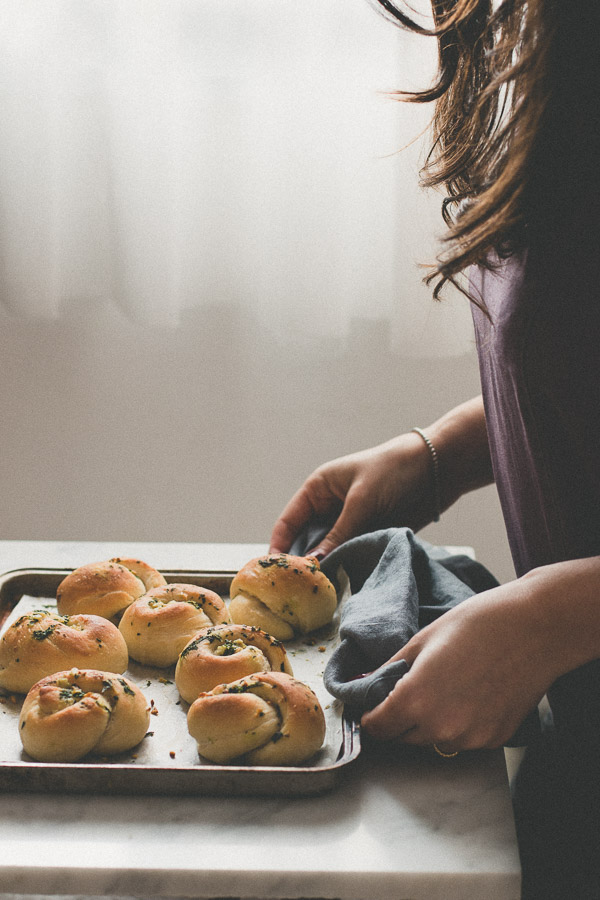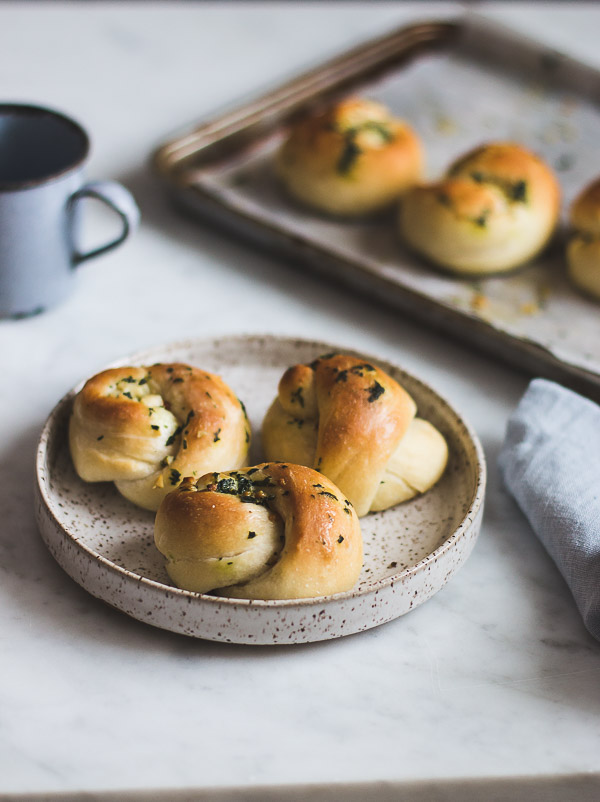 How to Make Garlic Knots
"Feel" your dough. If the dough feels too sticky you can add additional flour, one tablespoon at a time, but keep in mind that it shouldn't be dry. Just slightly sticky is perfectly fine. And, on the contrary, if the dough feels dry, add additional water.
There are two rising times, each of which takes about 45 minutes to 2 hours, so you will need to plan ahead. The warmer your house is, the faster the dough will rise. If it's cold, just be patient and it will eventually rise, or try to find somewhere like a slightly warm oven to place it.

The bread is brushed twice with a mixture of melted butter, garlic, and basil, once before baking, and then again 5 minutes before the baking time is done. You have no idea how good this stuff is!
These soft rolls have a noticeable garlic flavor, and since they are quite small, you can eat as many of them as you want!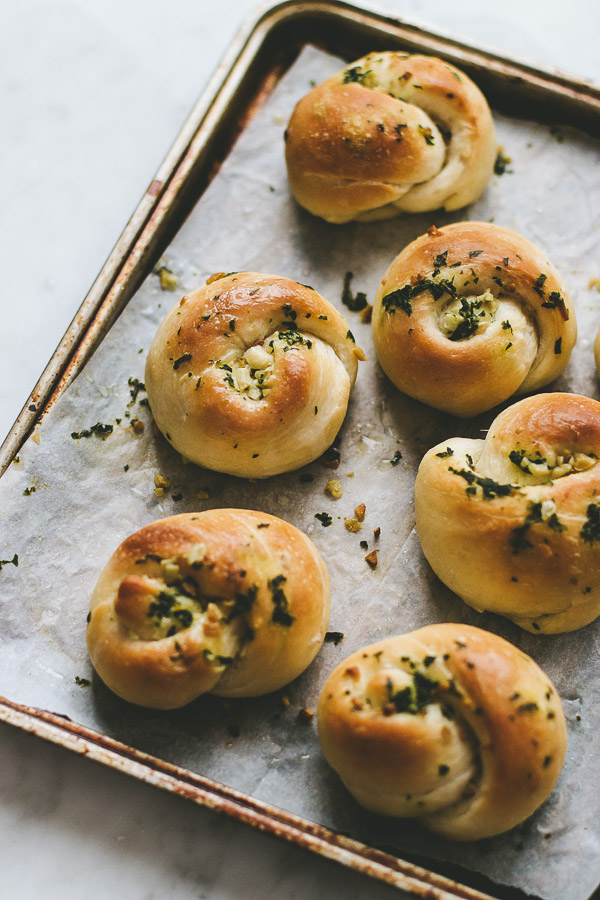 You may also like: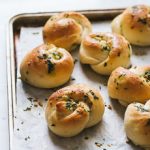 Garlic Knots Recipe
---
Ingredients
3

cups

(420 g/15 oz) all-purpose flour, plus more as needed

2

tablespoons

(25 g/0.9 oz) granulated sugar

2 and 1/4

teaspoons

(7 g/0.25 oz) instant dry yeast

1

cup

(240 ml) lukewarm water (110°F-115°F)

3

tablespoons

(45 ml) canola or olive oil

1 and 1/4

teaspoons

salt
Topping:
7

tablespoons

(100 g/3.5 oz) unsalted butter

5-6

medium garlic cloves

, minced

2

tablespoons

finely chopped basil leaves

Pinch

of salt
Instructions
Place flour, sugar, and yeast in the bowl of a standing mixer and mix until combined. Stir in Salt. Attach the dough hook to the mixer, then add water and oil and mix on low speed until dough comes together, 2-3 minutes. Continue mixing for another 8 minutes on low-medium speed until dough is soft and pulls away from the sides of the bowl.

Place dough in a large bowl brushed with oil, and toss to coat (the fat will keep the dough from drying out). Cover with plastic wrap and let sit in a warm place or on the counter for 1-2 hours, or until doubled in size. Keep in mind that rising will be slower in cold weather.

When the dough has risen, gently punch it to remove air. Divide the dough into 15 equal portions (each weighing about 45 grams) and shape each one into a strip about 20cm long. Gently stretch each strip and tie into a simple knot. Arrange knots on a baking sheet lined with parchment paper, keeping as much space between them as possible. Cover and let rest for 45-60 minutes or until again doubled in size.

Meanwhile, set the oven rack to the middle position and preheat to 350°F/180°C.

Melt 1 tablespoon butter in a small skillet over medium heat. Add garlic and cook for 2-3 minutes, until fragrant and color deepens slightly. Stir in the rest of the butter until melted, then add basil and salt and turn off the heat.

Right before baking the knots, spread them with half of the butter-garlic mixture. Bake for 15 minutes. Take the pan out and spread knots with the remaining butter mixture. Bake for an additional 5 minutes until golden brown. Allow pan to cool on a wire rack for 5 minutes. Transfer knots to a wire rack to cool completely.

Serve warm or at room temperature.

Knots are best the same day they are made, but can be frozen for up to 2 months.