This moist and flavorful chocolate coconut cake is simple to make and has a hint of coconut to enhance the rich chocolate flavor.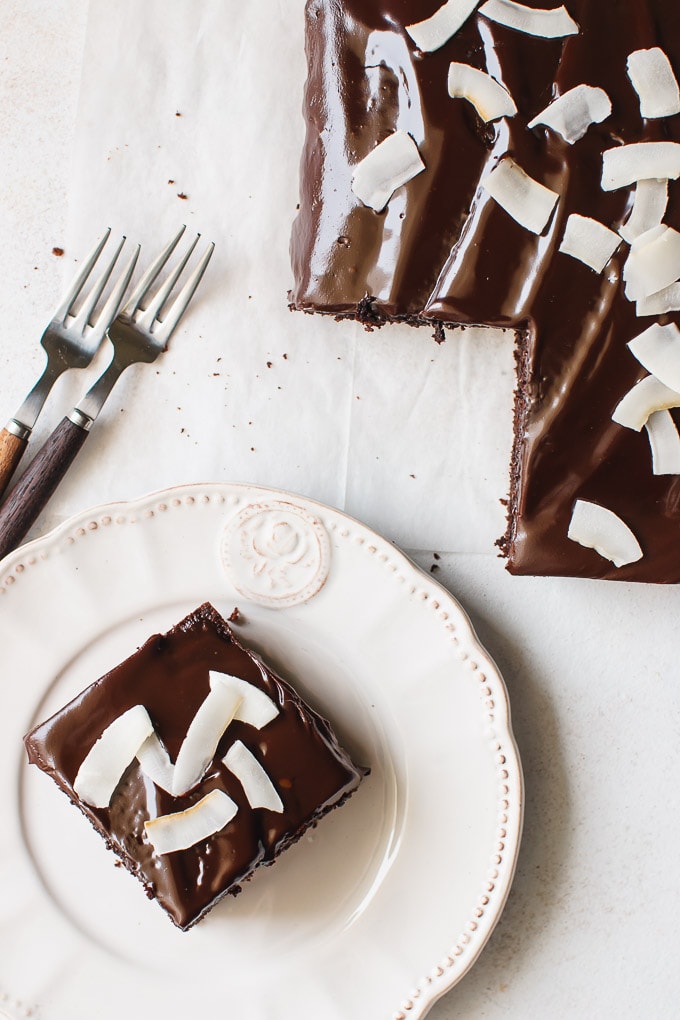 This recipe was inspired by my fudgy Chocolate Cherry Cake but instead of water and cherries I used coconut cream and dried coconut to add some tropical flavor and texture.
This chocolatey cake is everything you want in a perfect cake. It has a moist, yet delicate crumb, doesn't require equipment like a mixer, and can be made in under an hour. I love to top this cake with a simple chocolate ganache, which, after refrigeration, becomes fudgy providing the perfect complement to the light and airy cake.
About the coconut
While coconut is an ingredient used twice in this chocolate coconut cake recipe, the flavor is subtle and is used to enhance the chocolate rather than overpower it. I use coconut two (with an optional third) ways in the cake. I use coconut cream to add moisture to the cake. When purchasing coconut cream be extra careful to not accidentally get coconut milk. They are both made of coconut, but the cream is thicker and has a higher fat content meaning less water, and more coconut and creaminess.
In addition to coconut cream there is also shredded coconut in the batter for texture and an optional choice to replace half of the vegetable oil with coconut oil. The fruitiness of the coconut pairs nicely with the chocolate, brightening up the chocolate coconut cake and enhancing its rich chocolate flavor.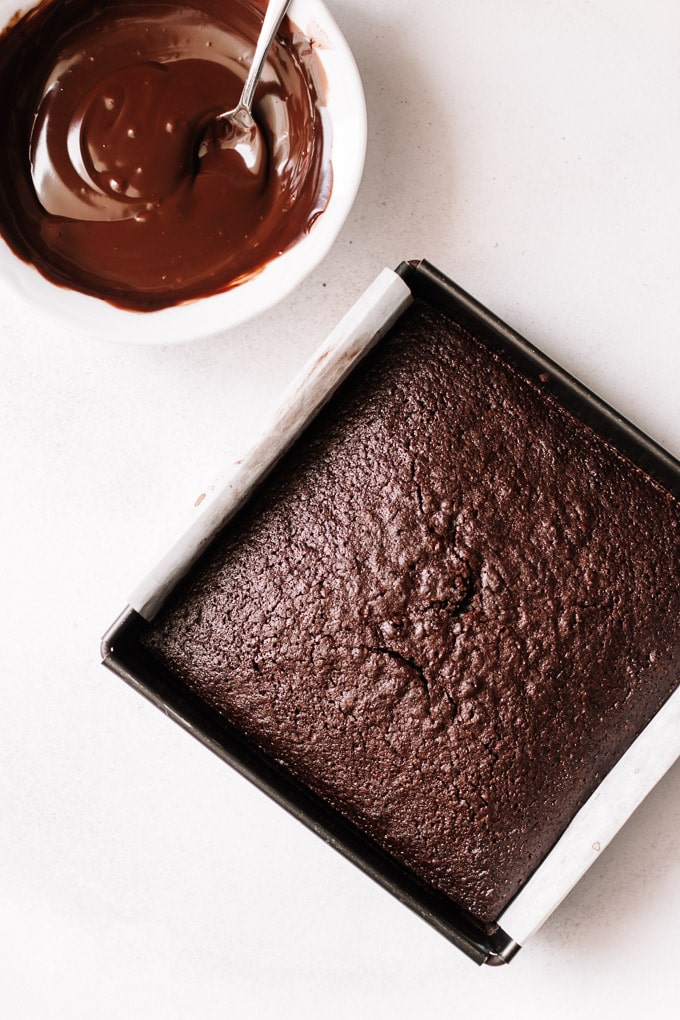 Making the cake
This cake is a very simple, two-bowl recipe. You'll start by sifting together your dry ingredients in one bowl and whisking the wet in another (this is where I swap half of the vegetable oil for coconut oil). Combine the wet into the dry, folding the batter with a rubber spatula until just combined. It's very important to not overmix the batter at this step – the less you mix, the lighter your cake will be.
Scrape your batter into a pan and bake for 30-35 minutes or until a toothpick inserted in the center of the cake comes out clean. Be very careful not to overbake your cake. The batter is already dark from the cocoa powder so be sure to use a toothpick to check for doneness.
Once done, let the cake cool completely before topping it with a rich chocolate ganache made with even more coconut cream. The light and tender chocolate coconut cake is delicious on its own but once covered in this fudgy chocolate ganache, it's irresistible!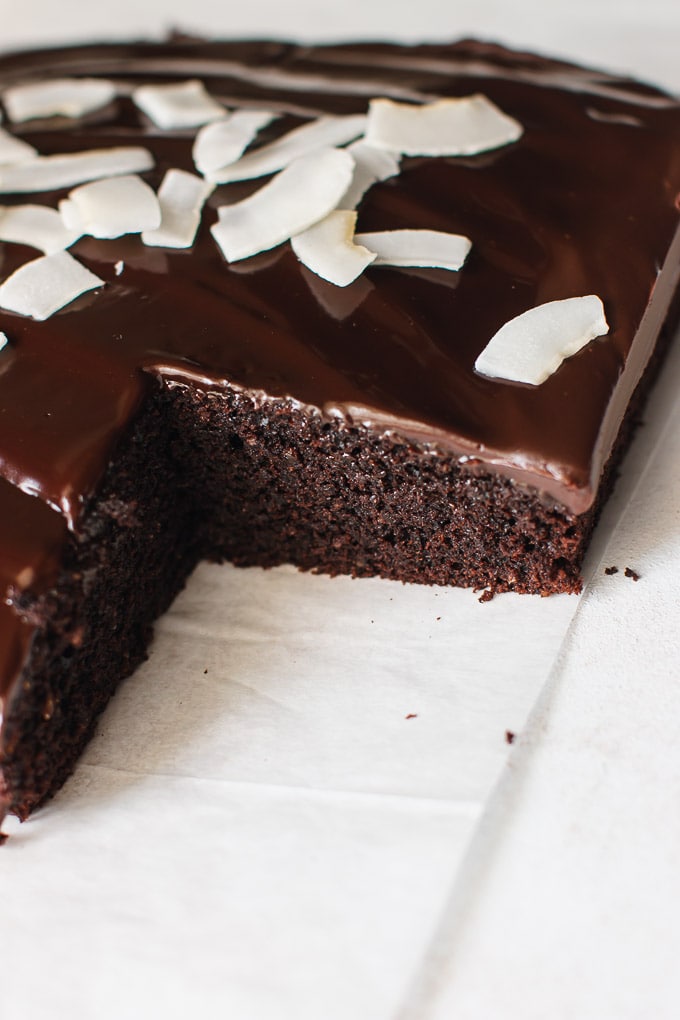 Chocolate Ganache Glaze
The final touch for my chocolate coconut cake recipe is the chocolate ganache glaze. I love how the thick and fudgy glaze coats the cake, giving it a smooth richness that balance out the light and fluffy crumb.
This easy glaze is made with two ingredients: chocolate and coconut cream. You can either melt them together in a double boiler (set a heat-proof bowl over simmering water) or in the microwave. Once melted and combined, pour the ganache over the cake and refrigerate for at least 1 hour until set.
This chocolate coconut cake is a moist, flavorful cake that has a hint of coconut to brighten up the rich chocolate flavor. The cake will last in the refrigerator for up to 5 days, but it never makes it that long in my house!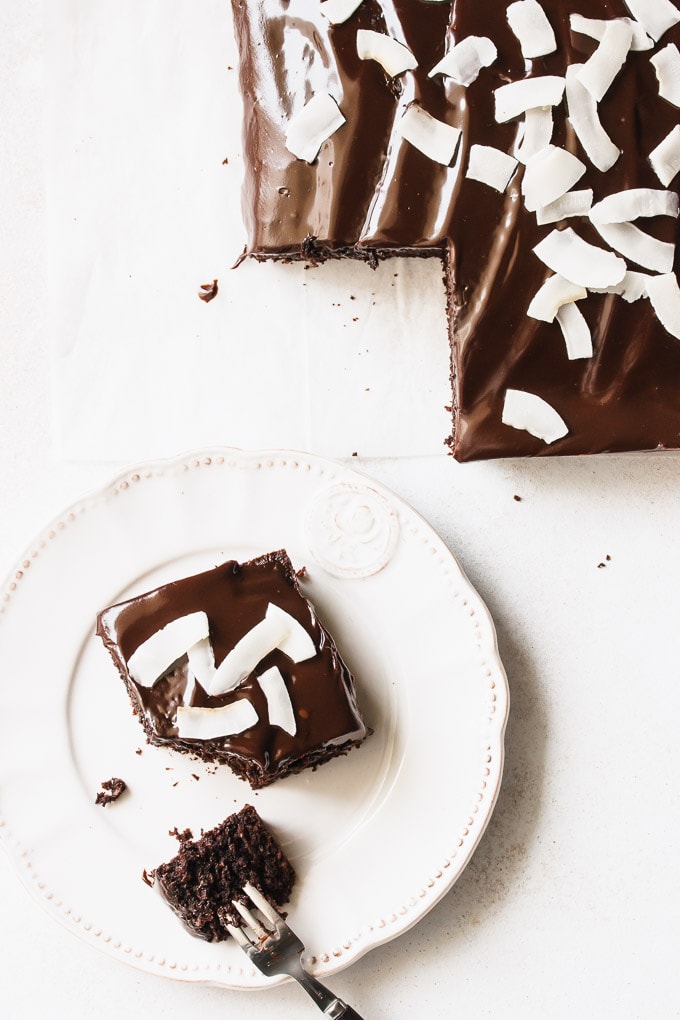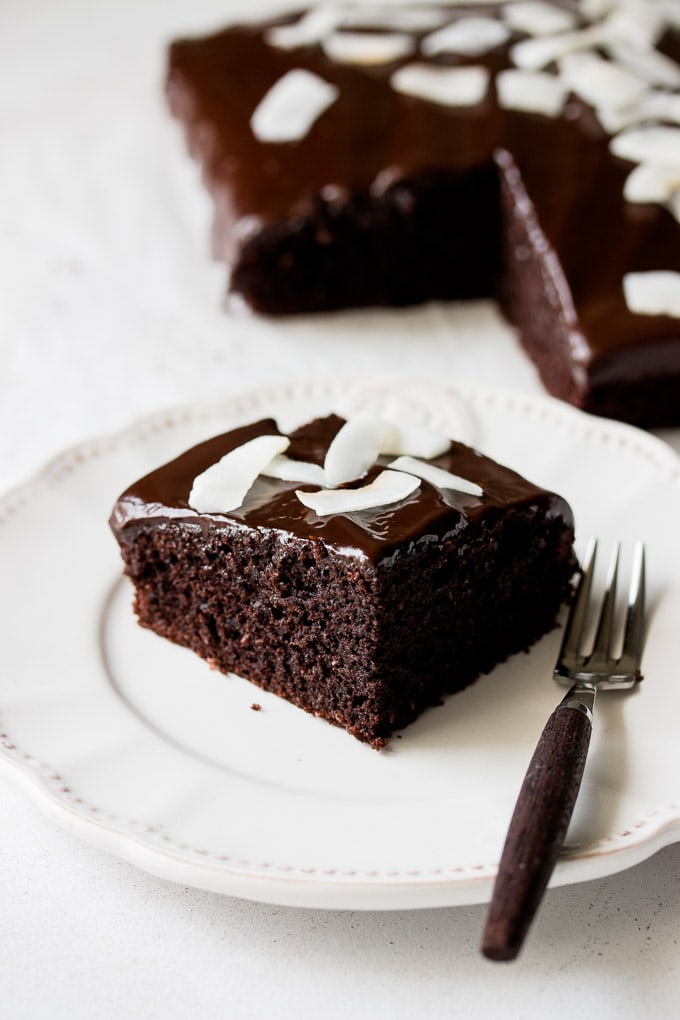 More Easy Cake Recipes:
Chocolate Coconut Cake
---
Ingredients
Cake
3/4

cup

(105g) all-purpose flour

1/2

cup

(50g) cocoa powder

1

teaspoon

baking powder

1/4

teaspoon

salt

3/4

cup

desiccated or shredded coconut (unsweetened)

2

large eggs

1

cup

(200g) granulated sugar

1

cup

(240 ml) coconut cream

1/2

cup

vegetable/canola oil

1/2

teaspoon

pure vanilla extract
Chocolate Ganache Glaze
130

g/4.5 oz. semisweet or bittersweet chocolate 

, finely chopped

1/2 

cup 

(120 ml) coconut cream
Instructions
Preheat oven to 350°F/180°. Grease an 8×8-inch pan

In a large bowl, sift together flour, cocoa powder, baking powder, and salt. Mix in coconut. Set aside.

In another medium bowl, whisk eggs and sugar until well combined. Add coconut cream, oil, and vanilla extract, and whisk until combined. Add egg mixture into flour mixture and fold with a rubber spatula just until combined. Do not overmix—the less you mix, the lighter the cake will be.

Scrape batter into prepared pan and smooth the top. Bake for 30-35 minutes or until a toothpick inserted into the center of the cake comes out clean. Allow cake to cool completely on a wire rack.

To make the chocolate ganache: place chocolate and coconut cream in a medium heat-proof bowl, and microwave in 20-30 second-intervals, stirring in between each interval, until melted. Alternatively, set the bowl over a saucepan of simmering water, stirring occasionally, until melted. Pour ganache evenly over the cake. Refrigerate for 1 hour until the ganache is set.

Cake can be kept in the refrigerator in an airtight container for up to 5 days.