This quick-to-make moist, fudgy, chocolatey cake is loaded with cherries and chocolate chips.
Chocolate and cherry is an interesting combination; some hate it, and some love it. As you probably guessed, I'm a member of the latter group. I love the twist of cherries in this cake, and the addition of chocolate chips makes it absolutely irresistible.
Making the Cake
Start by mixing the cocoa powder with hot water. This step helps to deepen the chocolate flavor and make the cake fudgier. Let it cool just slightly until warm. Meanwhile, prepare the batter; mix the dry ingredients in one bowl, the wet ingredients in another bowl, and combine the two together. No mixer is needed. Before folding in the cherries, toss them with a bit of flour until they're coated. This helps prevent them from sinking to the bottom of the cake while baking.
I used oil to keep the cake moist for longer, but you can replace half of it with 50g melted butter for flavor if you prefer. However, this cake is already so flavorful that I don't find it necessary.
Try not to skip the chocolate chunks—those are the best part! The bittersweet chocolate pieces combine perfectly with the cherries in a way you do not want to miss out on.
Cherries
Different kinds of cherries work well here, and I especially love how sour cherries work with the chocolate. Fresh cherries are the best option, but you could also use frozen. If so, use them straight from the freezer, without thawing, mixing them with some flour and then immediately folding them into the batter. Canned cherries can also be used as long as you make sure to drain them well and dry them with paper towels, or else the juices will seep into the cake and affect its texture and taste.
Topping the cake with chocolate ganache once it has cooled is always a great idea—both for looks and taste. For decoration, top it with grated chocolate or fresh cherries with stems.
This cake tastes best a day after it's made, when the chocolate cake has had time to absorb the cherry flavor, so it's a good make-ahead cake. However, it still tastes amazing on that first day, so feel free to dig in on the first chance you get.
To make a bigger batch, multiply the recipe by 1.5 and use a 13×9-inch pan. You may need to bake the cake a few minutes longer.
It's also delicious as muffins! I had some leftovers once, so I scraped the remaining batter into a muffin tin and baked it in a preheated 350F/180C oven for 13 minutes (can take up to 20 minutes). They baked beautifully and were gone before I knew it!
You may also like:
Almond cherry cake, a family favorite
Double chocolate muffins—the best I've ever tried, and I've tried many
Lemon blueberry cake
Strawberry cake
Simple chocolate layer cake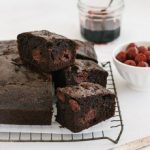 Chocolate Cherry Cake (dairy-free)
To make a bigger batch, multiply the recipe by 1.5 and use a 13x9-inch pan. You may need to bake the cake a few minutes longer.
---
Ingredients
1

cup

(240 ml) hot water

1/3

cup

(30 g/1 oz) cocoa powder

1

cup

(140 g/5 oz) all-purpose flour, sifted

1

cup

(200 g/7 oz) granulated sugar

1

teaspoon

baking powder

1/4

teaspoon

salt

2

large eggs

1/2

cup

vegetable/canola oil

1

teaspoon

pure vanilla extract

1 1/2

cups

(230 g/8 oz) fresh cherries, pitted and halved (for other options, read above post)

2

teaspoons

all-purpose flour

1/2

cup

chocolate chips or chunks
Instructions
Preheat oven to 350F/180C and grease an 8x8-inch pan.

In a small bowl, whisk together hot water and cocoa powder until smooth. Set aside to let cool slightly until warm.

In a large bowl, mix together flour, sugar, baking powder, and salt.

In another medium bowl, mix together eggs, oil, vanilla extract, and water-cocoa mixture. Add egg mixture into flour mixture and mix with a rubber spatula just until combined. Do not overmix—the less you mix, the lighter the cake will be.

In a small bowl toss cherries with 2 teaspoons flour in order to prevent cherries from sinking during baking. Add cherries and chocolate chips to cake batter and fold just until combined.

Scrape batter into prepared pan and smooth the top. Bake for 30-35 minutes or until a toothpick inserted into the center of the cake comes out clean (repeat testing if your toothpick runs into a cherry). Allow cake to cool completely on a wire rack.

Dust the top with powdered sugar or top with

chocolate ganache

. Serve at room temperature.

Cake can be kept in the refrigerator for up to 4 days.