This spice cake recipe is the only recipe you'll ever need. Incredibly moist, flavored with a mixture of spices, with a texture that almost melts in your mouth! It's quick and easy to make and doesn't require a mixer. The cake is great by itself, the cream cheese frosting is just a bonus. It's going to be your new favorite winter and holiday cake.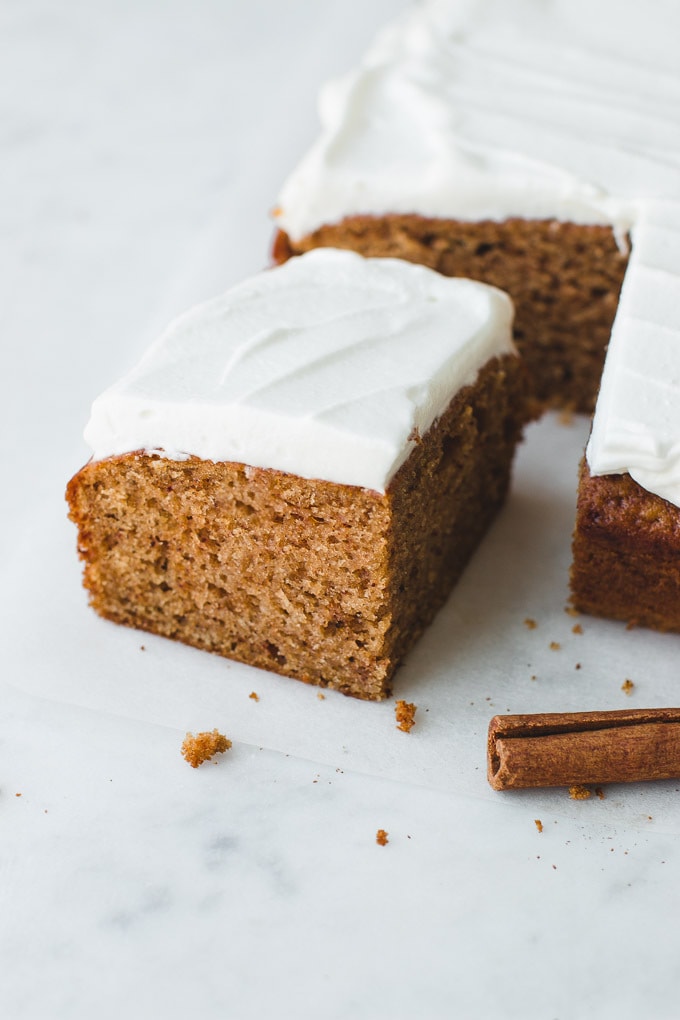 A while ago I suddenly recalled a cake I had in Paris a few years ago. I don't know what reminded me of it, but the moment I started thinking about it I couldn't stop. It reminded me my mom's honey cake, but it it had more spices in it. I didn't remember how that cake tasted like exactly, but I knew I had to try creating one myself. When this cake came out of the oven, it was so good that me and Erez could finish the whole cake in 5 minutes, but luckily we saved a few pieces, and it tasted even better the day after.
Spices
I use a combination of ground cinnamon, ginger, nutmeg, and cloves. If you don't like nutmeg or cloves you can leave one of them out, but trust me, this mix of spices gives the most wonderful flavor.
Sugar
I use a combination of granulated sugar and brown sugar. The latter adds moisture to the cake. You can use only brown sugar or only granulated sugar (3/4 cup).
Oil, applesauce, buttermilk
They all make this spice cake extra moist so it stays tender for days. If you must skip the applesauce, use buttermilk instead (total of 1 cup), but the applesauce makes a difference in this recipe! I made homemade applesauce and it's super easy. I halved the recipe, so I used 2 apples, some water, a splash of lemon juice, and cooked for 15-20 minutes until soft, then mashed it with a fork. It's ok if it's a little chunky, or, if you prefer a smooth texture, process it in a food processor.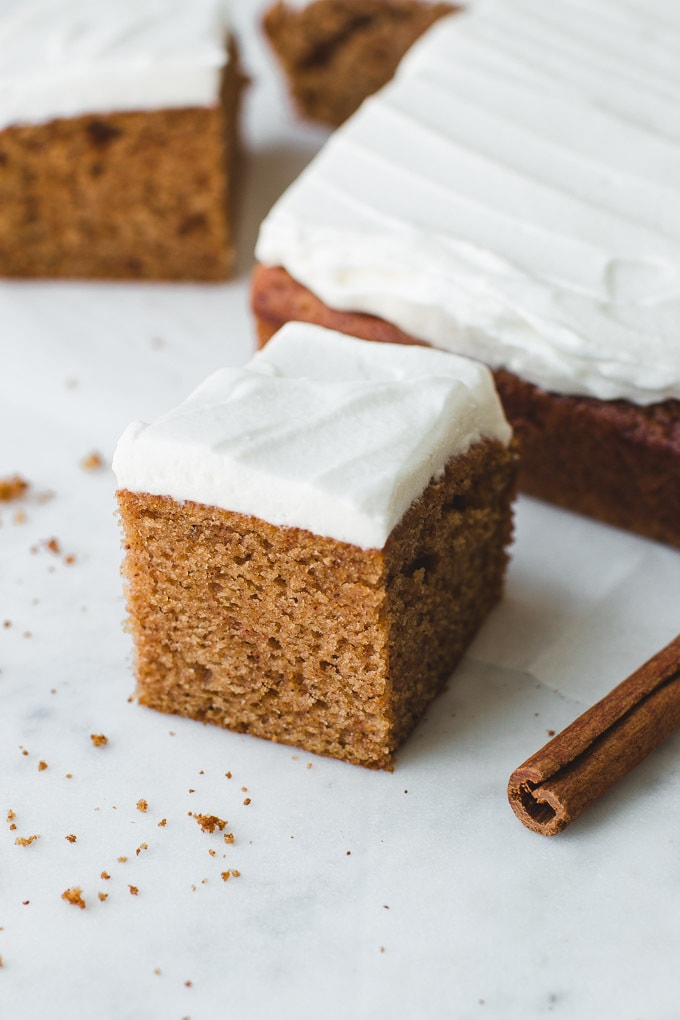 More Delicious Snack Cakes: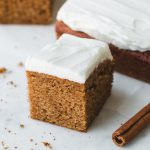 Spice Cake
For a 9x13-inch cake, double the recipe (both cake and frosting) and bake for 45-50 minutes. The cake stays moist and flavorful for a few days, so you can make it 1-2 days ahead.
---
Ingredients
Cake
1 and 1/4

cups

(170 g/6 oz.) all-purpose flour, sifted

1

teaspoon

baking powder

1/2

teaspoon

baking soda

1/4

teaspoon

salt

1

teaspoon

ground cinnamon

1/2

teaspoon

ground ginger

1/4

teaspoon

ground nutmeg

1/4

teaspoon

ground cloves

2

large eggs

1/2

cup

(100 g/3.5 oz.) granulated sugar

1/4

cup

(50 g/1.7 oz.) dark brown sugar

1/4

cup

(60 ml) canola or another flavorless oil

1/2

cup

(120 ml) unsweetened applesauce

1/2

cup

(120 ml) buttermilk

1/2

teaspoon

vanilla extract
Cream Cheese Frosting (optional)
4

oz.

(115 g) cream cheese, softened to room temperature

1/4

cup

(1/2 stick/55 g) unsalted butter, softened to room temperature

1 and 1/2

cups

(175 g) powdered sugar, sifted

1/2

teaspoon

pure vanilla extract

pinch

of salt
Instructions
Preheat oven to 350°F/180°C. Grease an 8x8-inch pan.

In a large bowl sift together flour, baking powder, baking soda, salt, cinnamon, ginger, nutmeg, and cloves. Set aside.

In a medium bowl whisk eggs, granulated sugar, and brown sugar until well combined for about a minute. Add oil and whisk until combined. Add applesauce, buttermilk, and vanilla extract and mix until well combined. Pour the mixture into the flour mixture and mix as little as possible, just until combined and smooth.

Pour the batter into prepared pan. Bake for 30-40 minutes or until a toothpick inserted into the center of the cake comes out clean. Allow cake to cool completely.

Make the frosting: In the bowl of an electric mixer fitted with the paddle attachment, beat cream cheese and butter on medium speed until smooth and creamy, 1-2 minutes. Add 1 cup powdered sugar, vanilla extract, and salt, and beat on low speed for 30 seconds, then on high speed for 1-2 minutes until smooth and fluffy. If you want a thicker frosting, add 1/2 cup more powdered sugar. Frost cake with the frosting.

Store cake in an airtight container in the refrigerator for up to 5 days. Cake is best served at room temperature.