This chocolate Bundt cake is so simple to make and is incredibly moist, rich, and decadent. Made with sour cream for extra moisture and topped with chocolate ganache glaze, it's the ultimate treat!
You guys know how I live and breathe for chocolate. Of all the sweets and pastry ingredients out there, chocolate is my one true love–the one thing I can always count on to lift my spirits and bring me joy (dramatic much?).
But seriously, I love chocolate. In all forms and desserts. From chocolate Nutella cake to flourless chocolate almond torte, chocolate always makes me happy. to And this chocolate Bundt cake has everything I look for in a chocolate cake: it's rich, super moist, and has a wonderful deep chocolate flavor, and then is all topped off with a decadent chocolate ganache glaze. And of course, it's incredibly simple to make.
Here's how to make it perfect!
How to make chocolate Bundt Cake
Let's talk about a few of the ingredients first:
Cocoa & coffee: To boost the chocolaty flavor, I dissolve the cocoa in hot water with instant coffee, although you won't taste the coffee once the cake is done. It simply helps enhance the flavor.
Sour cream: Using sour cream enhances the cake's richness and provides a slight tang. It's one of the best additions you can make to a chocolate cake so I wouldn't recommend making substitutions.
Brown sugar: Light brown sugar gives moisture to the cake, too, as well a subtle caramel flavor.
To make the bundt cake:
Prep your bundt pan. Since this cake is quite delicate, make sure to grease your Bundt pan well and dust with cocoa powder. Why cocoa powder instead of flour? Simple: it won't leave any white streaks on the dark cake once we release it from the pan after baking.
Prepare the wet ingredients. Put cocoa powder and instant coffee in a heat proof bowl. Pour hot water over it and allow to cool slightly (you can continue with the rest of the recipe while it cools). Then, whisk in sour cream.
Combine dry ingredients in a separate owl. Including flour, baking soda, and salt.
Cream butter and sugar. In a mixer fitted with the paddle attachment, cream butter and sugar together until light and fluffy.
Add eggs. Add eggs one a time, using a rubber spatula to scrape down the sides of the bowl to make sure everything mixes together evenly. Lastly, add the vanilla.
Add the dry and wet ingredients. Do this in 3 additions, alternating between the wet and dry ingredients, mixing together between each addition.
Bake. Pour batter into your prepared Bundt pan and bake in a 350°F/180°C oven for 45-50 minutes.
Cool. Allow to cool for 15 minutes, and then invert the cake and allow to cool completely (preferably on a wire rack) before glazing.
To make the glaze:
While the cake is baking, you can prepare the glaze.
Melt chocolate and cream together. You can do this in the microwave in thirty second increments, mixing together between each increment. Or, heat the cream in a pot on the strove and bring to a bowl. Then, pour over chocolate in a heatproof bowl and whisk together. Allow to cool slightly before pouring over cake.
Once the cake is cooled, pour the glaze over the cake.
Tip: Feel free to prepare the glaze in advance. When you're ready to use it, simply microwave for 20 seconds at a time until it becomes pourable. Mix together to equalize the temperature.
Tips for making perfect chocolate bundt cake
Prep your Bundt pan well. To prevent your cake from sticking to the pan, make sure to grease it very well with butter or oil. Then, dust it generously with cocoa powder.
Don't overmix the batter. The more you mix the batter, the more dense the cake will be. Therefore, simply mix the ingredients together just until incorporated and no more.
Don't skip the light brown sugar. While granulated sugar will work in this recipe, the light brown sugar adds extra moisture and a light caramel flavor that I absolutely love.
Use a good quality chocolate for the glaze. The better quality the chocolate, the better the glaze will taste, so I recommend using a good quality one for this recipe if you can, but any dark chocolate will work.
This cake freezes very well. This cake can stay frozen for up to 2 months double wrapped in plastic wrap or in a freezer-safe container. However, I don't recommend freezing the cake with the glaze. Instead, make the glaze fresh when you're ready to eat it. To thaw the Bundt cake, put it in the refrigerator overnight.
More of my favorite chocolate cake recipes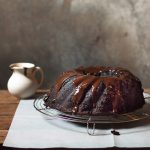 Chocolate Bundt Cake
This incredibly moist, rich, and super chocolaty Bundt cake is delicious on its own, but a drizzle of chocolate glaze makes it incredible!
---
Ingredients
For the Cake:
2/3

cup

(65g) unsweetened cocoa powder, plus more for coating the pan

2

teaspoons

instant coffee powder

(optional)

3/4

cup

(180 ml) hot water

3/4

cup

(180 ml) sour cream

1 3/4

cups

(250g) all-purpose flour

1

teaspoon

baking soda

1/2

teaspoon

salt

1

cup

(225g) butter, softened

1

cup

(200g) granulated sugar

3/4

cup

(150g) light brown sugar

3

large eggs

, room temperature

2

teaspoons

vanilla extract
For the Glaze:
75g

(2.5 oz.)

bittersweet chocolate, finely chopped

1/3

cup

(80 ml) heavy cream
Instructions
Preheat oven to 350F/180C. Grease a 12-cup (10-inch) Bundt pan and coat with cocoa powder, tapping the pan slightly to remove any excess. Set aside.

In a medium heatproof bowl, place cocoa and coffee powder. Pour hot water over the mixture and let stand for 1 minute, then whisk until smooth. Let the mixture cool to room temperature (meanwhile, proceed with the rest of the recipe), then whisk in the sour cream. In another medium bowl, sift flour, baking soda, and salt, and mix to combine. Set aside.

In a mixer bowl fitted with the paddle attachment, beat together butter and sugars on medium-high speed until light and fluffy, about 3 minutes. Add eggs, one at a time, beating well after each addition. Scrape down the sides and bottom of the bowl as necessary. Beat in vanilla extract. On low speed, beat in the flour mixture in 3 additions, alternating it with the cocoa-sour cream mixture in 2 additions, starting and ending with the flour. Do not over mix.

Scrape batter into the prepared pan and smooth the top. Bake for 45-50 minutes, or until a toothpick inserted into the center comes out clean. Allow cake to cool in the pan for 15 minutes, then gently invert onto a wire rack and let it cool completely. Dust with powdered sugar or drizzle with glaze.

To make the chocolate glaze: Place chocolate in a medium heatproof bowl. Set aside. In a small saucepan over medium heat, bring heavy cream just to a boil. Immediately pour cream over chocolate and let sit without stirring for 2 minutes. Then, whisk mixture gently until completely melted and smooth. Let cool for 10 minutes before using. Alternately, heat chocolate and cream in the microwave in 20-second intervals, mixing between each, until melted.
Recipe Notes
Without glaze, the cake will keep at room temperature in an airtight container for up to 4 days. With glaze, store cake in the fridge for up to a week, and bring to room temperature before serving.