Buttery cinnamon roll sugar cookies that look and taste just like cinnamon rolls!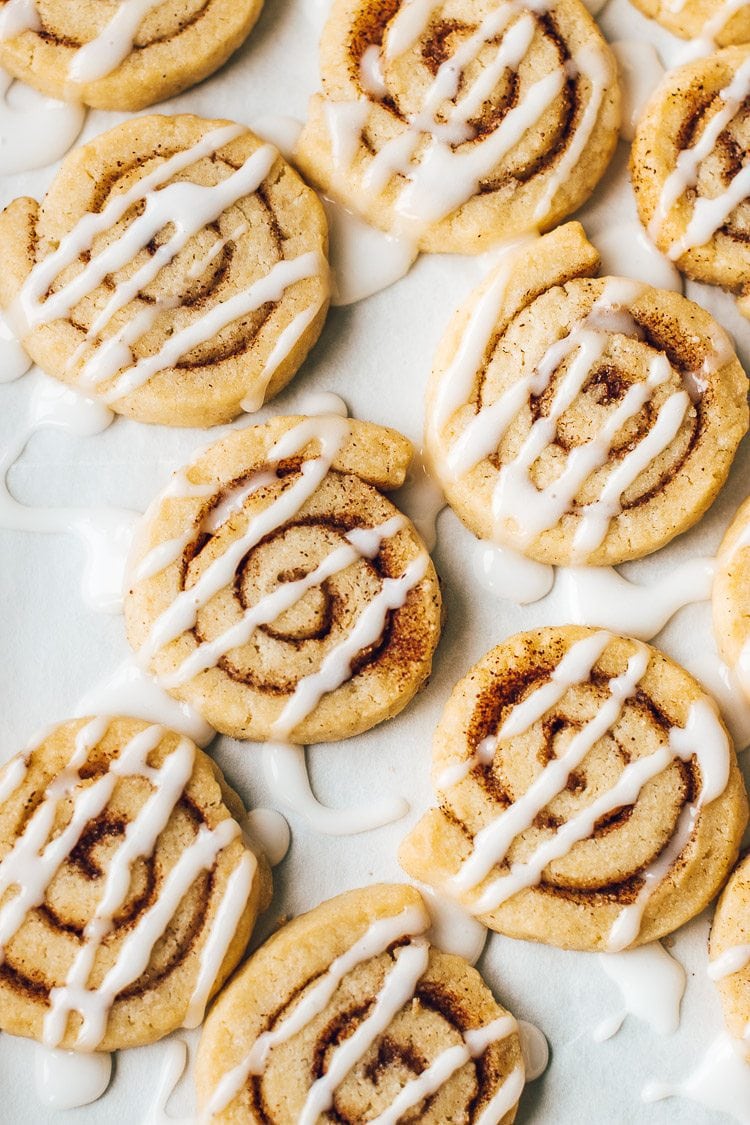 You know what's better than sugar cookies?  I know you do. It's cinnamon roll cookies!
I was at a party last week and I spotted those beautiful cinnamon roll shaped cookies, and I fell in love immediately! With the way they look and smell… they are irresistible. They really taste like cinnamon rolls! And you know me… I made them the next day and now there are 15 of them in my belly.
These cookies make a great Christmas dessert, but really you can enjoy them any time of year (I know I do)!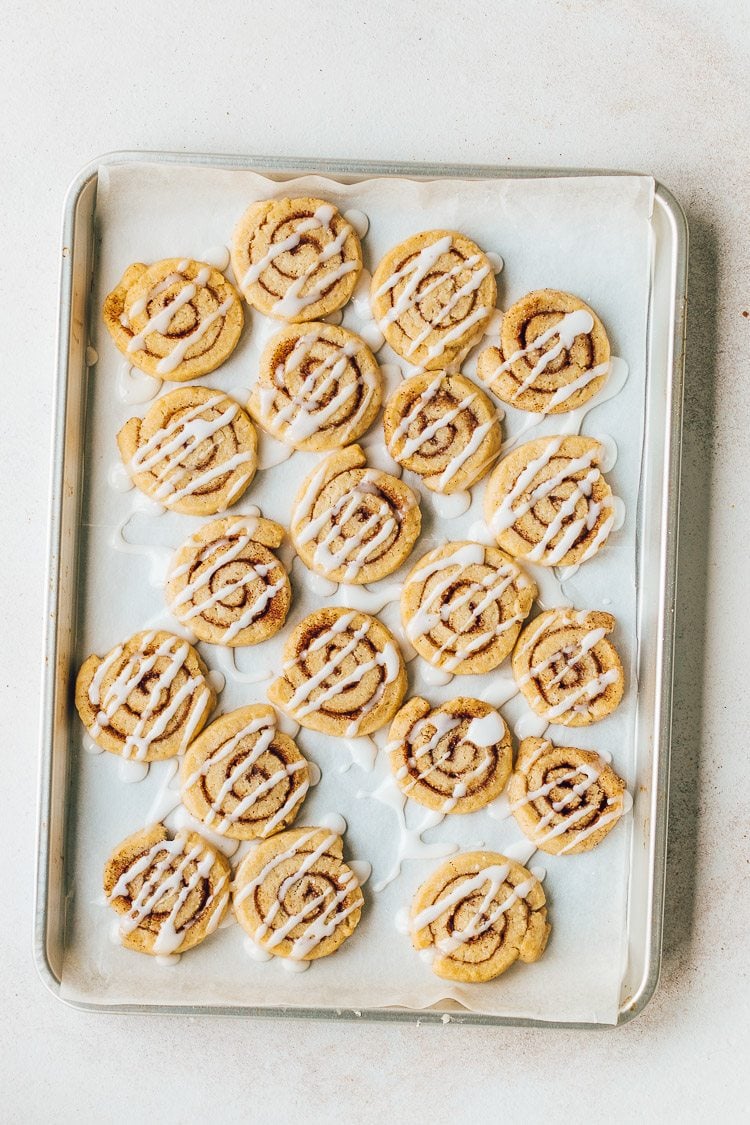 I used my sugar cookie dough for this recipe, because it's the best dough ever. It took me a few tries until I was satisfied with the result, so I'm going to walk you through the steps so you won't make the same mistakes that I did.
Chilling the dough at least twice in the process is key for the success of these cookies. Pay attention to your dough at all times. The moment it gets warm or hard to work with, don't fight it. Put it back in the fridge until it's firm again, even if the recipe didn't say to. Dough can get warm on a hot day or if you've played with it for a while. Try to work as quickly as possible, which is a good rule whenever you're working with any kind of dough. I learned the hard way that if I want perfect sugar cookies, then there's no way around chilling it.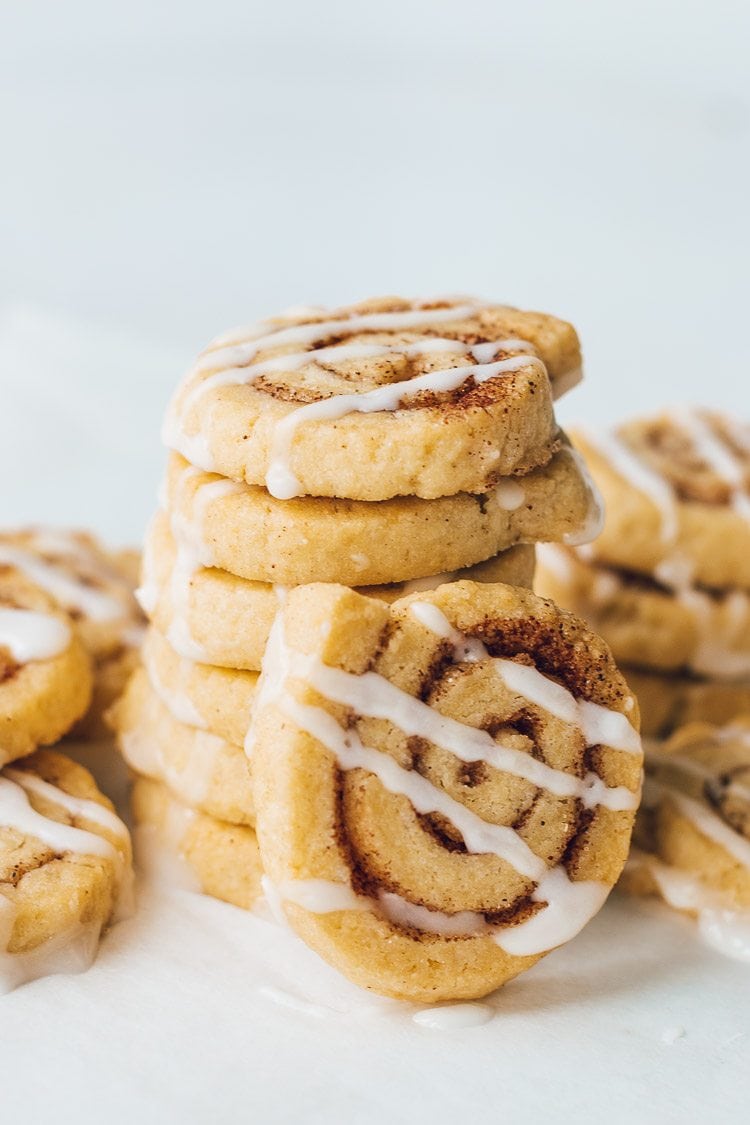 You'll find detailed instructions in the recipe, but here's what you need to do:
Make the dough. Once ready, it will be soft, so it needs to be chilled. Divide the dough into 2, shape each into a disc or a rectangle, wrap in plastic wrap, and refrigerate for 1-2 hours. If you don't want to use the dough right away, you can refrigerate it or for up to 3 days or freeze it for up to a month, then thaw it overnight in the fridge.
If you've made cinnamon rolls before, then the next steps will be familiar to you. Check out my cinnamon roll recipe for more info. For each piece of dough (while working with one piece, keep the other one in the fridge), roll out the dough into a rectangle. Spread melted butter (make sure it's not hot so the dough won't melt) and sprinkle with cinnamon-sugar mixture. Press it gently so it sticks to the butter.
Starting with the longer edge, roll up the dough to form a log. Now it's time to chill the log for about 30 minutes, so we can later cut out the dough easily to make perfectly shaped cookies. Transfer the logs to a plate and cover loosely with plastic wrap, then place in the fridge.
Cut the log into slices, place cut side up on baking sheet, and bake. I bake the cookies for no more than 12 minutes. They will appear undone and bright, but that's how they should be. Over baking will make them too hard.
Let the cookies cool, and drizzle them with the icing. I use a piping bag for this, but drizzling with a spoon is ok too.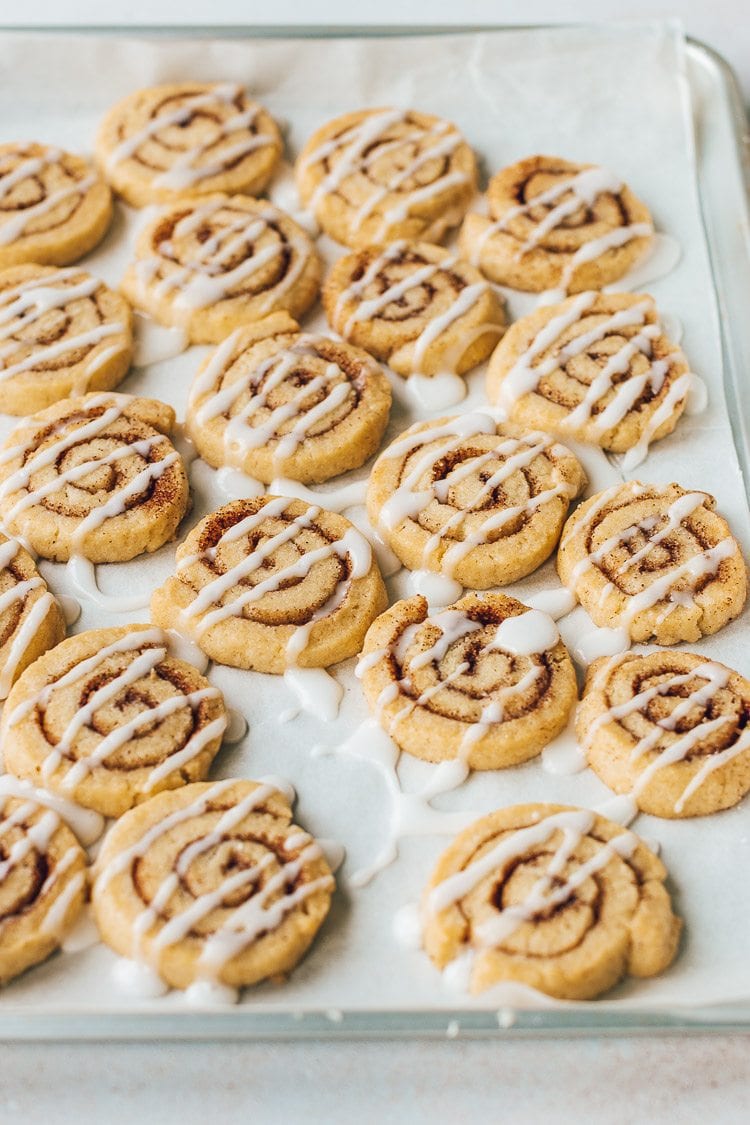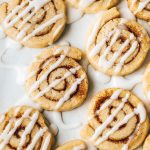 Cinnamon Roll Cookies
---
Ingredients
Cookies:
2½

cups

(350 g/12.5 oz.) all-purpose flour

½

teaspoon

baking powder

¼

teaspoon

salt

200

g/7 oz unsalted butter

(2 sticks minus 2 tablespoons), softened to room temperature

3/4

cup

(150 g/5.3 oz.) granulated sugar

1

large egg

1

and ½ teaspoons vanilla extract
Cinnamon-Sugar Filling:
2

tablespoons

butter

, melted and cooled

¼

cup

granulated sugar

1

tablespoon

ground cinnamon
Icing:
1/2

cup

powdered sugar

1

and 1/2 tablespoons milk
Instructions
In a medium bowl, sift together flour, baking powder, and salt. Set aside.

In a mixer bowl fitted with the paddle attachment, beat butter and sugar on medium-low speed for 1 minute. Beat in egg and vanilla extract until combined. Reduce speed to low. Add flour mixture and beat just until combined. Do not overmix.

Form dough into a ball (dough should be soft but if it's hard to handle, add a bit more flour), and cut into 2 equal pieces. Flatten each dough to form a disc and wrap with plastic wrap. Refrigerate for 1-2 hours, until firm enough to roll.

Take one piece of dough out of the fridge and let it sit on the counter for a few minutes to soften slightly for easy rolling. On a lightly floured surface (or between 2 pieces of parchment paper), roll the dough into a 10x8 inch rectangle, to about ¼-inch thickness. Spread the dough with half of the butter (1 tablespoon). Mix 1/4 cup sugar and cinnamon in a bowl, then sprinkle half the mixture on top of the butter and press gently.

Roll up dough to form a log, starting with the longer edge. If dough is too soft to cut at the point (and it probably is), chill log in the fridge until firm, about 30 minutes. You can transfer it to a plate and cover loosely with plastic wrap. Repeat the process with the second dough.

Preheat oven to 350F/180C. Line 2 baking sheets with parchment paper.

Move logs from the fridge. Cut into 1/2 inch slices, and place cut side up on the baking sheet, 1-2 inches apart.

Bake for 10-12 minutes, or until cookies appear golden brown at the edges. The cookies should be bright and soft, so don't be tempted to bake them for longer. Allow cookies to cool in the pan for 5-10 minutes, then gently transfer to a wire rack to cool completely.

Make the icing: Whisk the ingredients together in a bowl, adding little milk at a time (you might not need to use all of it) until you reach a thick but pourable consistency. Then, drizzle over the cookies using a spoon or a piping bag.

Store cookies at room temperature in an airtight container for up to a week or freeze for up to 2 months. To thaw, leave on the counter, still covered, or overnight in the fridge.