These simple pecan pie bars taste just like pecan pie in bar form! They're made with a tender shortbread crust and topped with gooey pecan pie filling. They're easy to make and perfect for the holidays.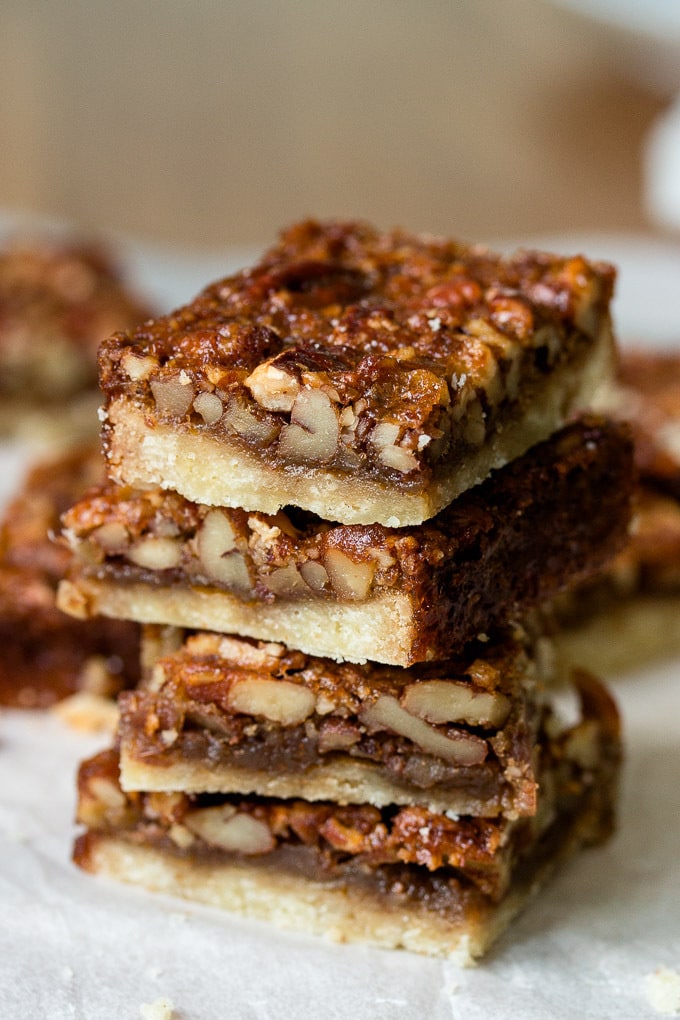 I fell in love with pecan pie bars the moment I first tried them. They're a great dessert to have around whenever I'm craving a piece of pecan pie. It's simple and tasty and perfect for a crowd. You can cut the bars big (for yourself) or smaller if you need to feed more people.
What are pecan pie bars made of?
These easy pecan bars are made of a simple shortbread crust that gets its delicious flavor from a combination of butter, sugar, and flour. The topping is a gooey, creamy, caramel-y pecan pie filling loaded with pecans.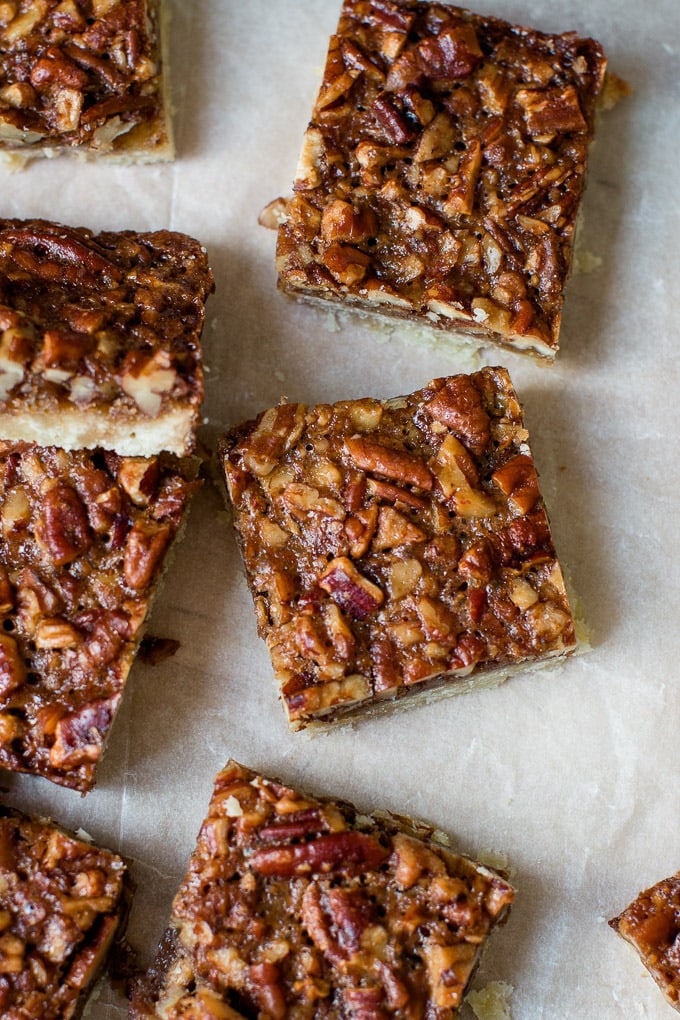 How to make pecan bars
Start by making the crust. There are two ways to do this, and I recommend choosing whichever you feel more comfortable with:

Cut the cold butter into the dry ingredients with a pastry cutter or a food processer, or:
Melt the butter and pour it over the dry ingredients in a bowl until evenly combined and crumbly pieces are formed.Whichever you choose, press the crust crumbs into the pan to form an even layer and bake for about 15 minutes or until the edges are slightly golden. The crust shouldn't be fully baked at this point. Baking the crust before adding the filling will prevent a soggy crust. Let the crust cool on a wire rack for 15 minutes before adding the filling.

Make the filling.

Start by heating butter, maple syrup, and sugar in a saucepan just until the sugar dissolves. Bring to a boil. Then, you'll need to let the mixture cool until lukewarm before adding the eggs. Once cooled, add the rest of the ingredients except for the pecans, and mix until smooth. Stir in the pecans then spread that deliciousness over the warm crust. Bake until the filling appears set.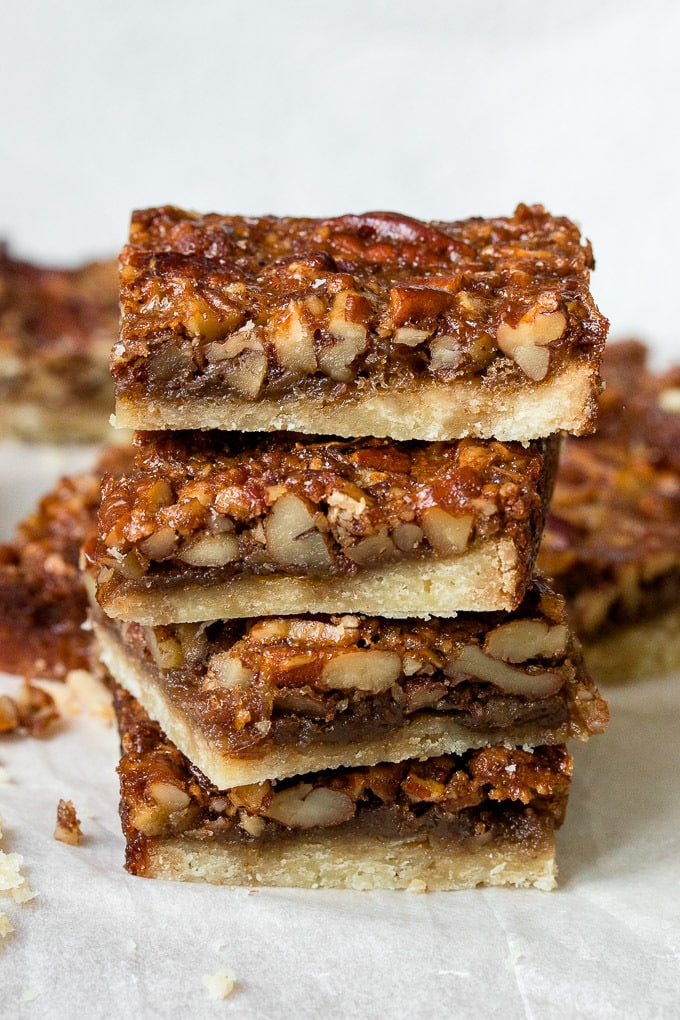 Two tips for making perfect pecan pie bars
Don't overmix the crust dough. This will result in tougher, denser crust, and we want the shortbread crust to be perfectly flaky, crumbly, and buttery (yum).
Don't overbake the crust. When you bake the crust the first time, pull it out as soon as the edges start to brown (about 15 minutes). You want it to be set but not too firm before you bake it again with the pecan topping.
Use powdered sugar for an extra-tender crust. Substitute equal amounts powdered sugar for granulated sugar in the shortbread to make an ultra, melt-in-your mouth crust.
More pecan goodies to try: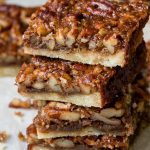 Pecan Pie Bars Recipe
YIELD
:
16
large squares (or 30 smaller bars)
These pecan pie bars are made with a tender shortbread crust and a rich, caramel-y pecan topping. If you have it, use powdered sugar instead of granulated sugar for the crust (not the filling), which gives a melt-in-your-mouth texture to the crust. Substitute 100g granulated sugar with 100g powdered sugar (3/4 cup plus 2 tablespoons). Enjoy!
---
Ingredients
Crust:
1 and 3/4

cups

(250 g) all-purpose flour

1/2

cup

(100 g) granulated sugar

1/4

teaspoon

salt

1

cup

(2 sticks/230 g) cold butter, cut into small cubes

1

teaspoon

pure vanilla extract
Filling:
1/2

cup

(1 stick/115g) unsalted butter

1/2

cup

(100 g) dark or light brown sugar

1/2

cup

(150 g) pure maple syrup

Pinch

salt

2

large eggs

1/2

teaspoon

pure vanilla extract

3

cups

(300 g) pecan halves, coarsely chopped and preferably toasted
Instructions
Preheat oven to 350°F/180°C. Line a 9×13-inch pan with parchment paper, leaving enough overhang on the sides for lifting the bars out of the pan after baking. Set aside.

Make the crust: process flour, granulated sugar, and salt in a food processor for a few seconds until combined. Add butter and vanilla extract and pulse until mixture becomes crumbly and resembles coarse meal. Alternatively, you can crumble all the ingredients together in a bowl using a pastry cutter. Press crumbs firmly into prepared baking pan to form a crust. Bake for about 15 minutes, until the edges just start to turn golden brown. Allow to cool for 15 minutes before adding the pecan filling.


Make the filling: Heat butter, sugar, and maple syrup together in a saucepan, stirring constantly, until the mixture is boiling and sugar dissolves. Let mixture cool slightly, then whisk in salt, eggs, and vanilla. Add pecans and mix. Pour filling evenly over the crust.

Bake for 25-30 minutes until filling is set. Allow to cool on a wire rack, then refrigerate for at least 6 hours before serving so that the filling can set. Lift bars out of the pan using the parchment paper and cut into squares. Store bars in the fridge for up to 1 week.