This classic casserole, made from bread soaked in a creamy vanilla custard, is perfect for breakfast or brunch and is simple to make. It's my favorite bread pudding recipe!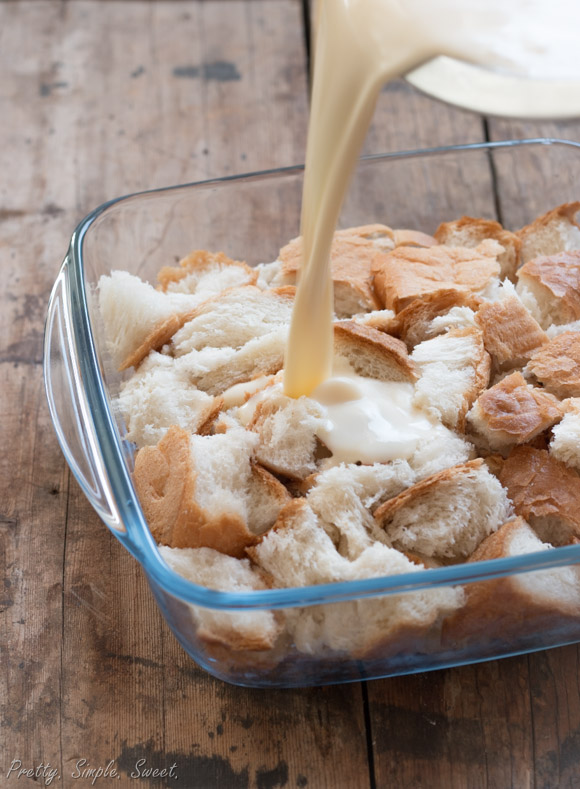 Some call it bread pudding, others call it baked French toast. Whatever you want to call it, though, it's a dreamy breakfast or brunch for your guests. It's easy to make, and you'll never need to throw away old bread again.
What is bread pudding?
It's layers of bread mixed with a delicious, creamy custard made from eggs, sugar, and either cream or milk. Using heavy cream alone will give the richest and, in my opinion, most delicious results, but you can use milk, half-and-half, or a combination.
Type of Bread
The bread can't be fresh, and it should sit at room temperature for a day to let it dry up a little. I like to use Challa, but you can also use French bread, brioche (delicious!), or Panettone (an Italian bread).
Bread to Custard Ratio
While most recipes for bread pudding are quite similar, it's the bread to custard ratio that differs the most. In some recipes, the casserole will still be filled with visible custard after baking, but in others, the bread will soak up most of the liquid. It also depends on how much time you let the bread soak prior to baking. While most recipes suggest anywhere from a few minutes to overnight in the fridge (good if you want to make it ahead and bake in the morning), I find it enough to let my bread soak for an hour. In my recipe, the casserole won't be full of custard after baking, but if you find that you prefer more, simply make extra custard next time with the same amount of bread.
Baking Time
Baking time is key in making this breakfast perfect. When the custard is no longer runny, and when there is no custard leaking from the top when you press down on the bread, then it's done. Over baking will make the bread dry.
Creme Brulee Bread Pudding
For special occasions, I like to caramelize the top of the bread pudding like in creme brulee. This might slightly burn the edges of the bread, but don't worry about it – the end product won't taste burnt at all. Since bread pudding is very soft, the caramelized top gives it the perfect crunch. You can also add crunch by adding pecans or other nuts (this recipe includes nuts). The brulee top is only optional, and without it, you'll still have a delicious, classic bread pudding. Either way you decide to create this sweet morning treat, your guests will thank you!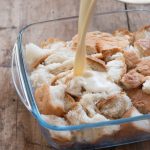 Bread Pudding Recipe
If you like your bread pudding full of custard after baking, make the same amount of custard in this recipe and use less bread (or use the same amount of bread and use more custard), because the bread will soak up most of the liquid. Refer to above post for more info.
---
Ingredients
450

g/16oz/16 slices 2-inch thick/one loaf day-old bread*

1

cup

pecans

(or raisins, chocolate chips, cranberries, etc.)

6

large eggs

1

cup

(200 g/7 oz) granulated sugar

4

cups

heavy cream

(or milk, half & half, or a combination)

1

tablespoon

vanilla extract
Instructions
Grease a 9x13-inch pan, and set aside.

Cut bread into 2-inch cubes. In a large bowl, mix together bread cubes and pecans. Place the mixture evenly in the pan.

In a large bowl, whisk eggs and sugar. Add cream and vanilla extract, and whisk to combine. Pour cream mixture over bread mixture in the pan until completely covered. Gently press down the bread cubes to fully cover with custard. It's best to let the casserole sit for 1 hour, covered, at room temperature, but if you're in a hurry, bake it right away.

Preheat oven to 325F/160C. Bake for 40-50 minutes or until custard has set and the top is golden brown. If the top is browning too fast, cover loosely with aluminum foil. Don't over bake or the bread will be dry. Let the pudding cool slightly before serving.

Bread pudding can be served warm or cold. It is best the same dat it's made.
Recipe Notes
*For the bread I prefer Challah, but you can also use French bread, brioche, or Panettone.
*The recipe can be halved to fit an 8x8-inch pan. Bake for 35-40 minutes.
SaveSave
SaveSave