Classic crispy Italian bread sticks, great as a snack or for dipping. These are simple to make and taste just like they came from a restaurant!
Grissini breadsticks are one of those things I had to make over and over again until I got the recipe just right. The ingredients, the thickness and length of each strip of dough, the temperature and baking time, the saltiness—they all make a big difference when making grissini. But it was all worth the hard work because I'm about to share with you a delicious restaurant-quality breadsticks recipe.
Bread flour or all-purpose flour?

I've been making homemade breadsticks mostly with bread flour, but since I know many of you don't have it easily accessible, I tested it with all-purpose flour and there is good news! They tasted amazing even with the different flour. The texture isn't quite the same, but I like both versions.
Shaping

I usually split the dough into pieces and shape each one individually into a strip, however there is another trick if you prefer: lightly flour the work surface and shape the dough into a square, about 25*25 cm. Cut the dough into 1cm-wide (or thinner) strips. You can roll each strip with your fingertips for a rustic look or just leave it as is.
When shaping the strips, their size and how long or thick they are is totally up to you. I like them a bit thicker than the very thin Italian ones, but this recipe will work for either. Still, I suggest not making them thicker than 1cm. If you choose to make them very thin, you'll need to bake them for less time than the recipe suggests, just until they're golden.
Make sure the strips of dough are as equal as possible in size so that they bake evenly.
For Parmesan breadsticks reduce the salt by half and add 3 tablespoons freshly grated Parmesan cheese.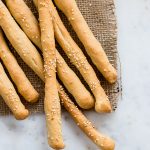 Breadsticks (Grissini) Recipe
Classic crispy Italian bread sticks, great as a snack or for dipping. These are simple to make and taste just like they came from a restaurant!
---
Ingredients
2 ¾

cups

(380 g) bread flour or all-purpose flour

1

teaspoon

instant dry yeast

3/4

cup

plus 1 tablespoon

(195 ml) warm water

¼

cup

(60 ml) olive oil

2

tablespoons

(30 g) unsalted butter, melted and slightly cooled

1¼

teaspoons

fine salt
Optional:
Olive oil

, melted butter, or water, for brushing

Sesame seeds or Parmesan cheese

, for sprinkling
Instructions
Using a mixer fitted with the dough hook, mix all ingredient on low speed until well combined, 2-3 minutes. Increase mixer speed to medium-low and mix for another 5 minutes. Cover bowl with plastic wrap and let sit for one hour at room temperature.

Preheat oven to 375F/190C. Line two baking sheets with parchment paper.

Divide dough into 24 pieces, each weighing about 25g. Roll each piece into a log that is roughly 25cm long (or 30cm if you like them extra thin) and ½-1 cm wide, depending on how thick you want them. Keep in mind that they will expand during baking. Place on prepared baking sheets, allowing sufficient space between each stick. If you like, brush them with oil or water and sprinkle with Parmesan cheese or sesame seeds.

Bake for 20-25 minutes or until light golden and crisp. While the first batch is baking, cover the other baking sheet with plastic wrap until it's ready to go into the oven.

Allow breadsticks to completely cool on a wire rack. They will keep in an airtight container for up to 5 days.