Fluffy and moist muffins fully flavored with dulce de leche and topped with crunchy pecans. 
If there's one thing I really appreciate in baking, it's an easy recipe. I mean, I do like all those gorgeous tiered cakes that take 4 days to make, but I like eating them a lot more than making them. It's just not for me. That's probably why you'll find a generous amount of muffin recipes on my blog—they're so easy to prepare, and just as good to me. I could easily snack on 3 of these dulce de leche muffins with my morning coffee.
The Muffins
On the first day after making these muffins, they have a subtle taste that deepens more and more within the first 24 hours. They taste best a day after making them, so they're great to make a night before you need them and keep in the fridge. Plus, they're so moist that they don't dry out quickly like some other muffins.
Method
Classic muffins are simple to make, and are usually made by putting the wet ingredients in one bowl, the dry in another, then mixing them both together. While this used to be the method I used to make these muffins, I found that they were quite dense because of the addition of dulce de leche. To make them more light and airy, I start beating the eggs with the sugar, which incorporates air into the batter, then gently mixing in the other ingredients.
Dulce de Leche
Store-bough dulce de leche is sold in cans or jars. If you're unable to find it, then you can make a homemade version. The classic way calls for cooking milk and sugar, while another option is to cook a can of condensed milk until it turns into a thick, golden dulce de leche. You can easily find tutorials about it online. Personally, I like to use the canned stuff because it tastes so good.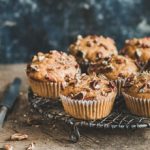 Dulce de Leche Muffins
YIELD
:
16
standard-size muffins
Fluffy and moist muffins fully flavored with dulce de leche and topped with crunchy pecans.
---
Ingredients
1 1/2

cups

(200 g/7 oz) all-purpose flour, sifted

1

teaspoon

baking powder

1/2

teaspoon

ground cinnamon

1/4

teaspoon

salt

2

large eggs

3/4

cup

(150 g/5.3 oz) granulated sugar

1/4

cup

(60 ml) canola/vegetable oil

1

cup

(240 ml) sour cream or heavy cream

1

teaspoon

pure vanilla extract

200

g/7 oz

(approximately 1/2 cup) canned or homemade dulce de leche

3/4

cup

pecans

, finely chopped
Instructions
Preheat oven to 350F/175C. Grease 16 muffin cups or line them with liner papers.

In a large bowl mix together flour, baking powder, cinnamon, and salt. Set aside.

In a mixer bowl fitted with paddle attachment, beat together eggs and sugar on medium-high speed until light and fluffy, about 3 minutes. On low speed and with the mixer running, add oil slowly and beat until combined. Beat in sour cream and vanilla extract, then beat in dulce de leche until combined and turn off mixer. Add flour mixture, then beat just until combined. Don't overmix.

Divide the mixture between the muffin cups, filling them ¾ of the way, and sprinkle with pecans. Bake for 15 minutes or until a toothpick inserted into the center of the muffin comes out clean. Allow pan to cool for 10 minutes, then move muffins to a wire rack and allow to cool completely.

Muffins will keep for 3 days in the fridge. They can also be frozen for up to 2 months. To thaw, leave them overnight in the fridge.

* For another delicious variation, fold in 1/2 cup shredded coconut to the batter, and add 2 tablespoons coconut liqueur along with the sour cream.
SaveSaveSaveSave