These gingerbread bars are the perfect holiday treat. Easily adaptable to any favorite mix-in or topping, these spiced and fudgy bars will bring warmth to everyone.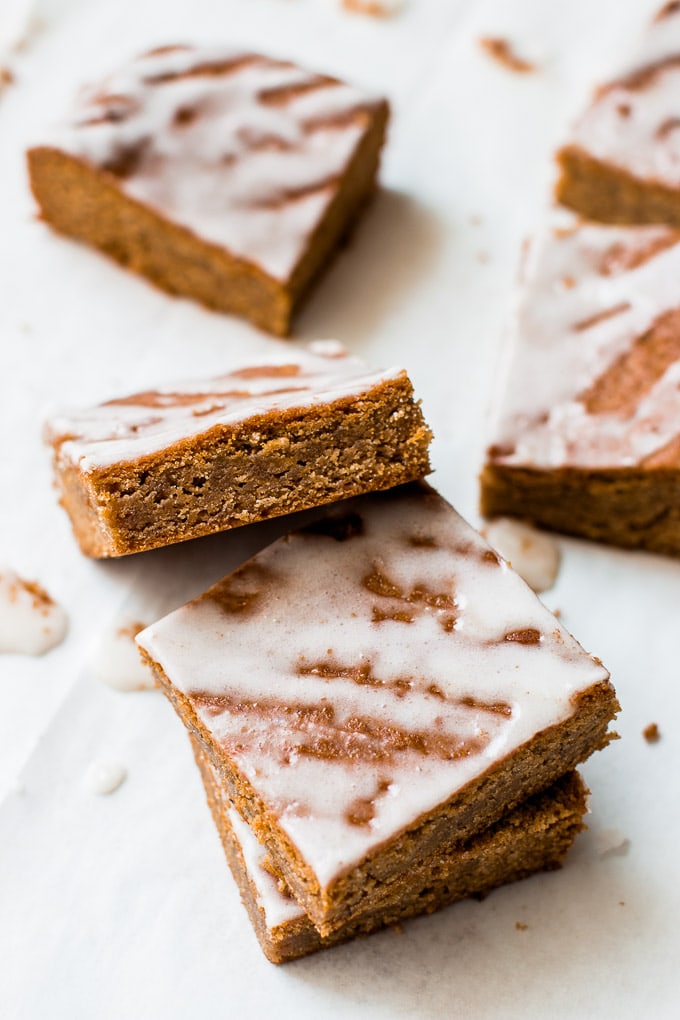 Ginger is one of my favorite holiday spices to bake with. It gives desserts a subtle spiced kick and strong flavor that pair perfectly with other warming spices like cinnamon and nutmeg. These gingerbread bars are a simple holiday treat that can be made in less than 30 minutes and easily adapted to any personal preference.
I like to top these ginger bars with a simple glaze to make iced gingerbread squares, but you can top them with my favorite cream cheese frosting or keep them plain to let the ginger shine on its own. They are also great with white or dark chocolate chips, as ginger pairs perfectly with chocolate – take for instance my Chocolate Ginger Cookies or Spice Brownies. With all the varieties possible, these will become your new favorite holiday treat to share with friends and family.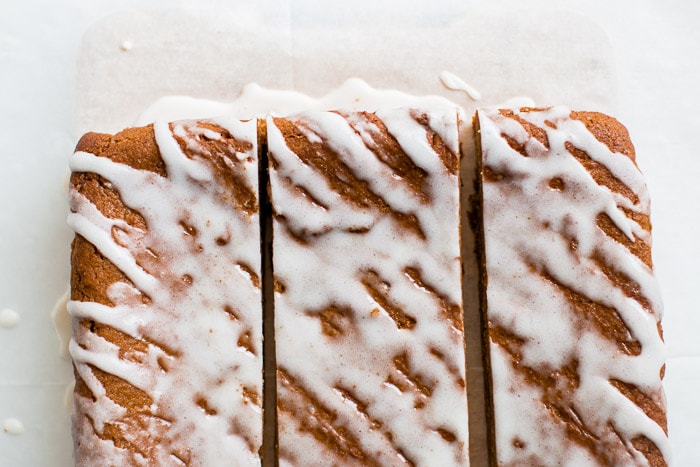 About the spices and sweetener
These gingerbread cookie bars use my favorite holiday flavors, bringing warmth and brightness to the colder weather of the season. I use more ginger than anything else, to really let that flavor shine through, but also add in some ground cinnamon and nutmeg to round everything out.
To sweeten these gingerbread bars I like to use dark, sticky molasses. This gooey sweetener adds a smoky sweet flavor that pairs perfectly with winter spices like ginger, cinnamon and nutmeg. Use unsulphured molasses, which is the most common kind found in a grocery store.
I've made this recipe with honey instead of molasses and have had good results, but the flavor will be a bit different and not as holiday spiced. If you end up buying a new bottle for this recipe, use the extra to make my favorite Molasses Cookies.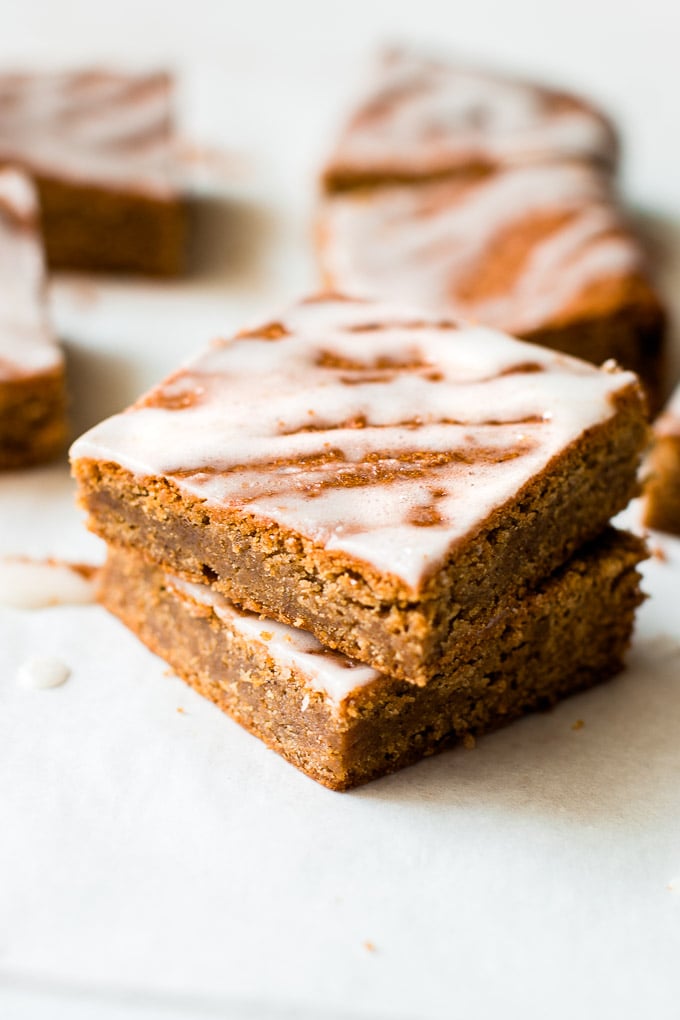 Preparing your dough
These gingerbread bars are similar to a basic cookie dough recipe, but no chilling required. Start by preparing a baking pan with parchment paper and preheating your oven to 350ºF. Next, you'll simply sift together the dry ingredients so the spices are evenly distributed. This step is important, as once you add the dry ingredients to the wet you want to mix as little as possible to keep the gingerbread cookie bars soft and fudgy and not tough.
In a mixer bowl, beat butter and sugar until light and fluffy. Add the molasses, egg, and vanilla and beat until combined. Add your already-mixed dry ingredients and mix just until combined.
Spread the dough right into the prepared pan, smoothing down the top. Bake for 18-22 minutes, until the top is slightly firm and a toothpick inserted into the center comes out with a few moist crumbs clinging to it, not clean. Since the dough is quite dark to begin with, it's difficult to use color as a gauge for being finished baking.
The gingerbread bars may seem slightly underdone, but they firm up as they cool. It's important to not over bake these iced gingerbread squres, since that will make them dry. Let them cool in the pan while you make the glaze or frosting.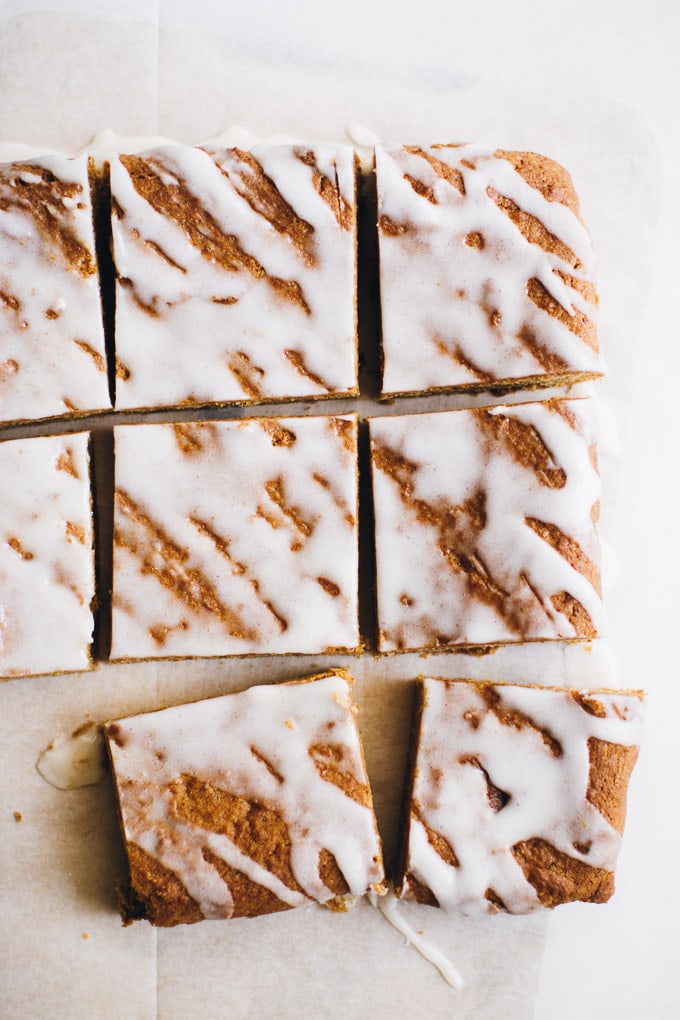 Simple glaze
While your ginger bars are cooling, make your glaze or whatever frosting you wish to use for the finishing touch. I like to use a simple glaze that adds a touch of sweetness to the spiced gingerbread bars. Nothing looks more festive than a white frosted cookie full of holiday spice.
To make your glaze, whisk together powdered sugar, milk and vanilla extract. You may need to add more milk, a bit at a time, until you get a thick yet pourable consistency.
Pour the glaze over the cooled ginger bars, letting it set for 15-30 minutes. To make for easier cutting, I like to put the iced gingerbread bars in the fridge for 2 hours to firm up before cutting.
With a winter chill creeping in, these gingerbread bars are the perfect way to warm up your home and your spirits. Made in under an hour, these are one of my favorite festive treats to bring to a friend or family gathering. Full of sweetness and spice, these iced gingerbread squares are a baked version of holiday cheer.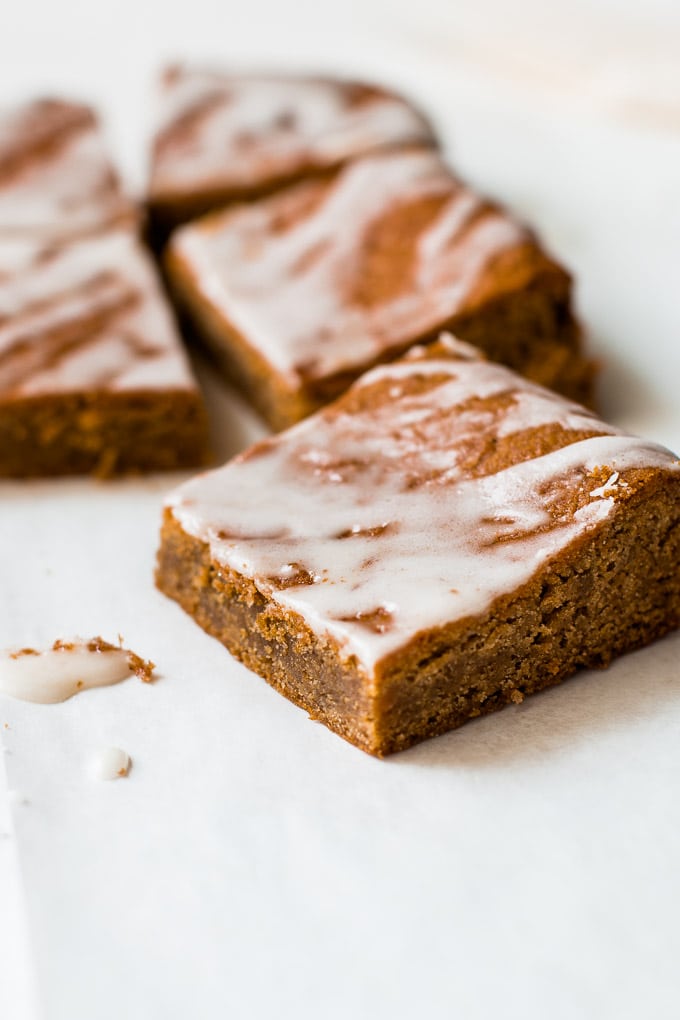 More Ginger Spiced Recipes
Chocolate Ginger Cookies
Gingerbread Cake
Plum Ginger Coffee Cake
Lemon Ginger Cake
Soft and Chewy Molasses Cookies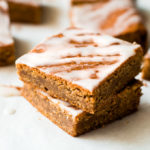 Gingerbread Bars
---
Ingredients
2

cups

(280g) all-purpose flour

2

teaspoons

ground ginger

1

teaspoon

ground cinnamon

1/4

teaspoon

ground nutmeg

1

teaspoon

baking soda

1/2

teaspoon

salt

3/4

cup

(170g) unsalted butter, softened to room temperature

1

cup

(200g) light brown sugar

3

tablespoons

unsulphured molasses

1

large egg

1 1/2

teaspoons

vanilla extract
Glaze
1

cup

(120g) powdered sugar, sifted

1-2

tablespoons

milk

, or more as needed
Instructions
Preheat oven to 350°F/175°C. Line a 9×9-inch pan with parchment paper, leaving enough overhang on the sides for lifting the bars out of the pan after baking.

In a medium bowl, sift together flour, ginger, cinnamon, nutmeg, baking soda, and salt. Set aside.

In a mixer bowl fitted with the paddle attachment, beat butter and sugar on medium speed for 3-4 minutes, until fluffy. Add molasses, egg, and vanilla, and beat until combined. Add flour mixture and mix just until combined.

Spread dough evenly into prepared pan and smooth the top. Bake for 18-22 minutes, until the top is slightly firm to touch, and a toothpick inserted into centre comes out with a few moist crumbs, not clean. Overbaking will make the bars dry. Allow to cool completely in pan.

To make the glaze: In a small bowl, combine powdered sugar, 1 tablespoon milk, and vanilla extract, and whisk until smooth. Add more milk as necessary until you get a thick yet pourable consistency. Drizzle over the bars using a spoon or a piping bag. Allow glaze to set, 15-30 minutes. For easy cutting, you can place it in the fridge for 2 hours until firm. Lift out of the pan and cut into squares. Serve at room temperature.

Store bars in an airtight container at room temperature for up to 3 days, or freeze for up to 2 months.