With so many flavorful ingredients, this bold and intense spice cake really does justice to old-fashioned gingerbread. With no mixer required, it's a simple and delicious recipe that's perfect for fall!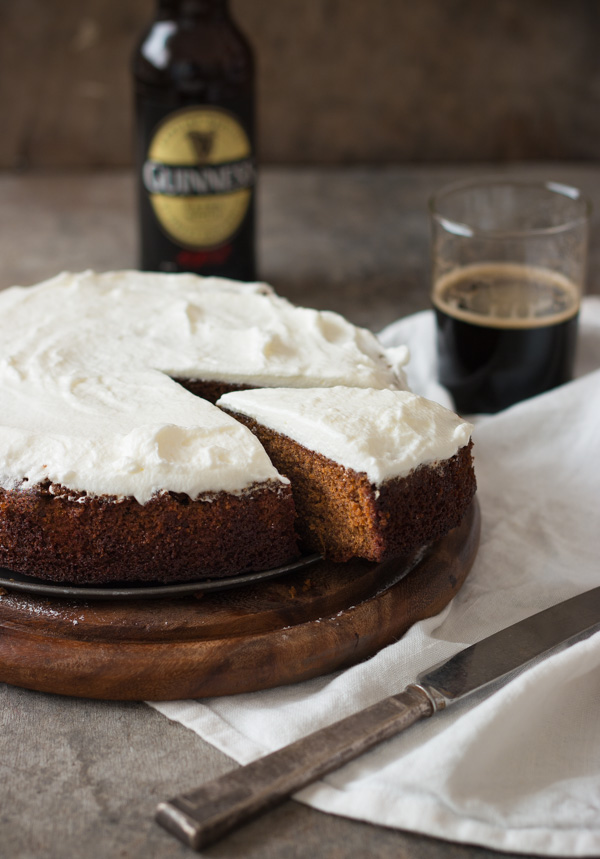 Since I don't normally keep stout around I had to go to the grocery store and buy some to make this recipe. Although I looked like a wreck after a long day at the park with my kids, I really wanted to give this cake a try. After picking out some Guinness, I passed by the snack isle, saw my favorite chips, and decided to grab some of those as well before heading to the checkout line.  I was more than ready to head home when this concerned gentleman behind me asked, "Is everything alright?" It was then that I realized what I must have looked like to him: a tired, disheveled woman checking out with nothing but a single beer and a bag of chips, the perfect recipe for a (pity) party of one.
It really feels like my life stories revolve around the grocery store lately, but I simply can't pass up making amazing sweets just because I don't have everything on hand – and amazing this cake is! This gingerbread cake is super moist, sticky, and spicy with a complex and intense flavor. It's definitely a "mature" cake, for adults only. It keeps well, staying moist for 4 days, and actually tastes better the day after it's made.
The recipe is an adaption of a few wonderful sources that use similar ingredients: The Last Course, Baking Illustrated, and Miette books.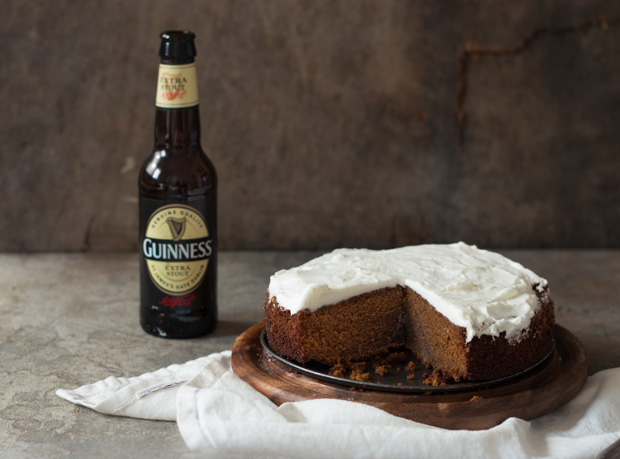 Let's talk ingredients
Stout Beer: Stout helps deepen the flavor of the cake. You could use water or coffee instead if you prefer, but neither will provide the same complexity as stout does. If you're concerned about alcohol in the recipe, the beer is boiled to greatly reduce the amount of alcohol.
Vegetable or Canola Oil: Oil adds moisture, and with all the flavors already in this cake, using butter isn't necessary for taste. If anything, the flavorless oil lets the ginger shine.
Spices: The traditional spices in gingerbread cake are cinnamon and cloves. I feel that a lot of cinnamon overpowers the ginger, though, so this recipe cuts down on it. Nutmeg and cardamom are also great spices that go well in this cake, so if you like a spicy cake with a rich flavor, go ahead and add them. Some recipes also use a pinch of ground pepper for extra heat.

Ginger: You can use purely ground ginger if you prefer, but I highly recommend adding fresh ginger, as well. Ground ginger adds pepperiness to the cake, while fresh root gives it an extra zing.
What kind of stout should I use?
You can use any kind of stout beer for this recipe. I used Guinness because it's readily available and easy to find, but any stout will do!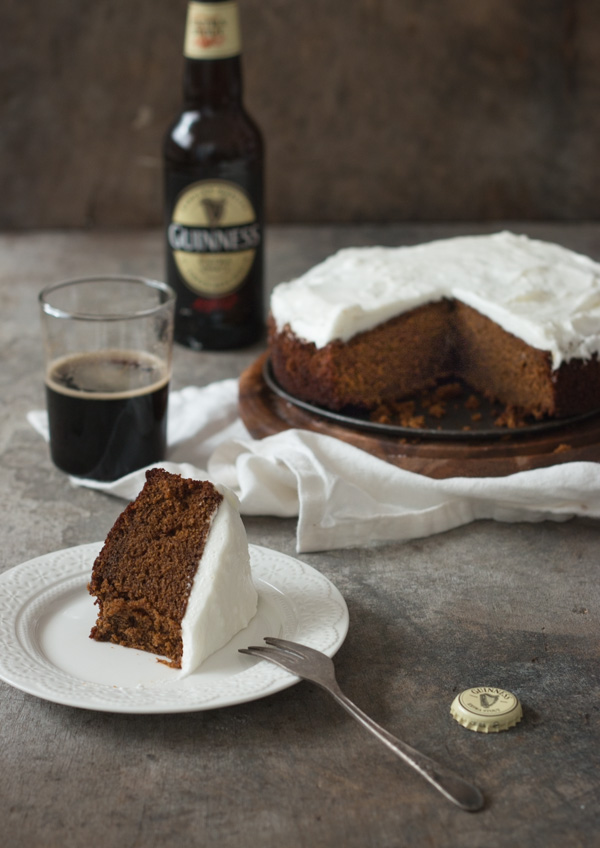 Tips for making perfect gingerbread cake
This cake is really sticky, so depending on the pan you choose, generously butter it or line it with parchment paper. If using a loaf or square pan, line the bottom and sides with parchment paper for an easy lift after baking. You can do the same thing with a round pan, or just line the bottom with parchment paper and butter the sides well. Then, while the cake is still quite hot, run a knife or offset spatula around the edges.
To prevent your cake from become dense, don't overmix the batter. Combine the ingredients just until they are incorporated, and stop there.
Try not to open the oven door before the minimum baking time, as it may cause the cake to sink in the center.
This cake is wonderful served plain or with whipped cream. If you want to top the cake with whipped cream, you'll need to keep it in the fridge and you won't be able to freeze it. Bring the cake to room temperature before serving. However, you can freeze the cake on its own and frost it's defrosted and you're ready to eat it.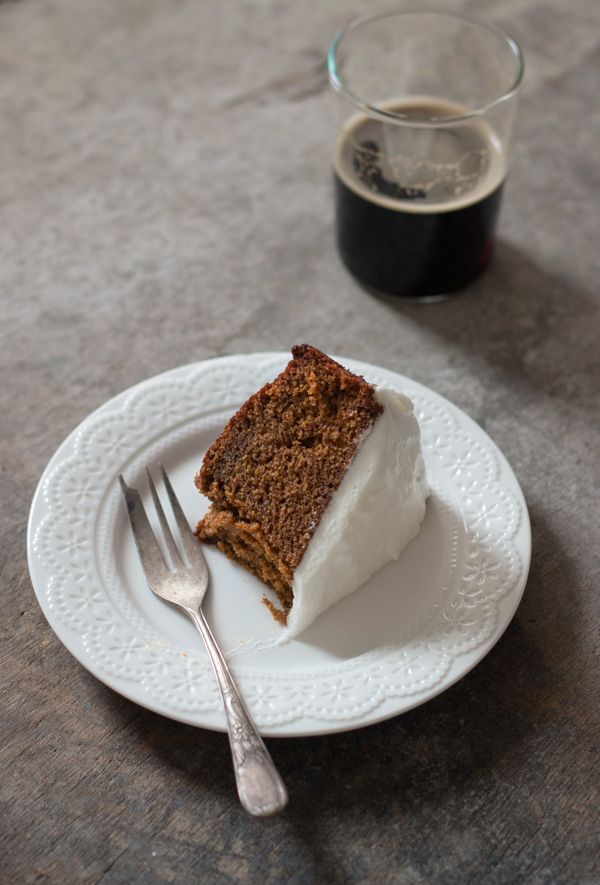 More delicious fall cake recipes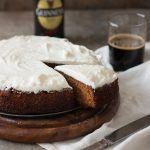 Stout Gingerbread Cake
With so many flavorful ingredients, this dark, bold, and intensely spiced cake really does justice to old-fashioned gingerbread.
YIELD
9
x5-inch loaf pan, or an 8-inch square or round pan
Ingredients
⅔

cup

(160 ml) stout

, such as Guinness

½

teaspoon

baking soda

⅔

cup

(186g) molasses

⅓

cup

(70g) granulated sugar

⅓

cup

(70g) dark brown sugar

1 ½

cups

(200g) all-purpose flour

½

teaspoon

baking powder

¼

teaspoon

salt

1

tablespoon

plus 1 teaspoon ground ginger

½

teaspoon

ground cinnamon

¼

teaspoon

ground cloves

⅛

teaspoon

ground nutmeg

(optional)

A pinch of cardamom

(optional)

2

large eggs

⅓

cup

(160 ml) vegetable or canola oil

1

tablespoon

grated

, peeled fresh gingerroot
Instructions
Preheat oven to 350F/180C. Butter and flour a 9x5-inch loaf pan or an 8-inch square or round pan, or line the bottom and sides with parchment paper (for an easy release as the cake is sticky).

In a medium saucepan over medium heat, bring the stout to a boil. Remove from heat and carefully add baking soda (the mixture will foam). When the foaming subsides, add molasses, granulated sugar, and brown sugar and mix to combine. Set aside.

In a large bowl, sift together flour, baking powder, salt, ground ginger, cinnamon, cloves, nutmeg, and cardamom. Set aside.

Add eggs, oil, and grated ginger to the stout mixture and whisk until combined. Add stout mixture to flour mixture in 3 additions, whisking between each addition, until smooth.

Scrape batter into prepared pan and smooth the top. Bake until the top springs back when gently pressed and a toothpick inserted into the center of the cake comes out clean – 35-45 minutes for an 8-inch pan, or 45-55 minutes for a loaf pan. Do not open the oven until the gingerbread is almost done or the center may fall slightly. Transfer pan to a wire rack to cool completely. Serve at room temperature.

Store cake at room temperature or in the refrigerator in an airtight container for up to 4 days. Cake can also be frozen for up to 2 months. Thaw on the counter, still covered, or overnight in the fridge.