These are my favorite hamburger buns. They're airy, soft, thick, fluffy, and simply perfect. Plus, they can be made dairy-free.
Erez and I used to have this tradition of having fancy hamburger dinners once every few months. After a few successful meals with mostly store-bought ingredients, I decided to upgrade this tradition by making our own homemade buns, which turned out to be a really bad idea. Luckily I was skeptical enough about my bread making skills at the time that I had grabbed some store-bought buns just in case.
Things have changed since then, though. While the burger tradition has faded away, I've learned a thing or two about making not just buns, but the perfect buns. It doesn't mean that my pursuit for other bun recipes is over, because it never is for me, but for now I'm more than happy with this recipe.
These buns are soft, fluffy, shiny, and just the right size for a standard burger. In fact, they're so good that you may find the hamburger itself being little more than an excuse to eat more buns!
There are two rising times, each of which takes about 1 to 2 hours, so you will need to plan ahead. The warmer your house is, the faster the dough will rise. If it's cold, just be patient and the dough will eventually rise, or try to find somewhere like a slightly warm oven to place it.
If the dough feels too sticky you can add additional flour, one tablespoon at a time. Keep in mind that the dough should be slightly sticky, but if you press it with your finger, it shouldn't stick to it. However, it's important for you to know that the more flour you add, the less soft the buns will be. The results will still taste very good, but if you're aiming for the softest buns possible, let your dough be on the sticky side. If you're using a mixer then this shouldn't be an issue because you won't need to handle the dough yourself. After resting, it will lose some of its stickiness and be easier to handle, and if not, keep flouring your hands while handling it until the stickiness fades.
To make the buns ahead of time and bake them in the morning, follow all of the steps up to when you shape the dough into balls, place them in the pan, and cover. Instead of letting them rise this second time, place the pan in the fridge. In the morning (or up to 24 hours later), take the rolls out of the fridge, leaving them to reach room temperature and rise more if needed—until almost doubled in size. If they had risen enough while they were in the fridge, just bring them to room temperature (about 30 minutes) and bake them.
You may also like:
Cinnamon rolls – the best ever
Monkey bread – which is even better than cinnamon rolls!
Dinner rolls – similar recipe with the same amazing taste and texture
Perfect challah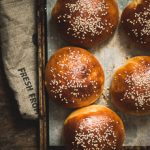 Hamburger Buns (with dairy-free option)
These are my favorite hamburger buns. They're airy, soft, thick, fluffy, and simply perfect. Plus, they can be made dairy-free.
---
Ingredients
3 1/4

cups

(450 g/16 oz) all-purpose flour, plus more as needed

3

tablespoons

(40 g/1.5 oz) granulated sugar

2 1/4

teaspoons

(7 g/0.25 oz) instant dry yeast

1/2

cup

(120 ml) lukewarm water*

1/2

cup

(120 ml) lukewarm milk*

1

large egg

1/4

cup

(55 g/2 oz) unsalted butter, softened or melted

1 1/4

teaspoons

salt
For topping:
1

egg

1

tablespoon

water

½

teaspoon

sugar

Sesame seeds or poppy seeds

, optional
Instructions
Place flour, sugar, and yeast in the bowl of a standing mixer and mix until combined. Attach the dough hook to the mixer and add water, milk, egg, and butter. Mix on low speed until dough comes together, 2-3 minutes. If the dough feels too sticky, add more flour, but keep in mind that this dough should be quite sticky and will be easier to handle after resting. Add salt and continue mixing for another 8 minutes on low-medium speed. Dough should be soft and slightly sticky, and should stick to the bottom of the bowl.

Place dough in a large bowl brushed with oil, and toss to coat (the fat will keep the dough from drying out). Cover with plastic wrap and let sit in a warm place or on the counter for 1-2 hours, or until doubled in size.

When the dough has risen, gently punch it to remove air. Divide the dough into 8 equal portions (each weighing 100 grams) and shape each one into a smooth ball. Arrange on a baking sheet lined with parchment paper, keeping as much space between them as possible. Cover and let rest for 45-60 minutes or until doubled in size.

Meanwhile, set the oven rack to the middle position and preheat to 400F/200C.

Create an egg wash by mixing 1 egg with 1 tablespoon water and ½ teaspoon sugar. Gently brush the tops of the rolls with this mixture and sprinkle with sesame seeds if using. Bake for 15 minutes, until the tops have a deep brown color (if you didn't use an egg wash the tops won't get as dark). Allow pan to cool on a wire rack for 5 minutes, then transfer rolls to a wire rack to cool completely.

Serve warm or at room temperature.

Rolls are best the same day they are made, but can be frozen for up to 2 months.
Recipe Notes
*Lukewarm water/milk should be around 110F-115F. If you don't have a thermometer, it should feel lukewarm to the touch. You can heat them up together in the microwave or on the stove. Make sure the mixture isn't too hot or it will kill the yeast.
*For dairy-free buns, replace the milk with 1/2 cup lukewarm water for a total of 1 cup, and the butter with 1/4 cup canola/vegetable oil. It will be just as good!