When life gives you lemons, make lemon muffins! These lemon muffins. They are light, fluffy, tangy, and taste amazing. They are also super easy to make!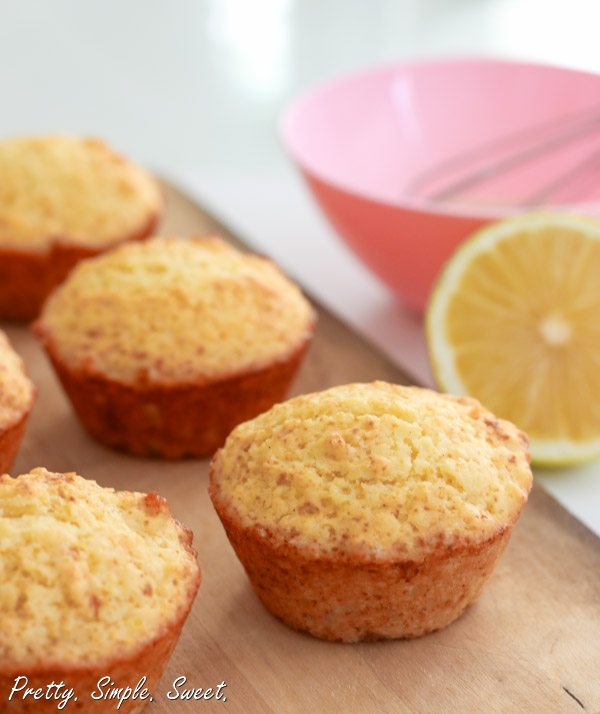 I just got back from a bachelorette party of a dear friend of mine. We spent most of the day hanging out at the pool, talking girl talk, and drinking Lambrusco in style. Yep, the good life!
We stayed in a beautiful villa surrounded by citrus trees full of fruit. The owner of the property said we could pick as much as we like, so now I have 20 lemons. I used one lemon for these muffins and now I need to figure out what to do with the rest. Maybe this amazing cake. Or these cookies.
Flavor and Texture
I couldn't stop eating these muffins. They are fluffy and moist and have a cakey texture. Their lemony flavor is amazing. They also have just the right amount of sweetness. They are wonderful for breakfast and are a great way to start the day.
Remember the Bakery-Style Muffin Recipe I shared with you? I wrote about the difference between a bread-like muffin and a cakey muffin. This one is less bread-like and more cakey because I like my fruit muffins cakey. To achieve this, I use more eggs, fat, and yogurt, which makes the muffins light, tangy and moist. You can use sour cream instead of the yogurt.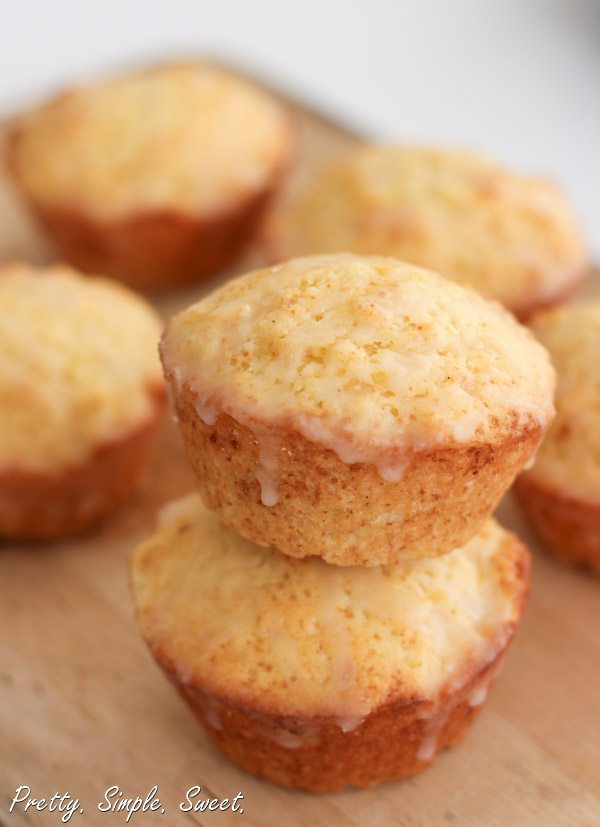 How to Make These Muffins
You don't need a mixer to make these muffins. They are made by using the muffin method, which means mixing the dry ingredients in one bowl, the liquids in another bowl and then combine the two together. Doesn't get any easier than that!
To make them even prettier and yummier I made an easy sticky lemon glaze. Mix powdered sugar and a bit lemon juice together, then drizzle the glaze on top of the muffins and it will give them a nice lemony-sugary crust. I recommend adding it, but it's optional.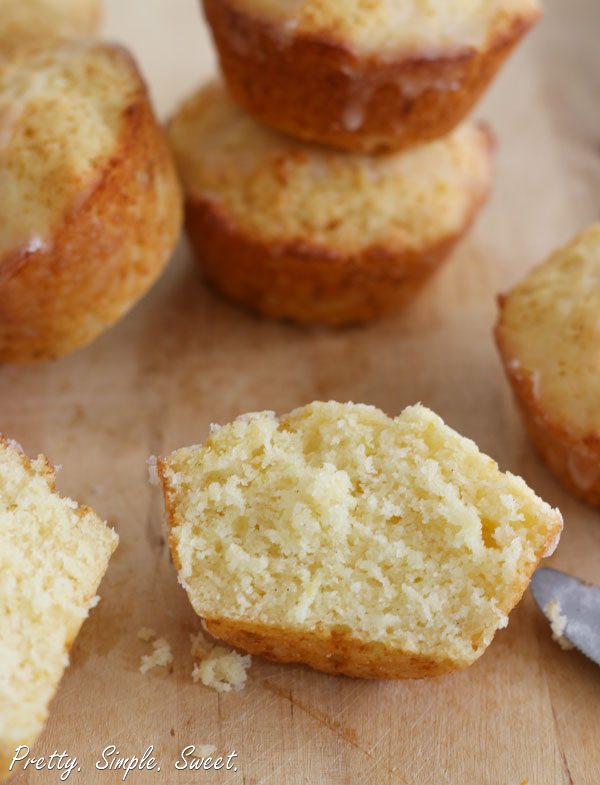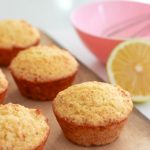 Lemon Muffins
YIELD
:
12
standard-size muffins
---
Ingredients
For the muffins:
1 3/4

cups

(250 grams or 8.8 ounces) all-purpose flour

1 1/2

teaspoons

baking powder

1/2

teaspoon

baking soda

1/4

teaspoon

salt

2/3

cup

(135 grams or 4.7 ounces) granulated sugar

2

large eggs

3/4

cup

yogurt

6

tablespoons

(85 grams) butter, melted

zest and juice of one lemon

(mine yielded about 1 tablespoon zest and 1/4 cup juice)

1/2

teaspoon

vanilla extract

(optional)
For the lemon drizzle topping:
1

cup

powdered sugar

2-3

tablespoons

lemon juice
Instructions
To make the muffins:
Preheat oven to 220C/425F degrees. Butter 12 muffin cups or line them with liner papers.

In a large bowl sift together flour, baking powder, baking soda and salt and mix in the sugar and lemon zest.

In a medium bowl, whisk the eggs with the yogurt, melted butter, lemon juice and vanilla extract just until combined. Pour the wet ingredients into the dry ingredients and stir with a wooden spoon or a rubber spatula just until combined. Do not over mix. The batter should be thick and lumpy. Divide the batter evenly between the muffin cups (almost all the way to the top). Bake for 3 minutes and then reduce the oven temperature to 180C/350F and continue to bake for an additional 12-17 minutes until a toothpick inserted into the center of the muffin comes out clean. Cool for 10 minutes and then move to a wire rack to cool completely.
To make the lemon drizzle topping:
In a small bowl sift the powdered sugar. Add lemon juice until you achieve desired consistency (pourable consistency).

When the muffins are cooled, pour the drizzle over the muffins.

Muffins are best the same day they are made, but can be stored in an airtight container in the fridge for up to 3 days, or they can be frozen for up to 2 months.