These mini pecan pie muffins taste just like pecan pie and are quick and easy to make! They're gooey with a delicious caramel and pecan flavor.
A few years ago when I just started the blog, a friend of mine gave me a beautiful recipe card with this pecan pie muffin recipe and told me that I had to make it. Unfortunately, the card easily got lost in my messy drawer, and I forgot about it, until I finally organized my mess this week (yep, it's about time) and found it. I decided to give it a try, and I'm so glad I did!
These little bites are so yummy and addictive. It's a good thing I had to save some for the next day to take photos, otherwise I'd eat the whole batch in 5 minutes. And yes, I'm being serious.
Do they really taste like pecan pie?
Yes, they do! It's like a gooey sticky pecan pie filling in a muffin form. The brown sugar gives them a caramel flavor, and with the butter and pecans they taste just like a nostalgic pecan pie.
They are so easy to make, they'll be ready in no time! 10 minutes of preparation, short baking time, short cooling time, and then straight into your belly, one after the other.
Make sure to grease your muffin pan well. These muffins are sticky, so greasing is necessary to prevent them from sticking to the pan. I used a silicone muffin pan, so it was easy! If you have one, make sure to use it. I greased it as well.
Muffin Size. I baked a few standard-size muffins to see if it works well too, and it does. I do prefer the mini ones though, because these muffins are ideal as a small bite.
Looking For More Pecan Goodness?
Sweet Classic Pecan Pie
Chocolate Pecan Espresso Cake
Coffee Pecan Shortbread Cookies
Chocolate Espresso Muffins with Crunchy Pecan Topping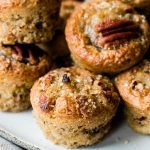 Pecan Pie Muffins
---
Ingredients
1/2

cup

(70 g/2.5 oz) all-purpose flour

1

cup

coarsely chopped pecans

1/4

teaspoon

baking powder

1/4

teaspoon

salt

2

large eggs

1

cup

(200 g/7 oz) light brown sugar

1/2

cup

(1 stick/115 g) unsalted butter, melted

1

teaspoon

vanilla extract
Instructions
Preheat oven to 375°F/190°C. Grease well 24 mini muffin cups. It's best to use a silicone pan. Don't skip that part because these muffins are sticky.

In a large bowl mix together flour, pecans, baking powder, and salt.

In a medium bowl whisk eggs and sugar for 1 minute until well combined. Stir in melted butter and vanilla extract. Add the mixture to the flour mixture and mix until combined.

Divide the mixture between the muffin cups, filling them almost all the way to the top. Bake for 11-13 minutes or until a toothpick inserted into the center of the muffin comes out clean. Allow pan to cool for several minutes, then run a knife around the edges of the muffins cups, and gently remove from pan.

Muffins will keep for 5 days in the fridge. They can also be frozen for up to 2 months. To thaw, leave them at room temperature for an hour or overnight in the fridge.