These crispy meringue cookies are sweet, crumbly and have a light vanilla flavor. They'll melt in your mouth as soon as you bite into them! And with only 4 ingredients, this meringue cookie recipe is incredibly simple to make!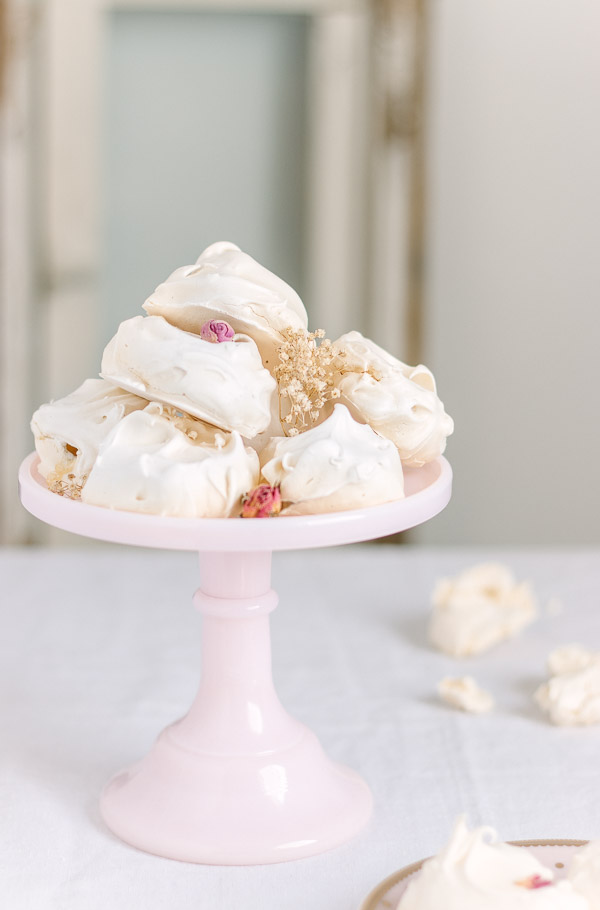 Did you ever bite into a cookie and just need to stop and savor the flavor? That's how I feel about these meringue cookies. Because they are made with only a few ingredients, this meringue cookie recipe is incredibly simple to make, yet the cookies have a delicate taste and texture that I just love. You can even add a bit of food coloring to brighten them up if you like!
Keep reading to learn how to make perfectly delicious meringue cookies.
How to make meringue cookies
Authentic meringue cookies follow a 1:2 ratio of egg whites to sugar. The meringues should be on the sweet side and have a crisp texture that instantly melts in your mouth. Finished meringues will be white, shiny, and smooth – like satiny pillows!
Make a meringue. In a clean mixing bowl fitted with the whisk attachment, beat egg whites and salt on high until the whites start to foam. Gradually add the granulated sugar one tablespoon at a time and allow the egg whites to eventually form stiff peaks. It will appear shiny and smooth. Add the vanilla extract and combine. If adding food coloring, you can add it now.
Fold in powdered sugar. Using a rubber spatula, fold in sifted powdered sugar until completely incorporated. If adding
Bake. Place small heaps of meringue on a parchment-lined sheet pan or pipe them evenly in rows using a piping bag and a round or star piping tip. Bake for 2-3 hours on the lowest shelf in your oven at 200°F/90°C until the meringues are completely dry. Cool completely.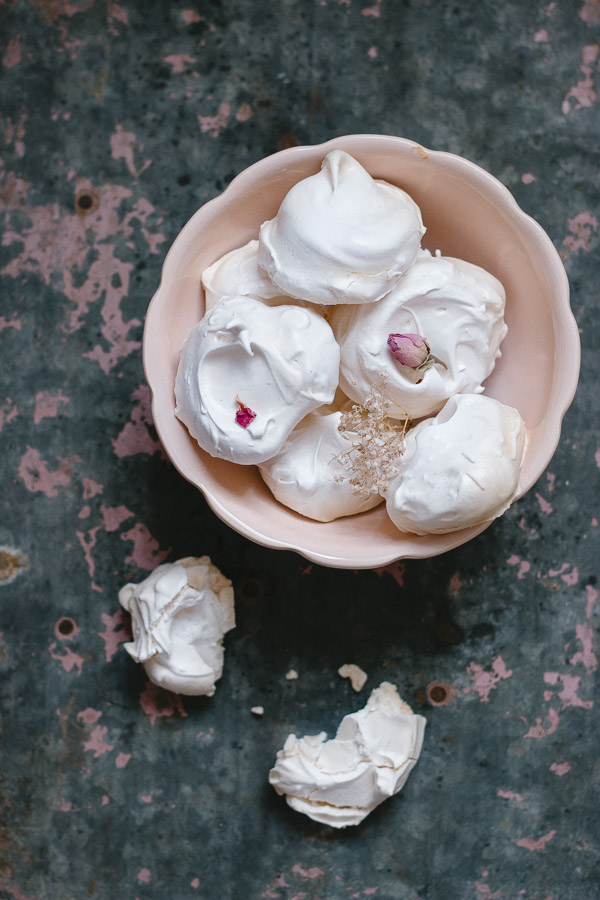 Tips for making perfect meringue cookies
If separating the eggs yourself as opposed to using store-bought egg whites, do so while they are still cold because the eggs are easiest to separate when chilled. Then, cover and let sit to reach room temperature. Room temperature egg whites will whip up best and reach their highest volume.
Don't leave out the salt. The salt cuts the sweetness and helps stabilize the egg whites so they can reach their full volume.
Don't reduce the sugar. In some recipes, reducing the sugar won't alter the final result. But in this recipe, the amount of sugar is crucial to create the desired texture of the cookies. It also helps with the stabilization of the egg whites, both while whipping and during baking.
For perfectly shaped and even meringues, pipe the meringue using a pastry bag fitted with a round or star tip. Otherwise, drop mounds of meringue onto the baking sheet, using the help of 2 tablespoons.
Adjust the baking time based on your meringue size. If making smaller meringues using a piping tip, the baking time could be closer to 2 hours. For larger meringue cookies, they might need to entire 3 hours to bake. You'll know they are done when they are completely dry on the inside and the outside.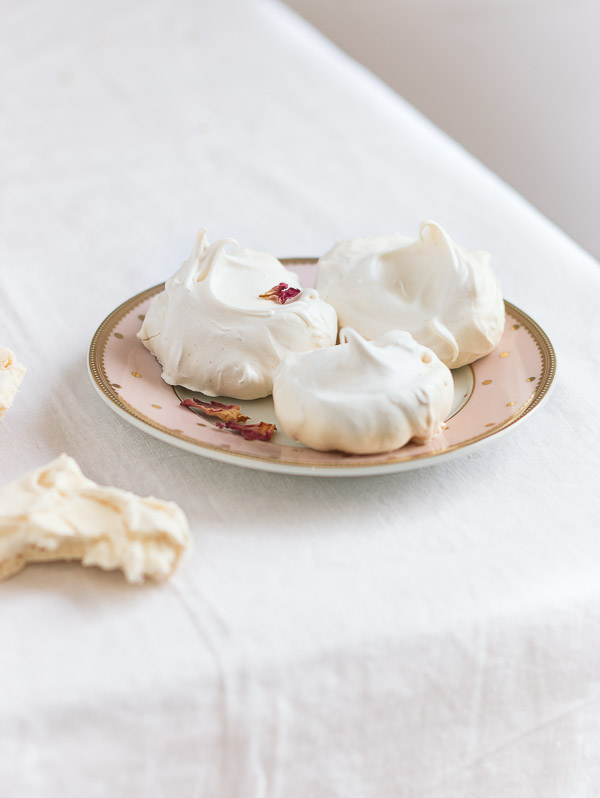 Commonly asked questions
How do I make meringue 'kisses?'
Use a pastry bag fitted with a ½-inch round or star tip. Hold the piping bag at a 90 degree angle from the surface (your hands will be vertical to the surface). Keep the tip close to the surface, and squeeze for a count of 3. Stop squeezing, and lift the bag straight up while releasing pressure to let a peak form.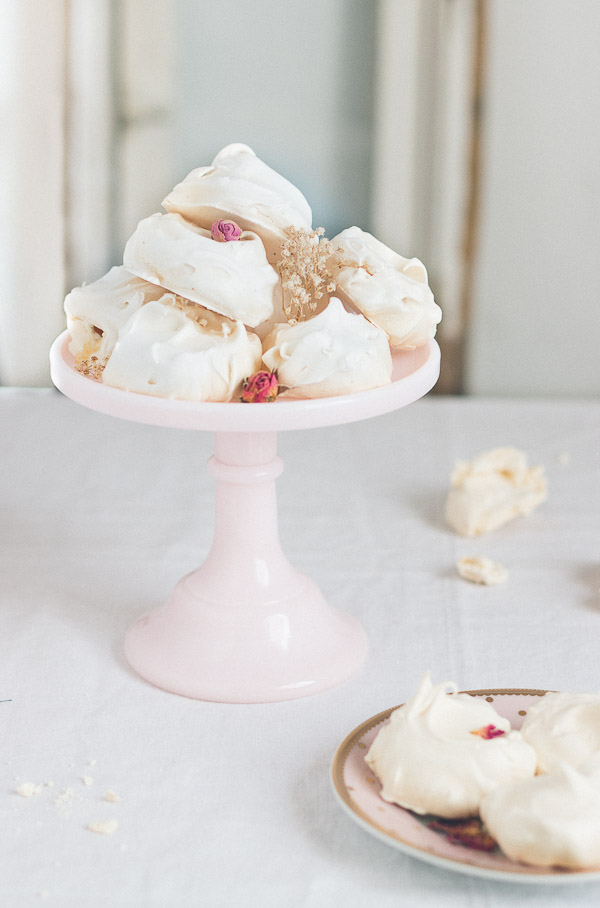 How do I keep my meringue cookies from browning?
I usually bake meringues at 200°F/90°C and they turn out white. However, if your cookies have a slight tint after baking, decrease the temperature to 175°F/80°C next time – no lower than that – and increase the baking time. Also, be sure to bake the cookies in the lower part of the oven.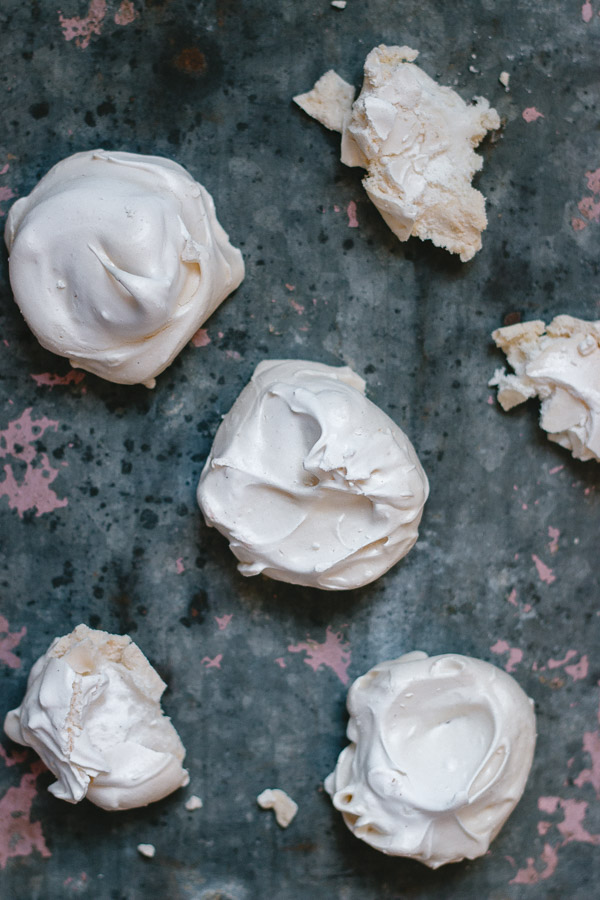 How to know when my meringues are ready?
Meringues are ready once they appear dry and are easily lifted from the parchment paper with their bases intact. Sometimes, though, especially for large meringues, it's hard to know if the center has baked properly. It's ok if it's quite soft and marshmallow-like, but it shouldn't be sticky. You can always break one open and see if it's dry inside.
More of my favorite meringue desserts
Meringue Recipe
Beautiful crunchy meringue cookies that melt in your mouth with every bite!
Total Time
3
hours
15
minutes
YIELD
10
large cookies or 50-60 mini cookies ("kisses")
Ingredients
3

(100g) egg whites, at room temperature

Pinch

of salt

½

cup

(100g.) granulated or caster sugar

½

teaspoon

pure vanilla extract

¾

cup

(90g) powdered sugar

Food coloring, optional
Instructions
Preheat oven to 200F/90C. Line a baking sheet with parchment paper and set aside.

Double-check that your mixer bowl is extra clean and not greasy, as that will cause the egg whites to not whip up properly. In a bowl of an electric mixer fitted with the whisk attachment, whisk egg whites and salt on low-medium speed until foamy and soft peaks start to form, approximately 40-50 seconds. Then, while mixer is running, add the sugar, one tablespoon at a time, and continue whisking on medium-high speed until stiff peaks form, meringue is glossy and completely smooth but not dry, and the sugar is fully dissolved (this part of adding the sugar and continues beating may take 5-10 minutes.). Beat in vanilla extract. Stop the mixer and add the powdered sugar. Fold gently by hand until combined and smooth. Fold in food coloring, if using.

Immediately spoon mounds of meringue onto the prepared baking sheet, about 2.5-inch in diameter (for piping or "kisses" shape, refer to above post). These cookies don't spread much, so you can place them quite close to each other. Place in the lower part of the oven and bake for 2-3 hours, or until the meringues are dry, their center isn't sticky, and they are easily lifted from the parchment paper with their bases intact. Turn off the oven and, without removing, let meringues cool completely for at least one hour or overnight.

Meringue cookies will keep for 2 weeks in an airtight container at room temperature.
Recipe Notes
If you have a scale, weigh the egg whites for best results. Make sure there are no egg yolks in there or it will ruin the meringue.
Remember that there's no harm in baking the meringues for a longer time, so if you don't feel that they're quite ready yet, continue letting them bake.