Crisp on the outside and soft on the inside, this pavlova is a simple show-stopper meringue-based cake. Every bite will melt in your mouth!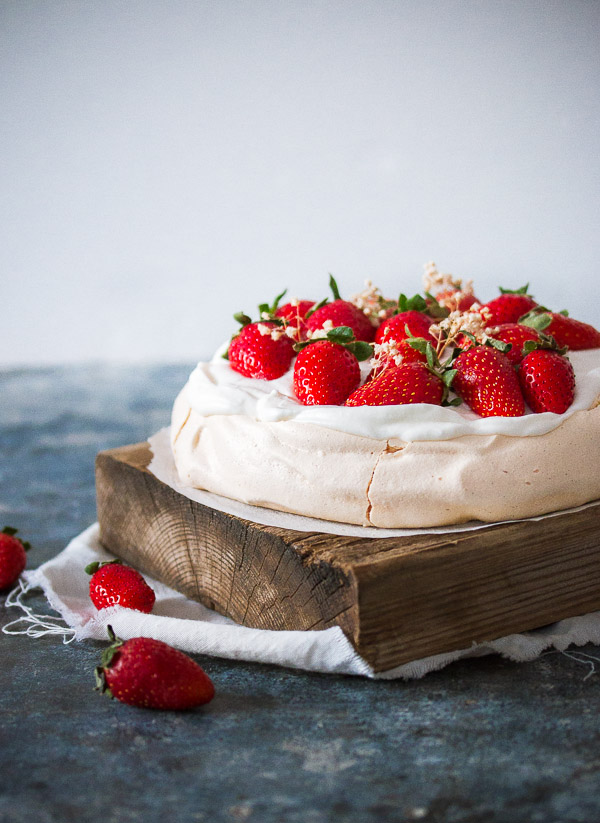 After last year's disappointment of only realizing fresh strawberries were available when they were going out of season, I learned my lesson. So this year I believe I bought the first batch of fresh strawberries in the country. They're right here next to me, and I'm trying my best to stop nibbling them and leave some for the pavlova.
The perfect pavlova should have a soft marshmallow-like interior with a delicate shell. Once you bite into the crisp, crunchy crust, it instantly melts in your mouth. Deliciousness.
Pavlovas are made with very few ingredients – usually egg whites, sugar, cornstarch, and white wine vinegar or freshly squeezed lemon juice (or another acid such as cream of tartar). Vinegar/lemon juice and cornstarch help to stabilize the meringue so that it retains its volume and doesn't collapse. They also help in creating the characteristically crisp outside and soft inside.
Making pavlova requires separating the eggs, but the process is otherwise very simple. Separate the eggs while they're still cold (that's when it's easiest), then leave the egg whites on the counter until they reach room temperature (that's when they'll reach their highest volume).  Cover the egg yolks and place them in the fridge for a couple of days to use them for lemon curd (that, by the way, goes perfect on pavlova!), chocolate pudding, crème brulee, or chocolate chip cookies. For the lemon curd, make sure you read the post itself, where I explain how to replace the whole eggs in the recipe with egg yolks.
To make pavlova, you'll start with whisking the egg whites on high speed. Once you see it starting to get foamy (about 40 seconds), decrease the speed a bit and start adding sugar, one tablespoon at a time. Take your time with it. It usually takes me several minutes to add all of the sugar. Increase the speed again and continue whisking until stiff peaks form – meaning that if you stop the mixer and take a look at your whisk attachment, it should have peaks that look shiny and stiff and keep their shape. Lastly, add all the other ingredients and either fold them in by hand or whisk on low just until combined.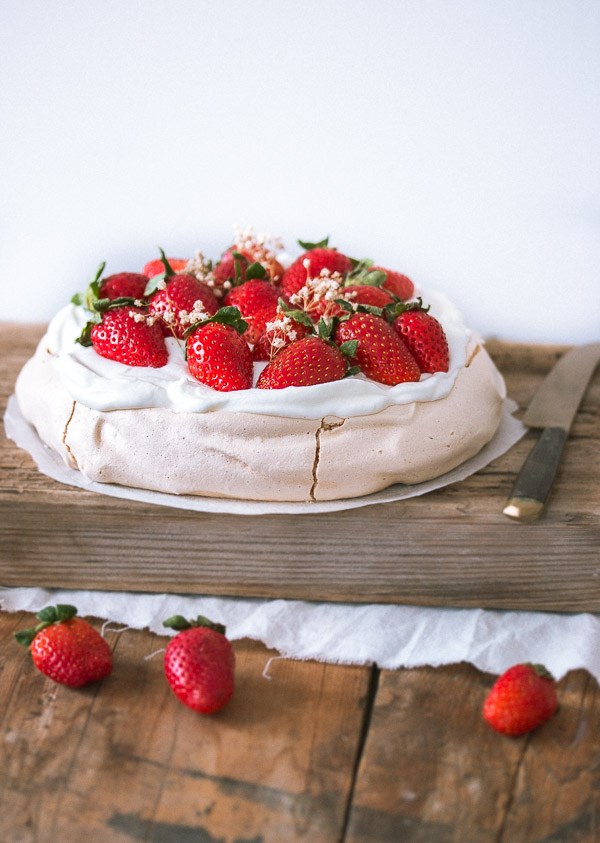 Although I used whole strawberries for the photos, it would be more practical to remove the stems and slice them in half.
Classic pavlova is topped with whipped cream and fruit, which is what this recipe calls for. You can also top it with either lemon curd, grated chocolate, chocolate sauce, or fruit sauce.

Pavlova
Crisp on the outside and soft on the inside, this pavlova is a simple show-stopper meringue-based cake. Every bite will melt in your mouth!
Ingredients
4 large egg whites
1 cup (200 g/7 oz) granulated sugar
½ tablespoon cornstarch, sifted
1 teaspoon white wine vinegar or lemon juice
Pinch of salt
1 teaspoon pure vanilla extract
Whipped cream:
1 cup (240ml) heavy cream
2 tablespoons granulated or powdered sugar
½ teaspoon pure vanilla extract
Fresh fruit of your choice (berries, passion fruit, kiwi, pineapple, etc.)
Instructions
Preheat oven to 325F/160C. Line a baking sheet with parchment paper and draw an 8-inch or 9-inch circle (you can use your cake pans for that). This will help you later when spreading the meringue. Turn the paper so that the circle is on the reverse side.
In a mixer bowl fitted with a whisk attachment, whisk egg whites on high speed until foamy and soft peaks start to form (about 30-40 seconds). Reduce speed to medium and, while mixer is running, add sugar, one tablespoon at a time. Once done adding sugar, increase speed to high and continue whisking until stiff peaks form, meringue is glossy, and the sugar is fully dissolved. Add cornstarch, vinegar, salt, and vanilla and either fold in by hand or whisk on low speed just until combined.
Spread meringue onto the parchment paper, shaping it into a circle with the help of the circle you drew earlier. Create a border so that edges are slightly higher than the center.
Place in oven and reduce temperature to 230F/110C. Bake for 75-90 minutes, or until creamy in color and the outside appears dry. Turn off oven and, without removing, let meringue cool completely in the oven. It will crack slightly while cooling.
For the whipped cream: In a mixer bowl fitted with a whisk attachment, whisk heavy cream with sugar and vanilla until soft peaks form. Be careful not to over mix.
Spread whipped cream over the meringue and top with freshly sliced fruit.
Notes
-The meringue itself will keep for a few days in an airtight container at room temperature. Once whipped cream is added, the meringue will keep in the fridge for up to one day.