A small, buttery almond cake that melts in your mouth, these financiers are just as delicious as those found in a French patisserie. With a light and delicate crumb, they're the perfect afternoon snack or morning coffee paring.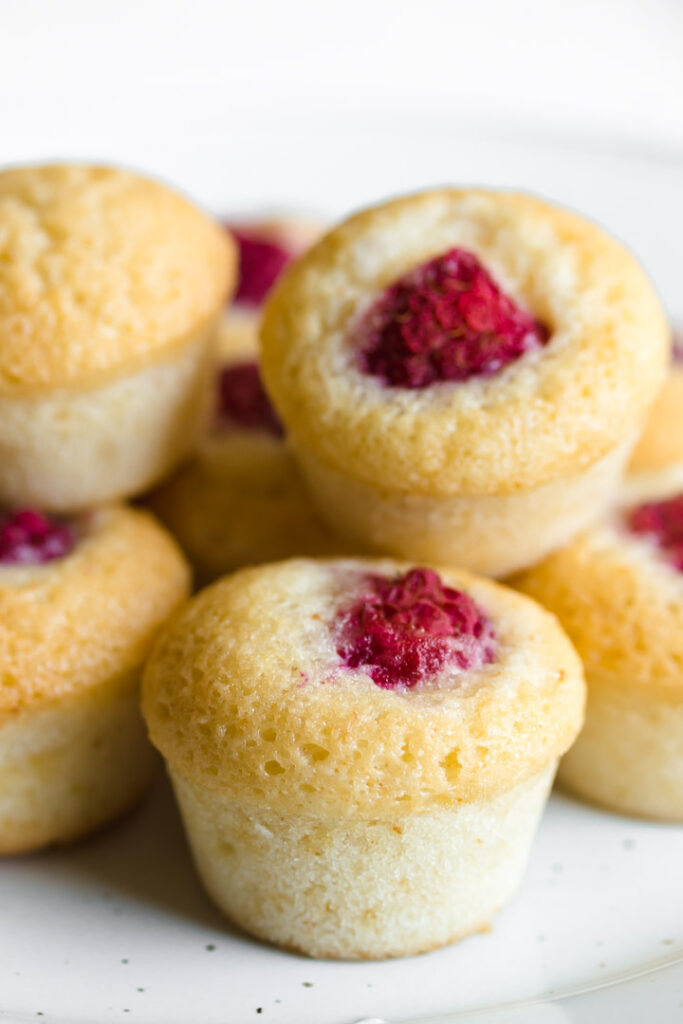 Financiers are one of the most famous French pastries. Made with nuts, browned butter, egg whites, and powdered sugar, a classic financier has a crisp exterior that surrounds an incredibly delicate and moist interior. With trips to Paris on pause, ease your wanderlust (and sweet tooth) with this financier recipe.
What are financiers?
A financier is a small French pastry traditionally made with ground almonds and brown butter. They are often baked in small, rectangular molds to be individually sized. For at-home ease, in this financier recipe I use a mini muffin pan to bake these in but you can use a financier pan (just adjust the baking time if needed) if you have one.
There are several theories on where the name came from. One thought is that the name derived from the cake's resemblance to a bar of gold when baked in rectangular form. Another theory is that it's named for finance industry workers who needed a dessert that wouldn't mess up their suits when picking up an afternoon snack. Either way, the financier cake name stuck and so too did these delicious cakes.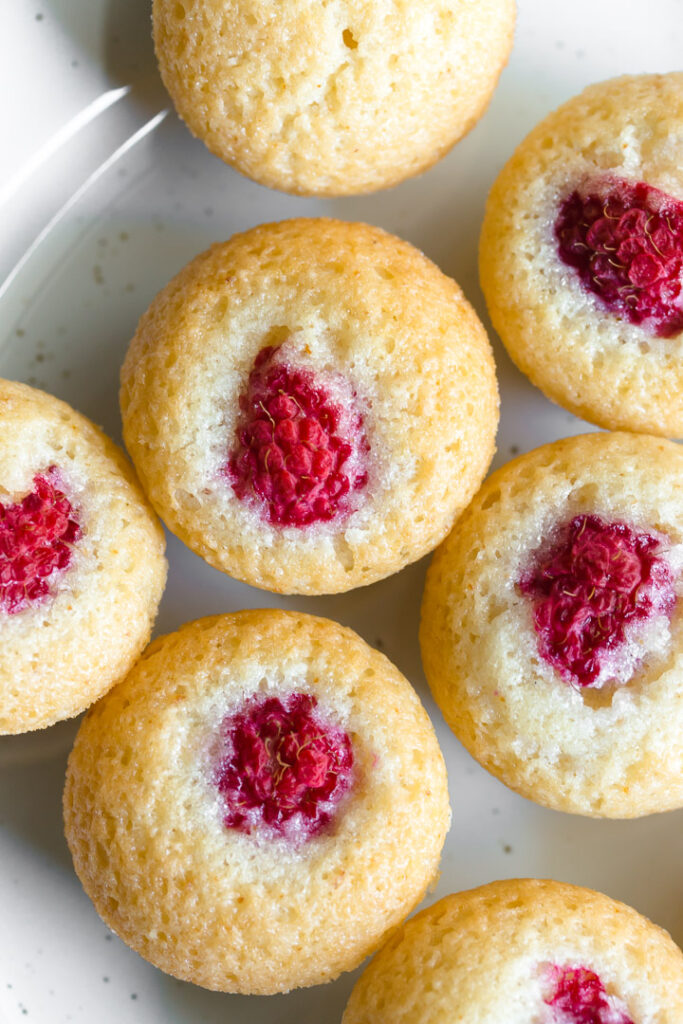 About the financier cake ingredients
Classic French financiers are made with a few simple ingredients that are significant to the financier dessert:
Brown butter: Liquid gold, browning your butter before using it adds a nutty flavor that boosts whatever it touches. I only make these financiers with browned butter but you can just use melted butter if you're in a rush or don't want to dirty up a pan.
Almond meal: The main flour source for these cakes, ground almonds (also known as almond flour) add texture and richness. You will need to add a bit of all-purpose flour in addition to the nut flour.
Powdered sugar: This adds a melt in your mouth texture to the financiers. If you only have granulated sugar you can use the same amount in grams (130g). If you don't weigh it, use 2/3 cup (since volume measurements are different for powdered sugar and granulated sugar).
Egg whites: These add lightness and help brighten up the financier cakes.
While not traditional, I like to add in some vanilla extract to this financier recipe for some extra flavor. This is a basic almond financier recipe, but you can also add in 100 grams chopped chocolate or raspberries for something extra.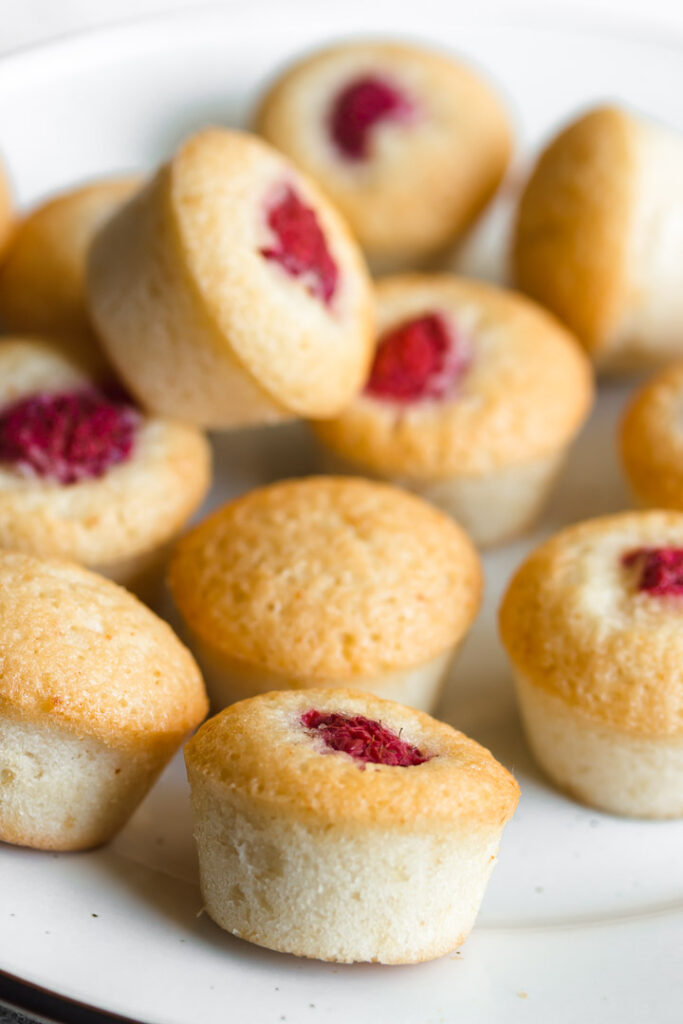 How to make financiers
Start by preheating your oven to 350°F/180°C and greasing a mini muffin tin with butter (you can also line the tin with paper liners). I like to use a silicone pan for easy removal.
If using browned butter, heat the butter on medium heat in a medium, heavy-bottomed saucepan. Stir occasionally, watching for the butter to foam and then begin to brown. Once it has a nutty aroma and dark golden flecks (this is the browned milk solids), remove it from the heat and pour it into a bowl. Let cool while you prepare the rest of the financier recipe. Keep a close eye on the butter because it can easily go from perfectly browned to burnt in seconds!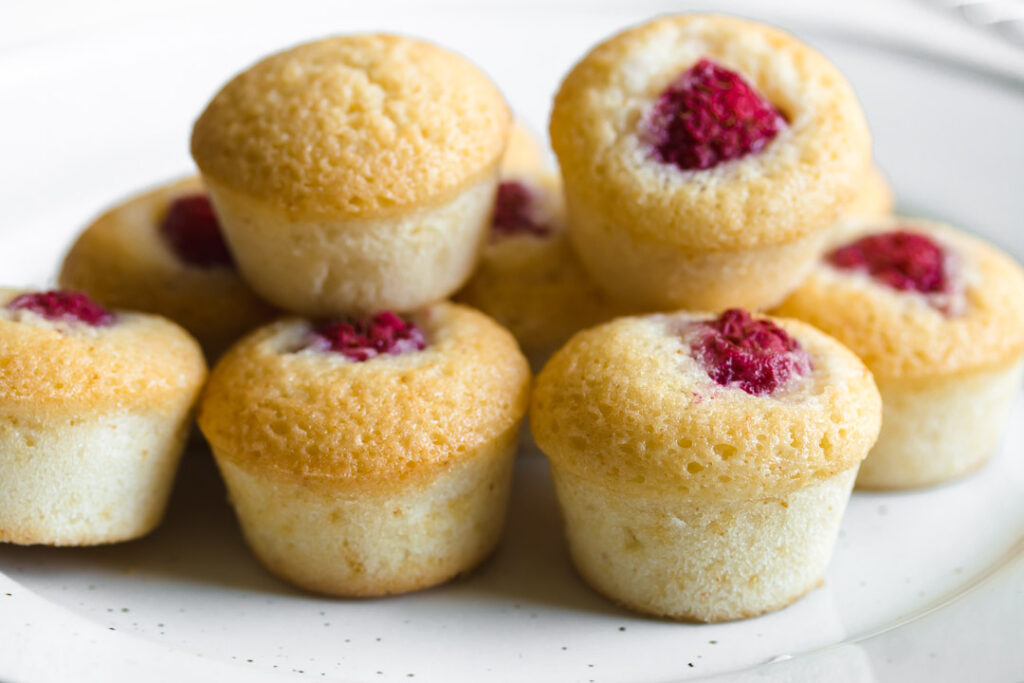 In a separate bowl, whisk together the almond meal, flour, powdered sugar, baking powder and salt. Gently stir in the brown butter, egg whites, and vanilla extract or chocolate if using. Only mix until combined, being careful not to overmix the batter.
Divide the batter evenly between the muffin cups, filling each cup almost to the top. Add your raspberries, if using (more information in the recipe below).
Bake the financiers for 10-15 minutes, until a toothpick inserted in the center comes out clean and they are a nice golden brown color. Let cool for 5-10 minutes before removing from the pan and cooling completely on a wire rack. You can serve with a dusting of powdered sugar if you'd like, but I usually just keep them plain since they are beautiful on their own.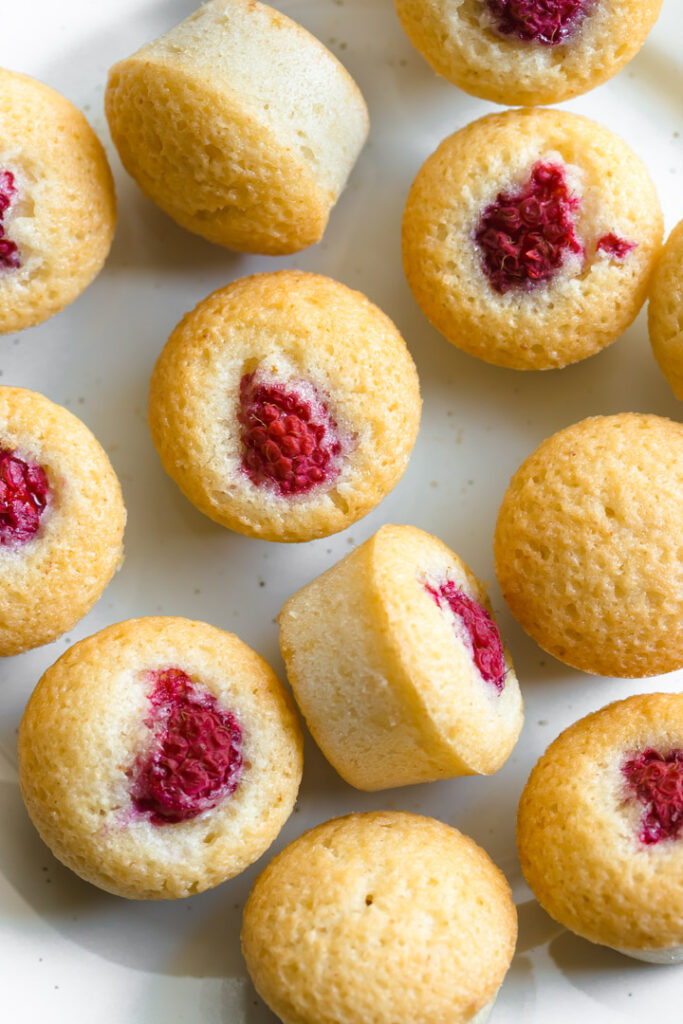 Other French recipes: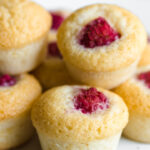 Financiers
YIELD
:
24
mini financiers
---
Ingredients
7

tablespoons

(100g) unsalted butter

1 1/8

cups

(130g) powdered sugar

2/3

cup

(60g) almond meal (almond flour)

6

tablespoons

(50g) all-purpose flour

1/2

teaspoon

baking powder

1/8

teaspoon

salt

4

large (140g) egg whites

1

teaspoon

pure vanilla extract, optional

Raspberries, optional
Instructions
Preheat oven to 350°F/180°C. Grease a mini muffin pan with butter or cooking spray (or line the tins with paper liners). I use a silicone pan for easy removal.

To brown the butter, place butter in a medium, heavy-bottomed saucepan over medium heat and melt. Keep heating just until small golden bits start to appear at the bottom, and the butter smells nutty and caramely. Watch it carefully because the butter can burn quickly at this point. Remove from the heat and immediately pour melted butter into a small bowl. Set aside and allow to cool slightly.

In a medium bowl whisk together powdered sugar, almond meal, flour, baking powder and salt. Add melted brown butter, egg whites, and vanilla extract, if using, and mix just until combined and smooth. Don't overmix.

Divide batter between the muffin pan cups, filling each cup almost to the top. If you're using raspberries, just before you bake the financiers, cut raspberries in half and place one half, cut side down, on top of each financier, and press down gently. Bake for 10-15 minutes, until a toothpick inserted into the muffin comes out clean. Allow muffins to cool for 5-10 minutes, then remove from pan and allow them to cool completely on a wire rack.

Muffins are best the same day they are made but can be kept in an airtight container for 2 days at room temperature or up to 5 days in the fridge. They can also be frozen for up to 2 months. Thaw at room temperature for 2 hours, or in the refrigerator overnight.