These indulgent mint brownies are ultra rich and fudgy and topped with a layer of creamy chocolate ganache. They're the perfect addition to the holiday season and will certainly spread some cheer!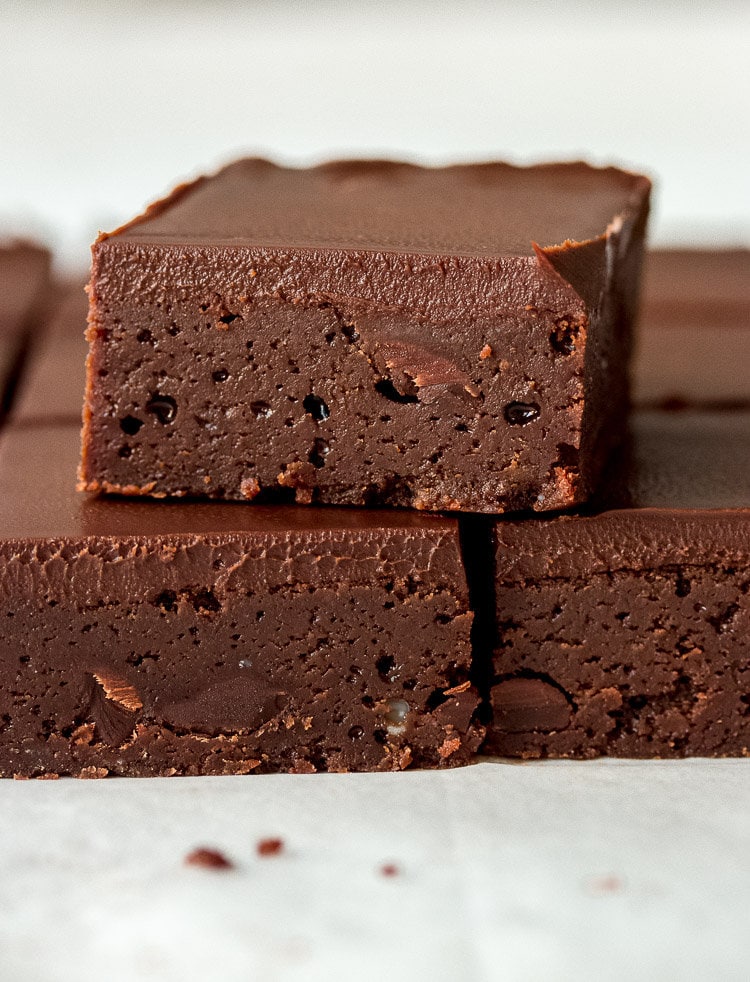 I didn't grow up loving mint chocolate desserts. It wasn't typically a flavor combo I would reach for, but I wanted to create a delicious mint chocolate brownie for the holiday season. And these fudgy, gooey mint chocolate brownies really are amazing – even I can't get enough!
They're made with melted bittersweet chocolate for a super fudgy texture and have a bit of peppermint extract for a subtle yet delicious mint flavor. With chocolate chunks folded into the batter and creamy chocolate ganache topping, these mint brownies are incredibly simple to make and will have everyone coming back for seconds!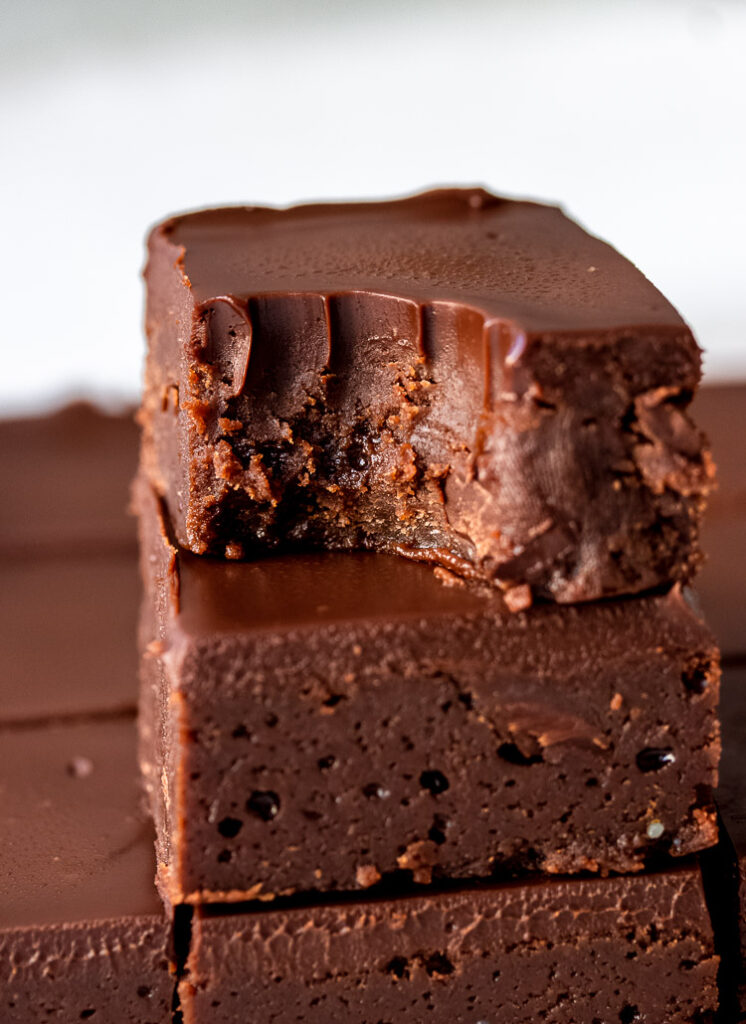 How to make mint brownies
Melt the chocolate and butter together. You can do this in the microwave or on the stovetop over a double boiler. If using the microwave, heat together in 30 second increments and mix between each increment.
Add sugar, eggs, and mint extract. Once the chocolate and butter are melted together, whisk in the sugar. Then, add the eggs and use a whisk to fully incorporate. Add mint extract and combine.
Combine flour and salt. Gently mix into the chocolate-egg mixture.
Fold in chocolate chips. Use a rubber spatula to gently fold in the chocolate chips, being careful not to overmix.
Bake. Bake in a parchment-lined 8×8-inch pan for 23-27 minutes until a toothpick inserted comes out with a few moist crumbs. Cool completely before topping with chocolate ganache.
Store. These brownies can be kept covered in the refrigerator for 5 days.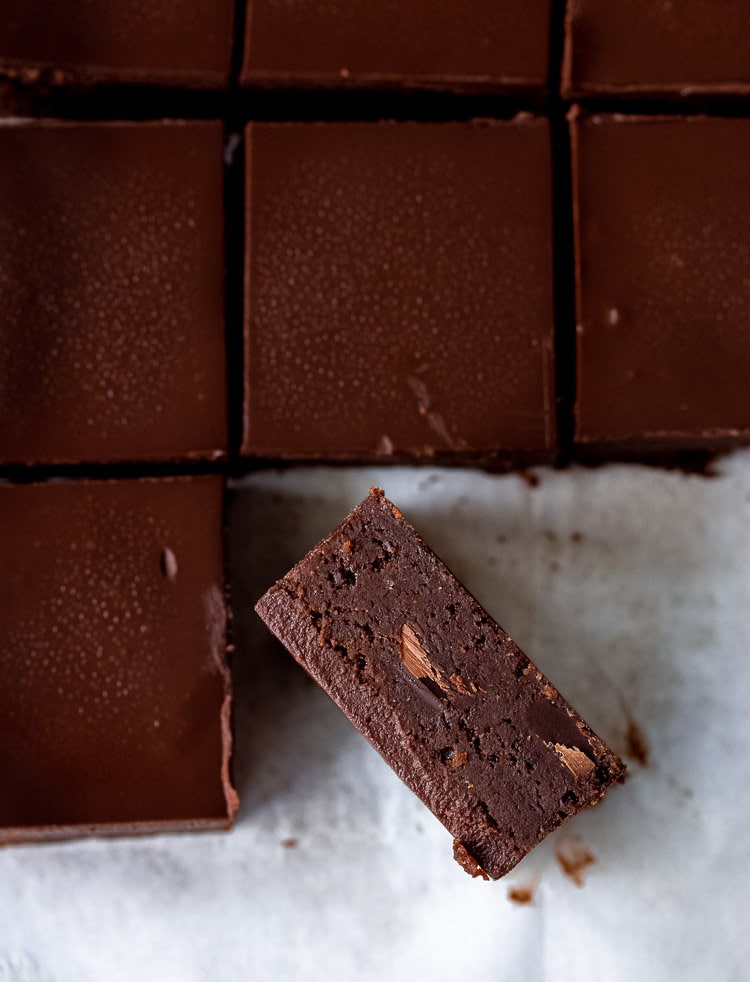 To make the ganache topping
To make the chocolate ganache, simply place chocolate and cream in a microwave-safe bowl and heat in 30-second increments, mixing together between each interval. Once the chocolate and cream are completely melted, pour the ganache over your cooled brownies while they are still in the pan, using a spatula or knife to spread an even layer.
Place in the refrigerator to set for at least one hour before cutting.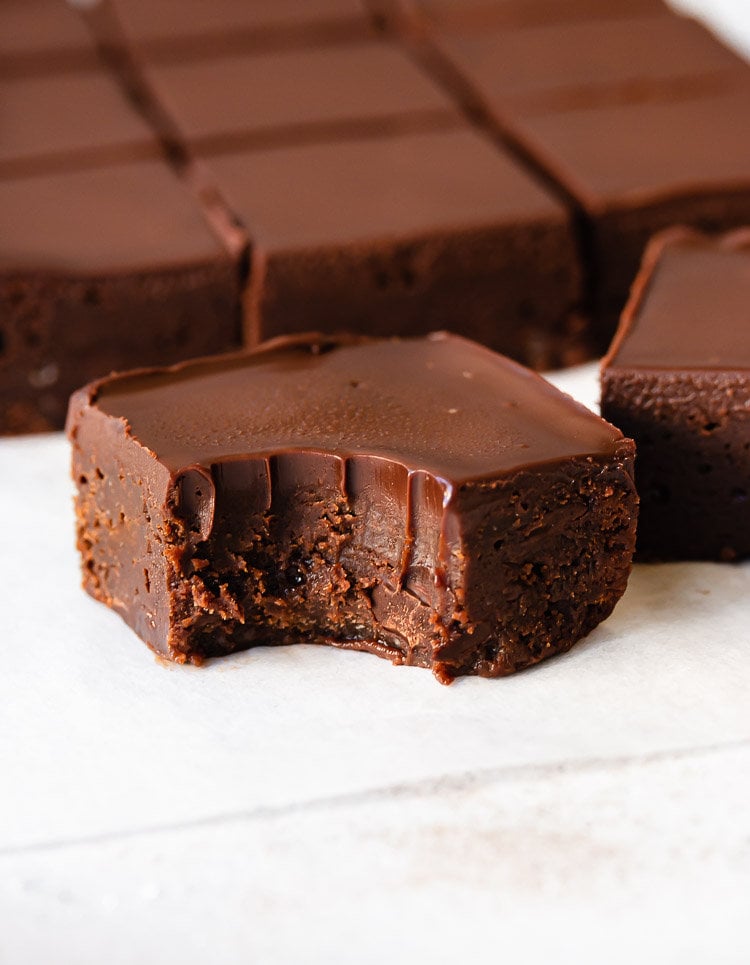 Tips for making perfect mint brownies
Use good quality chocolate. Chocolate is the star ingredient here, so the better quality chocolate you use, the better your brownies will taste.
I highly recommend using peppermint extract. Plain mint extract tastes a bit too artificial to me, and peppermint extract has a more authentic taste.
Add more extract if you want a stronger mint flavor. I use ¾ teaspoon of peppermint extract in these brownies, which is perfect for my taste. The flavor is not overpowering and you can still really taste the chocolate. But if you prefer a stronger mint flavor, feel free to add a full teaspoon of extract to your brownies.
Don't overmix your batter. While mixing the ingredients together, don't whisk your batter too much. This can add extra air to the batter, creating more cake-like brownies, and we want them dense, gooey, and fudgy.
These brownies freeze very well. To freeze and maintain their quality, double wrap the brownies in plastic wrap and place in the freezer for up to 3 months. To thaw, place in the refrigerator overnight.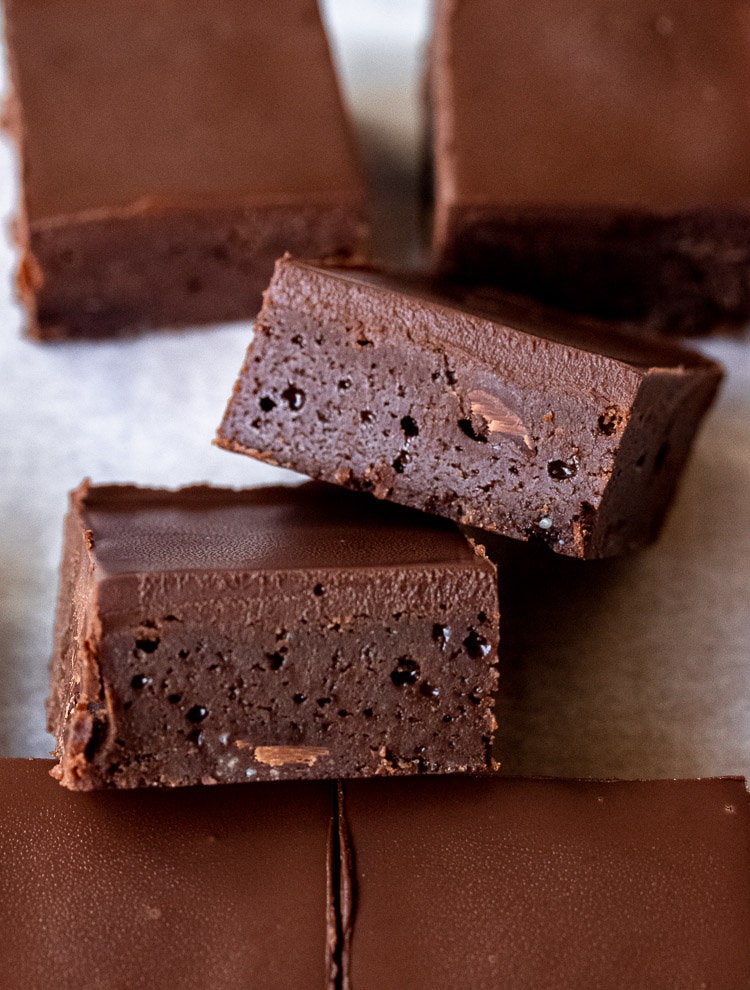 More of my favorite brownie recipes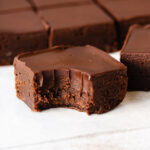 Mint Brownies
Gooey, fudgy mint brownies topped with rich chocolate ganache. This recipe is perfect for the holidays and so simple to make!
Ingredients
Brownies
7

oz.

(200g) bittersweet chocolate, coarsely chopped

⅔

cup

(150g) unsalted butter, cut into pieces

¾

cup

(150g) granulated sugar

3

large eggs

¾

teaspoon

peppermint extract

⅔

cup

(90g) all-purpose flour

¼

teaspoon

salt

½

cup

(85g) dark chocolate chips or chunks
Chocolate Ganache Topping
4 oz.

(125g) bittersweet chocolate chips or bars

½

cup

(120 ml) heavy cream
Instructions
Make the brownies: Preheat oven to 350°F/180°C. Line an 8×8-inch baking pan with parchment paper or aluminium foil, leaving enough overhang on the sides for lifting the brownies out after baking.

In a large heat-proof mixing bowl, place chocolate and butter. Heat in the microwave in 20-30 second intervals, stirring in between each interval, until melted (or set it over a saucepan of simmering water, stirring occasionally). Add sugar to chocolate mixture and whisk until combined. Add eggs and peppermint extract and whisk the mixture vigorously for several seconds until shiny. Add flour and salt and fold and gently combine. Fold in chocolate chips or chunks.

Pour batter into prepared pan and smooth the top.

Bake for 20-25 minutes, until the edges are set but the center is still soft. Be careful not to overbake. A toothpick inserted into the center of the brownies should come out with moist crumbs, not dry. Let brownies cool completely on a wire rack.

Make the chocolate ganache: In a heatproof bowl, heat cream and chocolate together in 20-30 second increments in the microwave, mixing between each interval. Once the chocolate is completely melted, pour the ganache evenly over the cooled brownies and spread using a knife or offset spatula. Refrigerate for at least 1 hour. Lift brownies out of the pan using the parchment paper and cut into squares. Serve cold or at room temperature.

Store brownies in the fridge in an airtight container for up to 5 days. Brownies can be frozen for up to 2 months. Thaw them overnight in the fridge.