This comforting pecan pie is gooey, crunchy, full of flavor, and a true classic.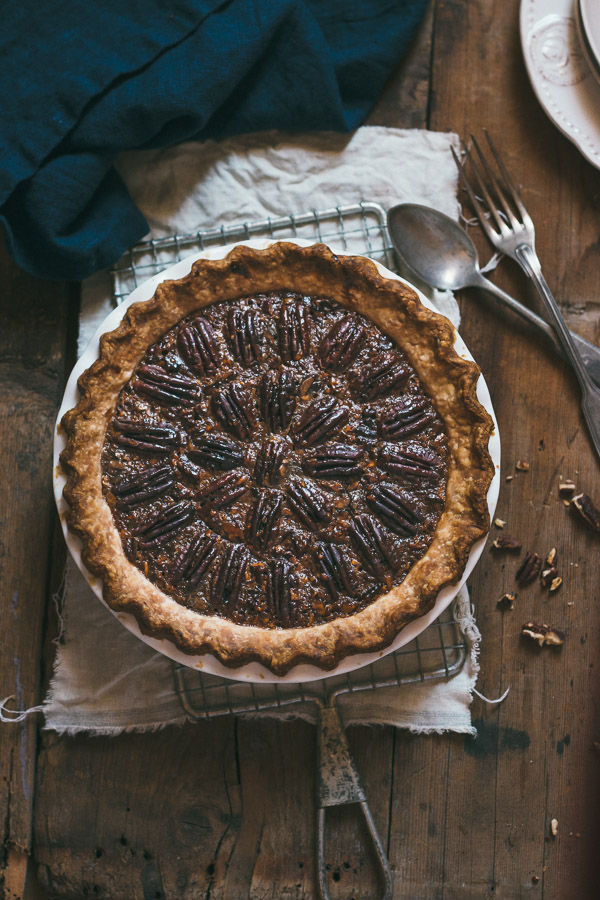 One of my best friends got married this week, and it got me so excited and romantically cheesy that I could barely recognize myself. She's one of the last in our group of friends to get married, which makes me really sad. I love weddings, and oh how I wish to get married again! With the same guy, of course. And without all the planning, which was quite a headache and more like a full time job.
More than weddings themselves, though, I love those billions of events right before the wedding, with the cherry on top being the bachelorette party. There's nothing like a girls' night out to pretend we're young again. Did I mention I'm about to turn 30 soon? Exactly.
Being the one responsible for planning my friend's party, I was pretty excited at first because I had always dreamt of being a party planner! Not anymore though. Organizing 15 different girls wasn't easy as pie, so once the party was over, it was a huge relief. In the end though, I had a ton of fun (probably more than the bride herself did), so it was all worth it. But let's just say that from now on I'm sticking to baking.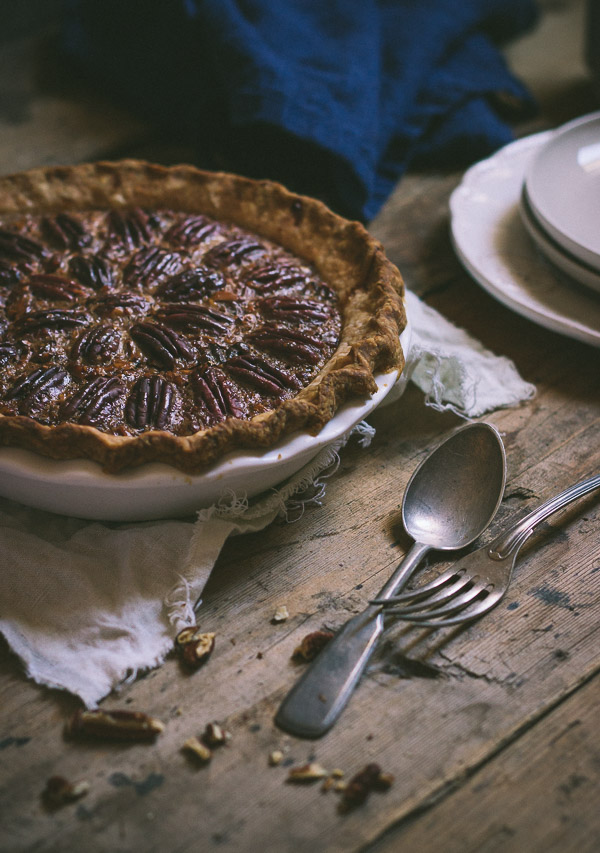 This pie is all about being classic. It's made of an all-butter dough and a sweet, creamy, custard-like filling. It's basically candy with a crust, like a good old-fashioned pecan pie should be, but it's not too sweet. It tastes like caramel and is loaded with pecans, making it both gooey and crunchy, which is my favorite part.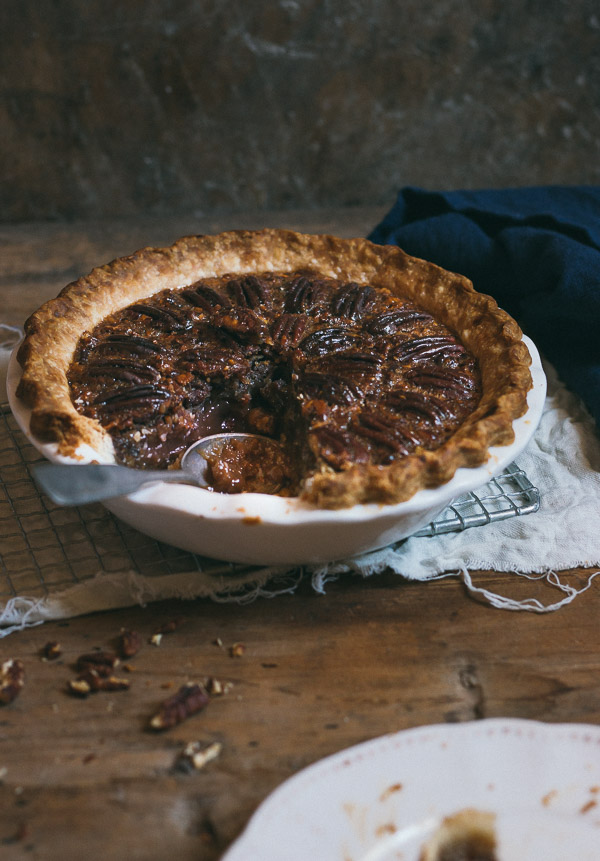 Tips and Possible Adjustments:
– Add 2-4 tablespoons heavy cream to the filling for richness and a creamy texture.
– Add 1-2 tablespoons bourbon.
– Add 2-4 oz. chocolate chips or chunks to the filling along with the pecans.
– To keep things simple, I usually just mix all the filling ingredients together. However, if you prefer a thick filling, I highly recommend heating the butter, sugar, and corn syrup together in a saucepan, stirring constantly, until the mixture is boiling. Let it cool slightly, then whisk in the rest of the ingredients.
– For a crispier crust, you can partially pre-bake it before adding the filling (here's a good guide).
– If corn syrup isn't available, that doesn't mean you can't make a pecan pie. I included instructions in the recipe on how to substitute it with maple syrup.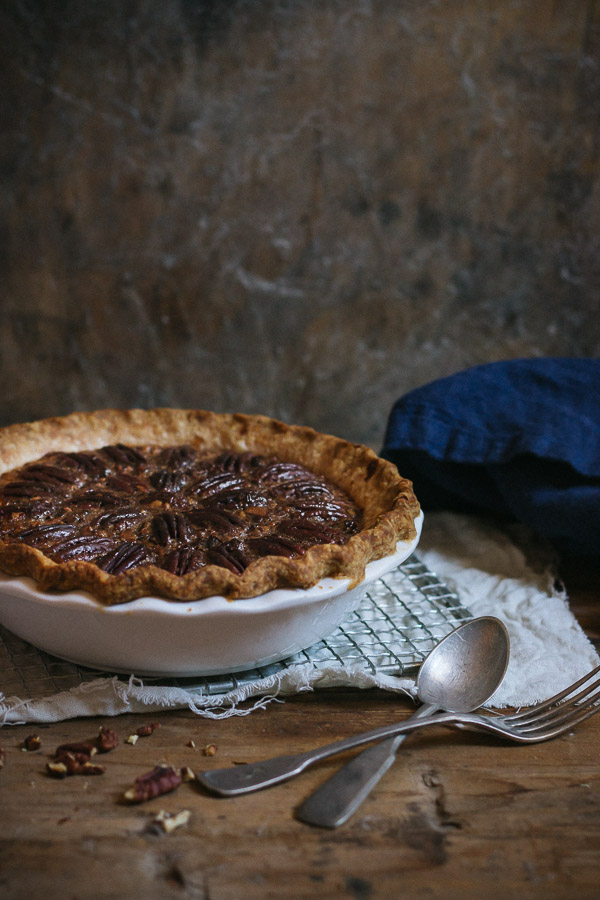 Pecan Pie
Ingredients
1 recipe single-crust pie dough
2 cups pecan halves, toasted*
¼ cup (1/2 stick/56g) unsalted butter, melted
1 cup (200g/7 oz.) dark brown sugar
¾ cup light corn syrup**
½ teaspoon salt
3 large eggs, slightly beaten
2 teaspoons vanilla extract
Instructions
Roll out the dough: Take the dough out of the fridge and let it sit on the counter for a few minutes to soften slightly for easy rolling. On a floured surface, roll dough out into a 12-inch circle, then place gently into a 9×2-inch pie pan; you can do this by flouring a rolling pin and rolling the dough loosely around it, then unrolling it into the pan. Brush away any excess flour on the surface. With a sharp knife, trim the edges of the pastry to fit the pie pan. Cover with plastic wrap and place in the fridge for 30 minutes.
Make the filling: Preheat oven to 350F/180C. Line a baking sheet with parchment paper and place in the lower third of the oven.
Chop the pecans into small pieces (to make the pie easier to slice later on), reserving about ½ cup whole pecans for later decoration, if desired. Otherwise, chop all 2 cups.
In a medium bowl, whisk together melted butter and sugar until moistened. Whisk in corn syrup, salt, eggs, and vanilla extract, and mix until combined. Stir in chopped pecans. Pour filling into the chilled pie shell.
Decorate the surface of the pie with the reserved pecans, pressing them in slightly so that they are coated with the filling, then let them rise back to the top.
Bake for 50-60 minutes. When you gently shake the dish, it should jiggle slightly, mostly in the center, but feel quite set. If the pie top or the edge of the crust is browning too much while baking, cover pie loosely with aluminum foil.
Allow to cool for at least 4 hours before serving so that the filling can set.
Store pie in the fridge for up to 3 days. Serve warm or at room temperature.
Notes
* To toast the pecans, place them in an even layer on a pan lined with parchment paper. Bake in a preheated oven at 350F/180C for about 8 minutes.
** If corn syrup isn't available, you can make maple pecan pie instead. Substitute the corn syrup with 1 cup maple syrup and substitute the 1 cup brown sugar with ½ cup of either granulated or brown sugar (light or dark).