Inside: How to make my favorite red sangria recipe!
Who's up for a party? I am! Actually, I always am. And at my parties, there better always be a yummy red sangria, thank you very much.
My Sangria Recipe Story
I have a long history with my red sangria recipe. The first time I tried it was at a lousy party, the kind we constantly go to when we're in our 20's. The party was boring until I spotted a huge punch bowl with red wine sangria. After just one sip, I fell in love. A few more sips and the party started getting much better, too. I looked for the girl who made the drink and asked how to make this amazing red sangria recipe! She said that all she did was mix together red wine, cranberry juice, and sliced fruit.
For quite some time, I used the same sangria recipe that the girl had told me, thinking all sangrias were made with cranberry juice. Clearly, I was wrong because there are endless recipes for red, white, rose, cold, hot, and sparkling sangrias, which I first learned a few years later when visiting Spain.
During that trip, I tasted about 8 sangrias a day. These days, my stomach can barely put up with one glass. That's what getting old does to you. Once I tried the many variations Spain had to offer, I realized they were very different than my cranberry juice one. They weren't very sweet and had a strong wine flavor. And they consisted of more than just wine and fruit; they had spices and other alcohols.
My latest sangria story takes place at my favorite coffee shop near my house, where I sit about every other day. They serve hot sangria in the winter (which is the best sangria ever) and sparkling cold in the summer. All year long, my friends and I wait for their winter happy hour. We meet right after work to drink their delightful hot sangrias, enjoying every sip and gossiping between each one.
How to Make Sangria
Today I decided to make my classic, easy red sangria recipe, which is pretty versatile in its ingredients. A traditional sangria uses Spanish wine, but you don't have to. Also, you don't need to invest in great wine – it's absolutely fine to use a cheap (but still good tasting) one for this. Historically speaking, that's the point of sangria: to let the other flavors blend with the wine and make this drink delicious.
My sangria always includes spices, especially if I make hot sangria, but that's optional, too. I also like to include seasonal fruits to give the sangria different flavors throughout the year. If you add soft fruits like blueberries or raspberries, as opposed to hard fruits such as apples or peaches, add them closer to serving time, so they'll keep their shape and won't turn too mushy.
Chill Sangria for Several Hours
Probably the most important thing to mention is that tasting the sangria right after mixing everything together won't give you any indication of what it will taste like a few hours later. Refrigerate it for at least 4 hours to let the flavors blend.
Now let's get this party started!
A Few More Drinks You Will Love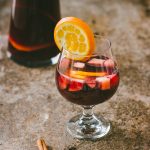 Red Sangria Recipe
How to make the best red sangria recipe! Using seasonal fruits and spices, the recipe is easy to personalize to suit your own taste. Serve it cold or warm.
Keyword:
easy sangria for a party, the best way to make red sangria
---
Ingredients
1

bottle

(750ml) dry red wine (cheap is fine as long as it tastes good!)

1/2 - 1

cup

(120-240ml) orange juice (preferably freshly squeezed)*

1/4

cup

orange liqueur

, optional

2

tablespoons

brandy

, optional

400-500

g

(3-4 cups) thinly sliced or cubed fruit of your choice (apples, pears, peaches, halved grapes, hulled and halved strawberries, orange, lemon, lime)

Spices of your choice: 2 cinnamon sticks

, 2 star anise pods, 3 whole cloves, cardamom, nutmeg, whole black pepper
Instructions
Add all ingredients in a large pitcher and stir. Refrigerate for at least 4 hours to let the flavors blend. Don't skip that step – it makes all the difference in taste. Just before serving, stir sangria and pour into glasses with ice cubes. Spoon fruit slices into each glass. Sangria can be kept, covered, in the refrigerator for up to 2 days.
A Few Sangria Recipe Tips
 Just before serving, you can add up to 1 cup of cold sparkling water/club soda to make a sparkling sangria with a more subdued wine flavor.
 If you prefer a sweeter sangria, you can make a simple sugar syrup, chill it, and add it to the sangria. To make the sugar syrup, mix together 2-4 tablespoons sugar with an equal amount of hot water and stir until sugar dissolves.
 This is my favorite recipe for warm sangria. Just before serving, place all ingredients in a large saucepan and heat on medium-low, stirring occasionally, until mixture is hot but not boiling. Don't let it boil or else the alcohol will evaporate. In this version, use your favorite spices and winter fruits such as apples, pears, and oranges.