This European-style hot chocolate is thick, decadent, and insanely chocolaty – perfect for a cozy winter evening.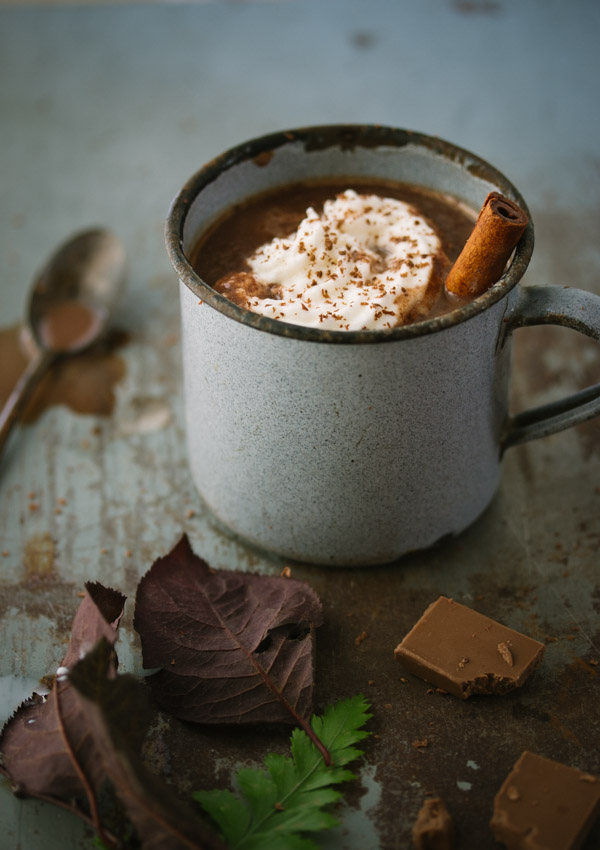 Hello, winter. It's about time you got here!
Last night, I was at home watching a movie when a sudden rainfall started out of nowhere. It was so romantic, or it would have been if Erez had been back from his business trip. Still, it made me think of him and how we would have spent the evening if he were with me. Watching a movie was one of the options, but drinking hot chocolate wasn't. Ever since we met, Erez has had much healthier eating habits than me, so if I had suggested sipping hot chocolate together, he would probably have said no. Even if I beg (and I do), it doesn't help. So, since he wasn't around, I made some to sip on as I finished the movie. It felt so satisfying, like I had smuggled ice cream out of the kitchen and ate it when no one was watching.
This hot chocolate isn't the type that you drink quickly. Thanks to the cream and melted chocolate, it's decadent and thick, much more so than the hot chocolate you get from a store-bought mix, so I take my time with it (well, depending on the day). It's the perfect treat for you, your family, or your guests on a cozy night. It's pretty rich, so I wouldn't serve it in huge glasses. If I make it for guests, I'll usually pour it into a teapot so they can drink as much as they like.
I call this European-style because it reminds me of the hot chocolate I drank in Paris and Belgium. Words cannot describe the experience (although I tried here). Unlike regular recipes made from cacao, this recipe uses pure chocolate. As usual, the higher the quality, the better the taste, although I've had cravings for this before and used whatever I had on hand, and as I'm sure you can guess, I still enjoyed it quite a bit.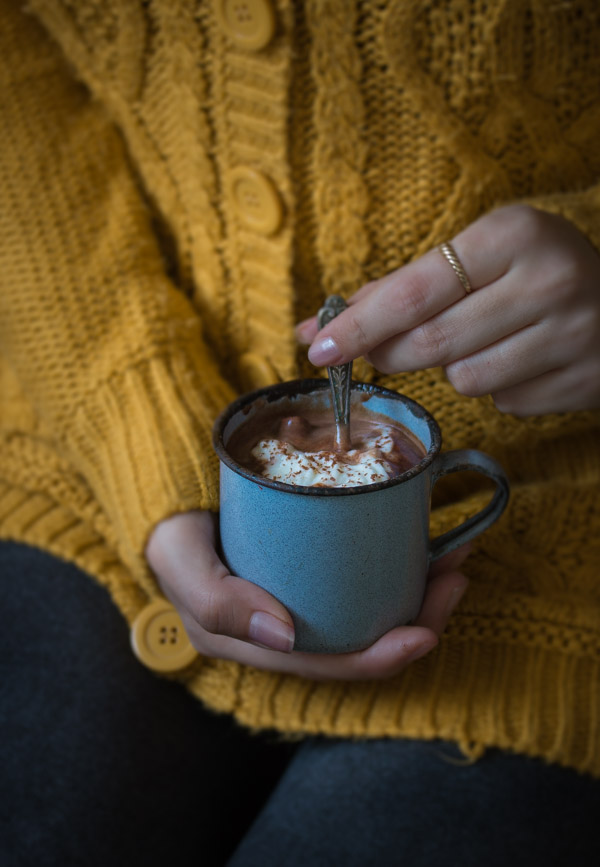 Over the years, I've played with the recipe to better suit my own taste. If I make hot chocolate, it's usually a way to spoil myself on the rare special occasion, so I make it as rich as possible. However, if it's not quite to your liking, there are many ways to change it. You can replace the heavy cream with milk (any kind) or half-and-half. You can use just one kind of chocolate instead of both milk and dark. You can even add more chocolate if you're (somehow) an even crazier chocoholic than me – up to 4 oz. in total. Or, on the other hand, you can reduce the amount of chocolate to 2 oz. for a more subtle flavor. Alternatively, you can make the recipe as-is, then add more milk or cream until you reach the desired taste or consistency.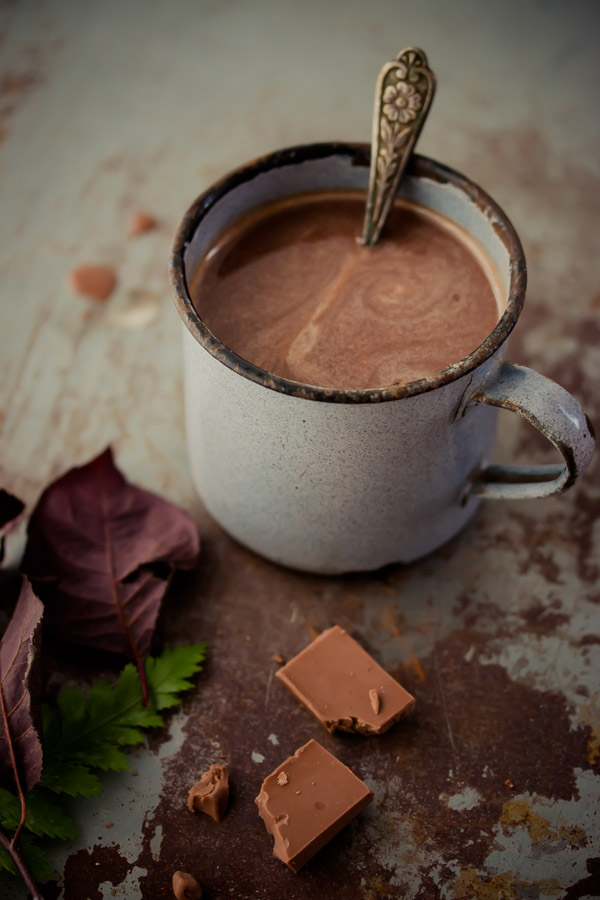 A touch of pure vanilla extract adds a nice flavor, so if you have some, add it. Note that this is optional, and you should avoid using artificial vanilla as it won't give the right flavor. You can add just a pinch of spices such as cinnamon or even cayenne pepper. You can add a bit of espresso powder, instant coffee granules, or a drop of your favorite liquor if you're feeling fancy. If you're aiming for a thicker consistency, you can add about ½ teaspoon cornstarch (make sure to constantly whisk the milk-cornstarch mixture while heating), but I personally find it unnecessary.
If you love warm and cozy winter drinks, try my homemade pumpkin spice latte recipe!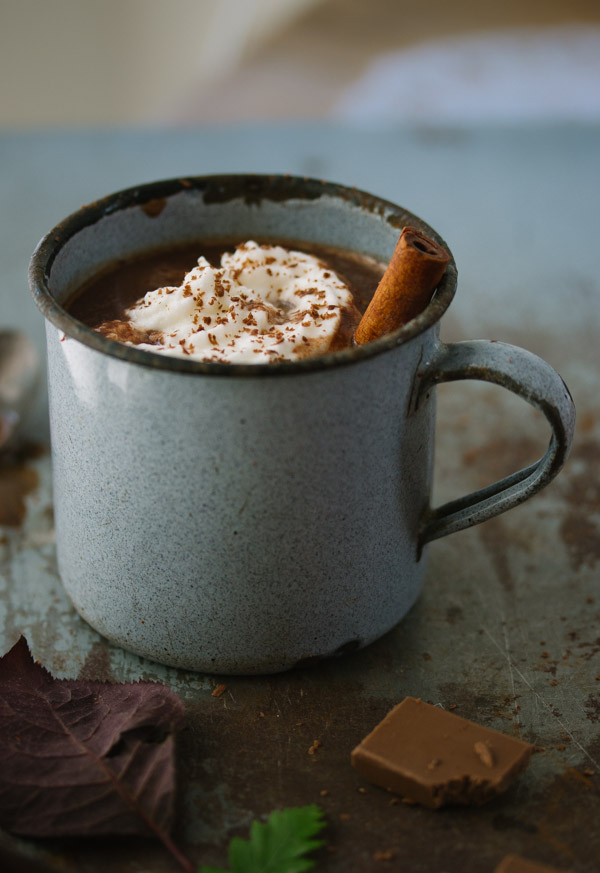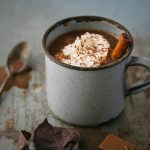 Hot Chocolate
This European-style hot chocolate is thick, decadent, and insanely chocolaty – perfect for a cozy winter evening.
Ingredients
1 ½

cups

(360ml) milk

½

cup

(120ml) heavy cream

110

g/4 oz dark chocolate

, coarsely chopped

50

g/1.7 oz milk chocolate

, coarsely chopped

½

teaspoon

vanilla extract
Instructions
In a saucepan, heat milk and cream on medium heat until just below simmering point (it should be hot and steamy but not boiling). Remove from heat and add dark and milk chocolate. Let stand for 1 minute, then add vanilla extract and whisk vigorously. Reheat on very low heat (don't let it boil!) just until chocolate has completely melted and mixture is smooth. Pour into glasses and serve immediately. Alternatively, you can make this a few hours ahead of time and rewarm in a saucepan on low heat just before serving.

Optional: Garnish with cinnamon stick, whipped cream, grated chocolate, or cocoa.