These rich and decadent slutty brownies are made of three delicious layers: chewy chocolate chip cookie dough, soft Oreo cookies, and fudgy brownies. Every bite is heavenly!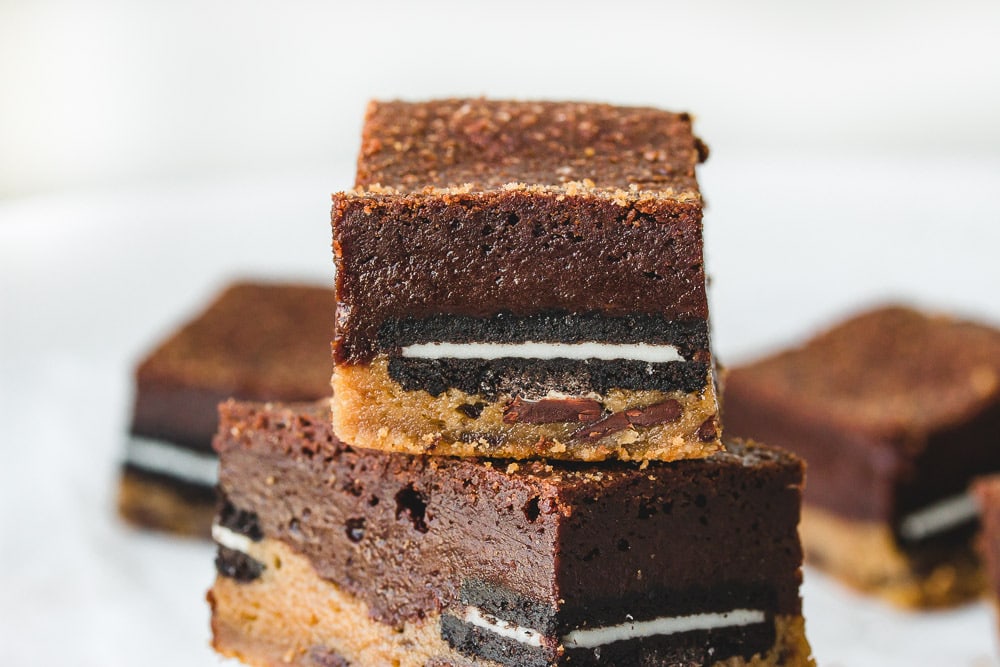 I don't know why slutty brownies are called that way, but I like it anyway. If you haven't tried a slutty brownie by now, then it's about time you do, because they will make you really happy. Soft, chewy and fudgy layers of goodness. The perfect treat at any party.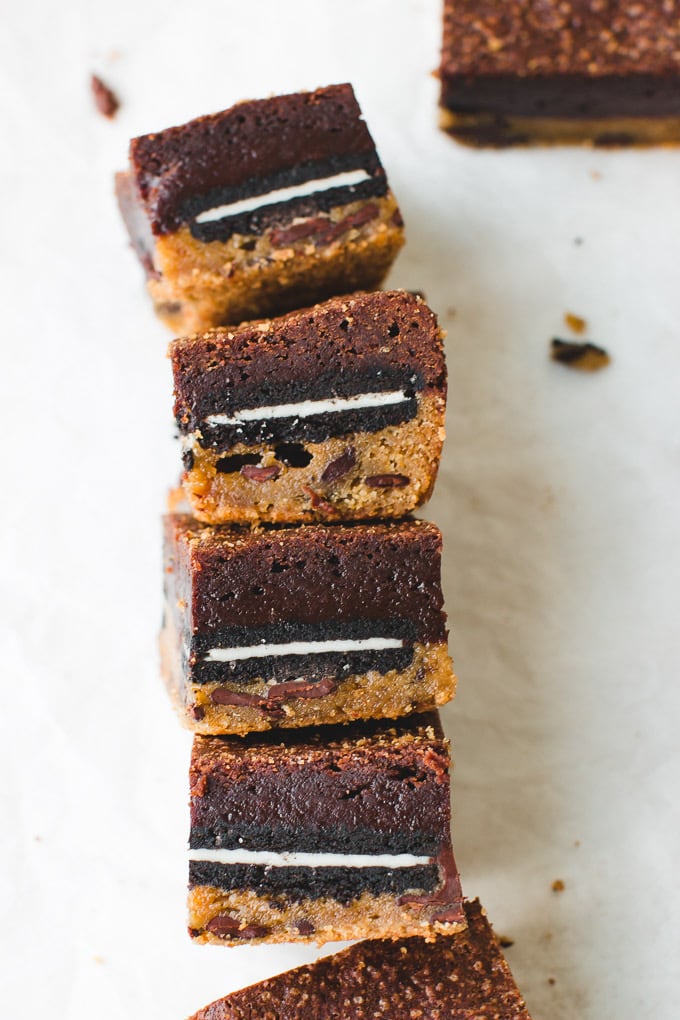 How to Make Slutty Brownies
Three layers sound like a lot of work, but these brownies are actually easy to prepare. First you need to make the chocolate chip cookie dough. You can use a stand mixer or hand mixer for this. Press the dough into the bottom of the pan, and bake for 8 minutes. Most recipes don't bake the cookie dough first, but after testing it a few times, this is my favorite version, because that way the texture of the cookie dough and the brownies is just right – fudgy and soft, but not raw. Then, let it cool slightly on a wire rack for about 15 minutes until it's firm to the touch, so it won't collapse when you add the other layers on top. Next, add a single layer of Oreo cookies without overlapping them. Add the brownie batter on top of the cookies. Bake for 20-25 minutes. You'll know it's ready when a toothpick inserted into the center of the brownie layer comes out with a few moist crumbs. If it's liquid – it's not ready yet, and if it's dry, it might be slightly overcooked.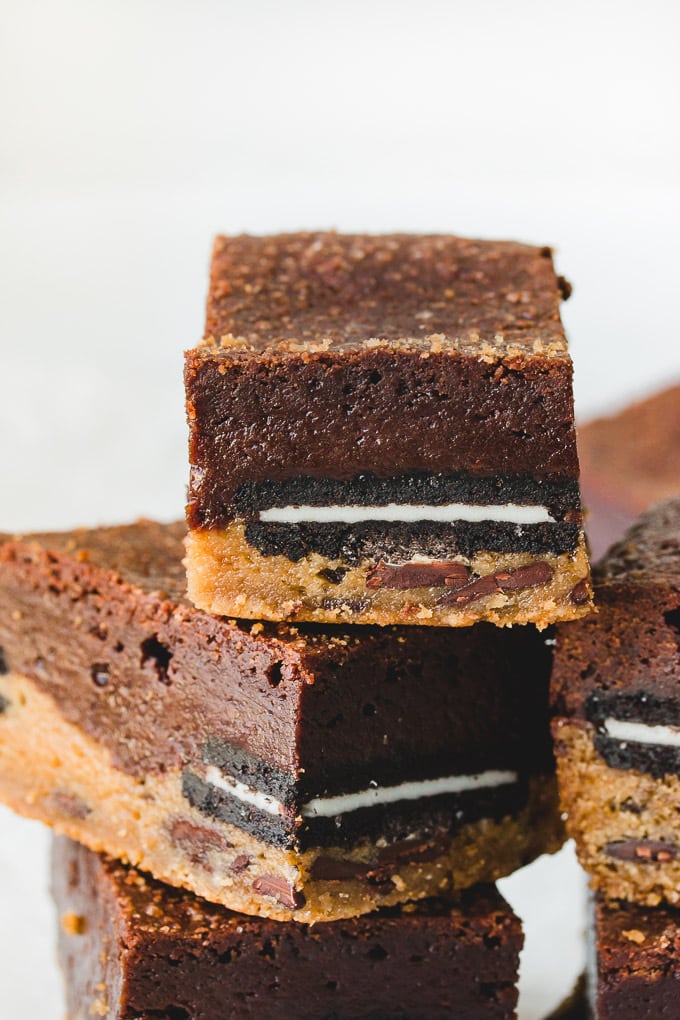 More Brownie Recipes: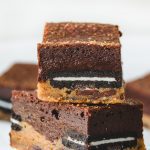 Slutty Brownies Recipe
YIELD
:
8
x8 inch pan (9-19 brownies)
---
Ingredients
Chocolate Chip Cookie Dough:
1 cup (140 g) all-purpose flour

1/2 teaspoon baking soda

1/2 teaspoon salt

½ cup (1 stick/113 g) unsalted butter, softened to room temperature

1/2 cup (100 g) dark or light brown sugar

1/2 cup (100 g) granulated sugar

1 large egg

1 teaspoon vanilla extract

3/4 cup (130 g) bittersweet or semisweet chocolate chips
Brownies:
3/4 cup (130 g) chopped bittersweet or semisweet chocolate

6 tablespoons (85 g) unsalted butter, cut into cubes

2 tablespoons (12 g) unsweetened cocoa powder

3/4 cup (150 g) cup granulated sugar

2 large eggs

3/4 cup (105 g) all-purpose flour

1/2 teaspoon salt
Instructions
Preheat oven to 350°F/180°C. Line a 9x9-inch (or 8x8-inch) baking pan with tin foil, leaving enough overhang on the sides for lifting the brownies out after baking.

To make the cookie dough: In a medium bowl sift together flour, baking soda and salt. Set aside.

In a mixer bowl fitted with the paddle attachment, beat butter, brown sugar, and granulated sugar on medium speed until light and fluffy, 3-4 minutes. Beat in egg and vanilla. Add flour mixture and mix just until combined. Do not overmix. Fold in chocolate chips.

Layer the cookie dough on the bottom of prepared pan, pressing down to form an even layer. Bake for 8 minutes until just beginning to set. Allow to cool slightly on a wire rack. Meanwhile, prepare the brownie batter.

To make the brownies: In a large heatproof bowl, place chocolate and butter. Heat in the microwave in 20-second intervals, stirring in between each interval, until melted (or set it over a saucepan of simmering water, stirring occasionally). Add cocoa powder and sugar and whisk until combined. Stir in eggs. Add flour and salt and fold, using a rubber spatula, just until combined. Set aside.

Layer Oreos on top of the cookie dough in one layer. No need to overlap, it's ok if there are gaps.

Pour brownie batter slowly over the Oreos and smooth the top. Bake until a toothpick inserted into the center of the brownies come out with moist crumbs, 20-25 minutes. Let brownies cool completely on a wire rack, then refrigerate until set for easy cutting, at least 4 hours. Lift brownies out of the pan using tin foil and cut with a sharp knife into 16 squares. Store brownies at room temperature or in the fridge in an airtight container for up to 3 days.