Fluffy and thick, these banana pancakes taste so incredible that you won't believe they're good for you!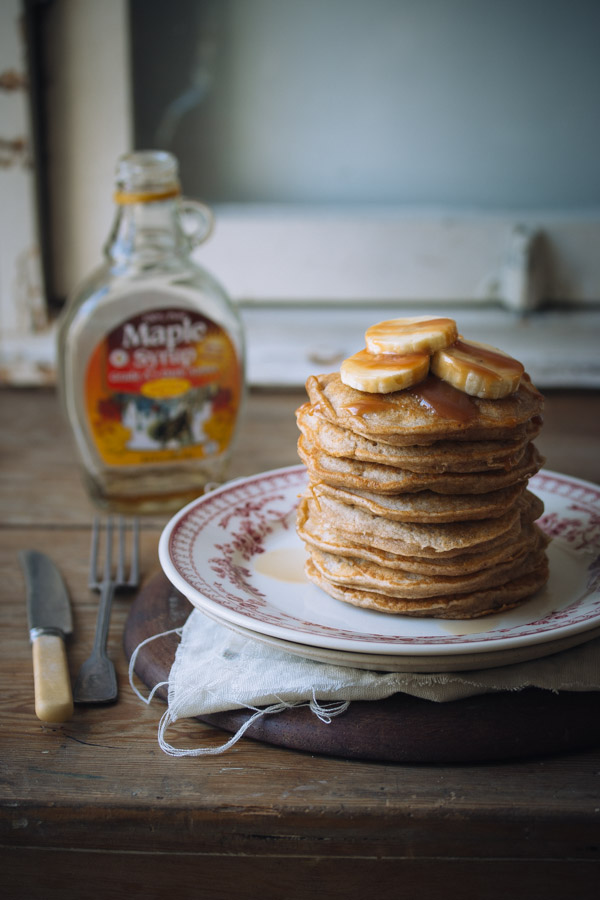 I'm in love with autumn so far this year. While I think most people prefer warm summer days when the sun is shining, I'm happiest with chilly mornings, misty rain, and cozy evenings. Plus, the sunsets have been absolutely magical lately, and I'm lucky enough to be able to watch them from my small balcony. I can be so cheesy sometimes.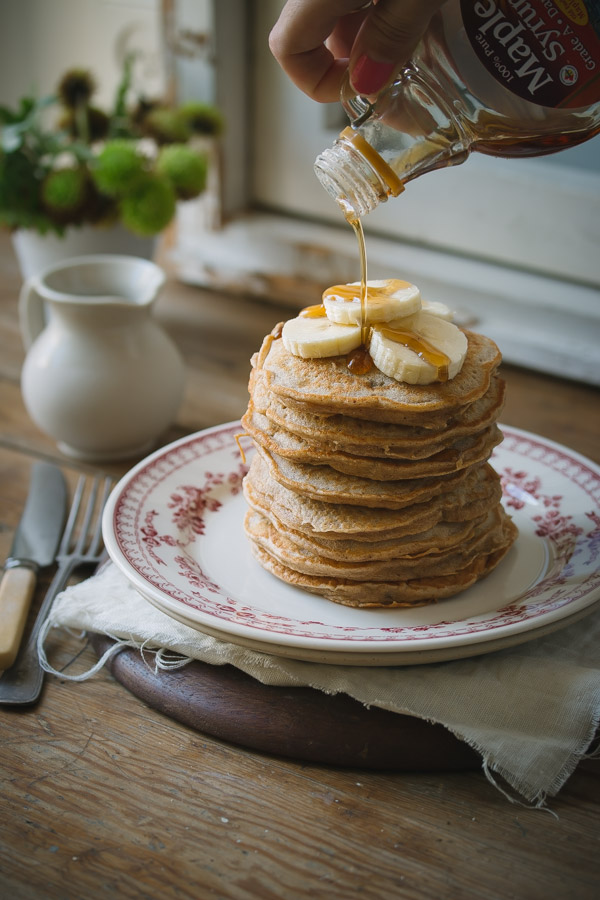 This weather also reminds me of when I worked in the high-tech world. My 9 to 5 schedule (or more like 9 to 9) left me exhausted and hoping for storms on the weekend so I'd have an excuse to finally stay home and bake. Things have obviously changed quite drastically since then, and now that my work is all about baking, I'm usually looking for excuses to get out of the kitchen.
My friend recently told me that when she pictures me in the kitchen, she sees me wearing a vintage pink apron and looking like I walked out of a picture from the 70's, a big smile on my face as I crack eggs perfectly and hum a sweet tune to myself. The reality, though, is much different. I'm usually wearing my sloppy pajamas that I hope even the mailman won't have to see, the eggs are indeed perfectly cracked – all over the kitchen floor, there's cocoa powder on my nose, and an ever-growing forest of dishes is slowly closing in. It's total chaos.
Ok, so maybe not total chaos. I've had so many happy moments in this little messy kitchen, and I adore being able to listen to relaxing music while I work. There are some songs that grab my attention and make me hum and smile exactly the way my friend pictured. Yesterday, for example, it was this song, called 'banana pancakes' by Jack Johnson. Gosh, I love that song.
My favorite line is, obviously, "making banana pancakes", but I also like when he says they should pretend it's the weekend and stay home. I always tell Erez we should do that and take a day off. We never do.
My recipes usually come from inspiration all around me, and this song is a good example of that; the moment I heard it, it reminded me of this banana pancakes recipe. They're fluffy and thick and basically anything-you-could-want-from-a-pancake pancakes. The addition of bananas and vanilla make these pancakes superb. The healthy part is just a bonus!
These pancakes are also very versatile, so you can make them even healthier if you prefer. You can use skim milk instead of whole, or 2 egg whites instead of a whole egg. They taste really good with whole-wheat flour, which actually makes them super fluffy. Sometimes I'll substitute half of the whole-wheat flour with all-purpose flour for a subtler flavor. The judges of 'Next Top Model' wouldn't approve, but my hubby does, so I'm good. As for the bananas, use ripe bananas since that's when they are the sweetest.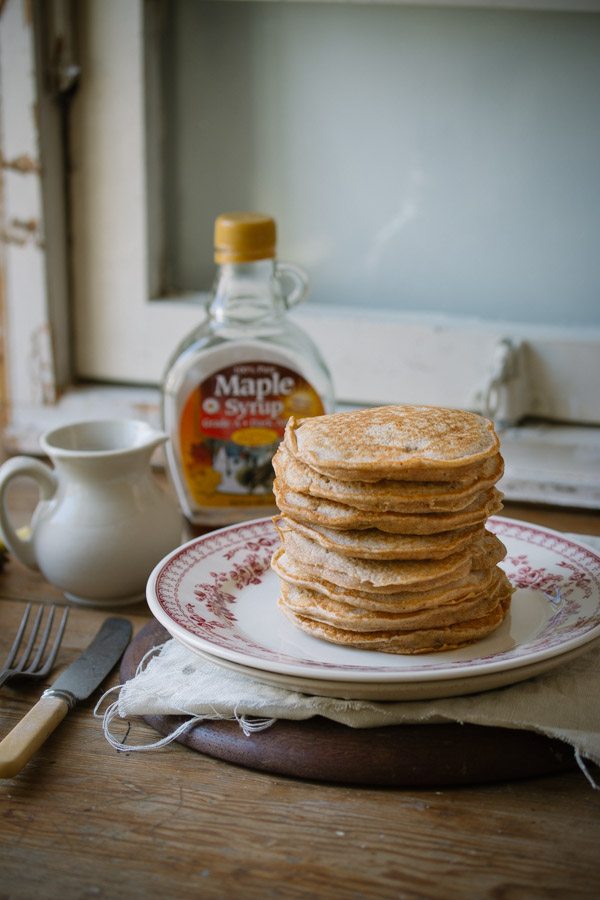 You can serve these pancakes with pure maple syrup and fresh banana slices if you want to keep it healthy, or drizzle a bit of caramel sauce and lie to yourself that if the pancakes are healthy, the toppings don't count.
For more tips to making great pancakes, check out my classic pancakes post.
Healthy Banana Pancakes
Fluffy and thick, these banana pancakes taste so incredible that you won't believe they're good for you!
Ingredients
1 cup (140 g/5 oz) flour (all-purpose, whole-wheat, or a combination), sifted
2 tablespoons (25 g/0.8 oz) dark or light brown sugar
2 teaspoons baking powder
¼ -1/2 teaspoon ground cinnamon
Pinch of ground nutmeg (optional)
¼ teaspoon salt
1 large egg
1 cup milk
2 tablespoons canola or vegetable oil (or 2 tablespoons butter, melted)
½ cup mashed ripe banana (about 1 large or 2 small)
1 teaspoon pure vanilla extract
Canola oil/cooking spray/butter, for coating the pan
Instructions
In a large bowl, mix together flour, brown sugar, baking powder, cinnamon, nutmeg, and salt. Set aside.
In a separate medium bowl, whisk together egg, milk, oil, mashed banana, and vanilla extract.
Make a well in the dry ingredients and pour in the wet ingredients. Stir just until combined and moistened. Do not over mix.
Heat a griddle or skillet over medium heat. Coat with cooking spray or oil. For each pancake, drop ¼ cup of batter onto skillet. Cook 1-2 minutes, until surface of pancakes have some bubbles and the bottoms appears golden brown. Flip carefully and cook another 1-2 minutes. Transfer to a plate and cover loosely with aluminum foil to keep warm. Make sure to coat the skillet with oil before every pancake or batch of pancakes to prevent sticking.
Serve immediately while pancakes are still warm. Drizzle with maple syrup, caramel sauce, or desired topping and serve with fresh banana slices.