Sweet and tangy, these moist, delicate pancakes are bursting with lemon flavor.
On Erez's birthday a few years ago, I wanted to celebrate by making him a special 3-course dinner. In case you haven't figured it out already, we love food, so I spent the entire day cooking what I thought was the perfect meal. Although I wasn't much of a chef at that point, I was already into baking, so the dessert excited me quite a bit.
Erez's absolute favorite dessert flavor is lemon. Before I met him, I didn't care much for it, but after years of having to compromise and share the same lemon desserts, I slowly fell in love with this refreshingly tangy fruit.
I decided to make a lemon pudding cake for him. I'm sure you all know how it is when you make much more food than you really need because you're afraid of not having enough. That's exactly what happened to me. Actually, that's what always happens to me. Luckily, my friend Rene was with me that day (yes, it took two people cooking all day long for one meal) and she had this idea of making pancakes with the leftover batter. Since it was a cake batter and not at all a pancake batter, I ignored her. A minute later, though, I saw her hearting a griddle and adding some more ingredients.
She looked like one of those master chefs that always know exactly what they're doing, and it turns out that she did! Those pancakes, regardless of the fact that they weren't really pancakes, were the most delicious ones I've ever tasted. We thought we were the most ingenious people on earth. Yes, I said we. I took some of the credit just for being present.
The moment of truth came that evening when I presented Erez with the pudding and the little heart-shaped pancakes we arranged around it. He took a bite of my original dessert and didn't mention anything about it, he just kept talking as normal. Yet when he took a bite of the pancakes, his eyes opened wide in excitement and he said that I was a genius.
Erez recently celebrated another birthday, which reminded me of this story and really made me want some more lemon pancakes. This recipe is a little different; it's a real pancake batter instead of leftover cake batter, but I promise it's just as delicious! 🙂
This is a basic pancake recipe with the addition of grated lemon and juice, which add a refreshing and unique flavor. I used buttermilk for moistness and a slight tang that complements the fruit perfectly. If you prefer regular milk, simply mix the milk with the lemon juice and let it sit for 5 minutes before pouring into the wet ingredients. I love to serve these pancakes with maple syrup, but you can also use fresh berries, jam or jelly, grated white chocolate, or mascarpone cream.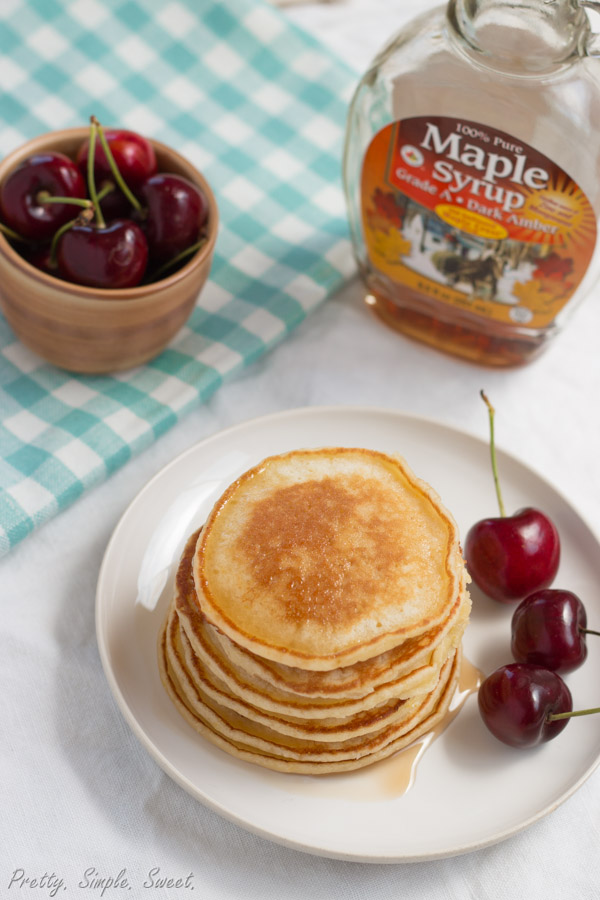 Read more about making pancakes here, then go make yourself some of these delicious (and easy) treats!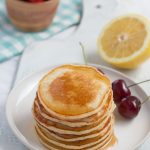 Lemon Pancakes
Sweet and tangy, these moist, delicate pancakes are bursting with lemon flavor.
---
Ingredients
Zest and juice from one lemon

(about 1 tablespoon zest, 1/4 cup juice)

3

tablespoons

(37 grams/1.3 ounces) granulated sugar

1

cup

(140 grams/5 ounces) all-purpose flour, sifted

1

teaspoon

baking powder

1/4

teaspoon

baking soda

1/4

teaspoon

salt

1

large egg

1

cup

buttermilk*

1

teaspoon

pure vanilla extract

2

tablespoons

(30 grams/1 ounces) butter, melted

Canola oil/cooking spray

, for coating the pan
Instructions
In a large bowl, mix lemon zest and sugar until well combined. Add flour, baking powder, baking soda, and salt. Mix to combine, then set aside.

In a separate medium bowl, whisk together egg, buttermilk, melted butter, vanilla extract and lemon juice.

Make a well in the dry ingredients and pour in the wet ingredients. Stir until combined and moistened. Be careful not to over mix.

Heat a griddle or skillet over medium heat. Coat with cooking spray or oil. For each pancake, drop 1/4 cup of batter onto skillet. Cook 1-2 minutes, until surface of pancakes have some bubbles. Flip carefully and cook another 1-2 minutes. Transfer to a plate and cover loosely with aluminum foil to keep warm. Make sure to coat the skillet before every pancake or batch of pancakes to prevent sticking.

Serve immediately while pancakes are still warm. Drizzle with maple syrup or desired topping.

*Buttermilk can be substituted with milk. Mix the milk and lemon juice together and let sit for 5 minutes before adding to the wet ingredients.