Perfectly soft and chewy, these brown sugar cookies are a simple cookie that's full of flavor. With no mixer required, everyone can make these cookies!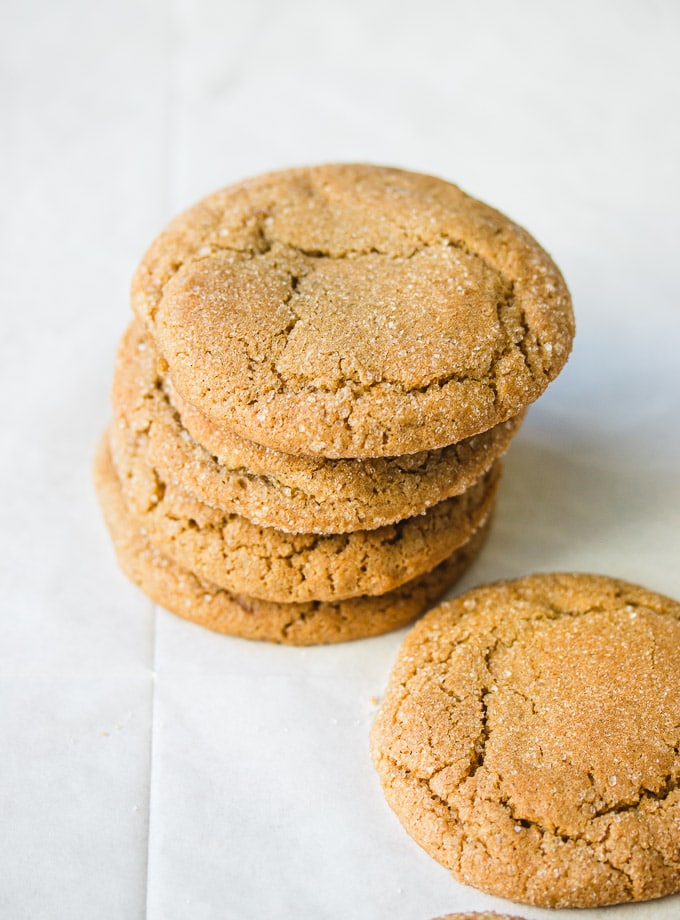 I tend to stuff my cookies full of chocolate, candy and peanut butter. Knowing I have a sweet tooth and love of chocolate, I was surprised to find myself craving the taste of one specific ingredient: brown sugar. Brown sugar has a touch of molasses, which gives it a caramel sweetness and adds extra moisture to any baked good. As someone who loves soft and chewy cookies, these brown sugar cookies are some of the chewiest I've made.
These chewy brown sugar cookies are so simple to make and don't require any special equipment like a stand mixer. While most cookies call for creaming butter and sugar together, these cookies use melted butter instead. Melted butter actually makes cookies extra chewy, and can easily be done in the microwave.
For extra caramel flavor I like to brown my butter on the stove, and I'll share more on this optional, but game-changing technique later. Trust me, once you learn how to make browned butter you'll be using it for everything.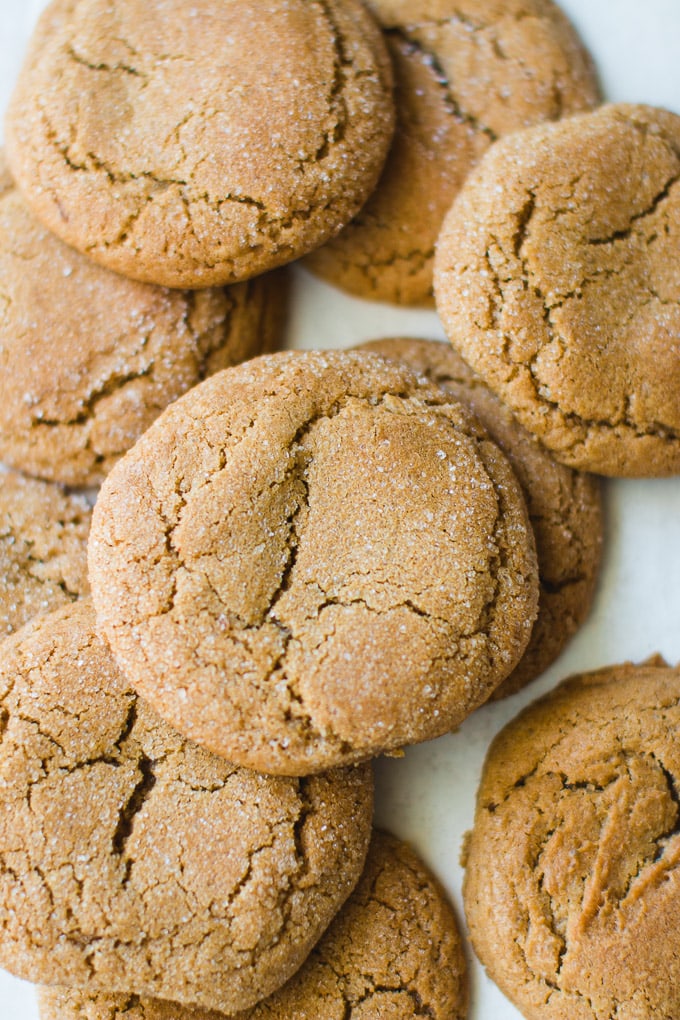 How to Make Brown Sugar Cookies
Like any cookie recipe, you start by sifting or whisking together your dry ingredients. I like to add a bit of cornstarch to the brown sugar cookie recipe, which helps thicken the dough and makes the cookies soft. You don't need to preheat the oven yet, since the dough will need to chill for at least 2 hours before baking. 
How to Brown Butter
For the best brown sugar cookies, I like to use brown butter to enhance the caramel notes of the brown sugar, giving it a slight butterscotch flavor. It's amazing how much you can improve the flavor of butter without adding anything it. Brown butter is butter that gets cooked slowly over low heat, to the point the milk solids caramelize and give it a nutty sweetness.
To make brown butter, simply melt the butter slowly on the stovetop over low heat until it foams. After 3-5 minutes the milky white foam will begin to turn brown and sink to the bottom of the pan. These are the milk solids that are caramelizing and getting browned. They can quickly turn black, so I like to use a lightly colored pot to keep an eye on them. The whole process can take several minutes, but the butter can go from perfect to burnt in a matter of seconds. For a visual guide, this video is helpful.
Like anything new, it might take a couple tries before you get the hang of it. It's all about keeping a close eye on things and knowing when to take the butter off the heat and quickly pour it into a bowl to stop the cooking process. Once you're familiar with the process, this quick 5-minute technique will enhance any recipe, like this Easy Banana Bread, that calls for melted butter.
Chilling the Dough
To your brown butter, add the brown sugar and whisk until combined. Add in the eggs and vanilla extract, whisking again until combined. Finally, add in the flour mixture and mix until just combined. Be careful not to overmix your dough, as that will result in tough, not soft and chewy, cookies. You can also mix in some chocolate chips if you'd like to make brown sugar chocolate chip cookies (I always encourage extra chocolate). Chill the dough for at least 2 hours, or up to 3 days, to help keep them from spreading in the oven.
Shaping the Brown Sugar Cookies
Once ready to bake, preheat your oven to 350ºF and line 2 baking sheets with parchment paper. Set these aside as you shape your brown sugar cookies.
Place a ¼ cup of regular white granulated sugar in a bowl next to you to roll the cookie dough in before baking. This sugar coating gives the cookies a nice crackly finish – the perfect crunch to pair with the soft and chewy brown sugar cookie.
Shape the dough into 1.5 tablespoon-sized balls, roll them in sugar, and place on the prepared baking sheets spaced 2-inches apart. Sometimes I find the dough is too hard to handle right away, so I let it warm up on the counter for a few minutes before shaping.
Bake the brown sugar cookies for 11-12 minutes, until they just begin to set. The edges will firm up and turn golden brown and the tops will begin to crackle. The center will still be soft, but they will firm up as the cookies cool.
Since this is a tender cookie, be sure to let them cool on the baking sheet for about 10 minutes before transferring to a wire cooling rack. The cookies will stay chewy for up to 4 days in an airtight container, but mine never make it past the second day.
If you're a chewy cookie fan then this brown sugar cookie recipe is for you! The cookies are thick, soft and the perfect companion to a cup of coffee or hot cocoa. With a sweet caramel flavor from the brown sugar and brown butter, these cookies will have you temporarily forgetting about chocolate.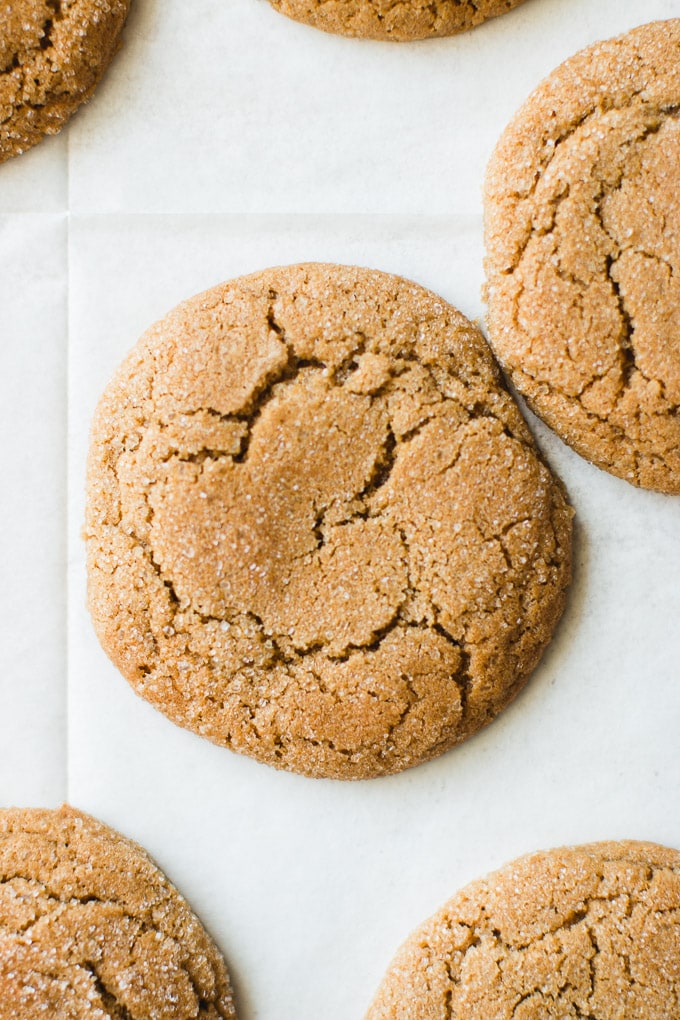 More Delicious Cookies:
Brown Sugar Cookies
---
Ingredients
2 1/2

cups

(350g) all-purpose flour

1

tablespoon

cornstarch

3/4

teaspoon

baking soda

1/4

teaspoon

baking powder

1/2

teaspoon

salt

200

g/7 oz. unsalted butter

1 1/2

cups

(320g) light or dark brown sugar

2

large eggs

, at room temperature

1

tablespoon

vanilla extract

1/4

cup

granulated sugar

, for rolling
Instructions
In a medium bowl whisk together flour, cornstarch, baking soda, baking powder, and salt. Set aside.

I like to brown the butter for the best cookie flavor, but, if you want to skip this step, simply melt the butter in a large bowl, and continue to the next step (without changing anything else in the recipe). To brown the butter: place butter in a light colored pan over medium heat. Stir the butter or swirl the pan constantly. Soon after the butter has melted, it will begin to sizzle and foam. Within about 3-5 minutes the butter will turn golden brown and you'll see tiny milk solids in toasty brown color. The smell will be nutty. Once it happens, immediately remove the pan from the heat and transfer to a bowl.

Add brown sugar to the butter. Whisk until well combined. Whisk in the eggs and vanilla extract. Add flour mixture and mix just until combined. Do not overmix.

Chill the dough for at least 2 hours (or up to 3 days if you prefer).

Preheat oven to 350°F/180°C. Line 2 baking sheets with parchment paper. Set aside.

If the cookie dough is hard to handle, leave it on the counter for a few minutes. Place 1/4 cup granulated sugar in a small bowl. Shape the dough into balls, the size of 1.5 tablespoons each (I use this ice cream scoop), then roll them in the sugar and place on prepared cookie sheets, spacing them 2-inches apart. Bake for 11-12 minutes until cookies just begin to set, and tops are crackly. Allow cookies to cool on baking sheet for about 10 minutes, then gently transfer to a wire rack to cool completely.

Store cookies at room temperature in an airtight container for up to 4 days. Cookies can also be frozen for 2 months.