This is the ultimate layered carrot cake. It's incredibly moist, fluffy, and flavorful, and topped with the most amazing cream cheese frosting.
My big 30 is right around the corner, and not surprisingly I'm celebrating with a piece of cake. Or 10. Not that I don't do it any other day of the year, but at least on my birthday it's considered acceptable and there's no need destroy the evidence before anyone gets home. The celebrations officially start now with this all-star carrot cake!
If you just want a simple cake to serve with coffee or for breakfast, then try this carrot cake loaf that is sure to please you and your guests. But if you're aiming for a little celebration or something a bit fancier, then this cake is the perfect choice.
This cake tastes incredible. While it doesn't taste like vegetables, you can pick up a slight carrot flavor—but in a totally good way. Those carrots are really what make this cake superb and moist. The cake is sweet with just the right touch of spice. I've loved it ever since I was a kid and my mom would lie to me about what 'those orange things' were.
There are quite a lot of carrots in this cake, but that's a good thing! Plenty of carrots makes this cake moist and flavorful.
What you'll love most about this cake is that it's super simple to make—no mixer involved! It just requires 2 bowls and some mixing, and you're done. I used to think that layer cakes were extremely complicated, but as long as you have 2 9-inch cake pans that are 2-inches high (I recommend these ones), then it's easy as pie. Or, easy as carrot cake.
For more simplicity, I usually don't frost the sides of the cake but you can if you prefer. The recipe yields enough for that. On the other hand, if you only want to add frosting between the layers like I've done, then cut the recipe for it in half.
Shredded or grated carrots? Now there's a good question! When I made my first carrot cake, I processed the heck out of the carrots until they were almost juice. I didn't even realize I was doing something wrong until after I tasted the cake. Yuck!
There are 2 different options for grating the carrots, and it's just a matter of preference. I know that some prefer long shreds, while others prefer smaller or more finely grated pieces.
1) The quickest method would be using the shredding disc of your food processor. It yields large shreds of carrots, but they are cooked and softened during baking. If using this method, you'll need about 3 cups of shredded carrots.
2) Use the grater box or a microplane grater for smaller pieces or more finely grated carrots. If using this method, you'll need about 2.5 cups of grated carrots.
Last tips:
If you don't have brown sugar on hand, you can use just granulated sugar, 2 cups total. The brown sugar adds moisture and flavor, though, so it's highly recommended.
You can replace ½ cup of the oil with ½ cup unsweetened applesauce or crushed pineapple.
Spices add a lot of flavor to carrot cake, but if you're really not a fan of them, then I suggest at least not skipping the cinnamon.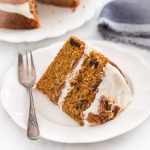 Layered Carrot Cake
YIELD
:
2
-layer 9-inch cake
This is the ultimate layered carrot cake. It's incredibly moist, fluffy, and flavorful, and topped with the most amazing cream cheese frosting.
---
Ingredients
Cake:
2 1/4

cups

(315 g/11 oz) all-purpose flour, sifted

2

teaspoons

baking powder

1

teaspoon

baking soda

1/2

teaspoon

salt

1 1/2

teaspoons

ground cinnamon

1/2

teaspoon

ground nutmeg

1/4

teaspoon

ground cloves

1 1/8

cup

(270 ml) canola oil (or vegetable, safflower)

1

cup

(200 g/7 oz) granulated sugar

1

cup

(200 g/7 oz) light or dark brown sugar

4

large eggs

1

teaspoon

vanilla extract

350

g/12.5 oz grated fresh carrots*

(about 6 medium carrots)

1

cup

(100 g/3.5 oz) pecans or walnuts, coarsely chopped

1/2

cup

raisins

, currants, or shredded coconut, optional
Cream Cheese Frosting (enough to frost the sides of the cake*):
450

g/16 oz full-fat cream cheese

, softened to room temperature

1/2

cup

(1 stick/115 g) unsalted butter, softened to room temperature

2

cups

(230 g) powdered sugar, sifted, plus more as needed

1

teaspoon

pure vanilla extract
Instructions
Preheat oven to 350F/180C. Generously butter 2 9-inch cake pans. You can line the bottom of the pan with parchment paper for easy removal later on.

To make the cake: In a large bowl, place flour, baking powder, baking soda, salt, cinnamon, nutmeg, and cloves. Mix until combined. Set aside.

In a medium bowl, whisk together oil, sugars, eggs, and vanilla extract until smooth. Add the egg mixture into the flour mixture and mix just until combined and smooth. Don't overmix. Fold in the carrots, nuts, and raisins.

Scrape batter into prepared pans. Bake for 30-35 minutes, or until a skewer inserted into the center comes out clean or with just a few moist crumbs. Allow to cool for 15 minutes, then run a knife along the edges of the pan for easy release. Invert the cakes onto a wire rack and let cool completely. [The cake layers can be wrapped tight with plastic wrap and frozen for up to 2 months. Defrost overnight in the fridge before using.]

To make the frosting: In the bowl of an electric mixer fitted with a whisk or paddle attachment, beat butter and cream cheese on medium speed until smooth and creamy, about 2 minutes. Add sugar in 2 additions, beating well after each addition until smooth. Add vanilla extract and beat for about another 2 minutes on high speed until completely smooth. If the frosting is too runny, add more sugar as necessary until you reach the desired consistency. You can add a pinch of salt or lemon juice to cut the sweetness (although I don't find it necessary for this cake since it isn't too sweet). [Frosting can be kept in an airtight container in the fridge for up to 3 days. It doesn't freeze well. Before using, bring to room temperature and whisk by hand for a few seconds until smooth.]

Assembling the cake: Set one layer on a plate with the flat side facing up (or, optionally, if your cake rose too much, cut its rounded top with a knife to make it flat). Evenly spread about 1/3 of the frosting over the cake to the edge. Top with the second cake layer, rounded side up. Spread the remaining frosting over the top and sides of the cake.

Store cake in the fridge for up to 3 days. Bring to room temperature before serving.
Recipe Notes
* If using large shreds of carrot, you'll need about 3 cups, and if using small pieces or finely grated carrots, you'll need about 2.5 cups.
* You can half the recipe of the cream cheese frosting if you only want to use it between the layers and not the sides of the cake (like you see in the photos).