This is the ultimate white cake recipe. Tender, light, moist, and fluffy cake layers frosted with the creamiest vanilla frosting. After you try this, you won't need any other recipe. It's perfect as a birthday cake, wedding cake, or for any celebration.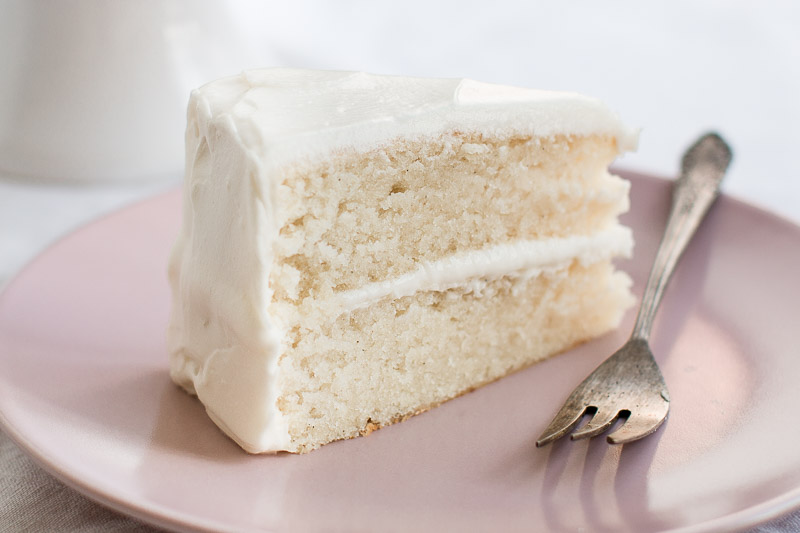 A few years ago I was at a beautiful wedding in San Francisco where I had the most delicious vanilla cake ever. I was so obsessed with it and couldn't wait to try it back at home. I tested (and tasted) many recipes to try and recreate it, but as a true perfectionist, I wasn't impressed with any of them. I was an amateur baker back then, so I gave up the idea quickly. But recently I gave it another try, now that I actually know what I'm doing. I spent the last few weeks trying all kinds of homemade vanilla and white cake recipes until my heart was set on one. This is the white cake I've been dreaming of.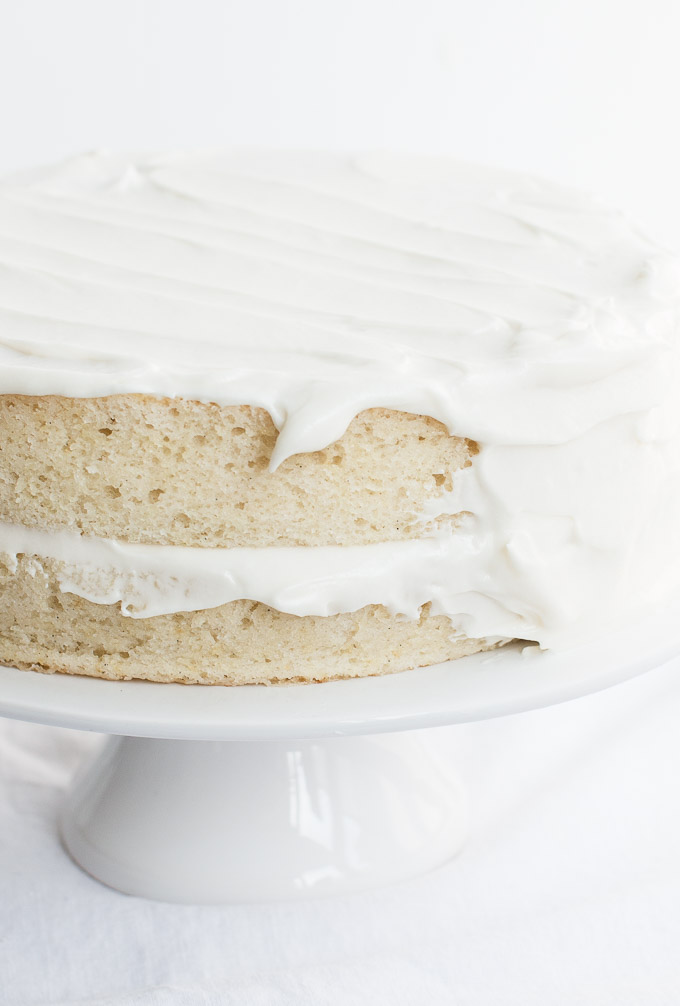 This is my very best recipe for white cake
It's a strong statement but it's true! It's ultra moist with a fluffy texture that almost melts in your mouth, and the delicate buttery, vanilla flavor is heavenly.
Use high quality vanilla extract
It makes all the difference. I've tested it with imitation vanilla extract, pure vanilla extract, and high quality vanilla extract, which is also pure vanilla extract that tastes superb (but it's quite expensive). The high quality one wins big time, but since I know not all of you have it, just use any pure vanilla extract for the best flavor. I know that for some, the imitation vanilla extract is the flavor that brings childhood memories, so it's a matter of personal taste. I prefer pure vanilla flavor.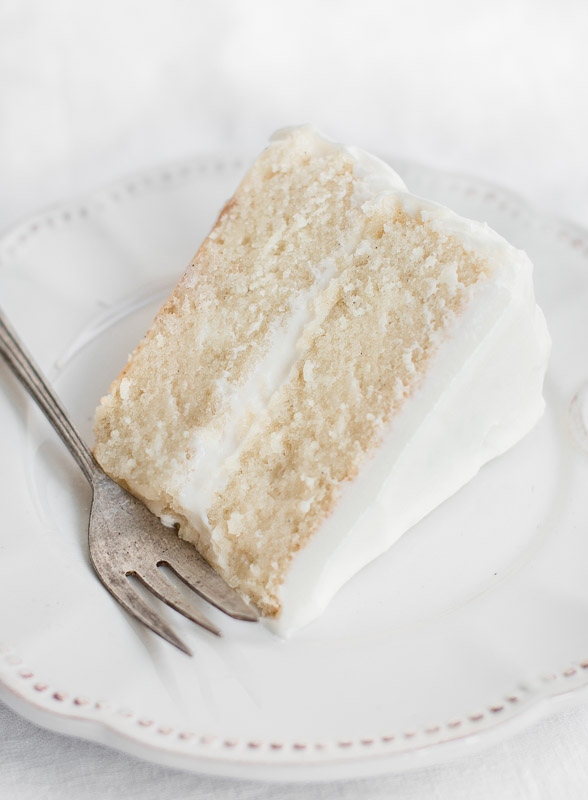 Eggs
I use egg whites for this recipe. If you want a recipe that uses whole eggs, I'll be working on that real soon. For a white cake, egg whites are used instead of whole eggs because the egg yolks give the cake a yellowish color. You can use the egg yolks to make creme brulee or Boston cream pie.
How to bake even, flat cakes?
I've finally got myself a few cake strips, and it works like a charm. My cakes turned out even, flat and white on the edges. The strips are affordable, don't take much space in the kitchen, and if you like making layer cakes then it's a must. The strips are easy to use. Soak them in water, then squeeze out the water, and place them around the cake pans. They're adjustable for different pan sizes.
Frosting
I use my vanilla buttercream frosting because that's a classic combination, but if you prefer cream cheese frosting, use it instead. You can experiment with different fillings and frosting. You can use lemon curd or jam as the filling.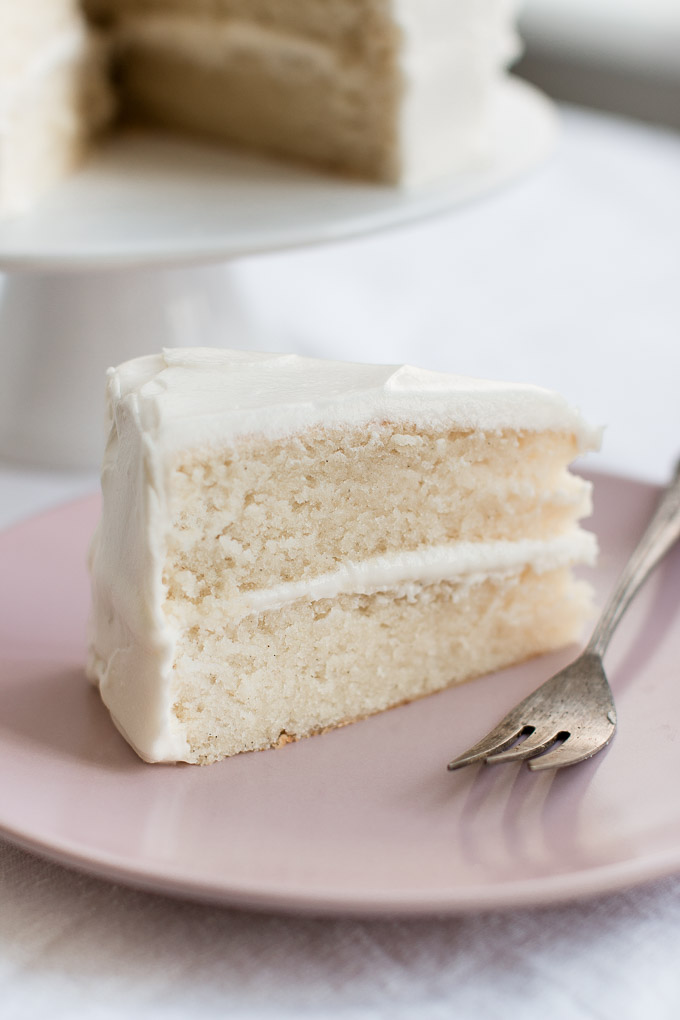 More Classic Layer Cakes: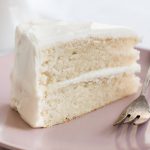 White Cake Recipe
I highly recommend sticking to the recipe. Using butter and sour cream is what makes this recipe so good. It's best if all the ingredients (eggs, milk, sour cream) are at room temperature, but make sure to separate the eggs while they are still cold because it's easier. If you don't have a stand mixer, use a hand mixer. I recommend lining the bottom of the cake pan with parchment paper to ensure that the cakes come out of the pan in one piece. I cut parchment paper rounds the size of the pan.
---
Ingredients
Cake
2 and 1/4 cups

(315g) all-purpose flour

2

teaspoons

baking powder

1/2

teaspoon

baking soda

1/2

teaspoon

salt

3/4

cup

(180 ml) sour cream

3/4

cup

(180 ml) whole milk

1

cup

(2 sticks/225 g) unsalted butter

, softened to room temperature

1 and 3/4 cups

(350g) granulated sugar

5

large egg whites

1

tablespoon

pure vanilla extract
Vanilla Frosting
1 and 1/2

cups

(340 g/3 sticks) unsalted butter, softened to room temperature

1/8

teaspoon

salt

6

cups

(700 g) powdered sugar, sifted, plus more as needed

5

tablespoons

(75 ml) heavy cream

1

tablespoon

pure vanilla extract
Instructions
Preheat oven to 350°F/180°C. Butter two 9-inch cake pans (8-inch would work too) that are at least 2-inch high, and line the bottoms with parchment paper.

In a medium bowl, sift together flour, baking powder, baking soda, and salt. In another medium bowl combine sour cream and milk. Set bowls aside.

In a standing mixer fitted with the paddle attachment, beat butter and sugar on medium speed until light and fluffy, 3-4 minutes. Scrape down the sides and bottom of the bowl as needed. Add egg whites and vanilla extract and beat until combined. With the mixer on low speed, add half of the flour mixture and beat until combined. Add milk mixture and beat until combined. Add the other half of the flour mixture and beat just until combined. Do not over mix – the less you mix, the lighter the cake will be.

Divide batter evenly between prepared pans. Bake for 25-30 minutes until a toothpick inserted into the center of the cakes comes out clean. Allow cakes to cool for 15 minutes, then gently remove from pan and allow them to cool completely on a wire rack.

Frosting: In the bowl of an electric mixer fitted with the paddle attachment, beat butter and salt on medium speed until smooth and creamy, about 2 minutes. Add the rest of the ingredients and beat on low speed for 30 seconds, then increase speed to high and beat for 2 minutes. Beat in more powdered sugar if frosting is too thin.

Assembly: If the cakes rose too much, cut their rounded top with a knife to make them flat. Set one cake layer on a plate or cake stand. Evenly spread a thick layer of the frosting over the cake to the edge. Top with the second cake layer. Spread frosting over the top and sides of the cake. Cake should be kept in the fridge, but bring it to room temperature before serving.
Recipe Notes
Frosting can be made 3 days ahead of time and kept in the fridge, covered. Cakes (unfrosted) can be made a day ahead and kept in the fridge, covered. The next day, bring frosting to room temperature and frost the cake. Frosted cake can be kept tightly covered in the fridge for 3-4 days. Leftovers can be kept in the freezer for up to 2 months and thawed overnight in the fridge.