This is my favorite recipe for German black forest cake for so many reasons: The chocolate layers are so moist and the combination of chocolate, cherries and soft whipped cream is to-die-for. This is an easy black forest cake recipe that everyone will love!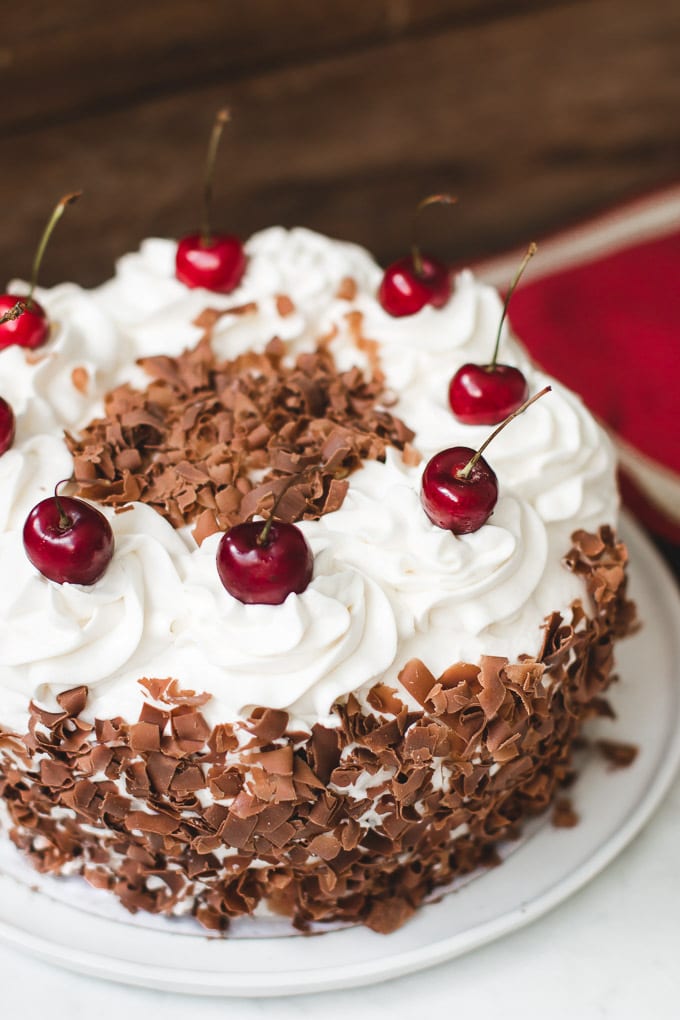 When I was a kid I was reluctant to try black forest cakes, thinking that cherries and chocolate was an odd combination, but boy was I wrong! Along with whipped cream, this is a delightful treat. Ever since I tried it in Germany, I couldn't stop eating it again and again. You won't understand how good this is until you try it. Trust me.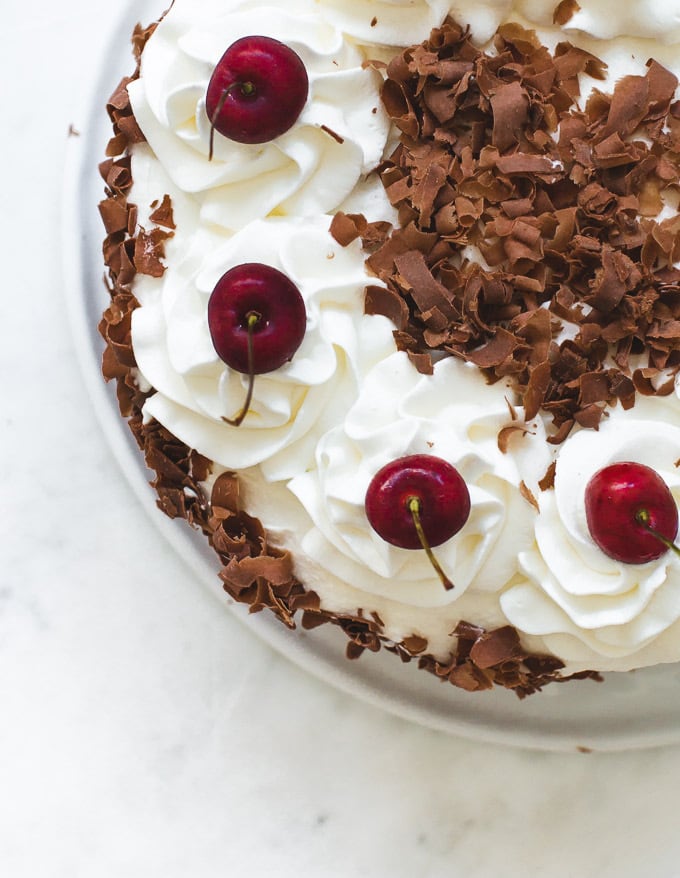 What is black forest cake?
Black forest cake originated in Germany and consists of layers of chocolate cake soaked in cherry syrup, cherry filling, and fluffy whipped cream. The cake is named after a specific Germany cherry liqueur, Schwarzwälder Kirsch, which is traditionally used to flavor the cake. Schwarzwäld is a mountain range in Germany where the liqueur is distilled, and translates to the Black Forest mountain rage, which is where this cake gets it's name.
How to make black forest cake
This is what you'll need to make the most delicious and easy black cherry forest cake:
Chocolate cake – I bake the batter in two 8-inch pans, then cut each cake layer in half to get a total of 4 layers.
Cherry syrup to soak the cake layers, and cherries to add between the layers. The syrups makes the cake ultra moist – my favorite part of this recipe.
Whipped cream – to frost the cake and for in between the layers.
Chocolate shavings – I use this method to make chocolate shavings. You can use store-bought ones, although they're usually quite expensive. If you find this part difficult, you can grate chocolate using a microplane or vegetable peeler and cover only the top of the cake with chocolate.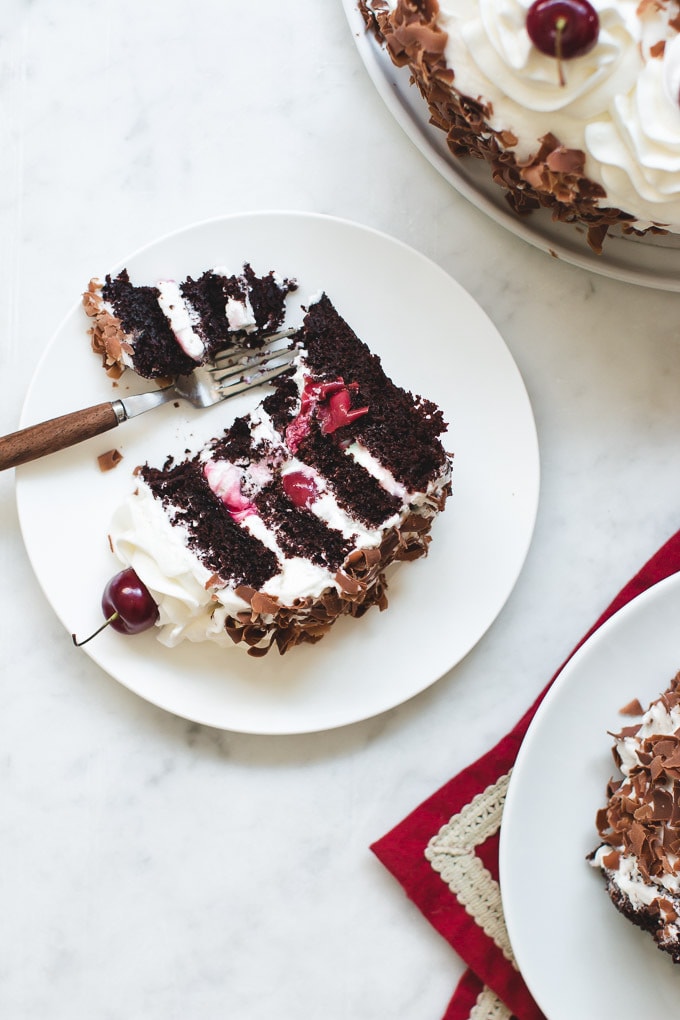 What kind of cherries should I use?
I use canned cherries because simpler because they're easier and they're available throughout the entire year, unlike fresh cherries. Also, the juice from the can adds more cherry flavor, and the cherries are already pitted and soft, so they don't need to be cooked. I like to use sour cherries, but sweet cherries work too.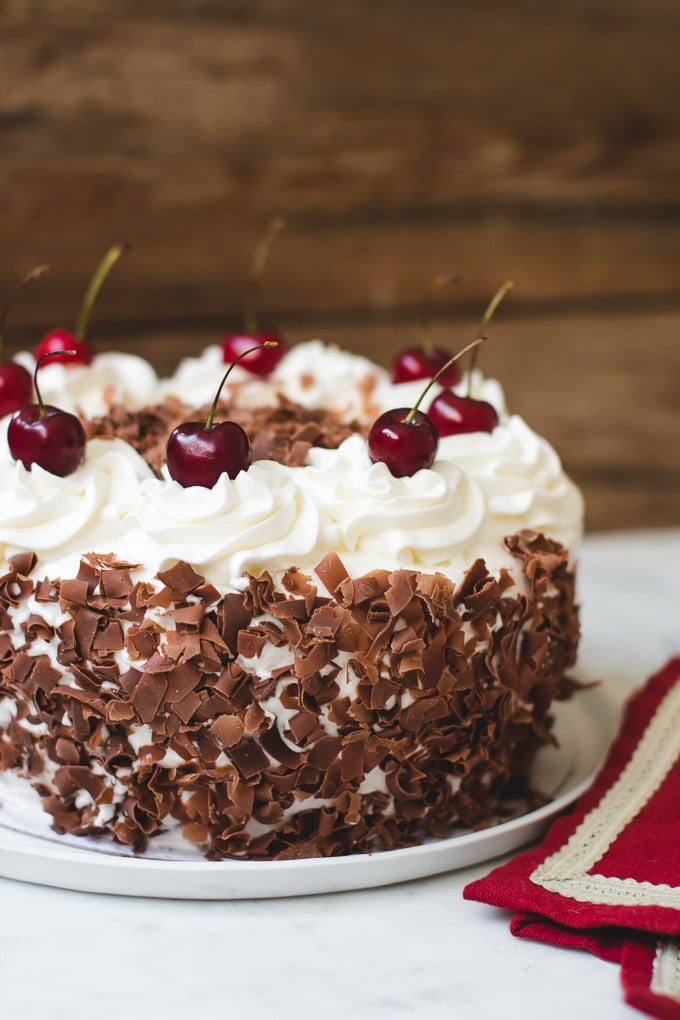 Kirsch
If you want to get that classic black forest cake flavor, I highly recommend using Kirsch because it gives the best cherry flavor. To make the cake alcohol-free, replace it with more cherry juice.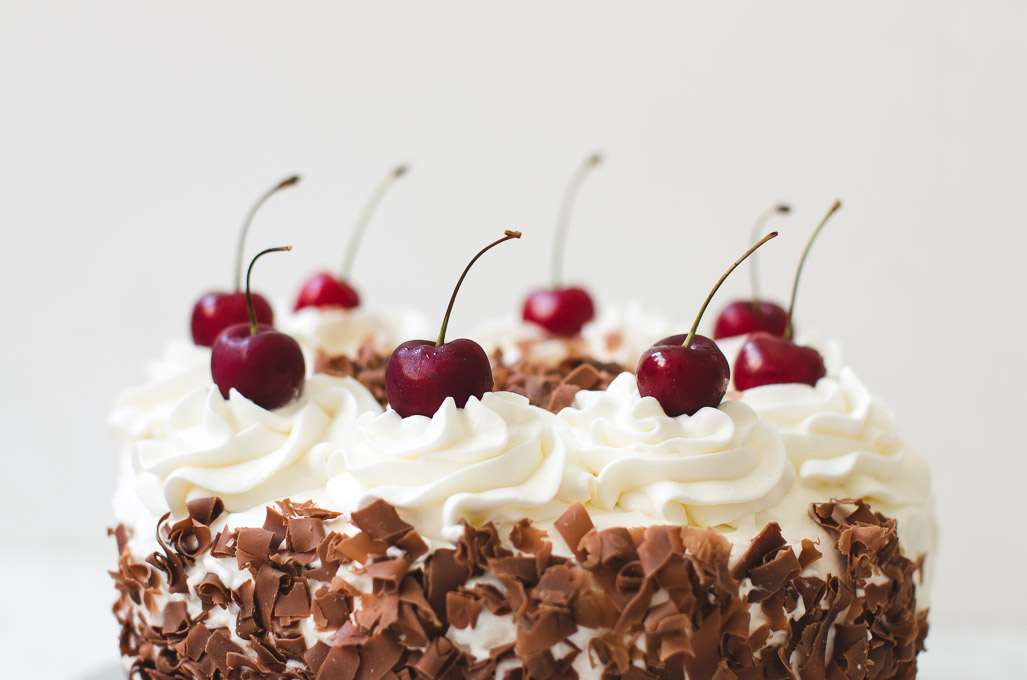 Tips for making black forest cake
Don't overmix the cake batter. Overmixing will make the cake less light and fluffy. To avoid this, gently mix the batter just until the ingredients are incorporated, and no more.
Use Kirsch. Kirsch is the traditional cherry flavored liqueur used in black forest cake, so I highly recommend using it instead of a substitute. However, to make the cake alcohol free you can replace it with cherry juice.
Don't overwhip the cream. Overwhipping heavy cream will turn it into butter. Whip the cream until stiff peaks form so it's stiff enough to hold it's shape. You can also check out my post on making whipped cream from scratch for more detailed instructions.
More of my favorite layer cakes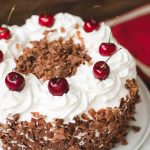 Black Forest Cake Recipe
This easy and delicious black forest cake recipe is made with layers of indulgent chocolate cake soaked in cherry syrup, fluffy whipped cream, and juicy cherries.
---
Ingredients
Chocolate Cake:
1 3/4

cups

(250g) all-purpose flour, sifted

2/3

cup

(65g) natural unsweetened cocoa powder, sifted

2

teaspoons

baking soda

1

teaspoon

baking powder

1

teaspoon

salt

2

cups

(400g) granulated sugar

2

large

eggs

1/2

cup

(120 ml) neutral oil, such as canola or vegetable oil

2

teaspoons

pure vanilla extract

1

cup

(240 ml) buttermilk

1

cup

(240 ml) hot water
Cherries and Cherry Syrup:
1

cup

drained, canned cherries

1/4

cup

Kirsch, or another cherry liqueur

cherry juice from canned cherries (drain cherries and reserve the juice)
Whipped Cream Frosting:
3

cups

(720 ml) heavy cream, cold

1/2

cup

(58g) powdered sugar, sifted
Optional Decorations:
200g/7 oz. chocolate shavings

Fresh whole cherries
Instructions
To make the chocolate cake: Preheat oven to 350°F/180°C. Generously butter two 8-inch cake pans that are at least 2-inches high, and dust with cocoa powder, tapping the ramekins slightly to remove any excess.

In a large bowl, place flour, cocoa powder, baking powder, baking soda, salt, and sugar. Mix until combined. Set aside.

In a medium bowl, mix together eggs, oil, vanilla, buttermilk, and water (pour the water slowly so it won't cook the eggs). Whisk until smooth. Add egg mixture into flour mixture and mix until smooth. Don't overbeat – batter will be lumpy at first, but mix gently and eventually stir with a whisk just until smooth. The batter will be thin and liquid. That's ok.

Scrape batter into prepared pans. Bake cakes for 30-35 minutes (depending on your oven – this might take longer), or until a skewer inserted into the center comes out clean or with just a few moist crumbs. Allow to cool for 10 minutes in the pan before unmolding, then let cakes cool completely on a wire rack. I recommend wrapping the cakes in plastic wrap and refrigerate or freeze them for several hours before cutting them. Cut each cake layer in half horizontally.

To make the syrup:

place drained cherries in a medium bowl, and add to the bowl 1/4 cup Kirsch and 1/2 cup cherry juice from can. Leave to soak at room temperature for 30 minutes or more, then drain cherries in a sieve over a bowl, keeping both the cherries and syrup. Add more cherry juice to the syrup to get 3/4 cup syrup (you won't need the rest of the juice, discard it or save for another use). This will be the soaking syrup for the cake layers.

To make the whipped cream: Using a stand mixer or hand mixer with a whisk attachment, beat heavy cream and powdered sugar until stiff peaks form. Read more about making perfect whipped cream here.

Assembly: Place one cake layer on a cake stand or plate and brush with 1/3 of the cherry syrup. Cover top with a thick layer of whipped cream frosting (about 1 cup) and top with 1/3 of the cherries. Repeat twice more with remaining layers and top with the last cake layer (there's no need to soak the top layer with syrup). Frost the top and sides of the cake with whipped cream. If you want, reserve some of the whipped cream, about 1½ cups, for decorating the top. Use a pastry bag with a large flower tip, and pipe rounds around the top. Top with whole cherries. Cover the sides and top with chocolate shavings, if desired. Store cake in the fridge, covered, for up to 4 days.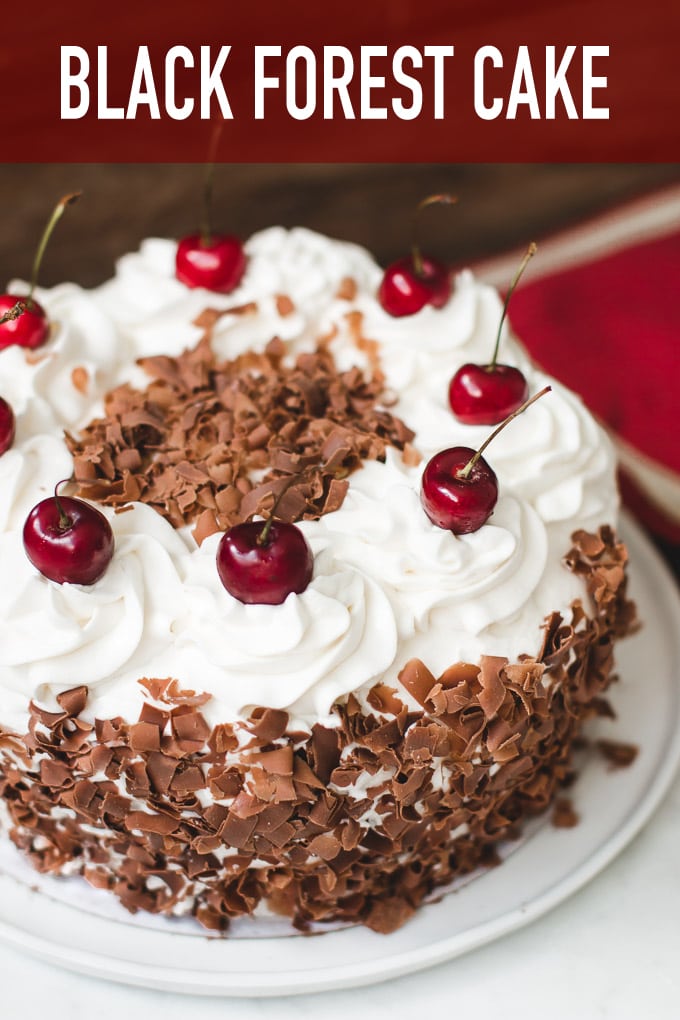 SaveSave
SaveSave