Rich, moist, and flavorful, this red wine chocolate cake carries a unique taste and an irresistible smell!
If there's one thing better than wine, it must be wine cake.
Last week, I had a dinner party with friends, which naturally meant lots of food, wine, and desserts. As I'm sure you can already guess, the leftover wine found its way into chocolate cake batter – the combination of which turned out to be divine.
It truly is the perfect cake, but you obviously need to enjoy the occasional drink in order to appreciate it. The wine makes the chocolate very fudge-like, giving it an intense, rich flavor that you'll definitely notice. The alcohol doesn't bake out fully, though, so this is the kind of dessert you only want to make for adults. With its fancy name and even fancier flavor, this dessert would make a splash at any wine tasting.
For this recipe, I use dark brown sugar to deepen the flavor and moisten the cake. Plenty of cocoa helps to keep it super fudgy and chocolaty while balancing out the alcohol. Ground cinnamon also works to enhance the flavor, although you can't taste it in the final product. I experimented with several different wines such as cabernet sauvignon, merlot, and shiraz, and all of them turned out amazing.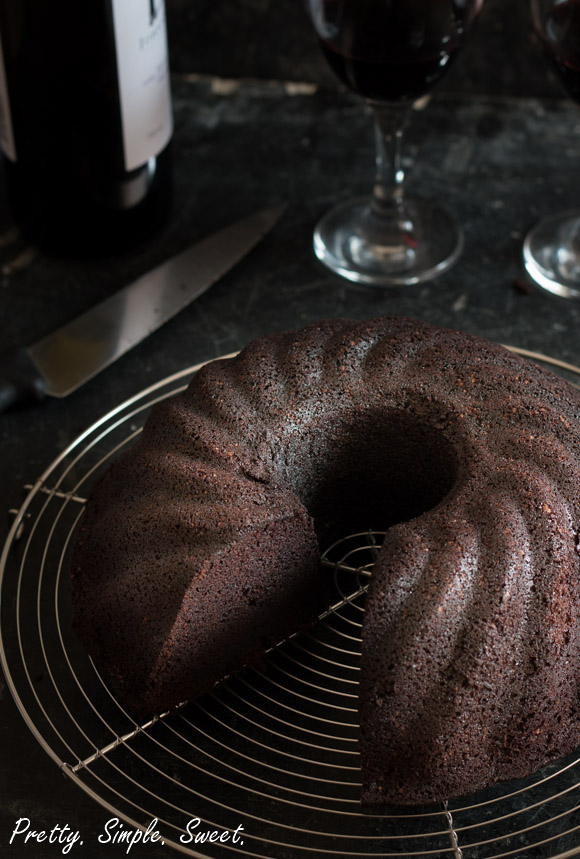 This is a really simple recipe. After adding the flour to the batter, avoid overmixing so that the cake will be as light as possible. You can dust it with powdered sugar, drizzle chocolate ganache over the top, or serve it with whipped cream, but I love this dessert plain because the flavors are so good!
So the next time you open a bottle of wine for your guests, make sure you sneak into your kitchen and save some of it for this cake!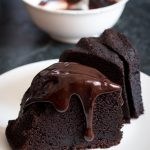 Red Wine Chocolate Cake
This moist, rich cake is great to make ahead for special occasions because its flavor improves the next day.
---
Ingredients
1 1/2

cups

(210 g/7.4 oz) all-purpose flour

3/4

cup

(75 g/2.7 oz) unsweetened cocoa powder

1

teaspoon

baking soda

1/2

teaspoon

salt

1/2

teaspoon

ground cinnamon

1

cup

(2 sticks/227 g) unsalted butter, softened

1 1/4

cups

(250 g/8.8 oz) granulated sugar

1/2

cup

(100 g/3.5 oz) brown sugar (preferably dark)

2

large eggs

2

teaspoons

vanilla extract

1 1/4

cups

(300 ml) dry red wine
Instructions
Preheat oven to 350F/180C degrees. Grease a 12-cup bundt pan and set aside.

In a medium bowl sift flour, cocoa powder, baking soda, salt, and cinnamon. Set aside.

In a mixer bowl fitted with the paddle attachment, beat together butter and sugar on medium-high speed for 3-4 minutes until light and fluffy. Beat in the eggs one at a time until combined. Scrape down the sides and bottom of the bowl as necessary. Beat in vanilla extract. On low speed, beat in (or fold by hand) the flour mixture in 3 additions, alternating it with the wine in 2 additions (starting and ending with the flour). Do not overmix.

Scrape the batter into the prepared pan and smooth the top. Bake for 45 minutes or until a toothpick inserted into the center comes out clean. Allow the cake to cool in the pan for 10 minutes on a wire rack, then turn it out and let it cool completely. Dust the cake with powdered sugar or drizzle

chocolate ganache

over the cake.

Store cake at room temperature in airtight container for up to 3 days.

Cake can be frozen for up to 2 months.
SaveSave
SaveSave