You know those giant muffins with crunchy tops you see in every coffee shop? If you love this kind of muffins then you're going to love this recipe for classic bakery style chocolate chip muffins.
The first time I was in New York I fell in love! What got my attention the most was that everything was HUGE. The stores, the streets, the buildings. The muffins! They were bigger and taller than any muffin I've ever seen before. My favorite morning routine was watching the hustle and bustle of the city from a street cafe, and enjoying a cup of coffee and a giant blueberry or chocolate muffin.
The perfect texture
So far I've tried many different muffin recipes, searching desperately for just the right one. Most of the recipes produced more of a cakey texture, but nothing like the real deal – moist, but no too moist, slightly sweet muffins with a bread-like crumb and crunchy tops.
When I make cupcakes (with frosting) I will use a different recipe, one that produces tender, moist texture, but when I make a classic bakery style muffin, I imagine a product that is half bread half cake and not too sweet.
A classic recipe for crunchy top muffins
These should be the amounts for each ingredient:
1 1/2 – 2 cups flour
Leavening agent (baking powder or baking soda)
1/2 – 1 cup sugar
1/4 – 1/2 cup oil/melted butter
1 egg
3/4 – 1 cup liquid (milk, buttermilk, yogurt, sour cream)
A note about the liquid: When I make chocolate chip muffins I like the mild taste of milk, but buttermilk, yogurt and sour cream give a moist texture which also taste delicious, so it's a matter of personal preference. The muffins will also keep longer due to the moisture. Because I like soft texture, I really loved the buttermilk option. Sour cream tastes great as well but it's a bit heavier than the buttermilk.
In many other recipes (even my own recipes) you'll see more eggs and oil/butter than in this recipe, but with similar amounts of flour and liquid. More eggs and oil/butter produce a rich, cake-like texture with a smooth top.
How to make chocolate chip muffins
These muffins are super easy to make. You will only need two bowls. Add the dry ingredients in one bowl, and in the other bowl combine the wet ingredients. Add the wet ingredients into the dry ingredients and mix with a spatula or a wooden spoon. Mix as little as possible, just until the ingredients are combined, otherwise the muffins will be tough, heavy and flat. The batter will look lumpy and that's OK. These lumps create these uneven, cruncy tops. Add chocolate chips or your favorite add-ins and mix just until combined.
Notes and tips
Fill the muffin tins with batter almost all the way to the top.
To get domed muffins, start by baking the muffins at a very high temperature (about 425F) and after a few minutes lower it to the temperature that the recipe suggests. That way, the muffins rise quickly and the outside edges will set faster than the center, causing the muffin to have a peak. I've had my share of flat, spreading (batter spreading to the sides instead of rising up) muffins and after a little research, starting with a higher temperature has helped me solve this issue for good.
If the muffin tops start to brown too fast on the outside but are not fully baked yet, open you oven and cover the pan with aluminum foil.
Fill any empty tins in the muffin pan half full of water for even baking.
Don't overmix the batter. I know I've mentioned it already but it's important! Mix just until all the ingredients are fully combined. The batter should be a bit lumpy. Lumpy is good!
Baking time differs if you make mini muffins (8-12 mins), standard muffins (15-20 mins) and jumbo muffins (25-35 mins). You'll know it's done when a toothpick comes out clean, but not dry.
The muffin pan I use for these muffins
Some of you have asked me what kind of pan I use for these muffins. Click here to see it. I highly recommend it, I have about 15(!!!) muffin pans and this is by far my favorite one. I have both the jumbo and standard pans. The muffins with the flat sides are the jumbo ones.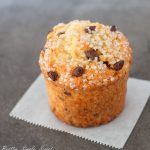 Bakery Style Chocolate Chip Muffins
YIELD
:
4
jumbo size muffins or 10 standard size muffins
---
Ingredients
1 3/4

cups

(250g) all-purpose flour

3/4

cup

(150g) granulated sugar

2 1/2

teaspoons

baking powder

1/4

teaspoon

salt

1

large egg

1

cup

buttermilk or milk (see notes)

1/3

cup

canola oil

(or vegetable, safflower)

1 1/2

teaspoons

pure vanilla extract

1

cup

chocolate chips or chunks (see notes)
Instructions
Preheat oven to 425°F/220°C. Grease 12 muffin cups or line them with liner papers.

In a large bowl whisk together flour, sugar, baking powder, and salt.

In a medium bowl whisk the egg, buttermilk/milk, oil and vanilla extract, and whisk until combined. Pour the egg mixture into the flour mixture and fold with a wooden spoon or a rubber spatula just until combined. Do not overmix. The batter should be thick and lumpy. Fold in chocolate chips.

Divide the mixture between the muffin cups almost all the way to the top. Bake for 3 minutes, then reduce the oven temperature to 375°F/190°C and continue to bake for an additional 12-17 minutes (for standard size muffins; see the above post notes for jumbo and mini muffin baking times) until a toothpick inserted into the center of the muffin comes out clean. If the muffin tops start to brown too fast on the outside but are not fully baked yet, cover the pan loosely with aluminum foil. Overbaking will make the muffins dry so keep an eye on them. Remove from oven and allow to cool for 10 minutes in pan, then transfer muffins to a wire rack to cool completely.
Recipe Notes
-Both milk and buttermilk taste great but buttermilk makes the muffins much more moist. 
- Using chocolate chips or chunks (cut from a chocolate bar) yield a slightly different muffin. Chocolate chips hold their shape well during baking while chocolate chunks (which I cut to different size pieces for varying chocolate texture) are melty and soft. I highly recommend trying both options! 
- Muffins are best the same day they are made. 
- Muffins can be frozen for up to 2 months, then thawed overnight in the fridge or a couple of hours at room temperature.
SaveSave