This gender reveal cake is made of three layers of a moist and delicious vanilla cake that are dyed with food coloring, and frosted with easy, creamy vanilla buttercream. For a simpler cake, make a two layer cake instead of three, or dye all the layers in the same color instead of making an ombre cake. 
I'm so excited to share my gender reveal cake with you! I'm having a baby girI and I can't believe there are only 4 weeks until I get to meet her. No matter if it's a boy or a girl, the most important thing to every parent is their baby's health of course, but let's be honest – pink clothes, headbands, bows, and tiny dresses are every girl's dream, right?
You can easily tell I'm a first-timer just by looking at my hospital bag. There are clearly too many things in there for her! Plus I packed it like 8 weeks in advance.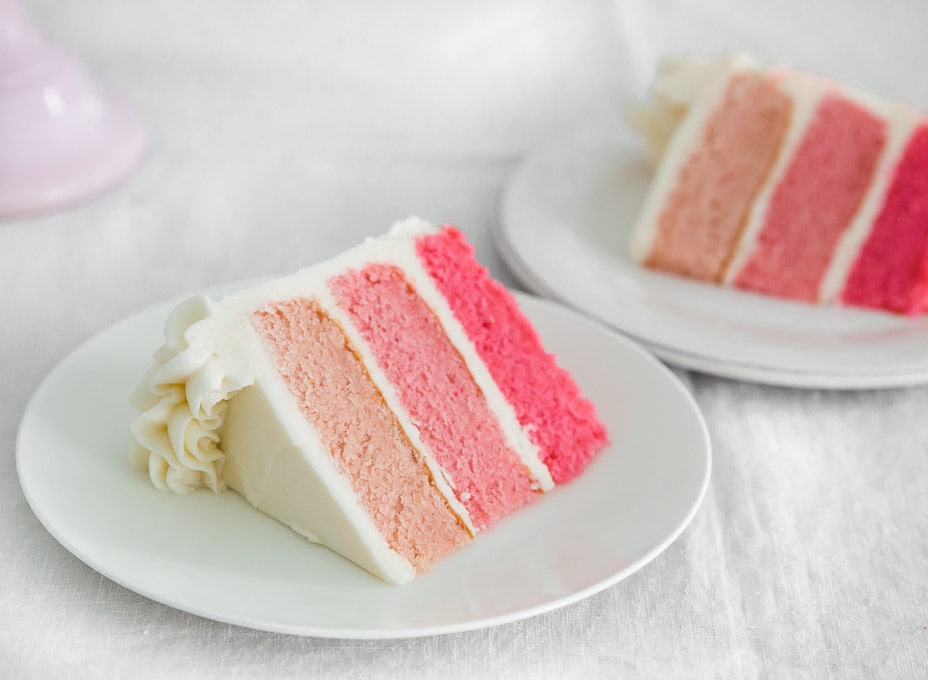 How to make a gender reveal cake
There are many different ideas on how to make a gender reveal cake, but this ombre cake is my favorite. It's so pretty and yet simple to make.
I made a vanilla cake, divided the cake batter into three bowls, and dyed each layer with a different amount of the same food coloring. I used this soft pink gel food coloring which is concentrated so a tiny drop of it was all I needed to get the color I wanted for the first bowl. Then I added a bit more food coloring to the second bowl until I liked the color, and did the same with the third bowl.
To make things even simpler, you can dye the entire batter using the same color (adjust the coloring to your liking) and divide the batter into three. This will also make a gorgeous cake.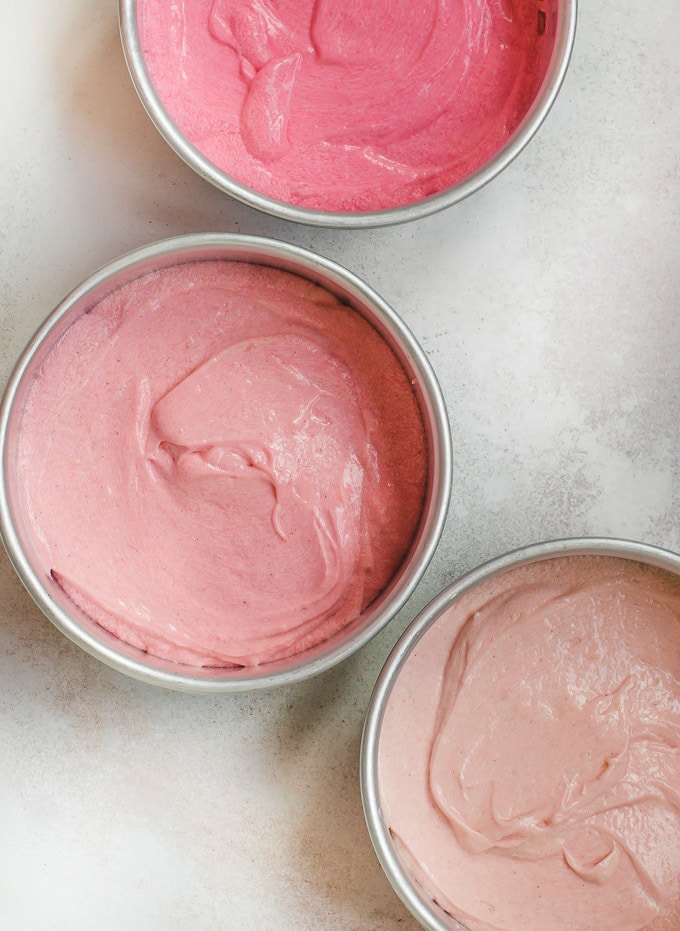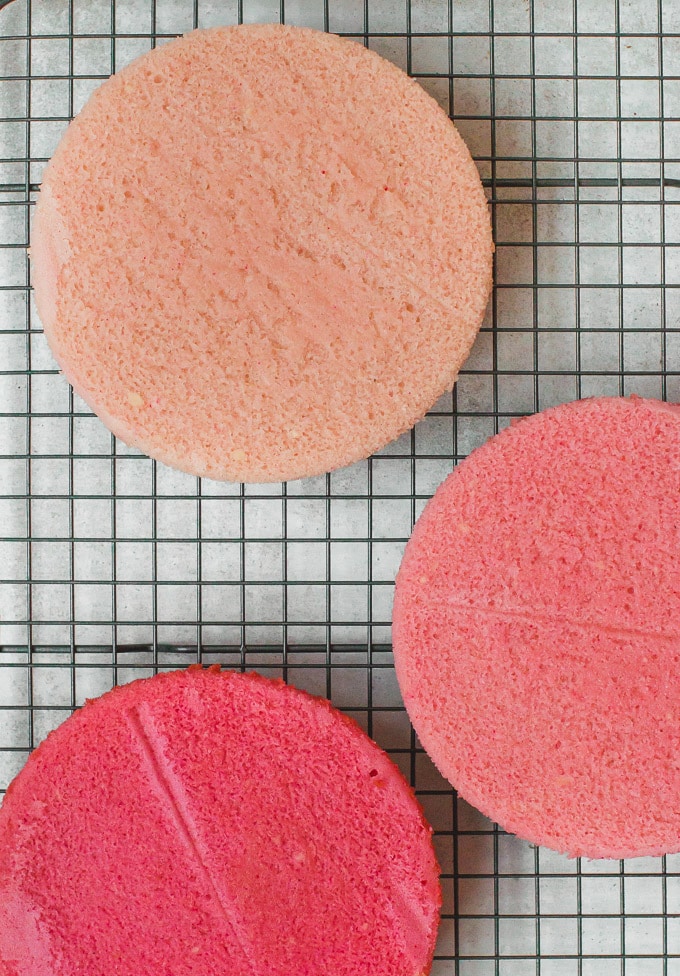 How to make a smaller cake
To make a 6-inch cake divide the cake recipe by 2. If you make a three layer cake, start checking the cakes for doneness after 20 minutes in the oven (temperature stays the same).
I suggest making 3/4 of the amount of buttercream instead of 1/2 just in case, especially if you want thick layers of frosting like you see in the photos.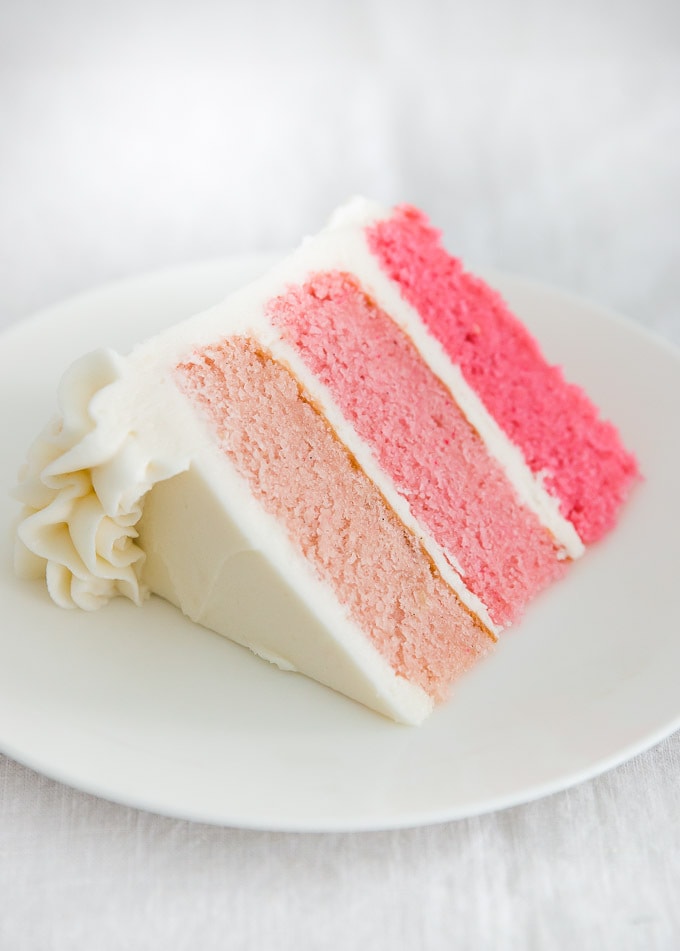 More Party Cakes: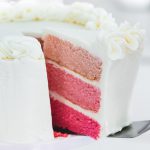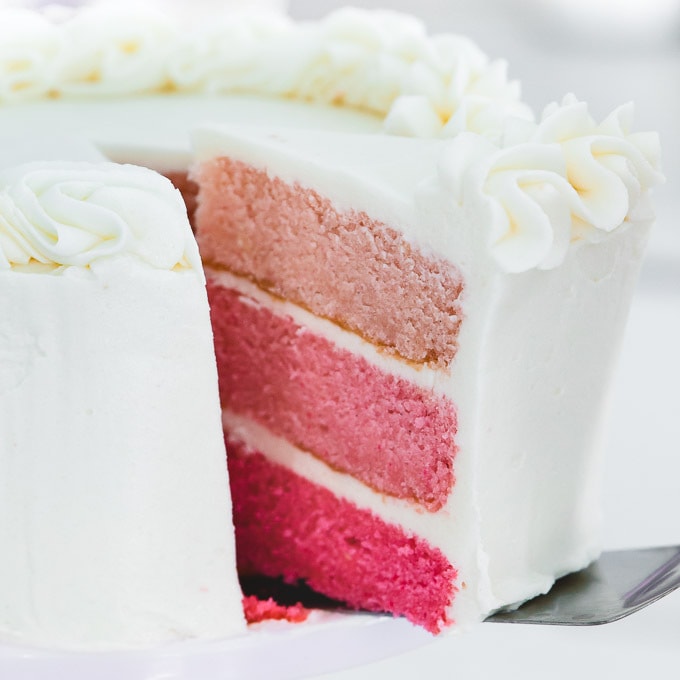 Gender Reveal Cake
---
Ingredients
Cake
3

cups

(420g) all-purpose flour

1

tablespoon

baking powder

1/2

teaspoon

salt

1

cup

(2 sticks/227g) unsalted butter, softened to room temperature

1/4

cup

(60ml) canola or vegetable oil

2

cups

(400g) granulated sugar

4

large eggs

1

tablespoon

pure vanilla extract

1 and 3/4

cups

(420ml) whole milk
Vanilla Buttercream Frosting
1 and 1/2

cups

(3 sticks/340g) unsalted butter, softened to room temperature

1/8

teaspoon

salt

5

cups

(600g) powdered sugar, sifted, plus more as needed

5

tablespoons

(75ml) heavy cream

1

tablespoon

pure vanilla extract
Instructions
Preheat oven to 350°F/180°C. Butter three 9-inch cake pans, and line the bottoms with parchment paper.

Cake: In a medium bowl, sift together flour, baking powder, and salt. Set aside.

In the bowl of an electric mixer fitted with the paddle attachment, beat butter, oil, and sugar on medium speed until light and fluffy, 3-4 minutes. Scrape down the sides and bottom of the bowl as needed. Add eggs, one at a time, beating well after each addition. Beat in vanilla extract. With the mixer on low speed, add the flour mixture in three additions alternating with the milk in two additions, beginning and ending with the flour mixture. Do not overmix the batter. The less you mix, the lighter the cake will be. Divide the batter as evenly as possible into three bowls. Add food coloring to each bowl until desired color is reached. Add just a tiny drop at first because food colorings can be very concentrated.

Pour each bowl of batter into prepared pans. Bake for 25-30 minutes until a toothpick inserted into the center of the cakes comes out clean. Allow cakes to cool for 15 minutes, then gently remove from pans and allow them to cool completely on a wire rack.

Frosting: In the bowl of an electric mixer fitted with the paddle or whisk attachment, beat butter and salt on medium speed until smooth and creamy, about 2 minutes. Add 5 cups powdered sugar, heavy cream, and vanilla. Beat on low speed for 30 seconds, then increase speed to high and beat for 2 minutes. Beat in more powdered sugar if frosting is too thin.

Assembly: If the cakes rose too much, cut their rounded top with a knife to make them flat. Set one cake layer on a plate or cake stand. Evenly spread a thick layer of the frosting over the cake to the edge. Top with the second cake layer and spread a thick layer of the frosting. Finish with the third cake layer. Spread frosting over the top and sides of the cake. Store cake in the fridge, but bring it to room temperature before serving. The cake can be made a day in advance.