If you have a celebration coming up, this funfetti cake recipe is for you. Fluffy and moist vanilla cake layers dotted with sprinkles and frosted with a super creamy vanilla buttercream. It's the best funfetti cake ever, and you can learn how to make it from scratch with this detailed recipe.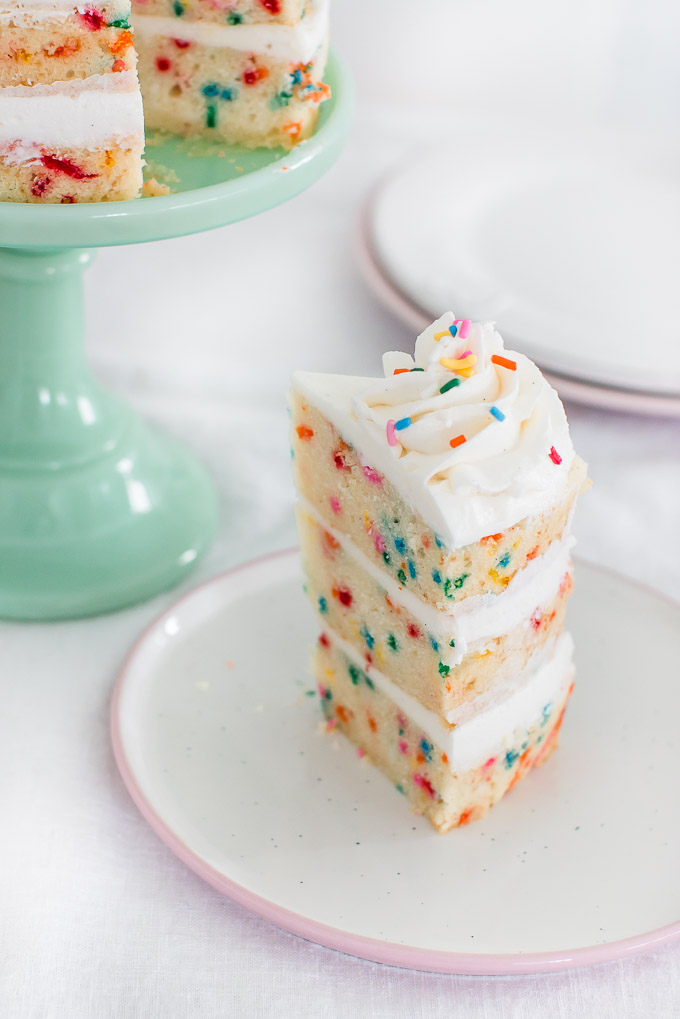 Last week was my birthday and if you follow me then you know that I like to celebrate my birthday like a 5 year old girl – with lots of sprinkles and pink vibes. Every year I make a chocolate cake for myself but this year I wanted something extra special so I made a festive funfetti birthday cake. I made a mini 6-inch cake although the recipe I'm sharing is for a 9-inch cake, a more common cake size (for a 6-inch cake I cut the cake ingredients by half and slightly reduced the baking time). It was the best week ever, filled with food and love from family and friends.
The Recipe
If you've read my white cake post, then you know I've been trying lots of different vanilla cake recipes lately. I've been looking for great white cakes and butter cakes, and the recipe I'm sharing today is the perfect match for this sprinkle cake, and the batter is easy to make. If you prefer a white cake, you can use my other recipe and add ¾ cup sprinkles to the batter.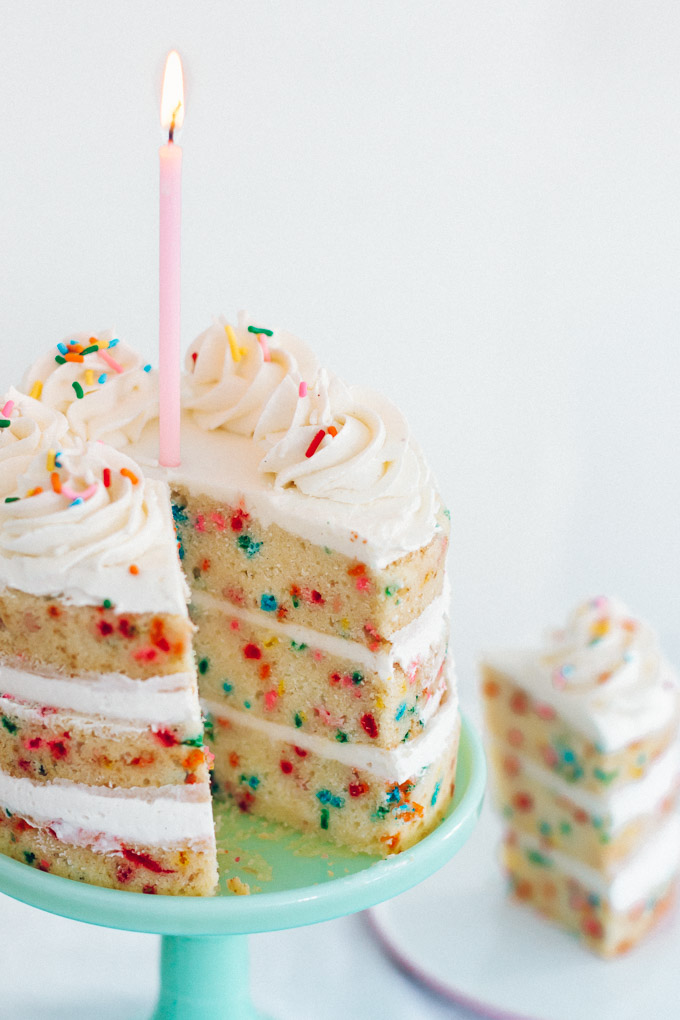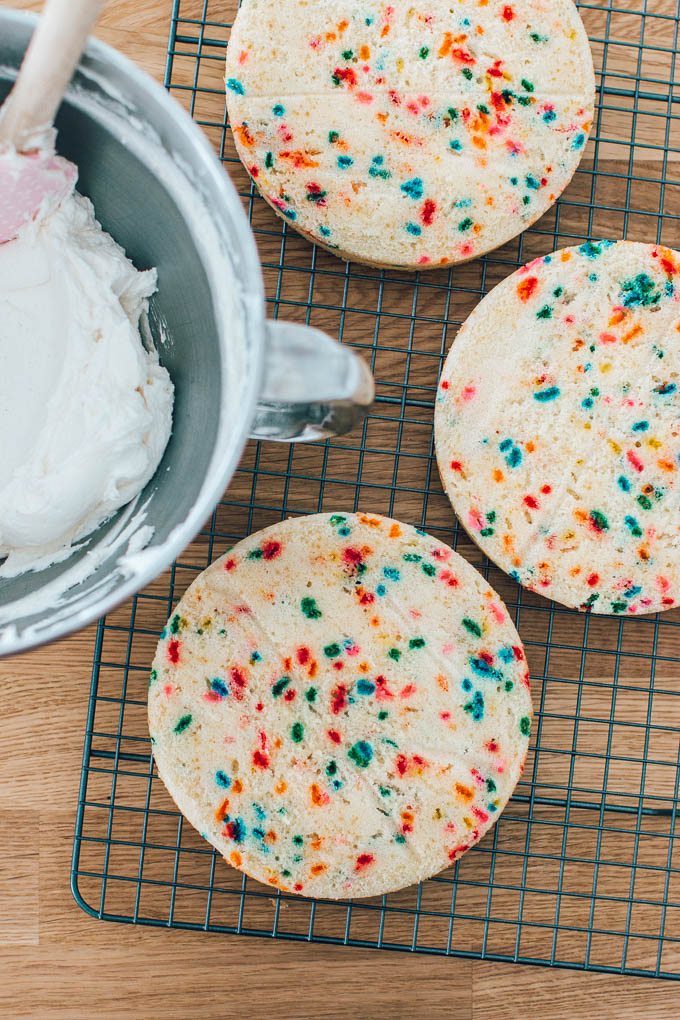 The Cake
I don't think I need to convince you that this cake is gorgeous, but it also tastes delicious. It's fluffy, tender, moist and buttery. For the best vanilla flavor I use pure vanilla extract (not imitation vanilla extract). I use buttermilk which gives the cake a moist texture. If buttermilk isn't available, you can (1) use 1 cup of milk plus ½ cup sour cream instead of the buttermilk, or (2) make homemade buttermilk: take a measuring cup and pour in 1 tablespoon of white vinegar or fresh lemon juice. Add milk until it reaches one cup. Stir and let sit for 5 minutes. It will look curdled and that's ok.
Probably the most important ingredient in this recipe is sprinkles. The best kind of sprinkles to use in cakes and cookies is jimmies and circle quins. I used these sprinkles. They don't bleed to the batter and I like their popping colors and tasty flavor.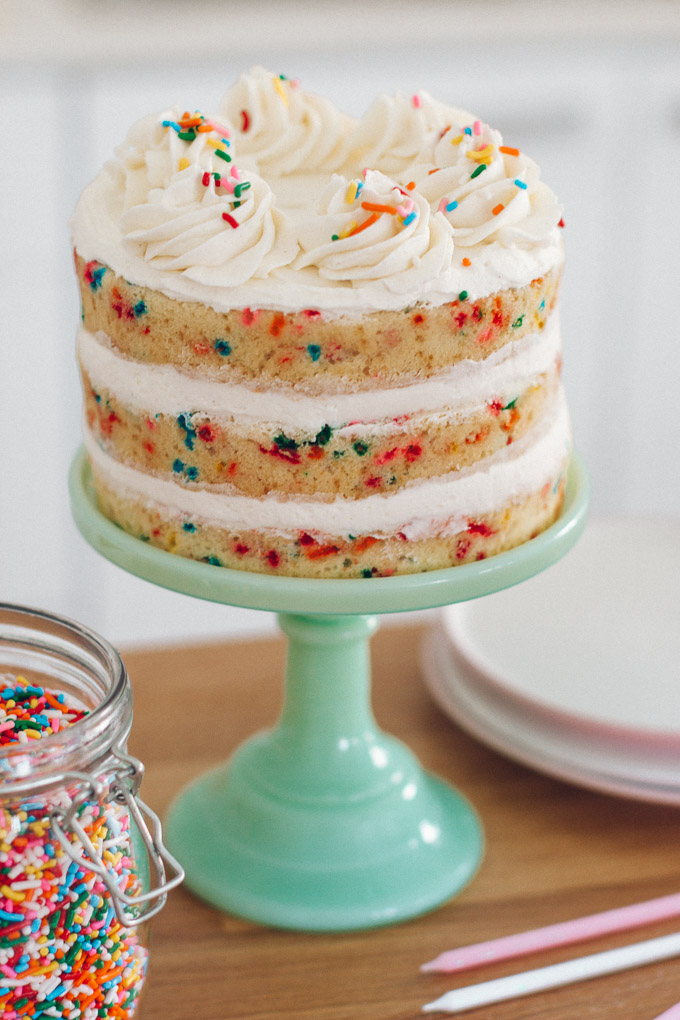 The Frosting
I use my vanilla buttercream frosting because it's a classic combination. For a less sweet frosting you can use cream cheese frosting or chocolate fudge frosting. If you have leftover frosting you can decorate the top of the cake as you wish.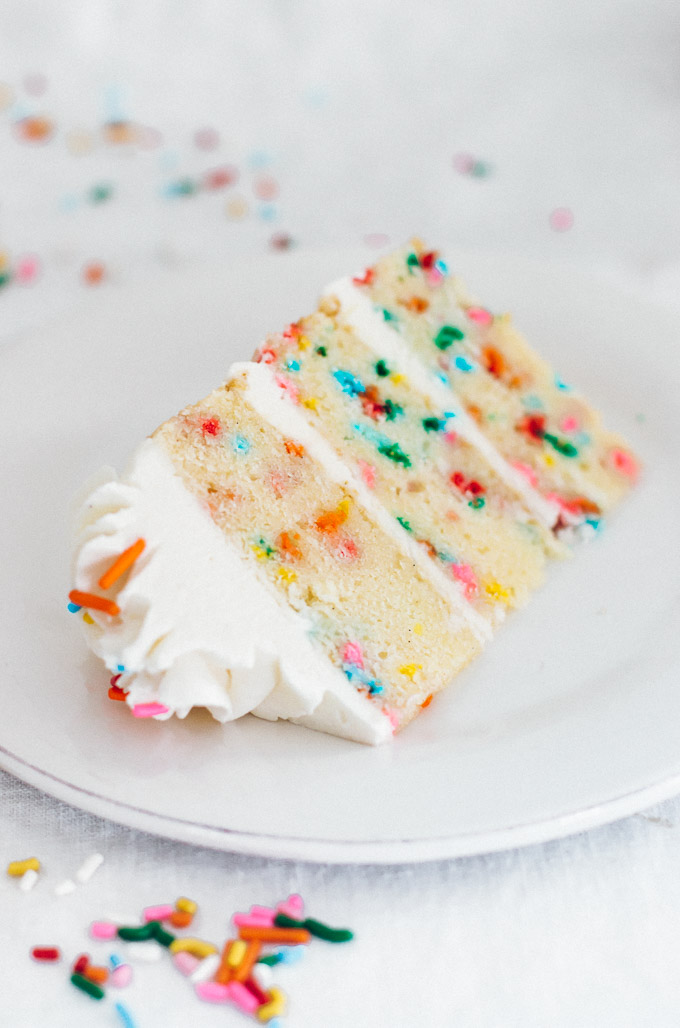 More Layer Cake Recipes: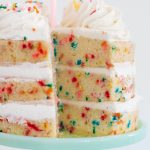 Funfetti Cake Recipe
Total Time
1
hour
5
minutes
Ingredients
Cake
3

cups

(420 g) all-purpose flour

2

teaspoons

baking powder

½

teaspoon

baking soda

½

teaspoon

salt

1 and ½

cups

(3 sticks/340 g) unsalted butter, softened to room temperature

1 and ¾

cups

(350 g) granulated sugar

5

large eggs

1

tablespoon

pure vanilla extract

1 and ½

cups

(360 ml) buttermilk

¾

cup

sprinkles
Vanilla Buttercream Frosting
1 and ½

cups

(3 sticks/340 g) unsalted butter, softened to room temperature

⅛

teaspoon

salt

5-6

cups

(600-700 g) powdered sugar, sifted

5

tablespoons

(75 ml) heavy cream

1

tablespoon

pure vanilla extract
Instructions
Preheat oven to 350°F/180 °C. Butter three 9-inch cake pans that are at least 2-inch high, and line the bottoms with parchment paper.

In a medium bowl, sift together flour, baking powder, baking soda, and salt. Set aside.

In the bowl of an electric mixer fitted with the paddle attachment, beat butter and sugar on medium speed until light and fluffy, 3-4 minutes. Scrape down the sides and bottom of the bowl as needed. Add eggs, one at a time, beating well after each addition. Beat in vanilla extract. With the mixer on low speed, add the flour mixture in three additions alternating with the buttermilk in two additions, beginning and ending with the flour mixture. Do not overmix this batter. The less you mix, the lighter the cake will be. Fold in sprinkles.

Divide batter evenly between prepared pans. Bake for 25-30 minutes until a toothpick inserted into the center of the cakes comes out clean. Allow cakes to cool for 15 minutes, then gently remove from pan and allow them to cool completely on a wire rack.

Frosting: In the bowl of an electric mixer fitted with the paddle attachment, beat butter and salt on medium speed until smooth and creamy, about 2 minutes. Add 5 cups powdered sugar, heavy cream, and vanilla. Beat on low speed for 30 seconds, then increase speed to high and beat for 2 minutes. Beat in more powdered sugar if frosting is too thin.

Assembly: If the cakes rose too much, cut their rounded top with a knife to make them flat. Set one cake layer on a plate or cake stand. Evenly spread a thick layer of the frosting over the cake to the edge. Top with the second cake layer and spread a thick layer of the frosting. Finish with the third cake layer. Spread frosting over the top and sides of the cake. Cake should be kept in the fridge, but bring it to room temperature before serving.
Recipe Notes
Frosting can be made 3 days ahead of time and kept in the fridge, covered. Cakes (unfrosted) can be made a day ahead and kept in the fridge, covered. The next day, bring frosting to room temperature and frost the cake. Frosted cake can be kept tightly covered in the fridge for 3-4 days. Leftovers can be kept in the freezer for up to 2 months and thawed overnight in the fridge.