This chocolate hazelnut spread tastes unbelievable. If you love Nutella, then this homemade Nutella recipe is for you! It's THAT good. Easy to make at home and super addictive.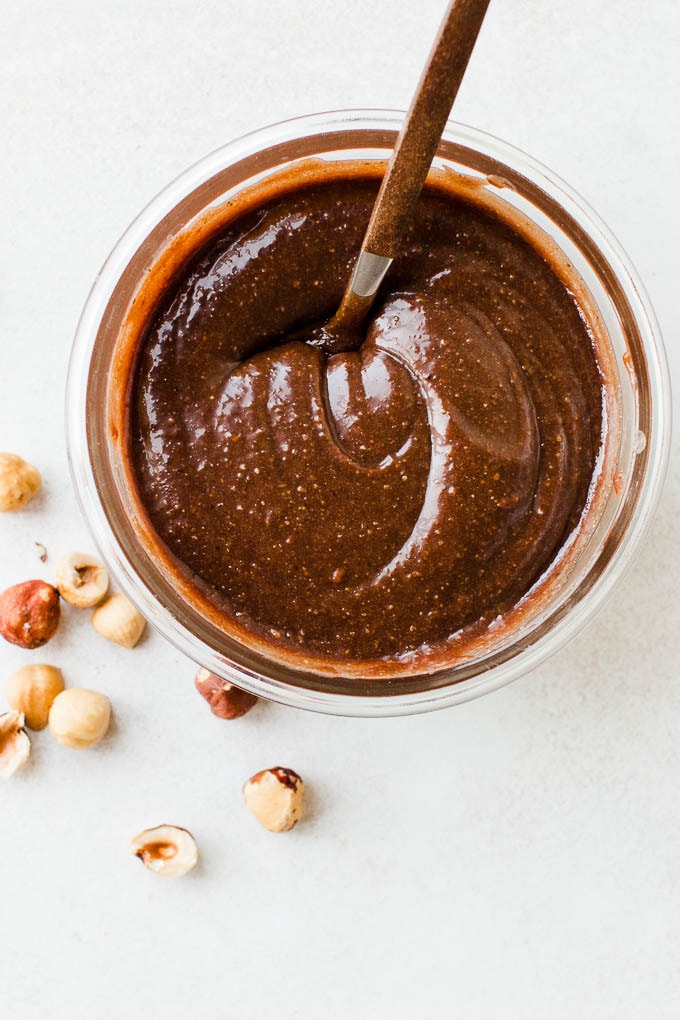 This homemade Nutella spread is one of the best things I've put in my mouth lately, and if you follow me on Instagram then you know how much I love this recipe because I've been making it a lot lately. A few years ago I was wondering how to make homemade Nutella, and was surprised to learn that it's easy. I've tried different recipes before, but this is my absolute favorite recipe. It is so good that you'll thank me forever. You're welcome!
Texture
Homemade Nutella has a different consistency than the store-bought Nutella. The ground hazelnuts are visible and give a very slight crunch, but it's not very noticeable and still super creamy. I actually prefer it this way rather than completely smooth. The spread is quite soft at room temperature, but it's meant to be kept in the fridge because of the dairy in it, so it will thicken once cooled. If you want to serve it at room temperature, use a bit less cream. You can always add more cream or milk later to thin it out, and of you do, use warm cream/milk (microwave it for a few seconds) for the best smooth consistency.
How to Roast and Peel Hazelnuts
I buy fresh hazelnuts that are already roasted and peeled, but if you can't find it then you'll need to roast and peel them yourself. Don't let this step stop you from making this. Be focused on the end result. It will be worth it! Here's what you need to do:
Preheat oven to 350°F/180°C.
Spread hazelnuts in a single layer on a baking sheet. Toast for 10-14 minutes or until slightly browned and fragrant. They can burn super quickly so keep an eye on them.
Transfer the nuts to a clean kitchen towel and rub to remove skin. It doesn't have to be perfect, and you don't have to get all of the skin out. Discard the excess peel.
How to Make This Homemade Nutella More Healthy
This recipe uses heavy cream, sugar, and milk chocolate to make it as decadent and delicious as possible, and similar in taste to the real thing. In order to make it more healthy, you can replace the heavy cream with milk, and omit the sugar. I suggest you add an additional tablespoon of honey, but it's up to you. You can always add more at the end if it's not sweet enough. You can also leave out the oil. I love using it for a better consistency when making the hazelnut paste, but it's optional. Lastly, you can replace the milk chocolate with high quality dark chocolate (54%-70% cocoa is great). If you do, omit the cocoa powder.
How Long Can You Keep Homemade Nutella?
I recommend keeping it in the fridge for 1 week because after that the taste will slightly change, but it can be kept for up to 2 weeks. Don't worry, it wouldn't last more than a week anyway. Not even if you triple the batch.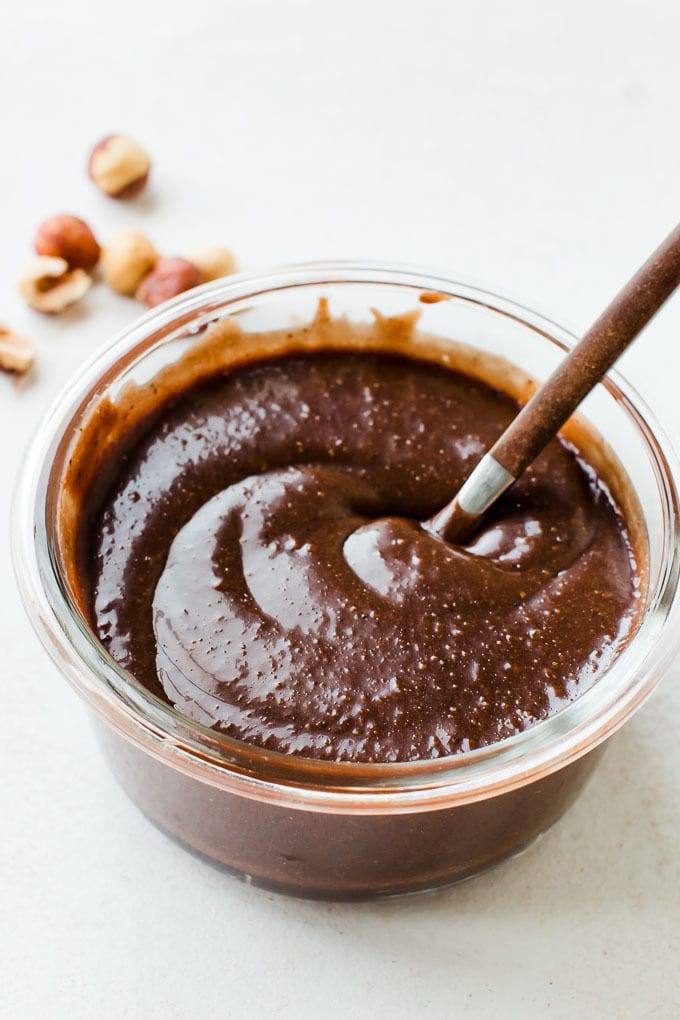 More Delicious Recipes: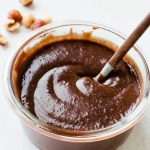 Homemade Nutella Recipe
---
Ingredients
1

cup

(100 g) hazelnuts

1

tablespoon

honey

1

tablespoon

vegetable/canola oil

pinch

of salt

100

g

(3.5 oz.) milk chocolate

2/3

cup

(160 ml) heavy cream (or milk)

3

tablespoons

(35 g) light brown sugar or granulated sugar

1

tablespoon

unsweetened cocoa powder
Instructions
Put hazelnuts in a food processor and mix until finely ground - as ground as possible. Add the honey, oil and salt and mix until it resembles a marzipan-like paste. It should be a bit grainy.

In a medium heat-proof bowl put chocolate, cream, sugar, and cocoa powder. Melt in the microwave or in a bowl set over a saucepan with simmering water.

Add half of the chcoolate mixture to the food processor and mix until combined. Add the rest of the chocolate mixture, and process for one minute until well blended and creamy. The spread is a bit grainy because of the hazelnuts - that's how it should be. It would be soft at this point, but it will set once chilled.

Pour mixture into a jar and keep in the fridge. Try not to eat it all at once! Keep for 1-2 weeks in the fridge.