This is the only Nutella tart recipe you'll ever need. It's made of a rich hazelnut crust and a simple, super creamy Nutella filling.
You've been patiently waiting for this recipe, and you're not going to be disappointed! I promised you this recipe a while ago but then I had technical issues with my camera so I was unable to make a video. Then last week, the day I wanted to make it, I got sick. But trust me, the wait will be well worth it.
If you know me then you know I hold a very special place in my heart for Nutella. This Nutella tart is a combination of everything I love – hazelnuts, chocolate, richness, creaminess, fudginess. The tart has a strong hazelnut flavor that complement the creamy Nutella filling perfectly.
How to make Nutella tart
The tart consists of a baked hazelnut crust and a no-bake Nutella filling. I have lots of information about tart making here. This recipe would also work for mini Nutella tartlets.
Crust
To make this tart start by making the crust in a food processor. It's important to use very cold ingredients. I place the dry ingredients in a bowl and then a few minutes in the freezer before using. It helps with shaping the dough, so it won't melt quickly. Pulse the dry ingredients and hazelnut until the nuts are finely ground, then add the butter, pulse again, then add egg and vanilla extract, and pulse until crumbly and dough starts to clump together. I usually pulse 10-15 times before adding the next set of ingredients.
A good way to check if it's time to stop mixing is to take a piece of dough and press it between your thumbs – the dough should stick without feeling dry or crumbly. Shape dough into a disc. Refrigerate for 1 hour or more, until set, then roll into a large disc. I have a trick for super easy rolling, so check out my video. Then you're gonna bake the tart with pie weights for a while, then remove the weights, and bake until golden brown. The tart is now ready and all that's left is to add the filling.
Nutella Filling
Making the filling couldn't be simpler! Whisk the cornflour with 1/4 cup heavy cream until smooth. This step will prevent lumps in the filling. Heat all the other ingredients on the stove, start mixing, then add the cream-cornflour mixture, and mix mix mix. Don't stop mixing for too long to avoid lumps. Once the mixture starts to boil, keep mixing for another 2 minutes. The mixture will thicken, but will still be a bit soft because it's warm. Check out the video to see the right consistency. Fill your tart, refrigerate, and now comes the hardest part of all – wait patiently to dig in.
Make Ahead Tips
After making the dough, shaping it into a disc, and wrapping with plastic wrap, you can refrigerate it for up to 3 days, or freeze it for up to a month and then thaw overnight in the fridge. Then roll and bake.
This tart keeps well, so you can make it a day ahead of time, and it would stay fresh well-covered.
More Nutella Recipes:
When making this Nutella tart recipe I love using a 9-inch tart pan with a removable bottom, and pie weights. They make life easier.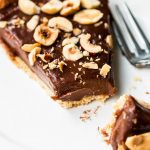 Nutella Tart
---
Ingredients
For the Crust:
3/4

cup

blanched toasted hazelnuts

1

cup

(140g) all-purpose flour, plus more for dusting

2

tablespoons

(25g) sugar

1/4

teaspoon

salt

6

tablespoons

(85g) cold unsalted butter, cut into small pieces

1

large egg

, beaten

1/2

teaspoon

vanilla extract
For the Filling:
2

tablespoons

(18 g) cornstarch

2

cups

(480 ml) heavy cream

3/4

cup

(230g) Nutella

1/2

teaspoon

vanilla extract

1/8

teaspoon

salt
Instructions
To make the crust: In a food processor, place 1/2 cup hazelnuts (reserving the remaining 1/4 cup for garnishing), flour, sugar, and salt. Pulse for a few seconds until nuts are finely ground. Add butter and pulse until mixture becomes crumbly and resembles coarse meal, about 15 pulses. Add egg and vanilla extract and keep pulsing until the dough is no longer dry and starts to clump together, about 10-15 seconds. The dough should be crumbly with large clumps. Turn dough to a lightly floured surface and form into a ball. Flatten ball slightly with your hands to form a thick disc. Wrap with plastic wrap and refrigerate for 1 hour.

Preheat oven to 350°F/175°C and place rack in the center.

To roll out the dough:

On a lightly floured surface (or for easier rolling, place dough between two parchment papers - watch video), roll the dough out into a 12-inch circle, then place gently into a

9-inch tart pan with a removable bottom

. You can do this by flouring a rolling pan and rolling the dough loosely around it, then unrolling it into the pan. With a sharp knife, trim the edges of the pastry to fit the tart pan. Press parchment paper or aluminum foil tightly against the crust, covering the edges to prevent them from burning. Fill with

pie weights

(or dried beans/uncooked rice), making sure they're fully distributed over the entire surface. Bake crust for 20 minutes, then gently remove weights and foil, then bake for about 10 minutes longer until golden brown. Transfer to a wire rack and let cool completely.

Meanwhile, make the filling: Whisk the cornstarch and 1/4 cup heavy cream in a bowl until smooth. Combine the remaining 1 and 3/4 cups cream, Nutella, vanilla and salt in a small saucepan. Whisk in the cornstarch mixture and bring to a boil over medium heat. Once the mixture starts to boil, stir constantly until thickened, about 2 minutes. Pour into the crust. Refrigerate until set, at least 3 hours. Top with the reserved hazelnuts.

Tart will keep, covered well, for up to 5 days in the fridge.