A dressed up version of jam bars, this easy jam tart is a stunning dessert that showcases your favorite fruit anytime of the year.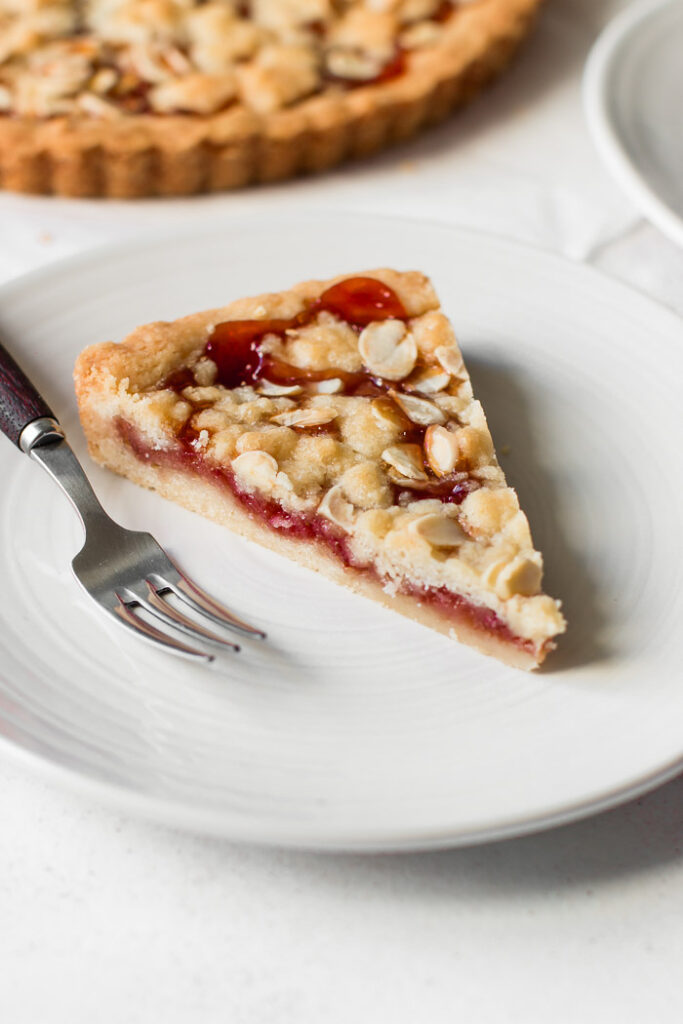 As someone who doesn't like jam that much and would much rather have a Nutella sandwich than a PB&J, I keep surprising myself by baking jam desserts and enjoying them.
My easy jam bars are a favorite of my mom and something I always make whenever I get a gift of fancy jam. While perfect for picnics or casual brunches, I prefer something a bit fancier for dinner parties or fancier gatherings. That's when I make this easy jam tart.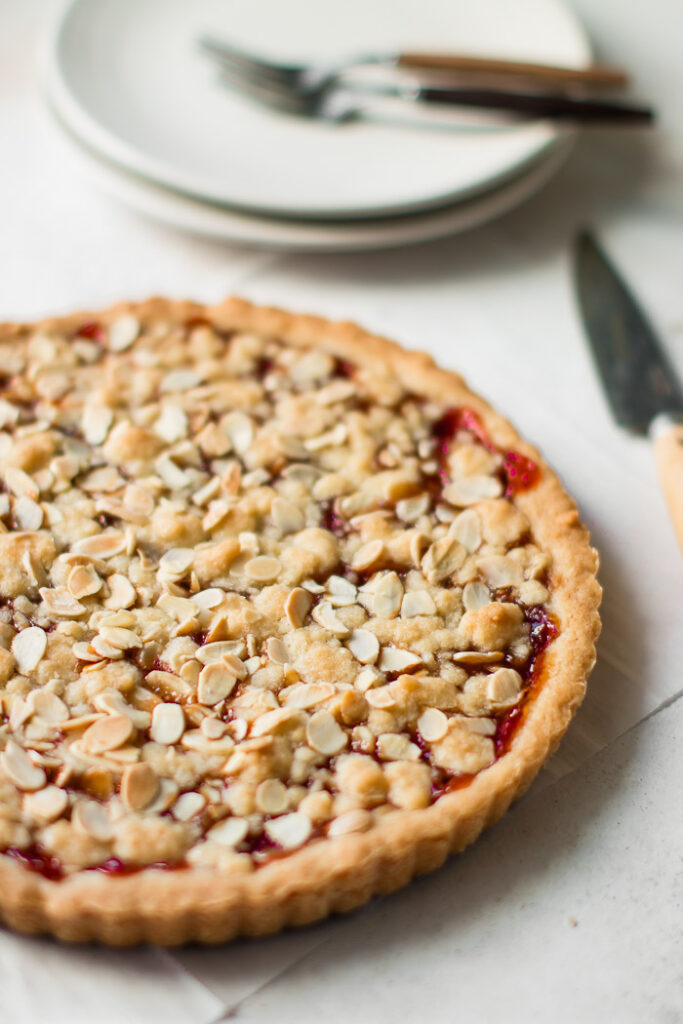 This easy jam tart recipe is very similar to the bars, but I use a tart pan (this one with a removable bottom is my favorite) instead of a regular square pan. The simple, no-roll shortbread crust gets pressed into the tart pan, only to get filled with your favorite jam and the same crust, just turned into a streusel topping.
This jam tart is sweet, buttery and can be dressed up with fresh whipped cream or vanilla ice cream. When you feel like fancying up a dessert without putting in any extra work, this jam crumble tart is just for you.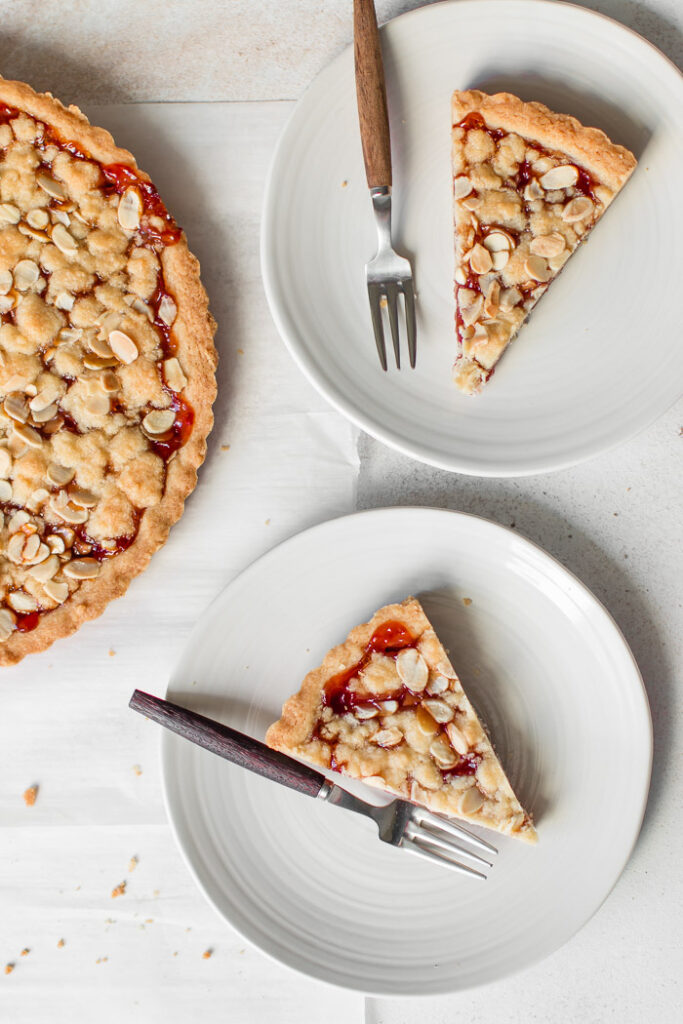 How To Make An Easy Jam Tart
To start, you'll need to make a shortbread crust. This also becomes the streusel topping, so it's a 2-for-1 recipe.
In a mixer, beat together the butter and sugar for 3-4 minutes until light and creamy. Add in the vanilla extract, mixing until combined. Stir together the flour and salt in a separate bowl, then add them carefully to the butter mixture, beating on low speed until just combined. Be careful not to overmix the dough.
Reserve 3/4 cup of the dough for the streusel topping (store it in the refrigerator) and press the rest into the tart pan. Press firmly with your fingers to form an even layer with the edges slightly higher than the center.
Place the tart pan into the fridge and let it chill while you turn on your oven and wait for it to preheat. Once ready, remove the jam shortbread tart and reserved streusel dough from the fridge and spread your favorite jam evenly over the crust.
Break up the reserved dough with your fingers to get large clumps. Sprinkle this over the jam filling, leaving some of it peeking through, then sprinkle with almonds (if using).
Bake the jam crumble tart on a rimmed baking sheet for 35-40 minutes, until golden brown. Cool completely before placing in the refrigerator to set (this helps you get clean slices).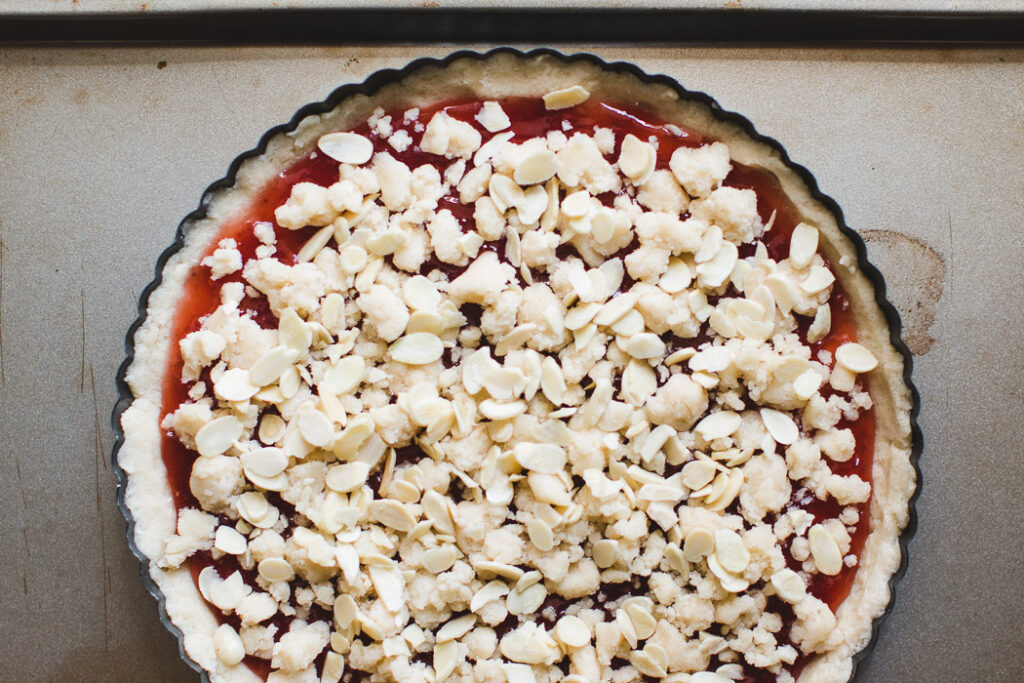 Helpful Tart Tips
This easy jam tart recipe comes together quickly, and with the help from these tips, you'll have a new way to use up your favorite jams.
Use quality jam: With jam being the only ingredient in the filling, it's important to use a great-tasting jam. My favorite flavors are strawberry, raspberry, cherry, apricot, or fig, but any will work as long as its good quality.
Chill your dough: The shortbread crust and streusel topping need to be chilled before baking. This firms up the butter so that the crust holds up and the streusel doesn't spread too much.
Let your tart set: I know, waiting is the hardest part but it's an essential step when baking with gooey jam. Let your easy jam tart chill in the refrigerator for at least 2 hours before serving. This gives you just enough time to have a relaxing dinner before enjoying the tart for dessert.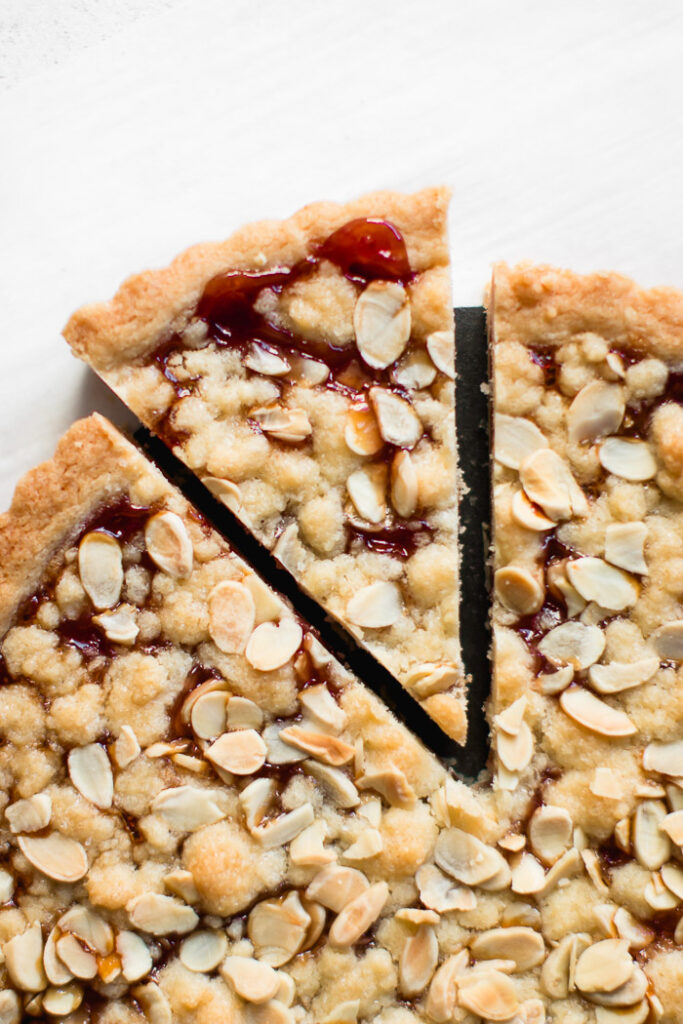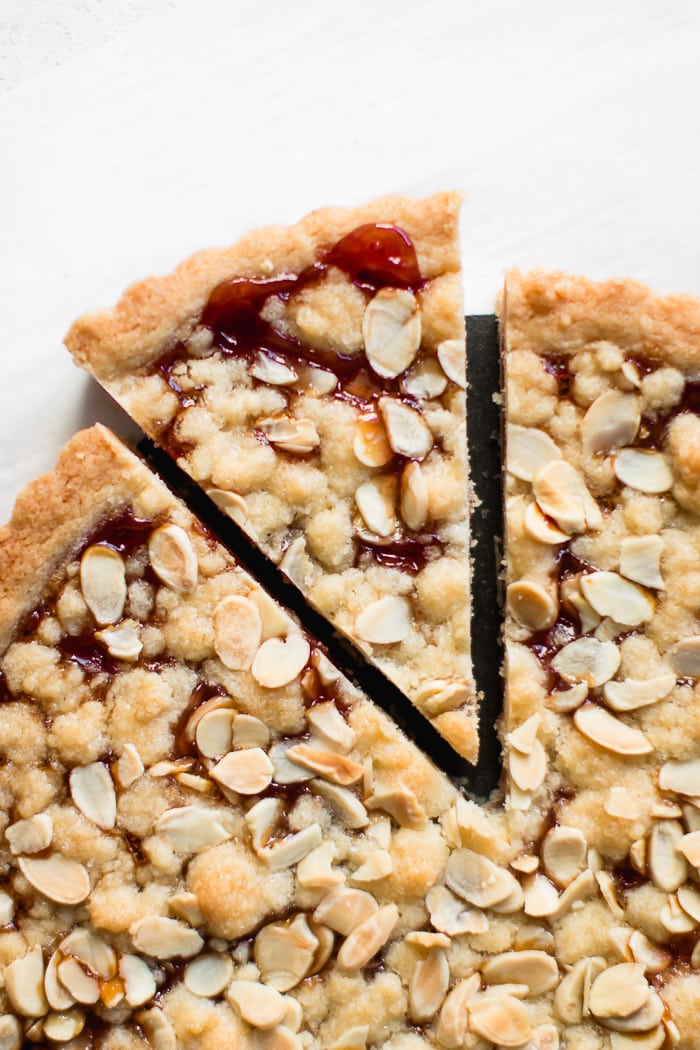 Other jam recipes: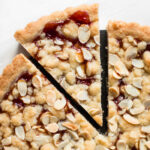 Easy Jam Tart
---
Ingredients
3/4

cup

(170g) unsalted butter, at room temperature

1/2

cup

(100g) granulated sugar

1

teaspoon

vanilla extract

1 1/2

cups

(200g) all-purpose flour

1/4

teaspoon

salt

3/4

cup

jam

1/4

cup

sliced almonds

, optional
Instructions
In a mixer bowl fitted with the paddle attachment, beat butter and sugar on medium speed for 3-4 minutes until creamy. Beat in vanilla extract. In a small bowl combine flour and salt, then add it to the butter mixture, and beat on low speed just until combined. Do not overmix the dough.

Measure out about 3/4 cup of the dough. This would be streusel dough for the topping. Place it briefly in the refrigerator or freezer. Sprinkle remaining crumbs into the bottom of a 9-inch tart pan (I use a pan with removable bottom) and press firmly to form an even layer with the edges being a little bit higher than the center. Place briefly in the refrigerator before continuing.

Preheat oven to 350ºF/180ºC.

Once dough has set a little bit and isn't too soft, toss the streusel dough with your fingers until large clumps of dough are formed.

Spread jam over the crust. Sprinkle with streusel topping, leaving some of the jam peaking through, then sprinkle with the almonds, if using. Bake on a rimmed baking sheet for 35-40 minutes until golden brown. Allow to cool completely on a wire rack.

Refrigerate for 2 hours to let the filling set. Serve at room temperature.

Tart will keep for 3 days in the refrigerator covered tightly or in an airtight container, or up to 2 months in the freezer (thaw overnight in the fridge).