These no bake peanut butter balls are the perfect treat for when you don't want to turn on your oven. With only six ingredients, these easy peanut butter balls are a quick, simple dessert and sure to be a hit!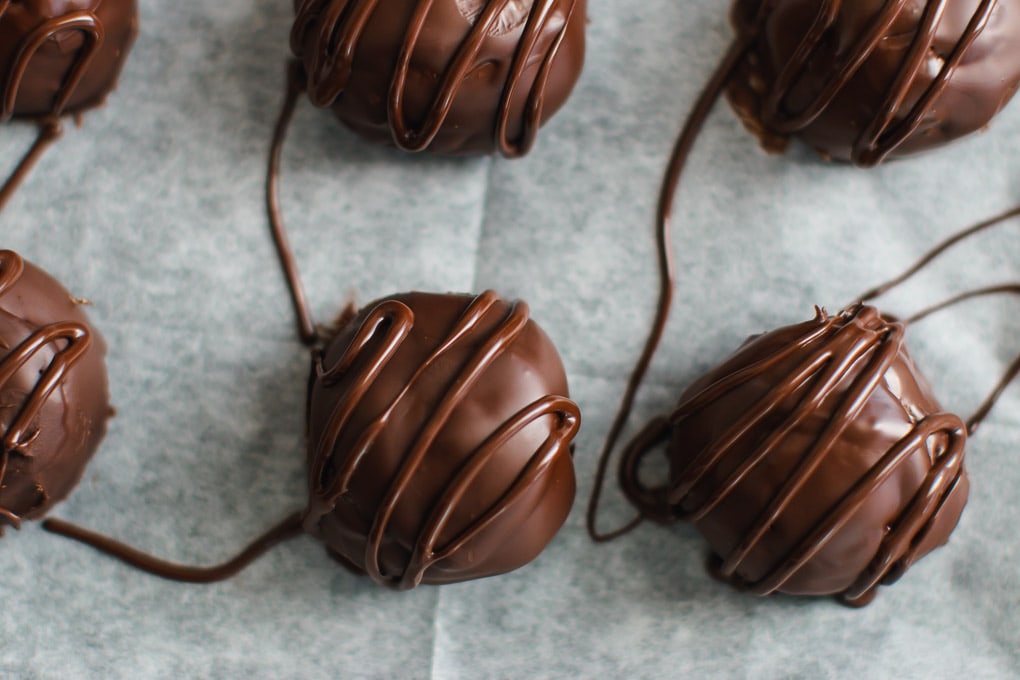 With summer's heat coming at full force, the last thing you want to do is turn on your oven to bake a cake. These no bake peanut butter balls, also known as buckeyes, are a quick and easy treat to satisfy your sweet tooth. Made with only a few ingredients, many of which you probably have on hand, they will easily become your favorite no bake dessert.
These chocolate peanut butter balls are reminiscent of a peanut butter cup, with a creamy peanut butter filing and a smooth chocolate coating. I have a similar No Bake Chocolate Peanut Butter Bar recipe on my site already, but these buckeye peanut butter balls are even easier to make and perfect for a kid-friendly activity.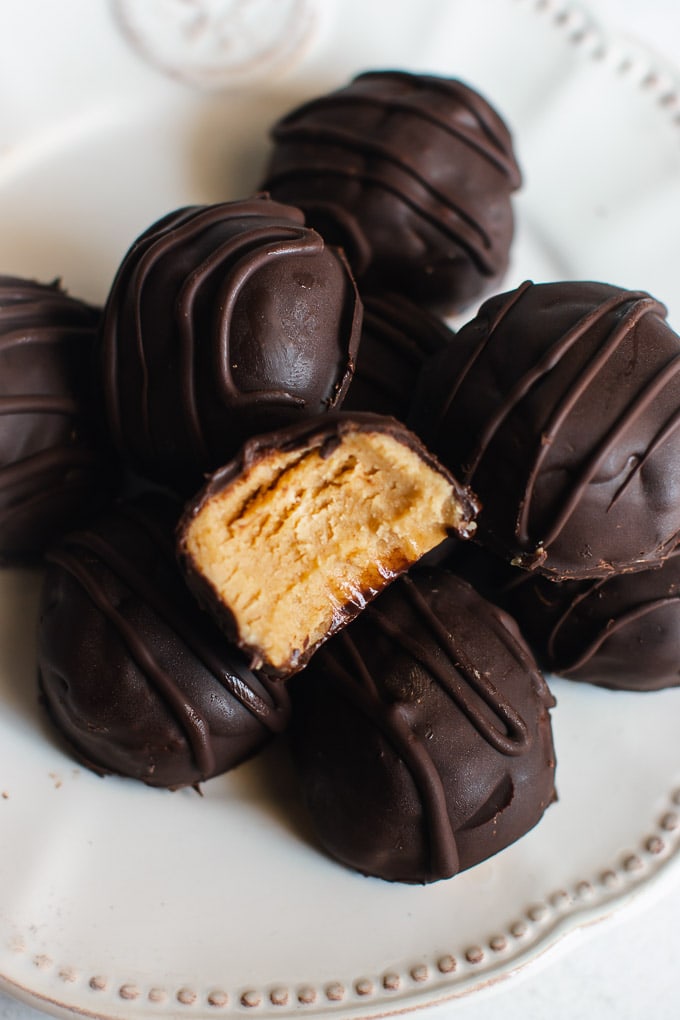 Peanut Butter Dough
For the best texture, it's important to use creamy peanut butter and not the natural kind that you have to stir to combine. You want it to be thick and creamy so the balls stay together. To begin, you will beat your peanut butter in a mixer with butter, vanilla and salt.
You will then add in the powdered sugar and it may look crumbly at first, but keep mixing until it comes together and you can easily form it into a ball. You may need to add more powdered sugar and, if you find yourself having difficulty stirring, switch to a wooden spoon and stir by hand at the end.
[Below – my failed attempt at making peanut butter balls with one hand]
How To Make Peanut Butter Balls
Once you have your dough or filling, all that's left is to form your balls, chill them, and then add the final chocolate coating. This is a great task for kids, as the dough resembles Play-Doh and is fun to play with in your hands.
To form your peanut butter balls, you can use a measuring spoon to portion out your dough into 1.5 inch/4 cm sized balls. This recipe makes about 20 balls, but you can easily multiply it to make more.n
Using your hands, roll the dough into uniform balls and place them on a baking sheet lined with parchment paper. Once formed, place them in the refrigerator for at least an hour so they are firm before dipping into chocolate.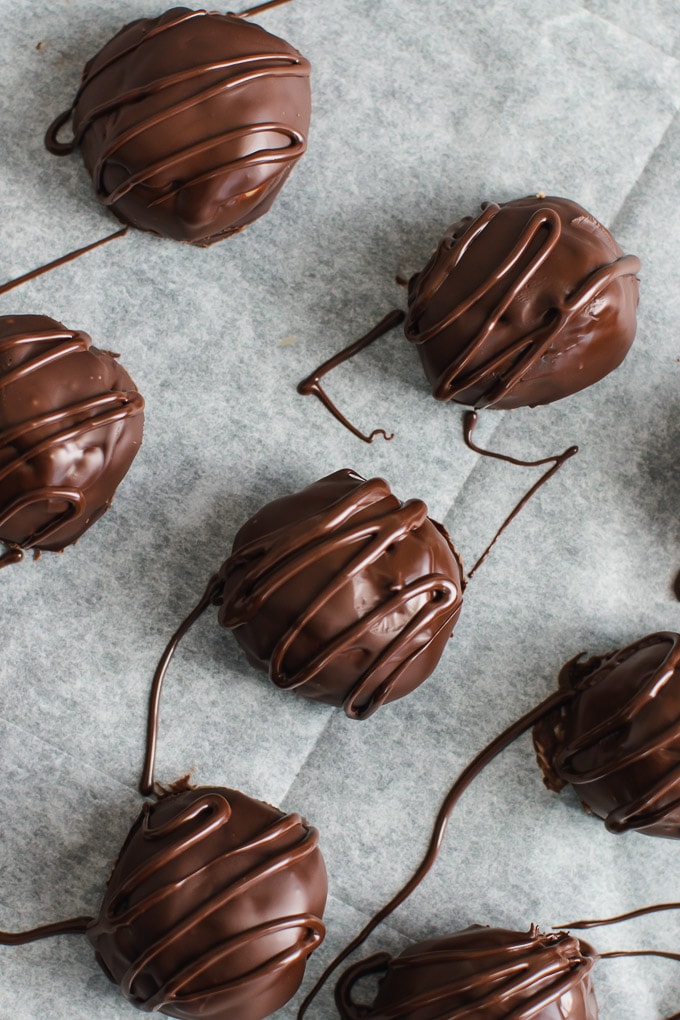 Chocolate Coating
The final step to these peanut butter balls recipe is the chocolate coating. This is the most time-consuming part of the process but it's actually my favorite part! A note about the chocolate: I recommend using high quality chocolate bars instead of chocolate chips or candy melts. This extra touch makes all the difference in taste, especially when using so few ingredients.
Once you melt your chocolate, dip the chilled peanut butter balls in them and put them back on the baking sheet to cool one final time. Work one sheet at a time, so your peanut butter balls don't rewarm while you are dipping them in the chocolate.
Once chilled, enjoy them right out of the refrigerator. Be sure to store any extra peanut butter balls in the refrigerator so they don't begin to melt.
This no bake chocolate peanut butter balls recipe is a simple, homemade version of your favorite chocolate peanut butter cup and a fun summer activity with kids. If you're looking for alternative flavors, consider making my No Bake Nutella Peanut Butter Bites for another no bake treat.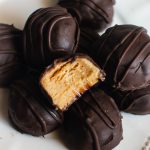 Peanut Butter Balls
YIELD
:
20
balls (depending on size)
---
Ingredients
1/2

cup

(115g) unsalted butter

, softened to room temperature

1

cup

(240g) creamy peanut butter (not natural)

1/2

teaspoon

vanilla extract

1/4

teaspoon

salt

2 – 2.5

cups

(240g-300g) powdered sugar

300

g

(10.5 oz.) semi sweet/dark chocolate

, coarsely chopped
Instructions
Using a wooden spoon, a spatula, or a handheld or stand mixer fitted with a paddle attachment (on medium speed), mix butter and peanut butter until combined and creamy. Add vanilla and salt and mix until combined. Add 2 cups powdered sugar and beat until combined. It's ok if the mixture is a little crumbly or soft. Add more powdered sugar as needed until you can easily form the mixture into balls.

Roll peanut butter dough into 1.5-inch/4 cm (or any size you want) balls and place on a baking sheet lined with parchment paper. Place in the refrigerator for 1 hour or until firm.

Melt chocolate in a double boiler or the microwave, then place in a tall glass or a measuring cup, so it's easier to dip the balls.

Remove peanut butter balls from the refrigerator and dip them in the chocolate using a dipping tool or a fork, then tap to allow excess chocolate to drip off. Place balls back onto the baking sheet. Place in the refrigerator until chocolate is set before serving.

Peanut butter balls can be kept in an airtight container in the refrigerator for 5 days.