Addictive fudgy oreo truffles that are coated with white chocolate and made with only 3 ingredients. You won't be able to get enough of them!
Here's what I like best about Oreo cookies: there's not much you need to add to them to make an incredible recipe. This, of course, is why I keep about 5 packages of that deliciousness in my pantry at all times.
How to Make Oreo Truffles
To make these moist and fudgy Oreo truffles all you need to do is process the cookies and mix the crumbs with cream cheese, then coat them in white chocolate. Dark chocolate is a good alternative, too, if that's what your heart is pulling you toward.
Chocolate
If you're using chocolate chips or candy melts for coating, you can leave the truffles at room temperature. However, if you're using high quality chocolate (which is always my preference), you'll need to keep the truffles chilled. If you're interested in knowing why, here's a short explanation:
When you melt chocolate, the crystals of the cocoa butter lose their shape and are not able to resume it when the chocolate hardens. This results in chocolate that may look dull and have white streaks and spots on it. It's perfectly fine to eat, it just looks unappealing.
To avoid this, we either need to temper the chocolate—a process not everyone is familiar with—or refrigerate the truffles. The coolness of the refrigerator will stratify the cocoa fat and the chocolate will look perfectly fine. The only drawback is that if they're left out for too long at room temperature, they will start to sweat. But what kind of person can resist these long enough for them to reach room temperature?
Chocolate chips or candy melts, on the other hand, don't need to be tempered since they are made mostly of hydrogenated fat and therefore act differently than "real chocolate". They will harden and look fine when left at room temperature, although the flavor won't be quite as good as genuine chocolate.
Now enough with the chemistry lesson, it's time to make some super easy and addictive truffles!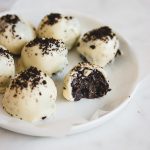 3-Ingredient White Chocolate Oreo Truffles
---
Ingredients
36

Oreo cookies

(with filling)

8

oz/227 g cream cheese

, at room temperature

16

oz/450 g white chocolate

, melted
Instructions
Process Oreo cookies in a food processor until finely ground. If you don't have a food processor, place cookies in a plastic bag and crush finely using a rolling pin.

Reserve 2 tablespoons of cookie crumbs for garnishing.

In a medium bowl, mix cream cheese and cookie crumbs until well combined. Refrigerate mixture for about an hour, then shape into 1-inch/2.5-cm balls and place on a baking sheet lined with parchment paper. Freeze until firm, about one hour (freezing will make the balls firm and easier to dip into the chocolate).

Using two forks, dip and coat balls with melted white chocolate and place on parchment paper. Sprinkle with reserved cookie crumbs. Place in the fridge for 10 minutes, until chocolate hardens.

Keep in the refrigerator and serve chilled, so the chocolate won't melt. Truffles will keep for up to 4 days in an airtight container.
Recipe adapted from Snack Works