These pecan pie truffles taste just like pecan pie in individual truffle form! They require no baking and are full of toasty pecan pie flavor. Plus, they are so easy to make.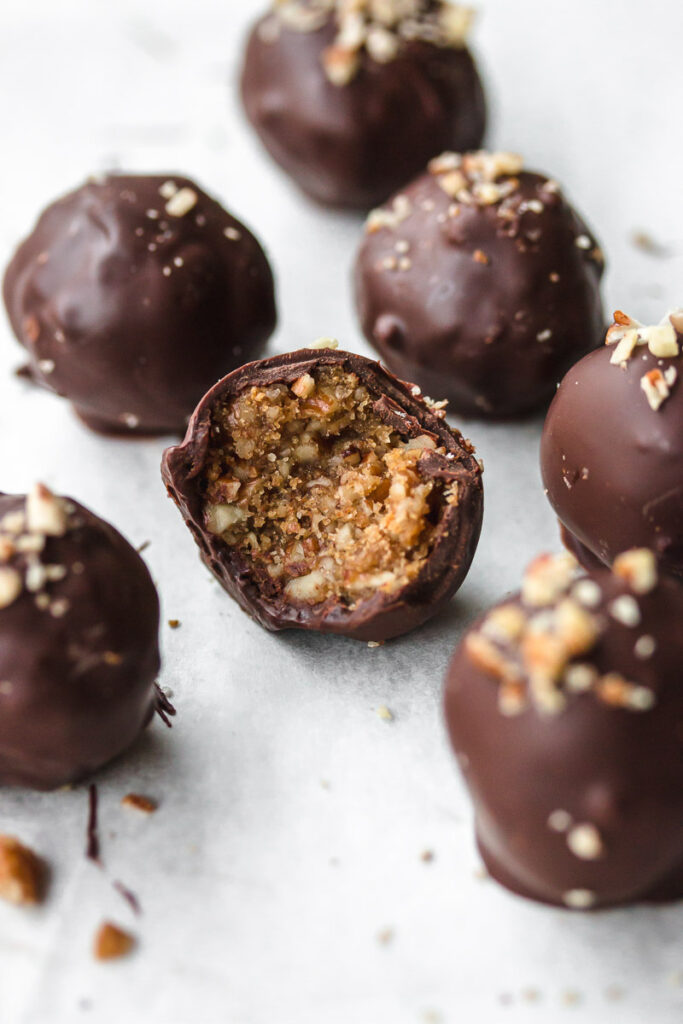 Ahh pecan pie, one of my all-time favorite holiday desserts! Gooey, caramely filling combined with toasty pecans just can't be beat. Pair it with flaky, buttery pie crust and whipped cream and holy cow…it's just so good. In fact, pecan pie is truly one of my favorite Christmas desserts.
Well, you all know how much I love chocolate (so much so that I even have a chocolate pecan pie recipe). I recently saw the New York Times published a pecan pie truffle recipe and fell in love with the idea, so I got to work creating my own recipe with perfectly balanced flavors.
And let me tell you, not only are these pecan pie truffles so simple to make, but they really taste like pecan pie in truffle form! With a hint of bourbon, toasty pecans, and the added layer of chocolate just make them even more amazing. Keep reading to learn how to make these simple, no-bake pecan pie truffles.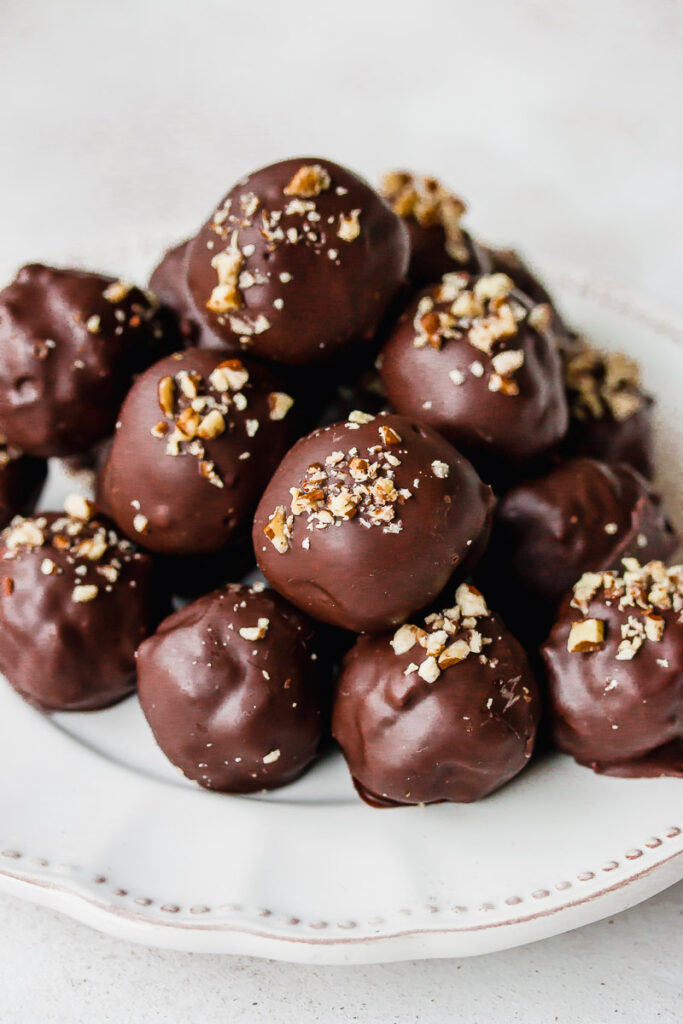 How to make pecan pie truffles
There are three steps to making these truffles:
Make the truffle filling
Form into balls and chill
Dip truffles in chocolate
Make the truffle filling
Toast the pecans. There are two ways to toast pecans: either in the oven or on the stovetop.

–To toast in the oven, place the pecans on a sheet pan and bake for 8 minutes in a 350°F/180°C oven. Toss halfway through.

–To toast on the stovetop, place pecans in a large pan and toast on medium heat until fragrant. Toss a few times to prevent from burning.

Chop the pecans. Allow the nuts to cool completely before chopping. Then, place them in a food processor and pulse until the nuts are ground into small pieces (not finely ground).
Combine the filling ingredients. In a medium bowl, combine pecans with the rest of the filling ingredients. Mix together, making sure everything is fully completely combined. The filling should be damp but not very wet, and should hold together when you form it into balls.
Form into balls and chill
Use your hands to form the truffle filling into small balls, about 1-inch in size (or whatever size you want to make them). Pack together tightly to make sure the filling holds.
Place truffles on a parchment-lined sheet pan and put in the freezer for 20 minutes until very firm.
Note: Don't worry if your truffle balls aren't perfectly round. It's pretty impossible to do so due to the chopped pecans.
Dip truffles in chocolate
Melt semisweet or bittersweet chocolate in a double boiler or the microwave. Then, pour it into a bowl or tall glass.
Remove pecan pie truffles from the freezer and dip each into the chocolate using a dipping tool or a fork. Tap to allow excess chocolate to drip off. Then, place balls back onto the baking sheet. Top each with a few pieces of toasted pecans for garnish. Place truffles back in the fridge to set completely.
Store in the fridge until ready to eat.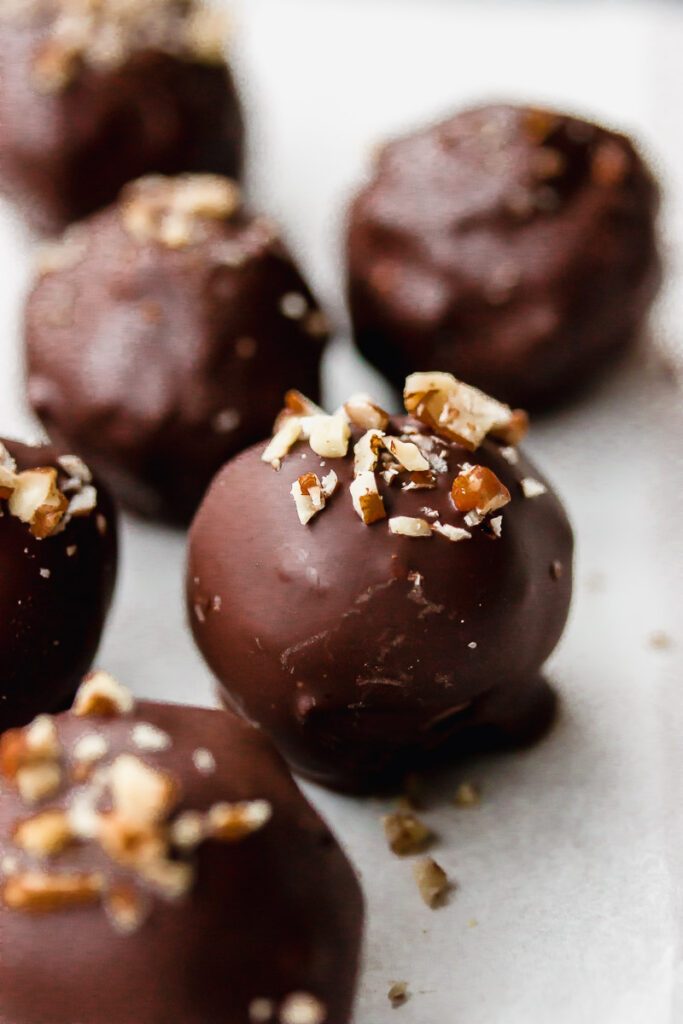 Tips for making pecan pie truffles
Toast the pecans. I know it's an extra step, but toasting the pecans adds so much flavor to these truffles. I highly recommend not skipping this step.
I recommend not skipping the bourbon. Bourbon adds flavor and depth. However, if you want to make them alcohol-free, they will still taste incredible. Simply substitute milk for the bourbon.
Stick with dark brown sugar. If light brown sugar is all you have, you certainly can use it. But dark brown sugar has a much stronger molasses flavor that helps create real pecan pie flavor.
Use good quality semisweet or bittersweet chocolate. For the best flavor, use a good quality chocolate. However, chocolate chips will work too if that's what you have.
Store the truffles in the fridge. That way, you don't need to worry about tempering your chocolate after melting it. Storing the truffles in the fridge keeps the chocolate intact and from appearing grey or streaky.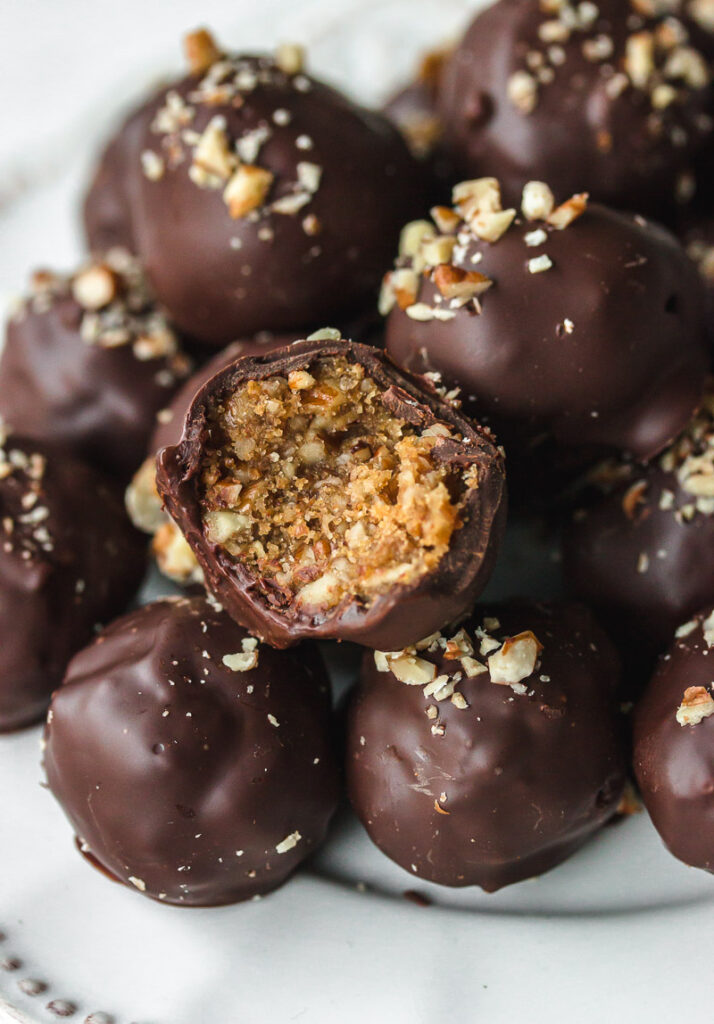 Commonly asked questions
How can I chop the pecans without a food processor?
If you don't have a food processor, use a large knife and cutting board to chop the pecans into small pieces.
Do pecan pie truffles actually taste like pecan pie?
Yes! I swear they really do. And no baking or pie crust required!
What kind of bourbon should I use for pecan pie truffles?
It doesn't matter too much, as long as it's a decent quality and unflavored. I made mine with Woodford Reserve, but any unflavored bourbon will do.
Can I leave out the bourbon?
You can leave out the bourbon and substitute it with milk.
What kind of chocolate should I use?
Any semisweet or bittersweet chocolate will work, but the better the quality, the better your truffles will taste.
Do I need to temper the chocolate?
No. To keep things simple, I just melt my chocolate and dip the truffles in it. By storing them in the fridge, you don't have to worry about the chocolate melting. The cold of the fridge keeps the chocolate intact and from appearing streaky, so tempering isn't necessary. However, it's important to note that if left out at room temperature for too long, the truffles will start to sweat.
Can I freeze pecan pie truffles?
Yes. Pecan pie truffles can stay frozen in a sealed, freezer-safe container for up to two months.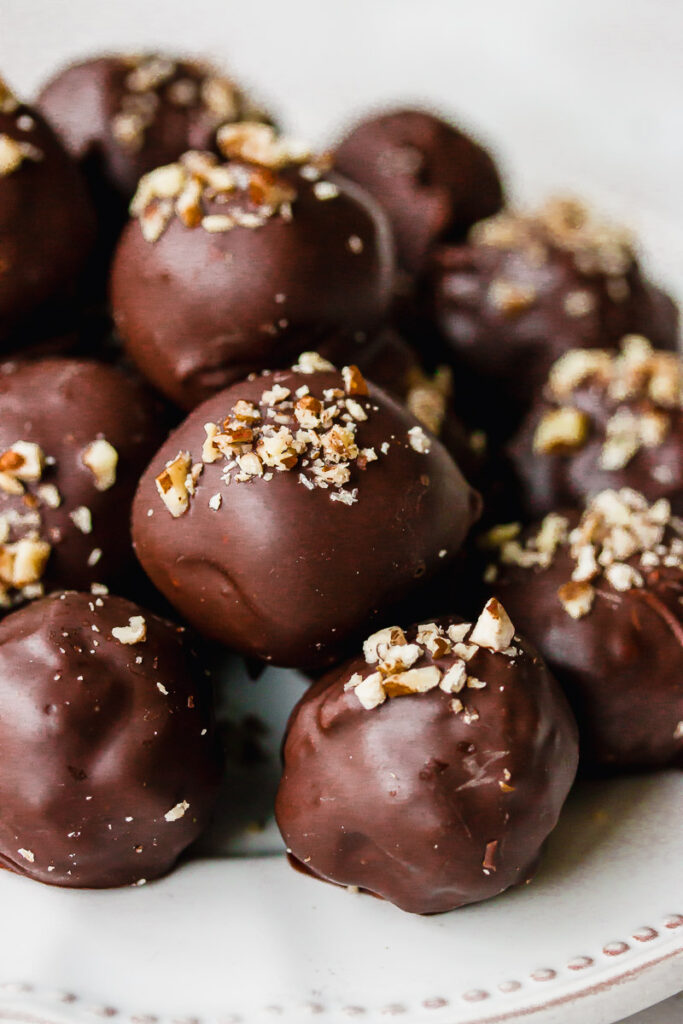 More truffle and candy recipes
Pecan Pie Truffles
Rich and decadent truffles that taste just like pecan pie! They're dipped in dark chocolate and topped with toasted pecans for the ultimate treat.
Ingredients
2 ½

cups

(250g) pecans, chopped into small pieces, plus extra for garnishing

1

cup

(100g) graham cracker, digestive biscuit, or vanilla wafer crumbs (pulse in a food processor until finely ground)

1

cup

(200g) dark brown sugar

2

tablespoons

pure maple syrup

½

teaspoon

salt

1

teaspoon

pure vanilla extract

2

tablespoons

whole milk

1

tablespoon

unsalted butter, melted

2

teaspoons

bourbon*

450g

(16 oz) semisweet or bittersweet chocolate
Instructions
Toast the pecans in the oven at 350°F/180°C for 8 minutes or on the stovetop in a large pan in one layer until fragrant. Toss the pecans often to prevent burning. Allow to cool completely. Once cooled, pulse in a food processor until chopped into very small pieces, but not finely ground. Alternatively, you can chop the pecans using a knife and cutting board.

Process cookies in a food processor until finely ground. If you don't have a food processor, place cookies in a plastic bag and crush finely using a rolling pin.

In a medium bowl, mix together chopped pecans, cookie crumbs, dark brown sugar, maple syrup, salt, vanilla extract, milk, melted butter, and bourbon. Shape into 1-inch balls** and place on a baking sheet lined with parchment paper. Freeze until firm, about 20 minutes (freezing will make the balls easier to dip into chocolate).

Using two forks or a dipping tool, dip and coat balls with melted chocolate and place on parchment paper. I find it's easiest to put the melted chocolate into a tall and narrow glass or a glass measuring cup so you can completely coat each truffle in chocolate more easily. Sprinkle each truffle with a few pieces of chopped toasted pecans. Place in the fridge for 30 minutes or until chocolate hardens.

Keep in the refrigerator and serve chilled, so the chocolate won't melt. Truffles will keep for a week in an airtight container.
Recipe Notes
*To make the truffles alcohol-free, substitute the bourbon with milk. 
**The pecan pie filling mixture will be damp enough to pack together, but not wet. Use your hands to form into balls as evenly as possible. Don't worry if they aren't perfectly round – the chopped pecans prevent the truffles from being perfect circles.