This moist pumpkin bread is light, tender and full of warm spices. It's a simple one-bowl recipe that doesn't require a mixer and takes only 10 minutes to make – perfect for a lazy fall or winter morning.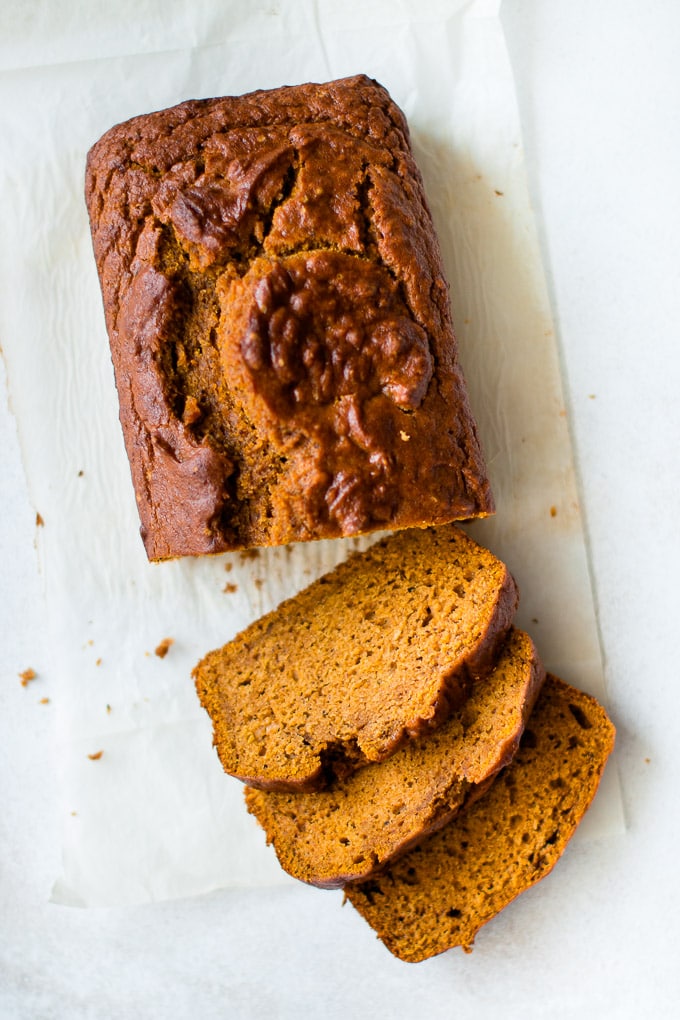 I didn't grow up eating pumpkin in desserts, so it wasn't until later in life that I began adding it to baked goods. Like anything with sugar, I immediately fell in love with the moisture pumpkin adds and how it complements some of my favorite warming spices like cinnamon and nutmeg. Whether it's pumpkin cupcakes or pumpkin pie, you can bet that I'll love it!
This pumpkin bread recipe is similar to my favorite pumpkin muffins and is a perfect Thanksgiving dessert idea. I've added in some cloves to make the perfect pumpkin spice blend and switched the milk for sour cream to give it an extra rich crumb (milk will still work fine). Just like in my easy banana bread or applesauce bread, the fruit adds moisture to the cake and makes it tender without becoming too dense.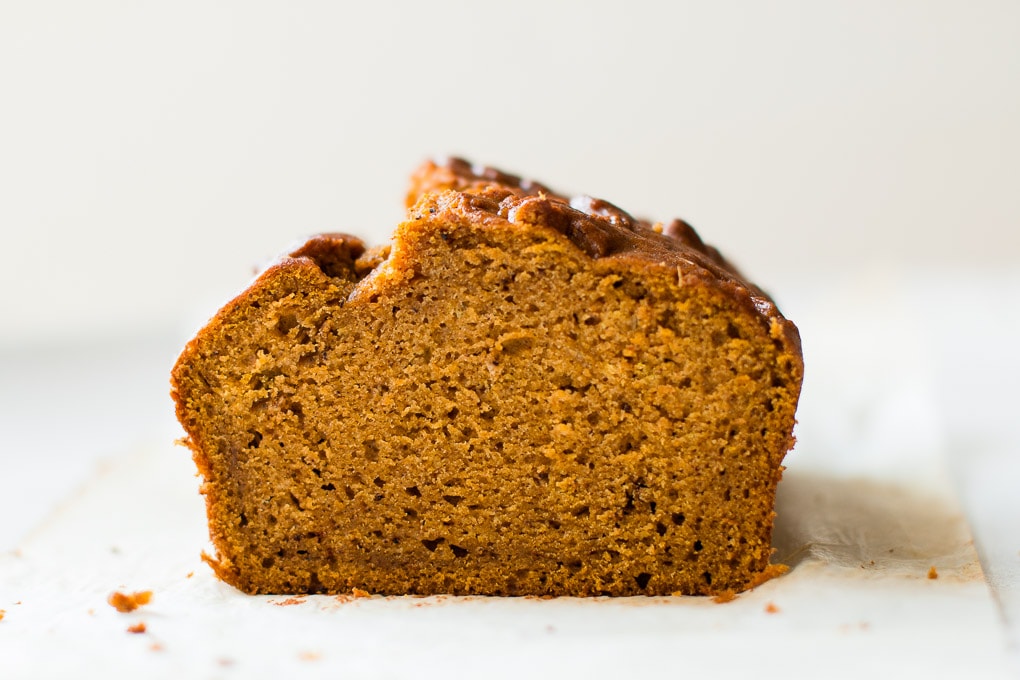 This easy pumpkin bread is the recipe I keep coming back to anytime I'm craving something sweet with warm spices. It doesn't require a mixer and comes together in minutes, giving you time to prepare for the busy holiday season.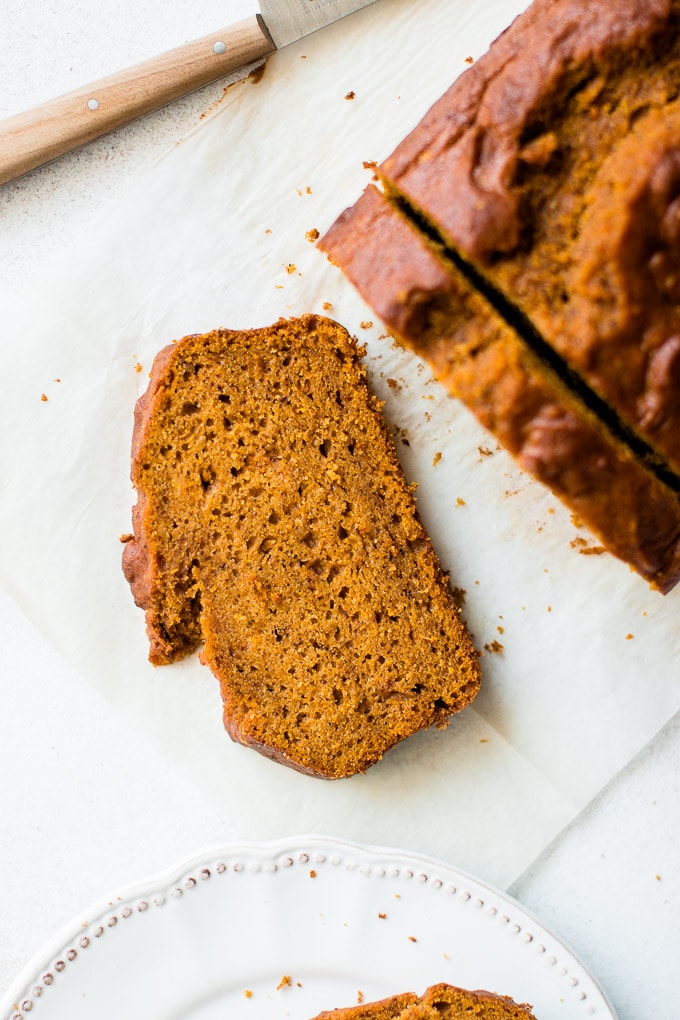 How to make pumpkin bread
The best pumpkin bread recipe has to have the perfect spice blend. I use a combination of my favorite warming spices – cinnamon, ginger, nutmeg and cloves – and brown sugar to give this moist pumpkin bread the perfect flavor and crumb. Brown sugar not only adds even more moisture, but also gives the pumpkin spice bread a caramel note that highlights the warm spice and pumpkin.
The actual pumpkin bread recipe is so simple to make.
Start by whisking together your dry ingredients, which helps make sure the spices and baking soda are evenly distributed.
In a separate bowl, mix the eggs with the sugar, then add in the oil. Once combined, add in the pumpkin puree and sour cream, whisking just until combined.
Then, add the dry ingredients in two additions. Be careful not to over mix the batter, as this will lead to a dense bread instead of the soft and tender crumb you're looking for. I like to use a rubber spatula for this step, which allows you to combine the ingredients by folding them in gently and produces the least amount of gluten, which is what can make the bread dense.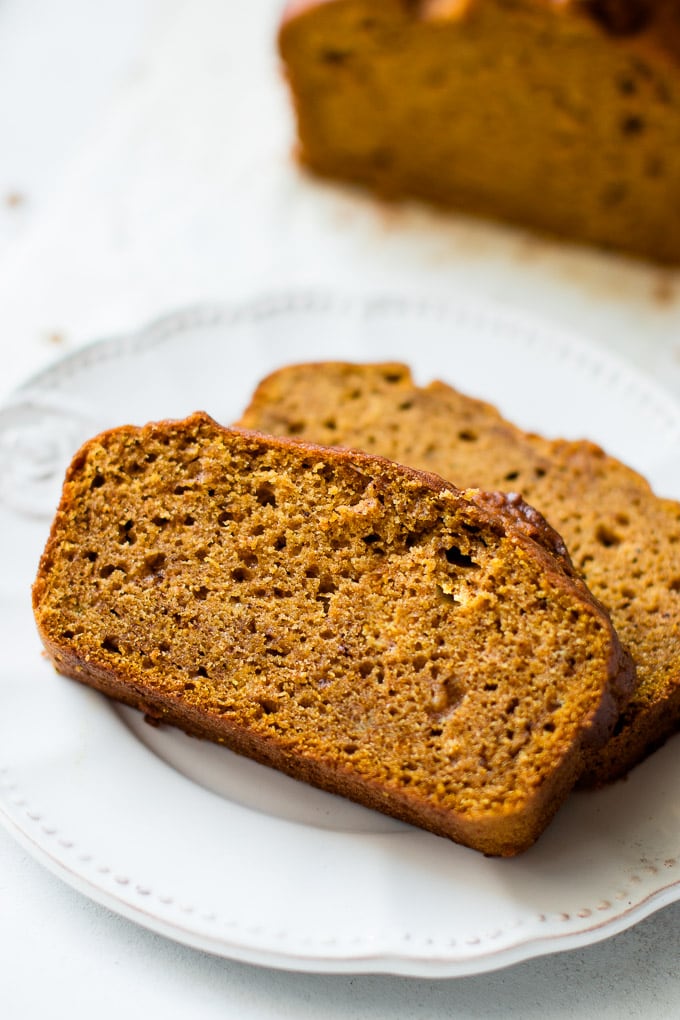 Baking the pumpkin bread
Pour the pumpkin bread batter into a greased pan and bake for 50-60 minutes, until a toothpick inserted into the center comes out clean. If the pumpkin spice bread starts browning too quickly, cover it loosely with aluminum foil after 30 minutes and continue baking.
Now comes the hard part, waiting for it to cool. This moist pumpkin bread smells incredible as it bakes, but it needs to cool and firm up before you cut into it. This pumpkin bread actually becomes more moist as it rests over time, which means it's even better the second day (if you have any left by then).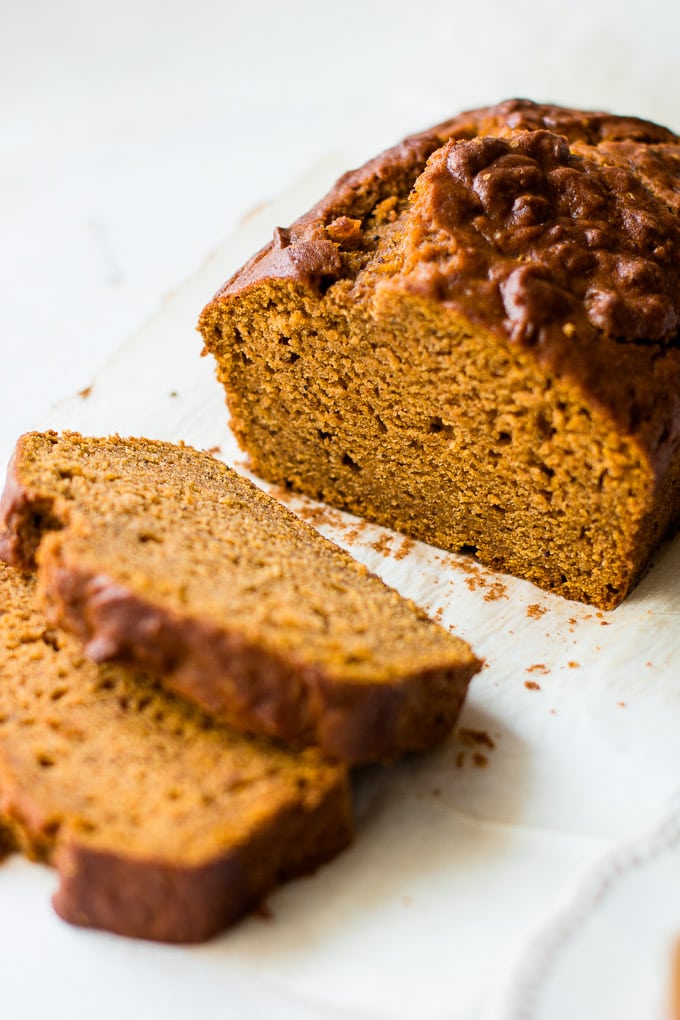 The pumpkin spice bread can be stored in the fridge for up to 5 days, but be sure to bring it to room temperature before serving so it's perfectly soft and moist. It can also be frozen and thawed overnight, so I like to double the recipe and always have some extra whenever the pumpkin spice craving hits.
Can I add chocolate chips to my pumpkin bread?
Absolutely! This is actually the way I prefer to eat (while it is delicious on its own). If you want to add chocolate chips, mix in 2/3 of a cup to the final batter before baking.
With a moist and tender crumb and a flavor that is full of warm spices, this pumpkin bread rivals some of my other favorite quickbreads, like my Nutella banana bread. With cold weather around the corner, warm up with a slice of this pumpkin bread and a warm cup of hot cocoa or mulled apple cider.
Why is my pumpkin bread dry?
If your pumpkin bread turns out dry, it's mostly likely due to:
Measurement inaccuracy. Make sure to measure all ingredients exactly. The best way to ensure the best results for your pumpkin bread is by weighing your ingredients.
Overbaking. Overbaking your pumpkin bread will dry it out because it causes the moisture to evaporate. Make sure not to exceed the baking time and that your oven is set to the right temperature. Because oven temperatures vary based on make and model, you can also purchase an oven thermometer to get an accurate reading of how hot your oven is.
Overmixing. Overmixing the pumpkin bread batter will produce more gluten than desired, creating a more tense, tough, and dry bread. Fold the ingredients together with a rubber spatula only until everything is incorporated.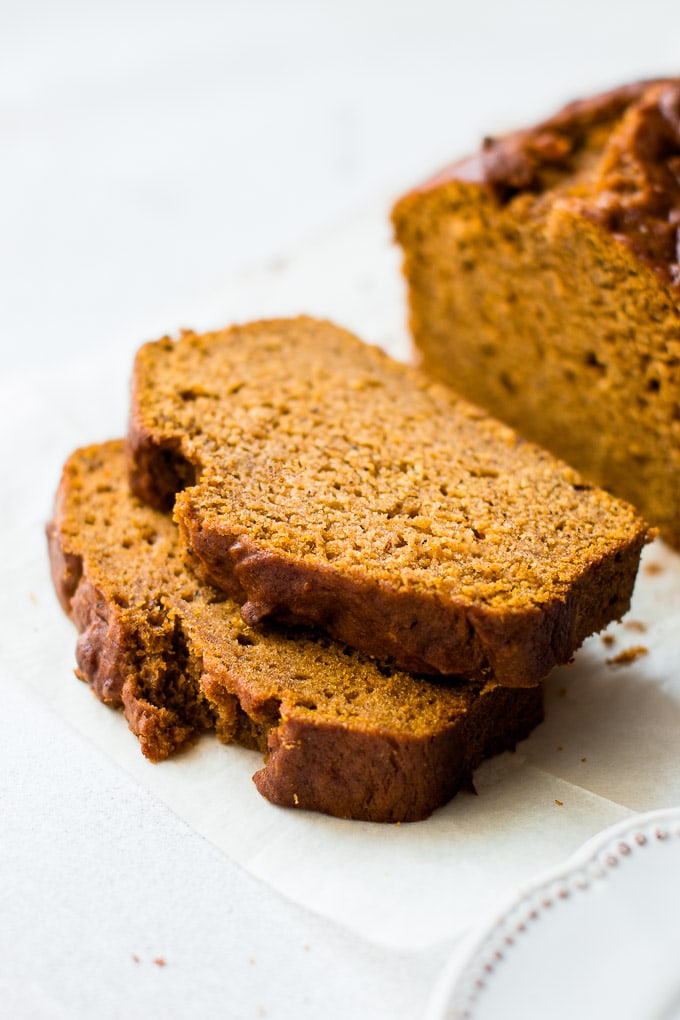 More of my favorite pumpkin recipes: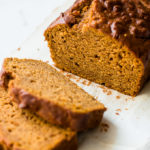 Pumpkin Bread
---
Ingredients
1 2/3

cups

(230g) all-purpose flour

1

teaspoon

baking soda

1 1/2

teaspoons

ground cinnamon

1/2

teaspoon

ground ginger

1/4

teaspoon

ground nutmeg

1/8

teaspoon

ground cloves

1/2

teaspoon

salt

2

large eggs

3/4

cup

(150g) granulated sugar

1/2

cup

(100g) light (or dark) brown sugar

1/2

cup

(120 ml) vegetable or canola oil

1 1/2

cups

(340g) pumpkin puree (canned or fresh, I use canned)

1/4

cup

(60 ml) sour cream (or whole milk)
Instructions
Preheat oven to 350°F/180°C. Grease a 9×5 inch pan.

In a large bowl whisk together flour, baking soda, cinnamon, ginger, nutmeg, cloves, and salt.

In a medium bowl, whisk together eggs, granulated sugar and brown sugar until combined. Add oil and whisk until combined. Add pumpkin puree and sour cream and whisk until combined. Pour the pumpkin mixture into the flour mixture and mix gently just until combined.

Pour batter into prepared pan. Bake for 50-60 minutes until a toothpick inserted into the center of the bread comes out clean. To prevent the bread from browning too much while baking, cover it loosely with aluminum foil, about halfway through baking. Allow to cool in pan on a wire rack.

Keep the bread in the fridge for up to 5 days, but make sure to serve it at room temperature so it's soft and moist when served. The bread can also be frozen for up to 2 months (thaw overnight in the fridge).