Delicate, moist and tender vanilla cupcakes filled with strawberries and frosted with strawberry whipped cream.
The first few times I tried a cupcake, I didn't really like it. I got dizzy from the amount of sugar in the frosting. I wasn't a fan. Fast forward to a few years and 460 cupcakes later, I've changed my mind. Just take a tour of some of New York's best bakeries and you'll understand what I mean.
Today I have some special cupcakes for you – strawberries and cream cupcakes. What's unique about them is that the frosting is actually whipped cream and not the traditional buttery frosting. Since whipped cream is a delicate frosting, sometimes I add instant vanilla pudding mix to stabilize it. There – I've shared another one of my secrets with you. 2-4 tablespoons per cup of whipping cream is all you need to make a stable and stiff frosting for cakes and cupcakes (you don't need to make an actual pudding, just use the powder straight from the box). Still, the cupcakes should be kept in the fridge, but when ready to serve, they will hold well at room temperature.
While you make the frosting, watch it all the time. The moment you get a thick, stable frosting that holds its shape, stop the mixer. Don't be tempted to whisk it more, since overbeating will break it down and ruin it. Use heavy whipping cream so the frosting will be as stiff (and delicious) as possible. Whisk the whipping cream until soft peaks form (which means it's still soft but pretty stable, like the texture of shaving cream), then stop the mixer and add the strawberry puree. Keep whisking until the frosting is stiff.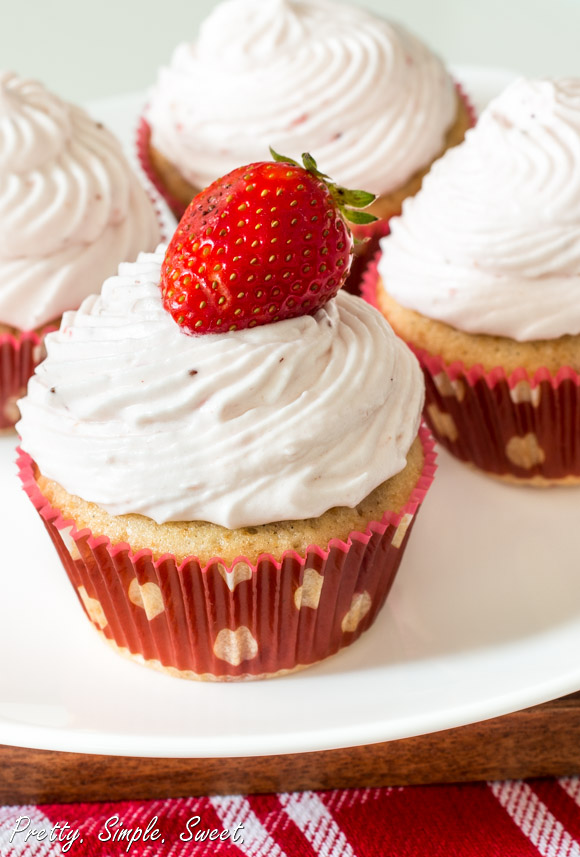 The recipe for the cupcakes is easy and basic. Nothing fancy. I have a few vanilla cupcake recipes that I use and this is one of my favorites.
Erez said this is one of the best cupcakes he's ever tasted. The cupcakes are soft, tender and moist with a refreshing vanilla and strawberry flavor. Then there's that frosting… delicate, creamy, and too good to be true.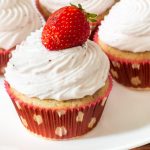 Strawberries and Cream Cupcakes
YIELD
:
12
cupcakes or 30 mini cupcakes
Delicate, moist and tender vanilla cupcakes filled with strawberries and frosted with strawberry whipped cream.
---
Ingredients
For the cupcakes:
1 1/3

cups

(185 grams or 6.5 ounces) all-purpose flour

1

teaspoon

baking powder

1/4

teaspoon

salt

1/2

cup

(1 stick or 115 grams) butter, softened

1

cup

(200 grams or 7 ounces) granulated sugar

2

large eggs

, room temperature

1

teaspoon

vanilla extract

1/2

cup

(120 ml) whole milk

1

cup

diced strawberries

(first dice, then measure)
For the strawberry whipped cream frosting:
1 1/2

cups

heavy whipping cream

3

tablespoons

granulated sugar

3

tablespoons

instant vanilla pudding mix

6

tablespoons

strawberry puree*
Instructions
Preheat oven to 350F/180C. Line muffin tin with 12 cupcake papers. Set aside.

In a medium bowl sift together flour, baking powder and salt. Set it aside.

In a stand mixer fitted with the paddle attachment, beat together butter and sugar on medium speed for 3 minutes until light and fluffy. Scrape down the sides and the bottom of the bowl as necessary. On medium speed, beat in the eggs one at a time, beating well after each addition. Add the vanilla extract and beat until combined. With the mixer on low speed, add half of the dry ingredients and beat just until combined. Add the milk and beat until combined. Add the other half of the dry ingredients and beat slowly or fold by hand only until combined. Do not overmix – the less you mix, the lighter the cake will be. Fold in diced strawberries.

Divide the batter between 12 cupcake liners, filling them about 3/4 full. Bake for 15-20 minutes (or 8-10 minutes if making mini cupcakes) until a toothpick inserted into the center of the cupcake comes out clean or with just a few moist crumbs. Let the cupcakes cool completely on a wire rack.

To make the frosting:

In a mixer bowl, place the heavy cream, sugar and instant pudding mix. Beat until soft peaks form. Add the strawberry puree and beat just until stiff peaks form. Don't overbeat. Frost cupcakes immediately after making the frosting. Decorate with more strawberries if desired.

Store cupcakes in the refrigerator, tightly covered, for up to 3 days. Allow to come to room temperature before serving.

Unfrosted cupcakes can be kept tightly covered at room temperature for up to 3 days or in the freezer for up to 2 months.
Recipe Notes
*To make strawberry puree, put a few strawberries (about 5) in a food processor or blender and process them until they are pureed.