This recipe for easy Italian ricotta cheesecake is similar in style to American cheesecake, but the ricotta cheese gives this cake a unique flavor, and makes it light and fluffy.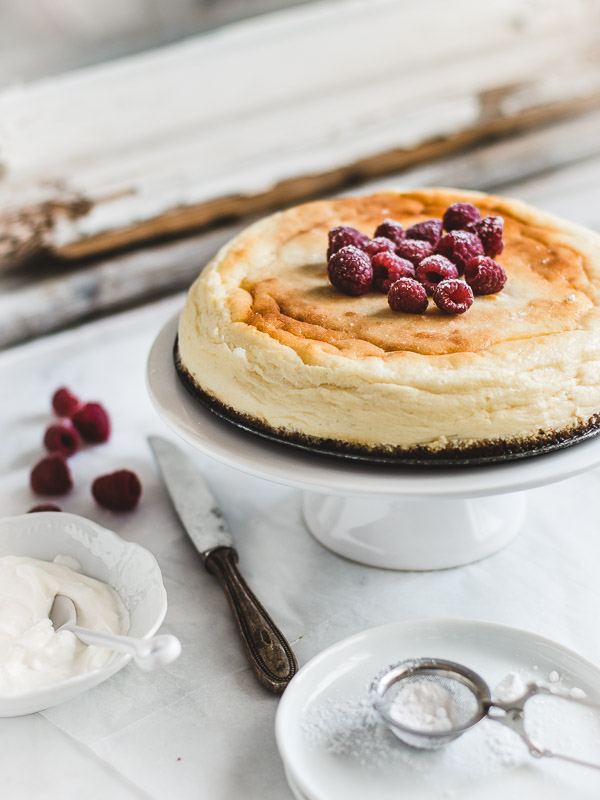 If I had to choose a dessert that wasn't made of chocolate, I would probably go for the creamiest, heaviest, tallest piece of cheesecake imaginable. But not everyone is me (which in this case,  is probably a good thing), and some of you have asked me for a cheesecake recipe that is lighter and less dense than my classic cheesecake.
Using ricotta cheese makes for a cheesecake that's not only lighter, but also has a different taste. If you've ever been to Italy and tried a classic Italian torte, the flavor is quite reminiscent (although tortes are made differently). If you love ricotta cheese and you love light cheesecakes, then you're going to love this ricotta cake.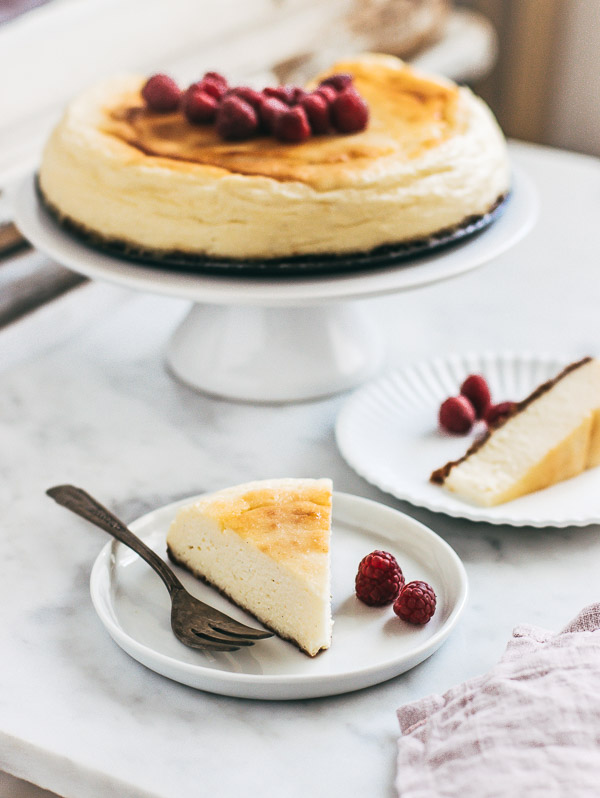 Ricotta and cream cheese cheesecake

Other than ricotta, I use cream cheese to add some creaminess and flavor. This is how I like it, but an authentic Italian recipe calls for ricotta cheese only. You can play with the quantities by adding less cream cheese and increasing the amount of ricotta cheese accordingly.
Drain the ricotta cheese. You don't have to do it, but I highly recommend it, especially if the cheese is watery. Place the cheese in a fine-mesh sieve lined with two layers of paper towels, and place the sieve over a bowl. Leave it to drain for several hours, or even overnight, before using it. The result is thicker cheese, and better, creamier texture. Too much liquid in the cake will affect its texture.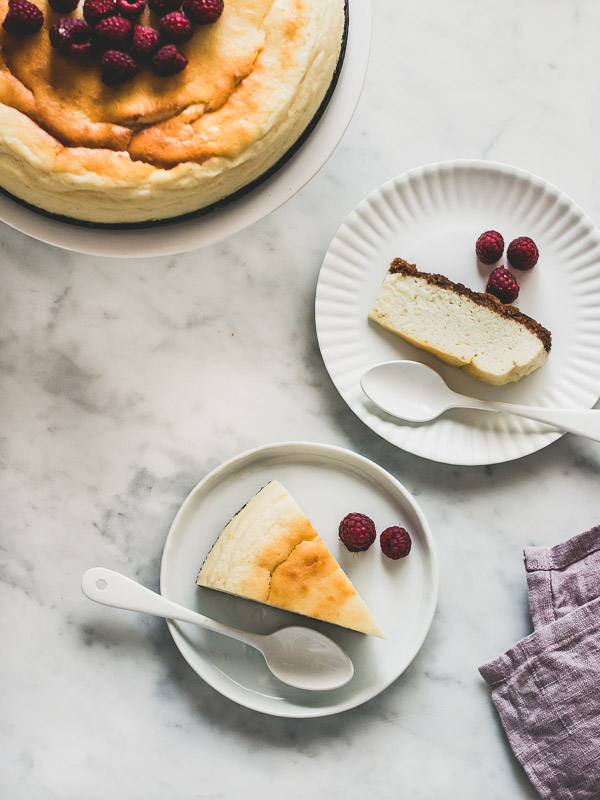 Make it more Italian style
If you've ever tried authentic Italian or Sicilian ricotta cheese cakes and loved them, then this cake is already similar in taste and texture, but there are a few other things you can do to make it even more Italian:
Replace ½ of the crust crumbs with Italian amaretti or biscotti cookies.
Leave out the crust. Some classic, authentic recipes don't use a crust at all.
If you prefer a taller cake, you can increase the amount of ingredients (baking time will be longer).
Add 1 tablespoon of Amaretto liqueur to the filling.
Separate the eggs to get an airy and even lighter texture (I like doing it but it's a matter of personal taste). Add the egg yolks when the recipe calls for whole eggs, then after all the ingredients are combined, whip up the egg whites to soft peaks and fold it into the batter. The cake will look airy on the outside with that rustic look of an Italian torte.
Rather than serving this cake plain, I prefer it with fresh berries, figs, or berry sauce.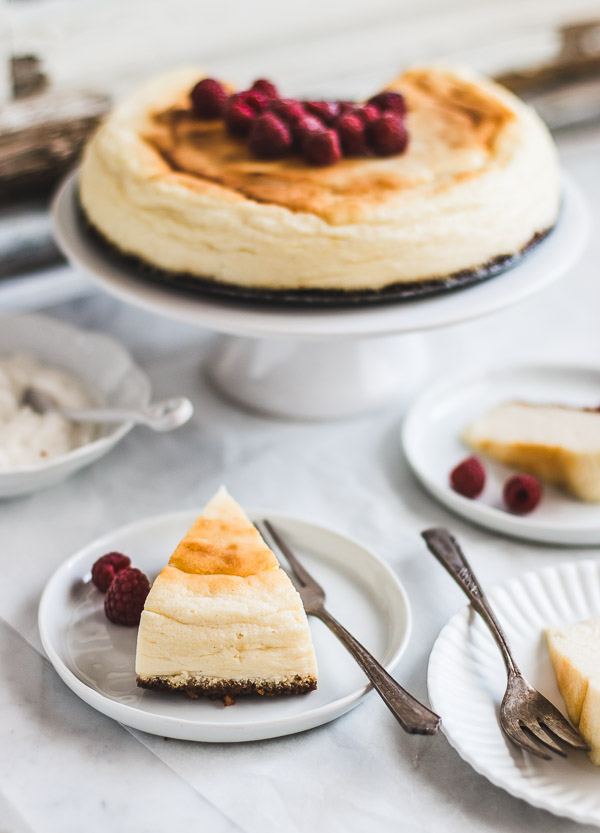 More Cheesecake Recipes: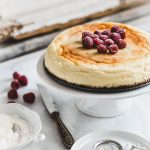 Ricotta Cheesecake Recipe
YIELD
:
9
-inch/23cm cheesecake
---
Ingredients
Crust:
1

cup

(100g) graham cracker or digestive biscuits crumbs*

3

tablespoons

(40g) unsalted butter, melted
Filling:
8

oz.

(225g) full-fat cream cheese, at room temperature

540

g/19 oz whole-milk ricotta cheese

, drained**, at room temperature

1

cup

(200g) granulated sugar

4

large eggs

, at room temperature

1 1/2

tablespoons

cornstarch

2

teaspoons

pure vanilla extract

Grated zest of 1 lemon or orange
Instructions
Preheat oven to 350F/180C. Wrap the bottom and sides of a 9-inch springform pan with one large piece of foil, then repeat with another piece. This will ensure that water from the water bath doesn't seep into the cake.

In a medium bowl mix crumbs and melted butter until evenly combined and moistened. Press mixture into pan. You can use the bottom of a glass to press it into an even layer. Bake for 8-10 minutes, until golden brown. Allow to cool completely on a wire rack before adding the filling. Meanwhile, prepare the filling.

Using an electric mixer fitted with the paddle attachment, beat cream cheese on medium-low speed until smooth and lump-free, 1-2 minutes. Add ricotta and sugar and beat until combined and cheese is smooth. Beat in eggs, one at a time, until fully combined. Scrape down the sides and bottom of the bowl as necessary. Add cornstarch, vanilla extract, and zest, and beat just until blended and smooth. Pour batter over cooled crust and spread evenly.

Place pan inside a large roasting pan, then pour enough boiling water into the roasting pan to come halfway up the sides of the cake pan. Place carefully in the oven and bake for 60-70 minutes or until sides of the cheesecake are set but the center is still slightly wobbly.

Transfer pan to a wire rack and allow to cool completely. Cover cheesecake with plastic wrap and refrigerate for 8 hours to set. The cake will taste best a day after it's made.

Cake can be kept in the fridge, well covered, for up to 5 days.
Recipe Notes
*To make crumbs, pulse cookies in a food processor or blender until finely ground.
**Ricotta cheese is watery and must be drained for several hours. Place the cheese in a fine-mesh sieve lined with two layers of paper towels, and place the sieve over a bowl.