This easy homemade classic cherry pie is a favorite in our family! The filling is easy to make, and you can use either sweet or sour cherries. Here are all the tips on how to make it perfect.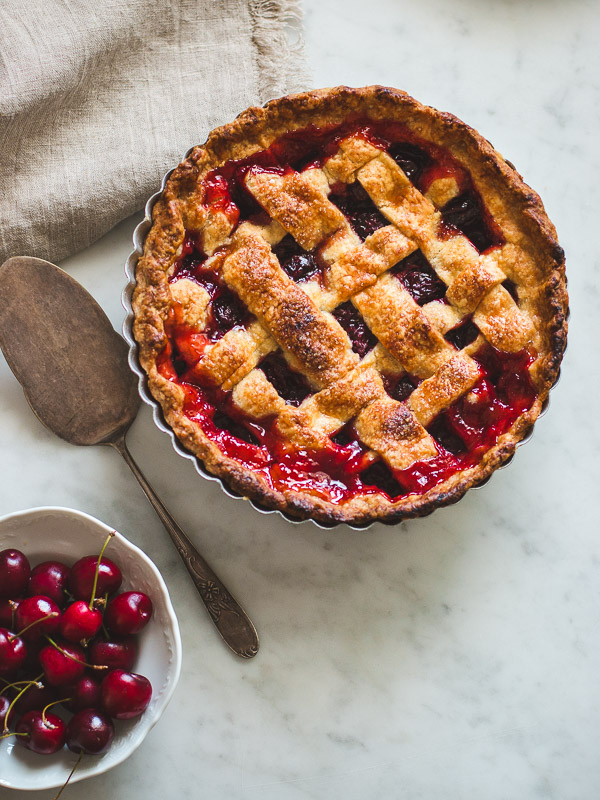 My Best Recipe for Homemade Cherry Pie
This homemade cherry pie is my second favorite pie after apple pie, and it's the best recipe out there. Trust me, I've tried quite a few. It has no fancy ingredients, and it tastes divine and homey. Once you've pitted the cherries, the hard work is behind you and all that's left is mixing the ingredients together.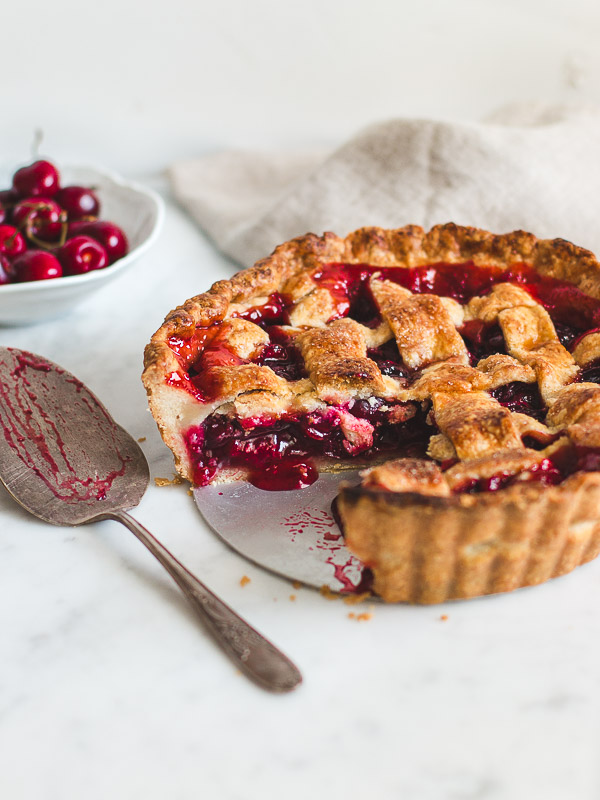 Dough
I use my pie dough recipe for almost all my pies. It's a classic recipe for a flaky, buttery dough that's simply delicious. Read my tips on how to make a homemade pie crust here.
Cherries

How to Pit Cherries? If you don't have a cherry pitter, read about other tricks here and choose your favorite one. I use a small round tip and it works like a charm.
Fresh or Frozen Cherries? I always prefer using fresh cherries for the best flavor and texture, but if you can't, use thawed frozen cherries or a canned jar and drain the juices well.
What kind of Cherries? For this cherry pie filling recipe, you can use either sweet cherries for a sweet cherry pie or tart cherries for a sour cherry pie. As you'll see in the recipe, the only difference between them is the amount of sugar and lemon juice. 
Sugar
Adjust the sugar to your taste. I use 1 cup for sour cherries and ¾ cup for sweet cherries. Once all the ingredients for the filling are mixed, you can taste it and decide if you want to add more sugar.
Serve each slice with whipped cream or ice cream for the ultimate treat.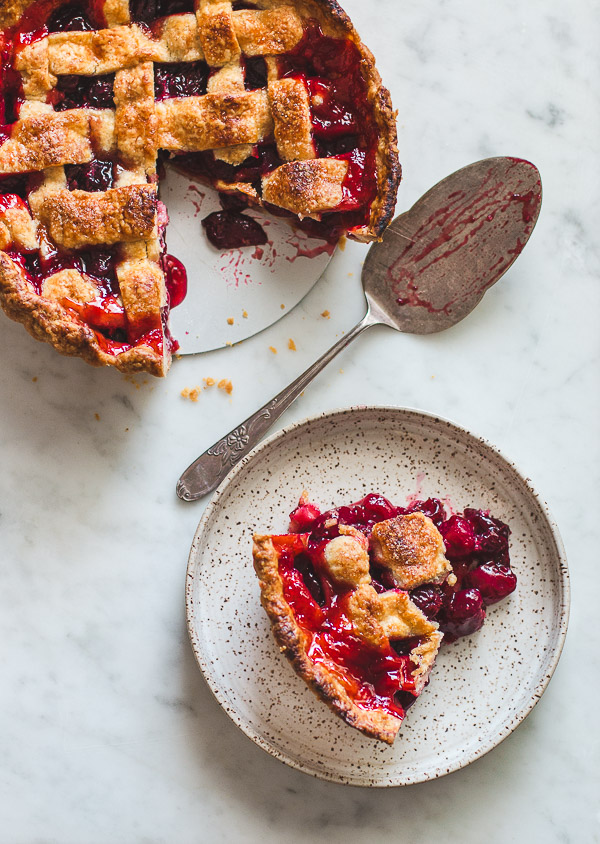 More Cherry Recipe: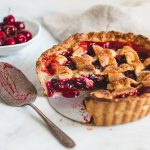 Cherry Pie Recipe
---
Ingredients
Filling:
5

cups

stemmed and pitted fresh dark sweet or sour cherries

(that's about 2 pounds whole unpitted cherries)

3/4

cup

(150 g) granulated sugar for sweet cherries, or 1 cup (200 g) for sour cherries

3

tablespoons

cornstarch

¼

teaspoon

salt

2

tablespoons

freshly squeezed lemon juice for sweet cherries

, or 1½ teaspoons for sour cherries

Grated zest from 1/2 lemon

½

teaspoon

vanilla extract

½

teaspoon

Kirsch

, optional

2

tablespoons

unsalted butter

, cut into mini cubes

Cream or milk

, for brushing the top crust

Coarse or granulated sugar

, for sprinkling
Instructions
Roll out the dough: Take one disc of dough out of the fridge and let it sit on the counter for a few minutes to soften slightly for easy rolling. On a floured surface, roll the dough out into a 12-inch circle. Place the dough gently into a 9-inch pie pan; you can do this by flouring a rolling pin and rolling the dough loosely around it, then unrolling it into the pan. Brush away any excess flour on the surface. With a sharp knife, trim the edges of the pastry to fit the pie pan. Cover pan with plastic wrap and place in the fridge. Roll out the other disc in the same fashion, then transfer to a baking sheet lined with parchment paper. Cover with plastic wrap and place in the fridge.

Make the cherry filling: In a medium bowl, mix together sugar, cornstarch, and salt. Stir in cherries. Add lemon juice and zest, vanilla extract, and Kirsch and mix to combine. Set aside for 10 minutes.

Preheat oven to 425F/220C. Line a baking sheet with parchment paper and place in the lower third of the oven.

Spread cherry filling in an even layer onto pie crust, and dot with butter on top. If you choose to make a lattice pie,

this is how

you do it. Otherwise, place the second crust over the filling. Tuck any excess overhang pastry under the bottom crust, then crimp the edges using your fingers or a fork. Make 4 slits in the center to let steam escape while baking. Brush the crust with a thin coating of milk or cream, then sprinkle with sugar.

Bake for 15 minutes, then reduce heat to 375F/190C and continue baking until the crust is golden brown and juices are bubbling through the slits, about 40-50 minutes longer. Cover the edges of the pie loosely with foil if it starts browning too much while baking.

Allow pie to cool for at least 4 hours before serving so that the filling can set. Store pie in the fridge for up to 3 days.

Serve warm or at room temperature.