This chocolate chip cake turns your favorite muffin into a simple crowd-pleasing cake. It's the perfect combination of tender vanilla pound cake and sweet chocolate chips.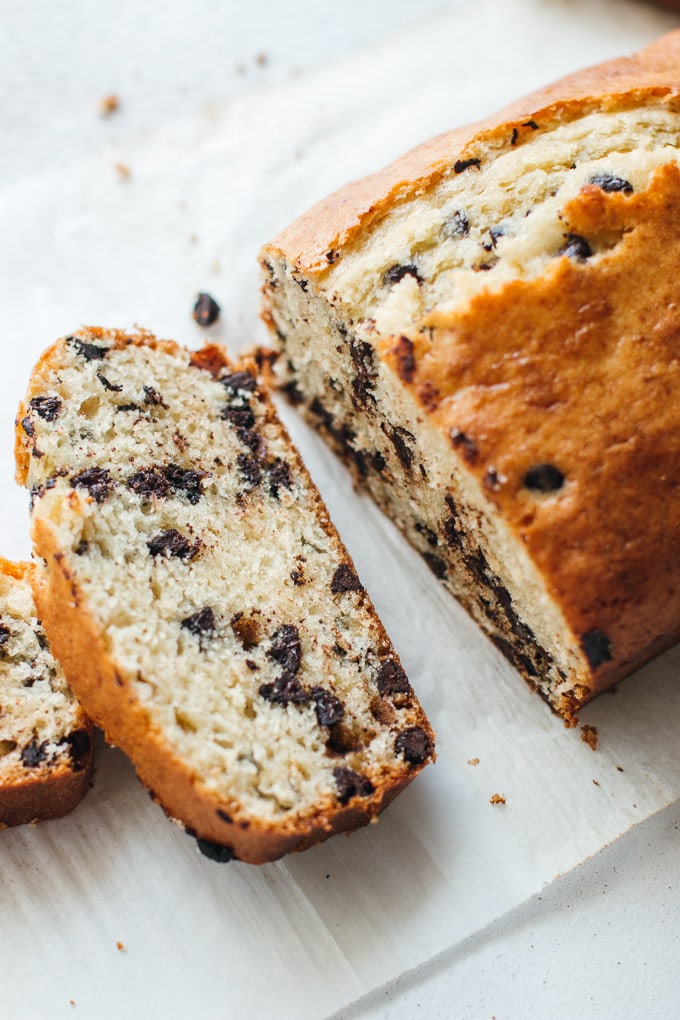 Sometimes a classic vanilla cake is just what you need, but of course some extra chocolate chips can't hurt! My favorite chocolate chip cake recipe is easy to make and perfect for times when you want a crowd-pleasing treat that doesn't dirty up your kitchen.
A buttery, soft vanilla pound cake gets loaded with chocolate chips, reminiscent of a classic chocolate chip muffin. It's the kind of cake you can't stop eating, since it's not too heavy and perfect with a cup of coffee or as a midnight snack before bed. Between my husband and me, we finished off this cake in less than 2 days, neither of us resisting a slice as we passed through the kitchen.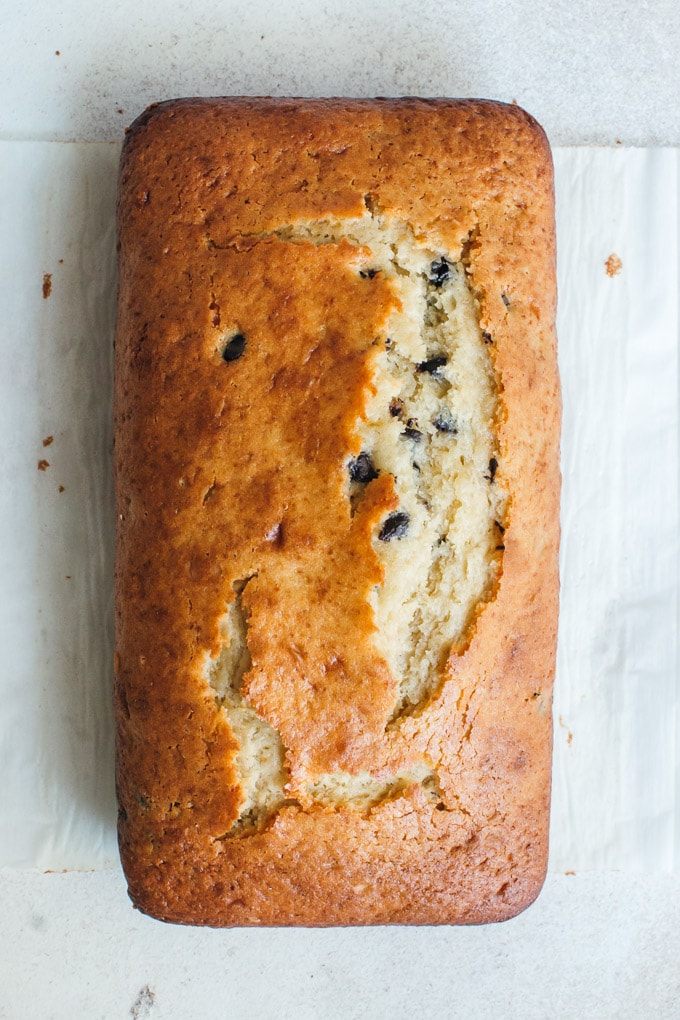 How to Get a Perfect Texture
If you ask me, the best chocolate chip cake has a soft, tender texture that's light and cakey. To achieve this result, I prefer to use a mixer to cream the butter when making this cake. This adds air to the batter, giving the pound cake a lighter crumb.
For a simpler cake, I've also made this recipe using just a whisk instead of an electric mixer, and it's still just as delicious. It won't be as cakey in texture, but will resemble the soft and heavier texture of a muffin. Both options are irresistible, giving you two slightly different types of chocolate chip cakes to choose from.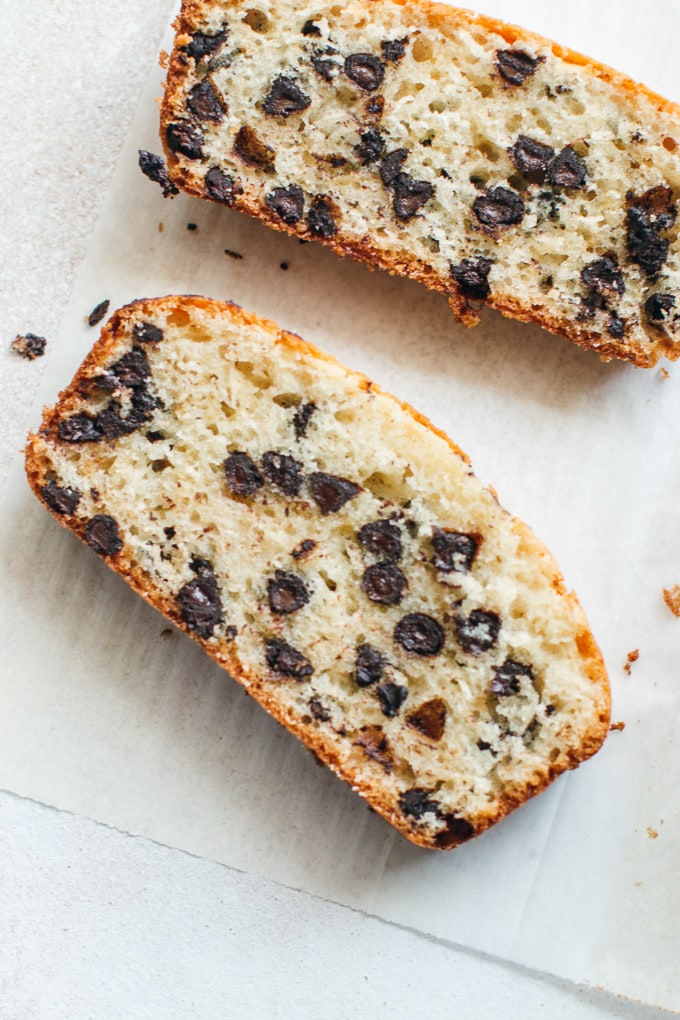 Why I Use Both Oil and Butter in My Chocolate Chip Cake
For this moist chocolate chip cake, I like to use both oil and butter in my batter. I like this combination because the butter adds a rich flavor while the oil keeps it moist and fluffy. Used together, you'll get the perfect loaf cake that's soft, tender and stays moist for days.
It is possible to use only butter or oil in this cake. I've made it both ways, preferring the combination for the best flavor and texture, but it still tastes delicious however you make it.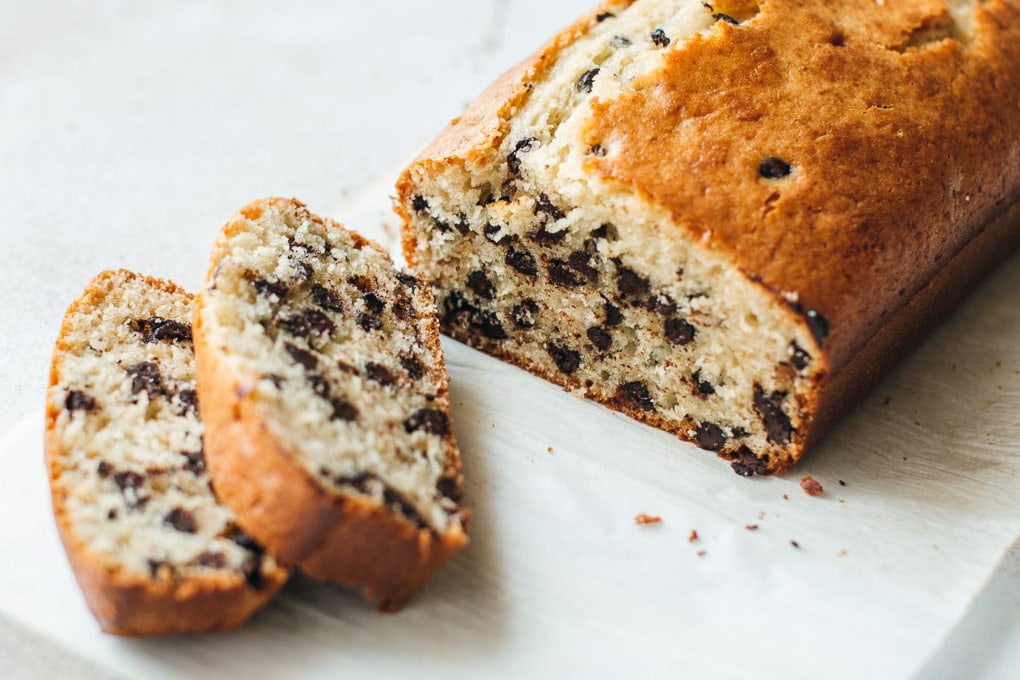 How to Make Chocolate Chip Cake
To start, I always sift or whisk together my dry ingredients. This helps reduce any overmixing of the batter once you add in the remaining ingredients.
Using either a mixer with the paddle attachment or a whisk if making by hand, combine the butter, oil and sugar (you can reduce the sugar by ¼ cup if you prefer less sweetness in your cake). You can also add in an optional teaspoon of orange zest during this step to give the cake an extra boost of citrus aroma (for more flavor you can add more orange zest).
Beat on medium speed until light and fluffy, about 4 minutes. You may need to scrape down the sides of the bowl a couple times to make sure everything is incorporated. Add in the eggs and vanilla extract, mixing until combined.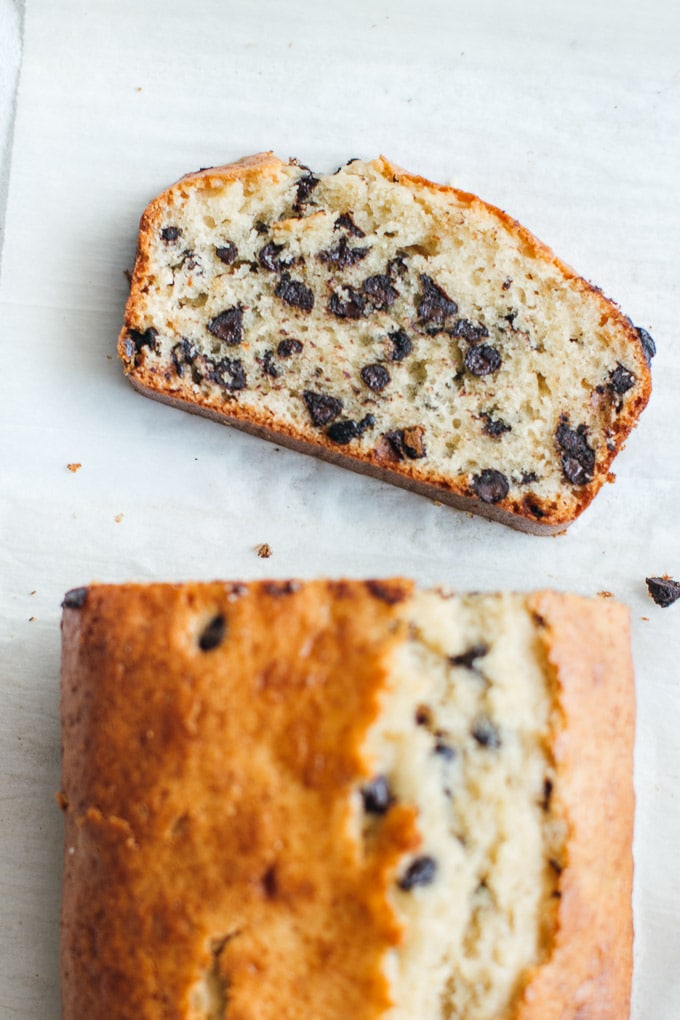 In three additions add in the flour mixture, alternating with the buttermilk, starting and ending with the flour. Lastly, mix in the chocolate chips.
Pour into a loaf pan and bake for 45-60 minutes, or until a toothpick inserted into the center comes out clean. You may need to cover the pan loosely with aluminum foil if the top begins to brown too quickly while baking. Cool completely on a wire rack before serving.
This chocolate chip cake is incredibly moist and flavorful. It takes a classic vanilla cake to the next level, stuffed with gooey chocolate chips and a tender muffin-like crumb. This easy chocolate chip cake is the perfect treat after a long day and irresistible for breakfast the next morning.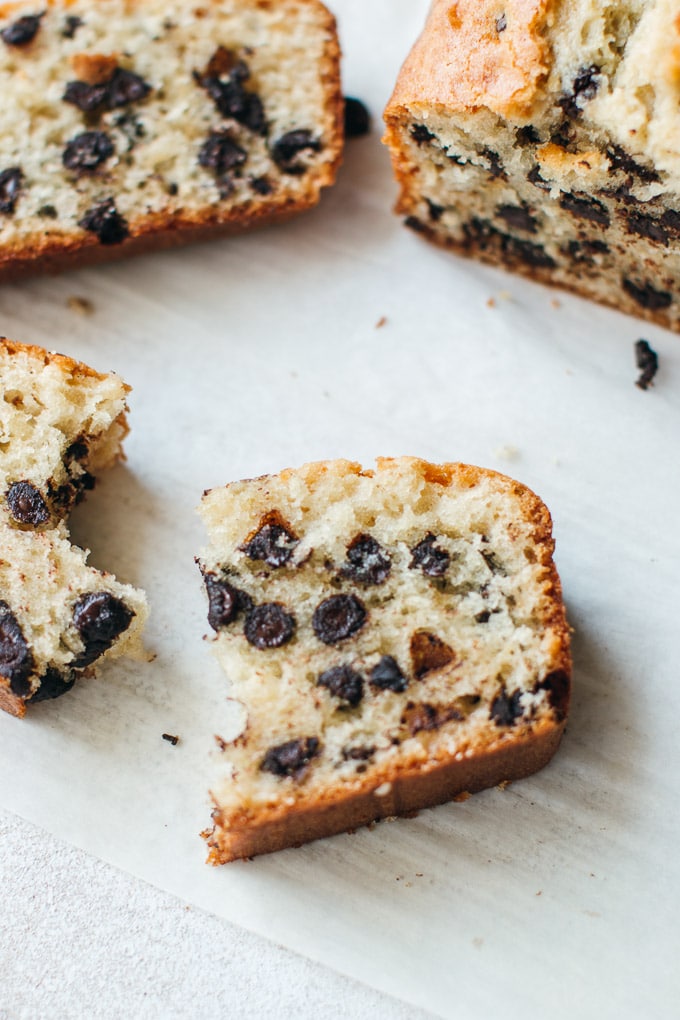 Other loaf cake recipes: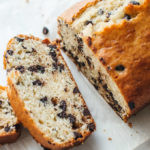 Chocolate Chip Cake
---
Ingredients
1 1/2

cups

(210g) all-purpose flour

1 1/2

teaspoons

baking powder

1/4

teaspoon

salt, optional

1/4

cup

(55g) unsalted butter, softened to room temperature

1/4

cup

(60 ml) canola or vegetable oil

1

cup

(200g) granulated sugar

2

large eggs

1 1/2

teaspoons

pure vanilla extract

3/4

cup

(180 ml) buttermilk, sour cream or heavy cream

1

cup

(170g) chocolate chips
Instructions
Preheat oven to 350°F/180°C. Grease a 9×5-inch loaf pan. Set aside.

In a medium bowl sift together flour, baking powder, and salt. Set aside.

Note: In this step it's possible to whisk the ingredients in the same order with a hand whisk instead of using a mixer. Mixing the ingredient slowly and with the paddle attachment in the mixer gives the cake a more 'cakey', light texture. In this case there's no need to mix for a few minutes, mix only until the ingredients are combined.

In a medium bowl using a mixer fitted with the paddle attachment, beat butter, oil, and sugar on medium speed for about 4 minutes, until light and fluffy. Scrape down the sides and bottom of the bowl as necessary. Add eggs and vanilla extract and beat until combined. On low speed, beat in flour mixture in 3 additions, alternating with the buttermilk (or sour cream/heavy cream) in 2 additions, starting and ending with the flour. Mix in chocolate chips. Once all is added, be careful not to overmix the batter.

Scrape batter into prepared pan and smooth the top. Bake for 45-60 minutes or until a toothpick inserted into the center of the cake comes out clean. If the top browns too quickly while baking, cover pan loosely with aluminum foil. Allow cake to cool completely on a wire rack.

Store cake at room temperature in an airtight container for up to 2 days or refrigerate for up to 5 days. Serve at room temperature.