A soft and tender orange cake that's bursting with fresh orange flavor. This everyday orange cake recipe is easy to make and only gets better over time.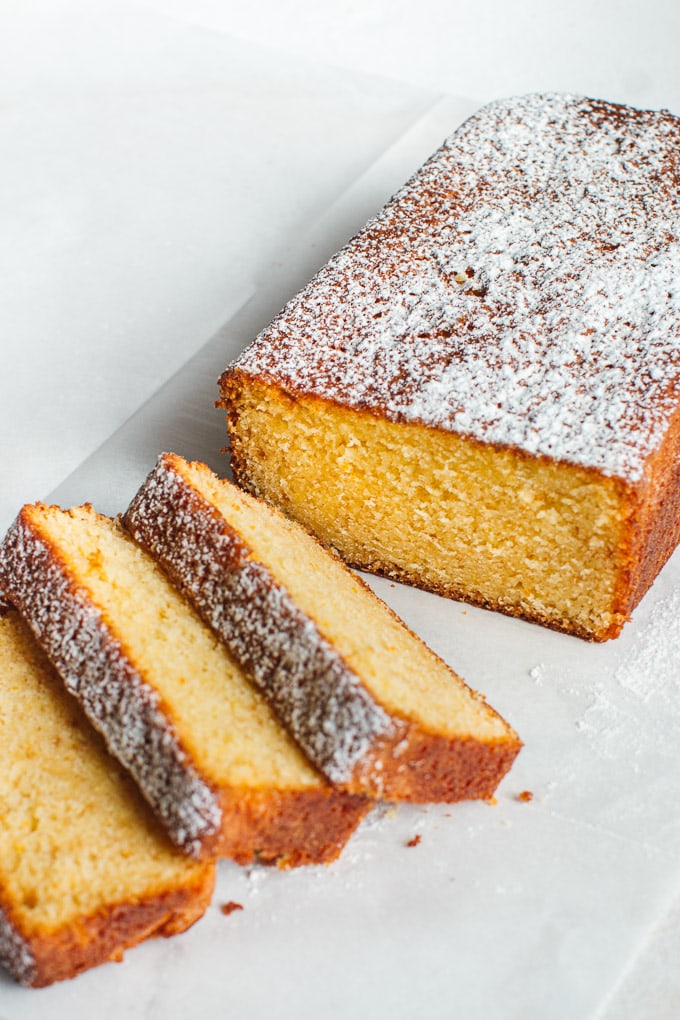 I'm not the only baker in my family. My mom is famous for her orange cake, or perhaps for letting me sneak in a slice before it cooled down completely (my sweet tooth began at an early age). Her recipe is something I grew up with, but it wasn't until a recent nostalgic craving for the citrusy cake that I finally asked her for it.
I vividly remember moments in the kitchen, waiting in anticipation for my mom to take the orange bundt cake out of the oven. She always told me to wait for it to cool completely, but my impatience usually won me a slice of warm cake. Now with my own daughter, this cake is passed through our family and soon we all can enjoy a slice of my mom's easy orange cake.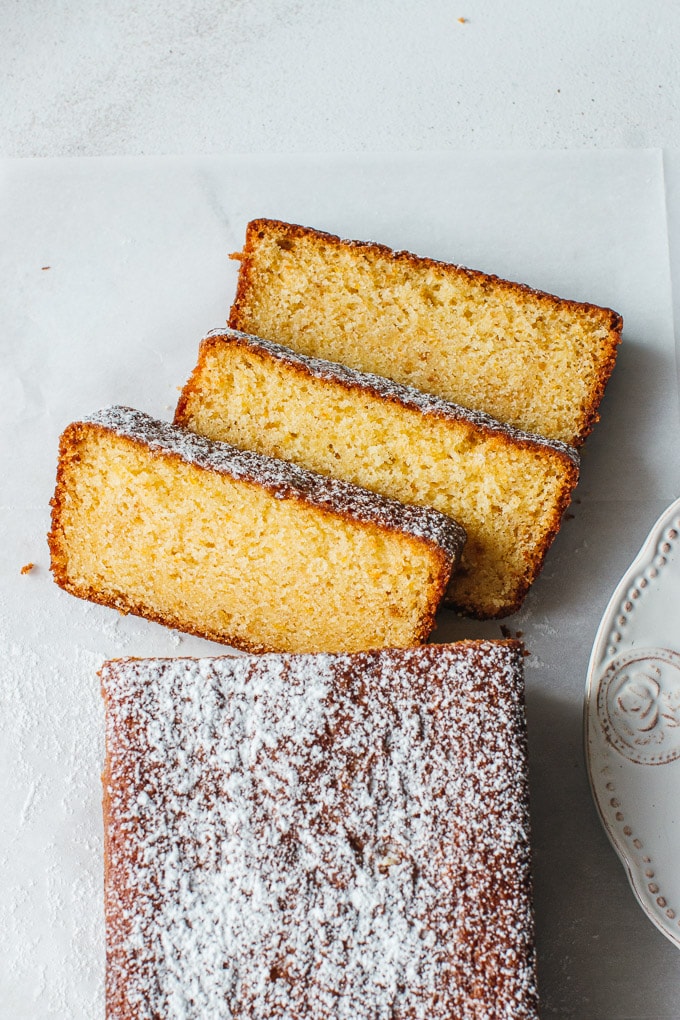 How to Make Orange Cake
Since we're using oil instead of butter for extra moisture, it's really important to properly beat your eggs for a light and fluffy crumb. This is the only step that adds air into the cake, so I like to use my mixer for an extra boost of power. You'll whisk together the eggs and sugar on high speed until pale and fluffy, about 5 minutes.
The benefit of using your mixer is that this orange pound cake recipe only uses one bowl! Once your eggs are fluffy, turn the mixer down to low and slowly add in your oil. Once combined, follow with the orange juice, zest, and vanilla extract and keep whisking slowly until combined. Add the flour mixture, being careful not to overmix the batter.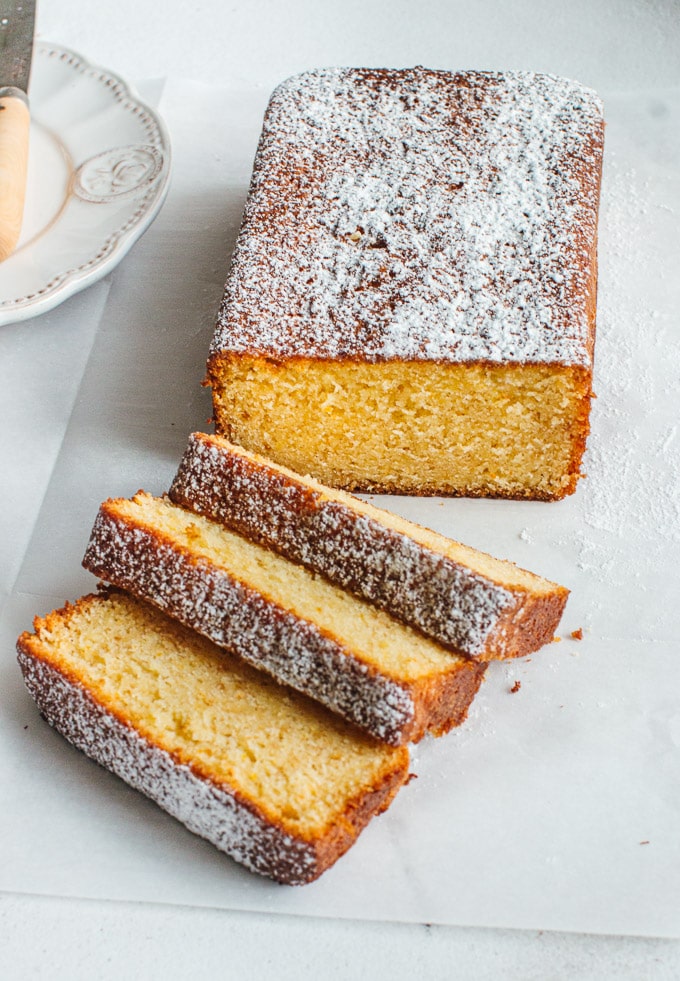 Using Fresh Oranges
I highly recommend using fresh oranges for this cake. Just like in my lemon bundt cake, using fresh citrus really helps the flavor burst through in each bite. To keep things easy, I use the zest from the same number of oranges I use for juicing, about 3-4 total. A tip: I find it easier to zest the oranges before juicing them.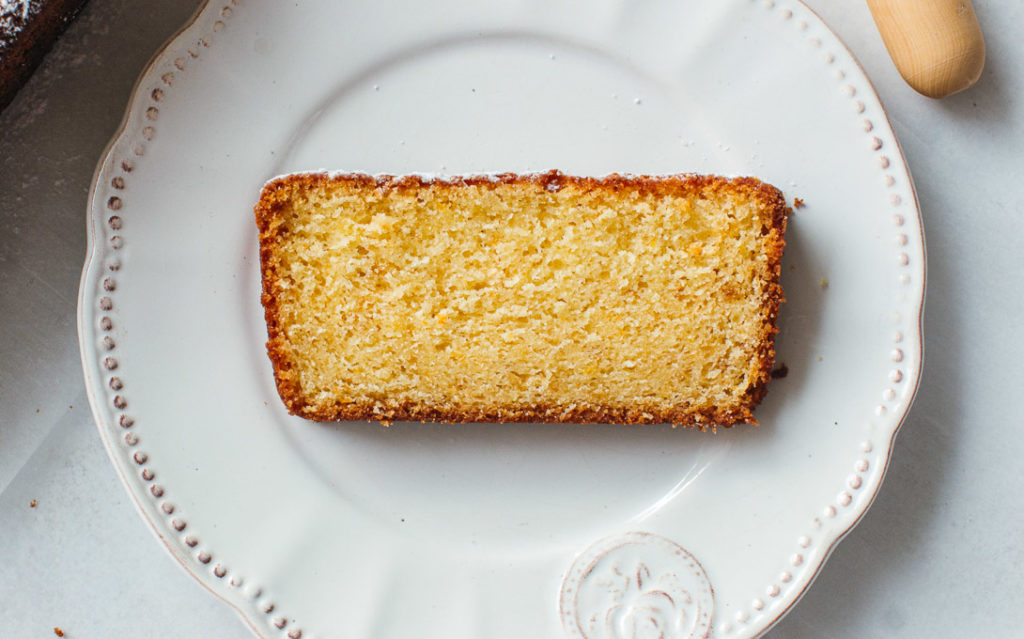 Baking Your Orange Cake
My mom always made this as an orange bundt cake, but since it's a very moist pound cake I've often struggled getting it out from the pan in one piece. I prefer to use loaf pans instead of a bundt pan, but whichever pan you use be sure to grease it well. Since this orange juice cake is full of moisture it can easily stick to the pan.
The trickiest part in making this recipe is being careful not to overbake it. I like to use a toothpick to test for doneness; it should come out clean when done but may have a few crumbs. If it comes out gooey then it needs more time.
Once baked, let it cool completely before eating. For the best texture, let the cake rest for a day at room temperature before eating. The citrus flavor becomes stronger over time, giving you a juicy punch in every bite.
This simple bundt cake is one I grew up with and now I'm finally sharing it with you. I love to have a slice of it for breakfast or with some tea in the afternoon. Food is full of memories and my mom's orange cake is one of my childhood favorites. I'm so glad to be able to share this recipe with my daughter and hope you will bake it for friends and family too.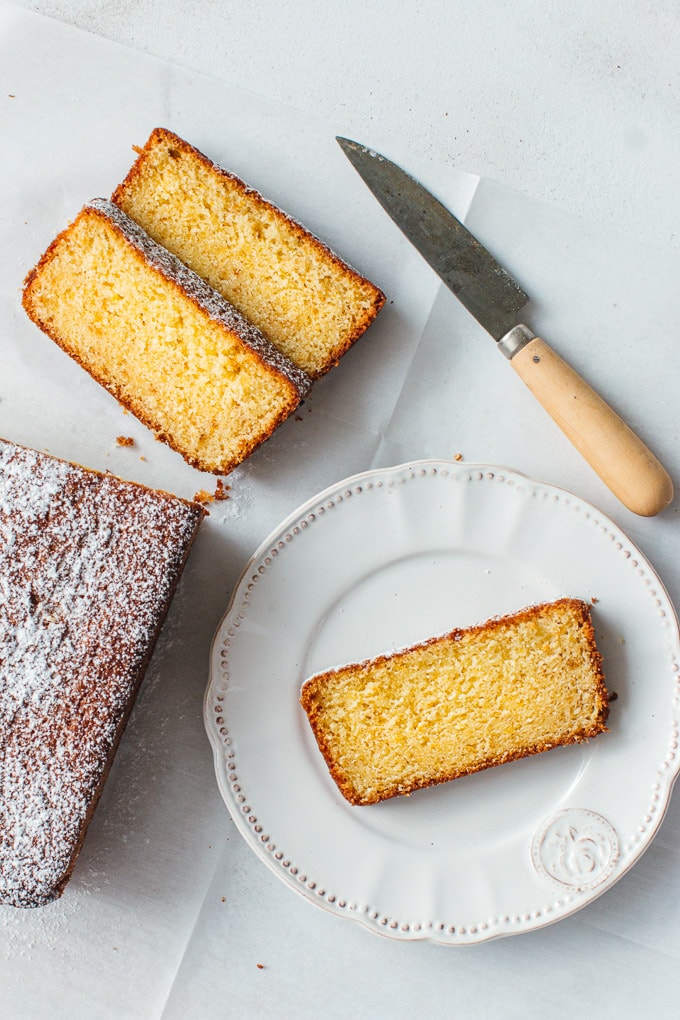 Other orange recipes: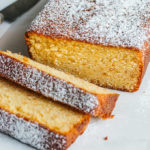 Orange Cake
This recipe yields 2 loaves or as my mom used to make it – one bundt cake. I find that it's not easy to remove the cake from the bundt pan because it's a very moist cake unless you butter and flour the pan well, so I prefer using a loaf pan and I think it looks beautiful. If you only want to make one loaf, you can halve the recipe.
---
Ingredients
2 1/2

cups

(350g) all-purpose flour, sifted

2 1/2

teaspoons

baking powder

4

large eggs

1 1/2

cups

(300g) granulated sugar

1

cup

(240 ml) canola or vegetable oil

1 1/4

cups

(300 ml) freshly squeezed orange juice

Orange zest from 3-4 oranges

(I use the same amount of oranges I use for the juice)

1

teaspoon

pure vanilla extract
Instructions
Preheat oven to 350°F/180°C. Grease a 12-cup (10-inch) Bundt pan or two standard loaf pans (either 9 x 13 inch pans or 8½ x 4½ inch pans for taller cakes) and set aside.

In a medium bowl whisk together flour and baking powder. Set aside.

In a mixer bowl fitted with whisk attachment, whisk together eggs and sugar on high speed until pale and fluffy, about 5 minutes. On low speed and with the mixer running, add oil slowly until combined. Add orange juice, zest, and vanilla extract and keep whisking slowly until combined. Add flour mixture and whisk just until combined. Don't overmix.

Pour batter into prepared pan/pans. Bake for 50-60 minutes for the bundt pan or 40-50 minutes for the loaves or until a toothpick inserted into the center of the cake comes out clean. If the top is browning quickly while baking, cover loosely with aluminum foil. Allow cake/cakes to cool completely on a wire rack.

Store cake in an airtight container in the refrigerator for up to 5 days. For the best moist texture, the cake is best served at room temperature. This cake freezes well so if you make two loaves, cover well, and freeze one of them in the freezer for up to 2 months, then thaw overnight in the fridge