These eggless double chocolate cookies are chewy, gooey, and spiced with fresh ginger for an absolutely amazing flavor. They're perfect for the fall and so easy to make!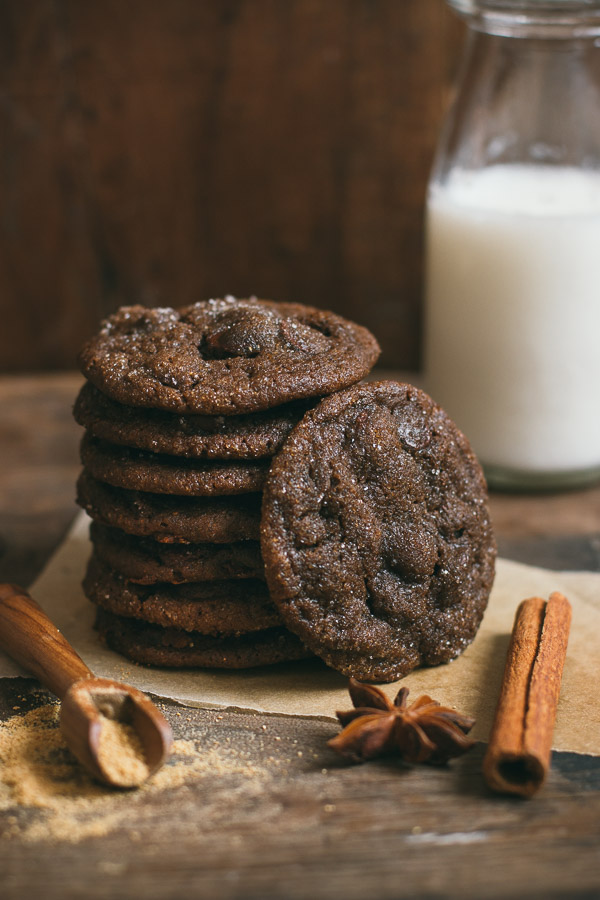 Chocolate and ginger is wonderful flavor combo. The sweetness of chocolate with the spiciness of the fresh ginger and other warm spices like cinnamon, cloves, and nutmeg pairs together perfectly! I love the unique and intense flavor combo and always crave these cookies, as well as my soft molasses cookies, as soon as fall hit They're both also great Christmas cookies.
The base of these babies is a classic ginger cookie with molasses, brown sugar, an spices with chocolate and cocoa powder added. There's plenty of spice and melted chocolate in every single bite. These cookies are also super soft and chewy with a slight crunch from the sugar coating. They're the perfect holiday cookie!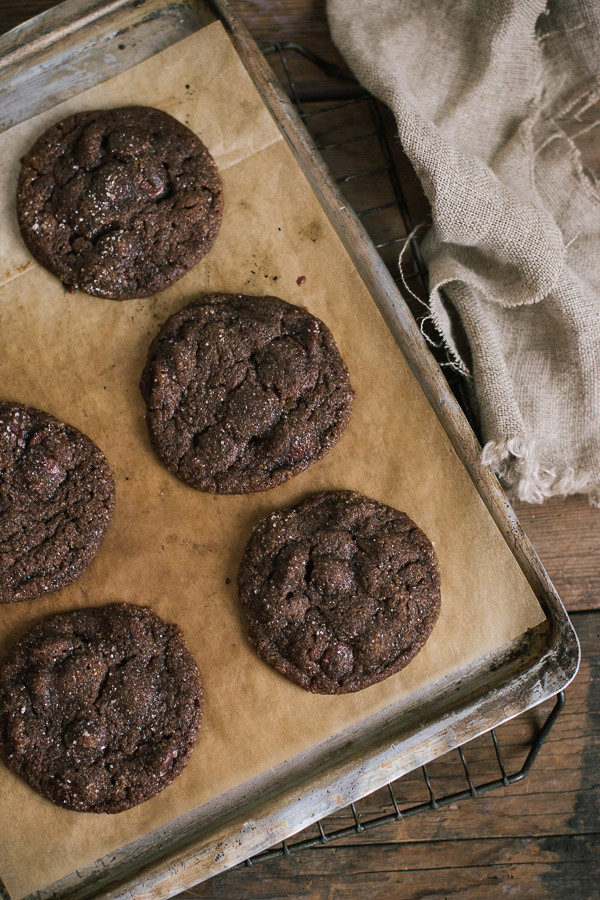 How to make chocolate ginger cookies
Sift together all the dry ingredients except baking soda. This includes flour, ground ginger, cinnamon, cloves, nutmeg, and cocoa powder. Set aside.
Beat butter and fresh ginger. Using an electric mixer with the paddle attachment or handheld mixer, beat the butter with fresh ginger until light ant fluffy, about 3 minutes.
Add the brown sugar and molasses. Beat in the brown sugar, followed by the molasses until everything is incorporated.
Dissolve baking soda in boiling water. Do this in a small bowl.
Combine dry ingredients with the butter. Add half of the flour mixture to the butter mixture and combine. Then, beat in the baking soda mixture. Lastly, add the remaining half of the flour mixture.
Add the chocolate chunks. Mix in chocolate chunks just until combined.
Chill. This is a VERY sticky dough and will need to chill for a minimum of 2 hours before baking. Wrap your cookie dough in plastic wrap in a disc shape, or place it in a bowl covered with plastic wrap in the fridge.
Bake. Form 1 ½-inch cookie dough balls and place on a parchment-lined sheet pan. Roll each cookie ball in granulated sugar and place the sheet pan in the fridge for another 20 minutes before baking at 325°F/160°C for 10-12 minutes.
*Tip: For an amazing ice cream cookie sandwich, make a batch of no-churn vanilla ice cream and put a scoop between 2 of these cookies for an unbelievable treat!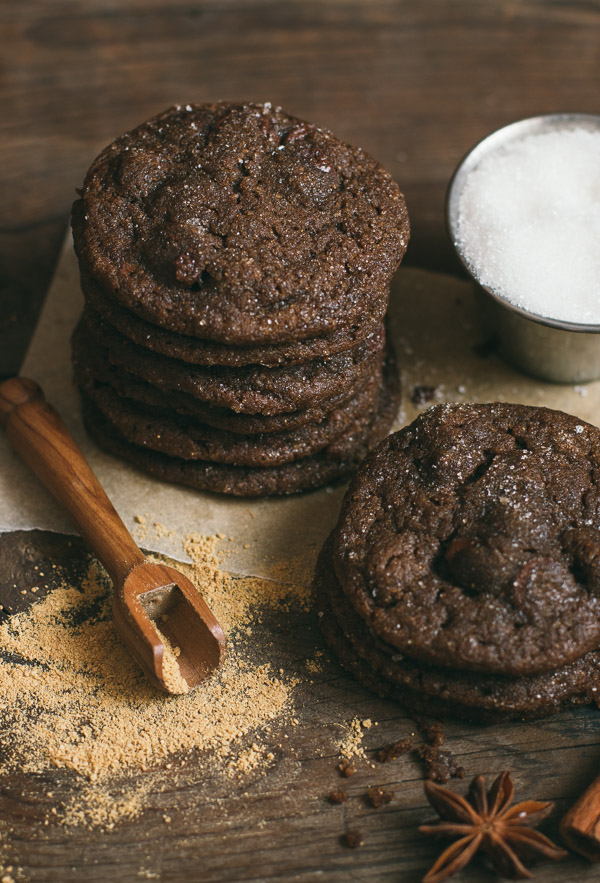 Tips for making perfect chocolate ginger cookies
Don't skip the fresh ginger. There's a whole tablespoon of fresh ginger in this recipe and it provides amazing flavor, so I highly recommend not leaving it out or substituting for ground ginger.
Grate the ginger very finely. I like to use my microplane grater for this.
Chilling the cookie dough is a must. If you bake these cookies right away, they'll spread out so much during baking that you'll end up with one giant flat cookie. Chill the dough for at least 2 hours before baking, plus 20 minutes after shaping the dough into balls. I like to prepare the cookie dough quickly in the evening and bake it first thing in the morning, then eat about six of the cookies before anyone gets home.
Don't overbake these cookies. Overbaking can make the cookies tough, and the best thing about them is their chewy texture. Because of their dark color, it's hard to know when they're ready, but don't bake them for more than 12 minutes. Once the bottoms are firm, you can pull them from the oven.
I hope you love these cookies as much as I do! Let me know in the comments below.
More of my favorite cookie recipes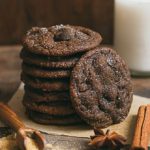 Chocolate Ginger Cookies
Extra chewy double chocolate cookies made with fresh ginger and lots of warm spices.
YIELD
24
medium-size cookies
Ingredients
1 ½

cups

(200g) all-purpose flour

1 ¼

teaspoons

ground ginger

1

teaspoon

ground cinnamon

¼

teaspoon

ground cloves

¼

teaspoon

ground nutmeg

1

tablespoon

unsweetened cocoa powder

(preferably Dutch-process)

½

cup

(115g) unsalted butter, room temperature

1

tablespoon

freshly grated peeled ginger

½

cup

(100g) dark brown sugar

½

cup

(120 ml) unsulfured molasses

1

teaspoon

baking soda

1 ½

teaspoons

boiling water

1

cup +1 tablespoon

(200g) dark chocolate chips or chunks

⅓

cup

granulated sugar

, for coating the cookies
Instructions
Line two baking sheets with parchment paper.

In a medium bowl sift together flour, ground ginger, cinnamon, cloves, nutmeg, and cocoa. Set aside.

In the bowl of an electric mixer fitted with the paddle attachment, beat butter and fresh ginger on medium speed until whitened, about 4 minutes. Add brown sugar and beat until well combined. Add the molasses and beat until combined.

In a small bowl, dissolve baking soda in boiling water. Add half of the flour mixture to the butter mixture then beat in baking soda mixture. Beat in remaining flour mixture. Mix in chocolate just until combined. Don't overmix. Cover bowl with plastic wrap and refrigerate until firm, at least 2 hours or overnight.

Preheat oven to 325°F/160°C. Roll dough into 1 ½-inch (3cm) balls (I like to use

medium cookie scoop for that) and place 2 inches apart on baking sheets. Refrigerate for 20 minutes, then roll each ball in granulated sugar.

Bake until surfaces just begin to crack, 10 to 12 minutes, rotating the pan halfway through. Let cool 5 minutes. Transfer to a wire rack to cool completely.

Cookies are best the same day they are made, but can be stored in airtight containers at room temperature for up to 5 days.
Recipe adapted from Martha Stewart's Cookies