A simple recipe with stunning results, this easy apple cake with fresh apples is the perfect fall treat. Tender, moist and full of juicy apples in every bite, there's nothing simple about the taste of this cake.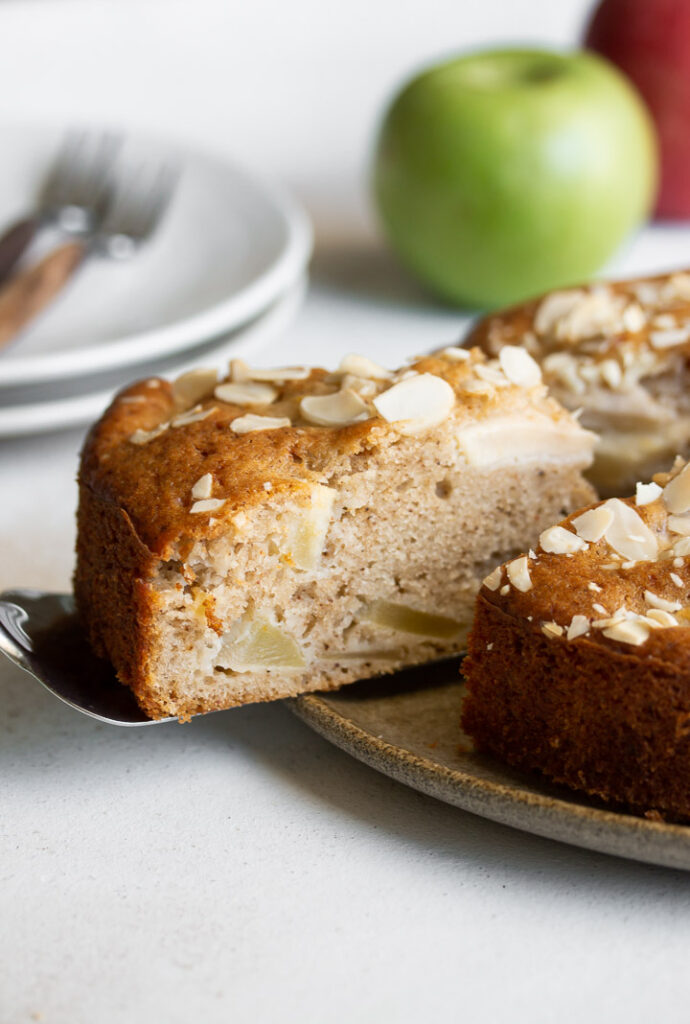 On busy days, which seems to be every day right now, there's nothing more comforting than a slice of homemade cake. A low-maintenance recipe seems to be all I can manage after spending days taking care of my daughter when she's not in daycare.
This easy apple and cinnamon cake tastes like fall, with its spiced batter swirled with chunks of fresh apple. It's the perfect recipe for last-minute gatherings, since it comes together in minutes and requires no special ingredients or tools. It's very similar to my other apple cake recipe, but uses oil instead of butter, which means you don't have to bring out the mixer. The oil also adds extra moisture that makes the apple cake even more tender.
I've played around with sugars in this apple cake and have found that using light brown sugar adds more moisture and compliments the flavors in the cake. Another great option is a combination of dark brown and granulated sugar (keep in mind that using dark brown sugar will give your cake a darker color). Or you can just use 1 cup granulated sugar. All taste great and will work perfectly fine in this recipe.
If you've taken a trip to an apple orchard and find yourself with too many apples on hand, this easy apple cake recipe is just for you. Way easier than apple pie (bookmark this one for Thanksgiving!), you'll have this recipe memorized before the apple season is over.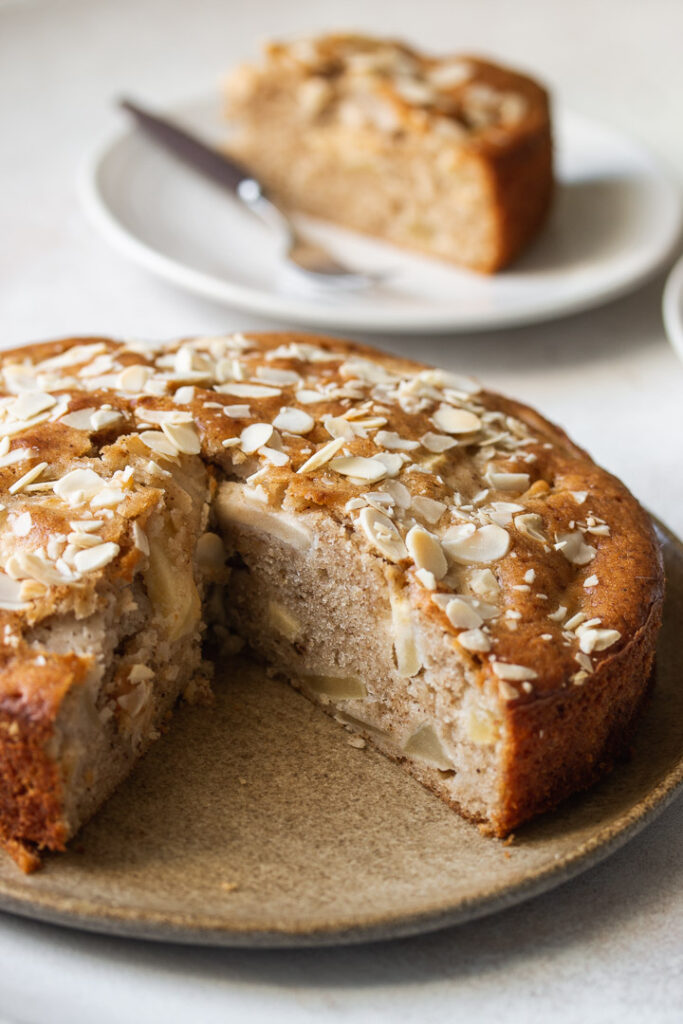 Preparing Your Apples
The most time-consuming step in this recipe comes before you've even started making the cake. The apples need to be prepared so they will cook evenly with the batter.
Just like in my guide for slicing apples for pie, you will want your apples to be peeled, cored, and thinly sliced (you can also cube them). This ensures an even bake for this easy apple cake and no uncooked or overly mushy apples.
Be sure to prepare your apples right before making the rest of this easy apple cake recipe. Apples tend to brown very quickly, which won't impact the flavor but doesn't look very pretty.
Pro-tip: preheat your oven when you start with the apples and it will be ready by the time you're finished mixing the batter.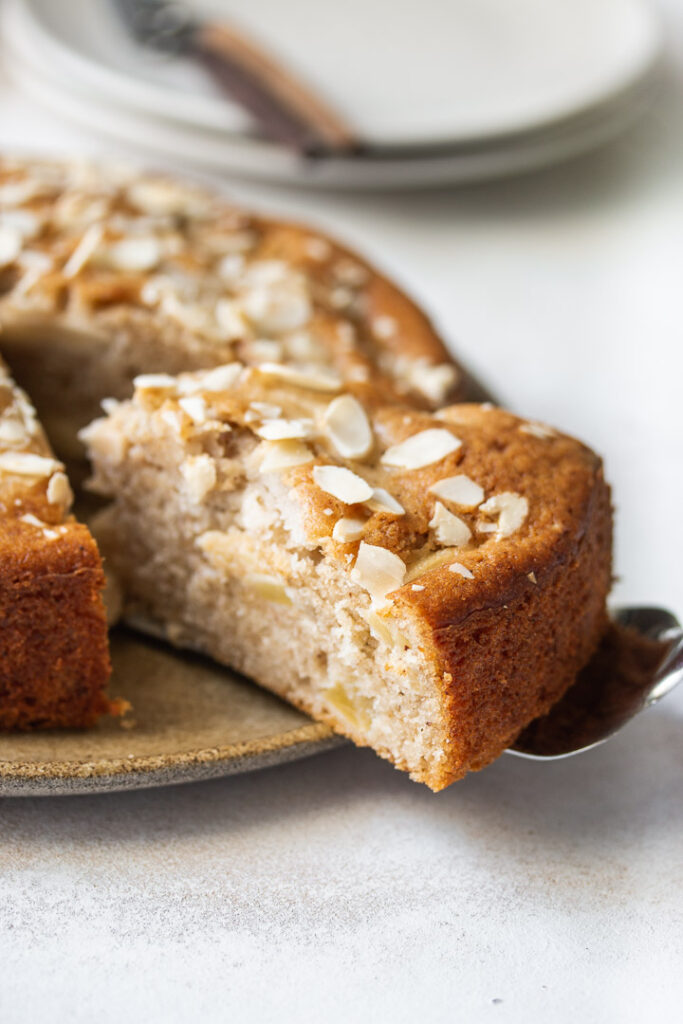 How to Make Easy Apple Cake
Now that your apples are prepped, the rest of this quick and easy apple cake recipe is only three steps long! If you haven't yet already, preheat your oven and grease and flour your 8″ or 9″ round springform pan.
Whisk together the dry ingredients in a large bowl and set this aside. In another medium bowl, whisk together the eggs and sugar until combined. Add in the oil, vanilla, orange zest (optional, but I love the aroma it gives the cake) and buttermilk (yogurt or sour cream is a good alternative), whisking again until combined.
Pour the wet mixture into the dry and fold using a rubber spatula. Finally, fold in the apples. Be careful not to stir too much. This is why I like to use a spatula for these last two steps as it helps prevent overmixing.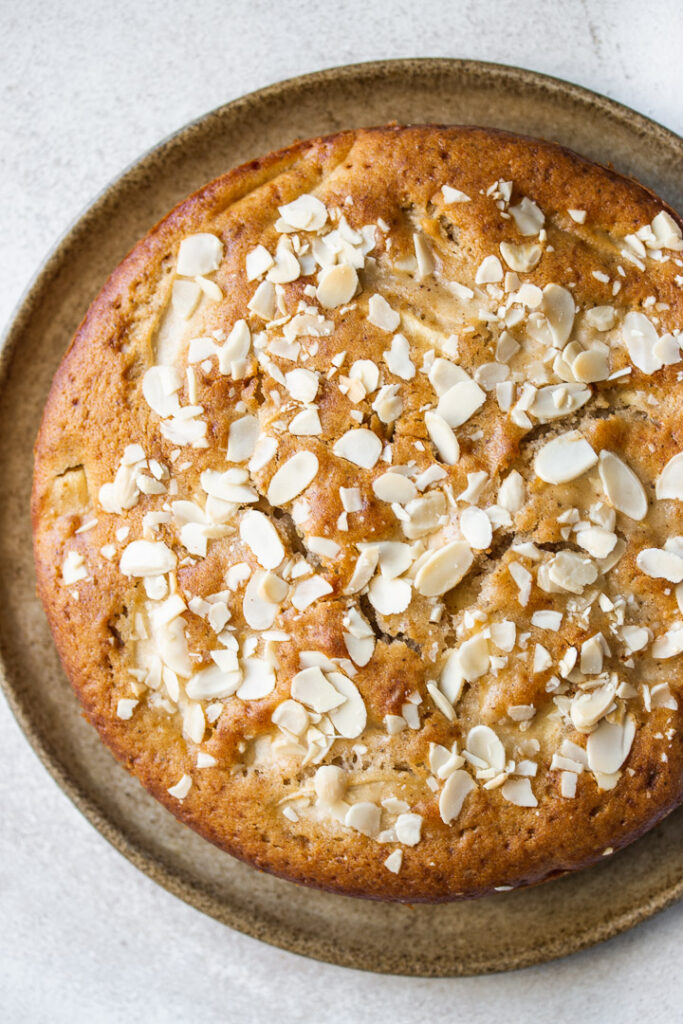 Scrape the batter into the prepared pan, smoothing down the top so no apples are sticking out (they could burn). Top with sliced almonds, if desired.
Bake the easy and quick apple cake for 35-45 minutes (20 minutes if making muffins), or until a toothpick comes out clean. Cool completely on a wire rack. You can serve this cake sprinkled with powdered sugar for a nice finishing touch.
You can eat the cake right away or store any leftovers in an airtight container on the counter or in the fridge.
In our house I can't resist eating this easy apple cake straight from the fridge, but it softens as it comes to room temperature. Everyone raves about this easy apple cake, not knowing how quick and easy it is to make! It's my secret weapon for fall baking and now I'm glad to make it yours as well.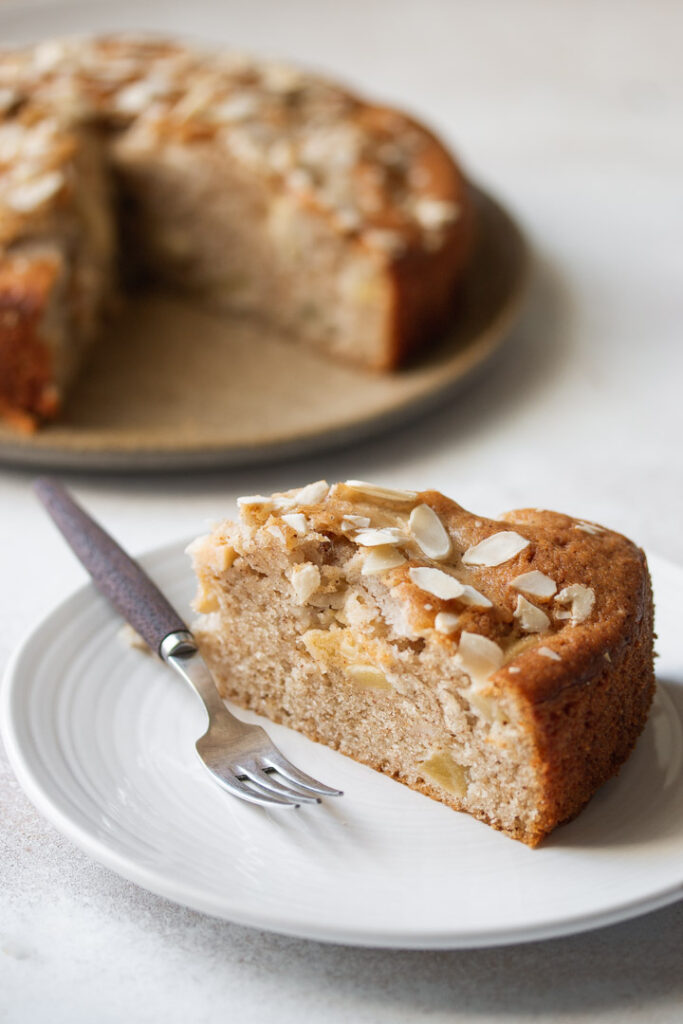 Other apple recipes: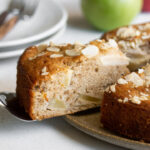 Easy Apple Cake
---
Ingredients
1 1/3

cups

(180g) all-purpose flour

1

teaspoon

baking powder

1/4

teaspoon

baking soda

1/4

teaspoon

salt

1

teaspoon

ground cinnamon

1/4

teaspoon

ground ginger

1/4

teaspoon

ground nutmeg (or cloves/cardamom – choose your favorite)

2

large eggs

1

cup

(200g) light brown sugar

1/2

cup

(120 ml) canola or other neutral oil

2/3

cup

(160ml) buttermilk

1

teaspoon

vanilla extract

1/2

teaspoon

orange zest

, optional

2

medium apples

, peeled, cored, and cut into ¼-inch thick wedges or cubes

Optional topping: sliced almonds, powdered sugar
Instructions
Preheat oven to 350°F/180°C. Grease and flour or line with parchment paper an 8-inch or 9-inch round springform pan (the smaller pan makes a taller cake).

In a large bowl whisk together flour, baking powder, baking soda, salt, and spices. Set aside.

In another medium bowl, whisk eggs and sugar until combined. Add oil, buttermilk, vanilla extract, and orange zest, if using, and whisk until combined. Add the mixture to the flour mixture and fold using a rubber spatula just until combined. Fold in apples.

Scrape batter into prepared pan and smooth the top. Top with sliced almonds, if desired. Bake for 35-45 minutes, or until a toothpick inserted into the center of the cake comes out clean. Place pan on a wire rack and allow to cool completely. To serve, sprinkle with powdered sugar, if desired.

Store cake at room temperature in an airtight container for up to 3 days or refrigerate for up to 5 days (the cake is delicious straight from the fridge but it's softer if served at room temperature). Cake can be frozen for up to 2 months.