This homemade pumpkin spice latte is absolutely incredible, so skip the line at Starbucks! The combination of warm fall flavors and brown sugar combined with espresso or coffee makes a warm and cozy fall and winter drink you're going to love.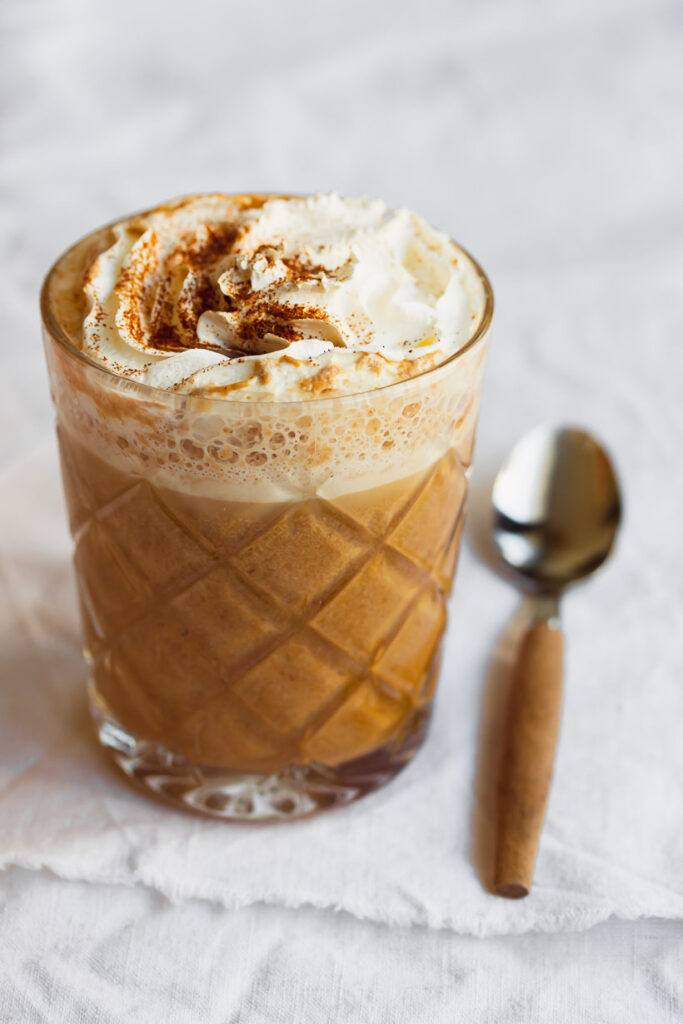 I have to admit, the first time I ordered a pumpkin spice latte from Starbucks one trip to New York, I was skeptical. Having not grown up with any pumpkin desserts or flavored coffees (even pumpkin pie was foreign to me), it sounded strange. But as soon as I took my first sip, I realized what I had been missing.
I loved the sweet, almost caramel flavor combined with the delicious flavors of pumpkin spice. As I strolled through Midtown sipping my latte, I felt so incredibly cozy and peaceful. The air was cool and crisp and the leaves were changing colors, and I knew I had found my new favorite fall beverage.
Unfortunately back home, we don't have Starbucks or pumpkin spice lattes. But I knew I wanted to recreate the magic I experienced in New York, so I created my own pumpkin spice latte recipe that tastes like the Starbucks version – but better! That way, I can get my fix anytime I have a craving. And with cold, winter days ahead, I can't wait!
Pair it with other fall and winter treats, like pumpkin muffins, pumpkin scones, or apple pie bars.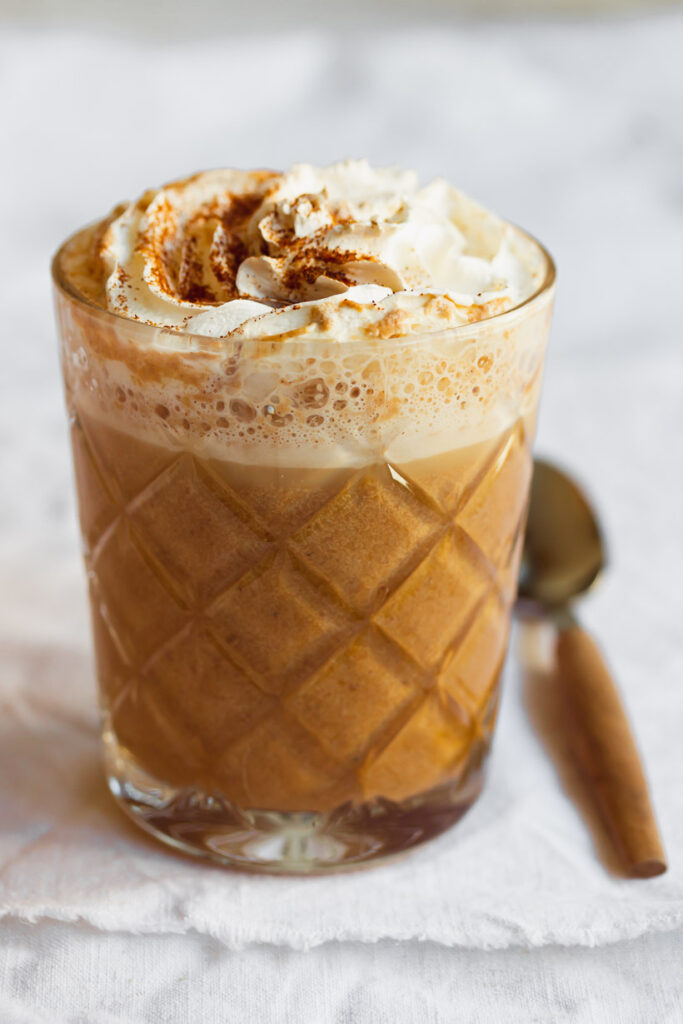 Pumpkin spice latte ingredients
This recipe uses pumpkin puree and pumpkin spice mix to really drive the pumpkin flavor home. Here's what you're going to need for 2 lattes:
Pumpkin puree
Pumpkin spice mix (save the rest for pumpkin creme brulee or pumpkin cupcakes)
Light or dark brown sugar
Pure vanilla extract
Milk of your choice. I prefer whole milk, but you can use any milk you like. To make it vegan, almond or oat milk work great.
2 shots brewed espresso or ½ cup (120 ml) strong coffee
Whipped cream (optional)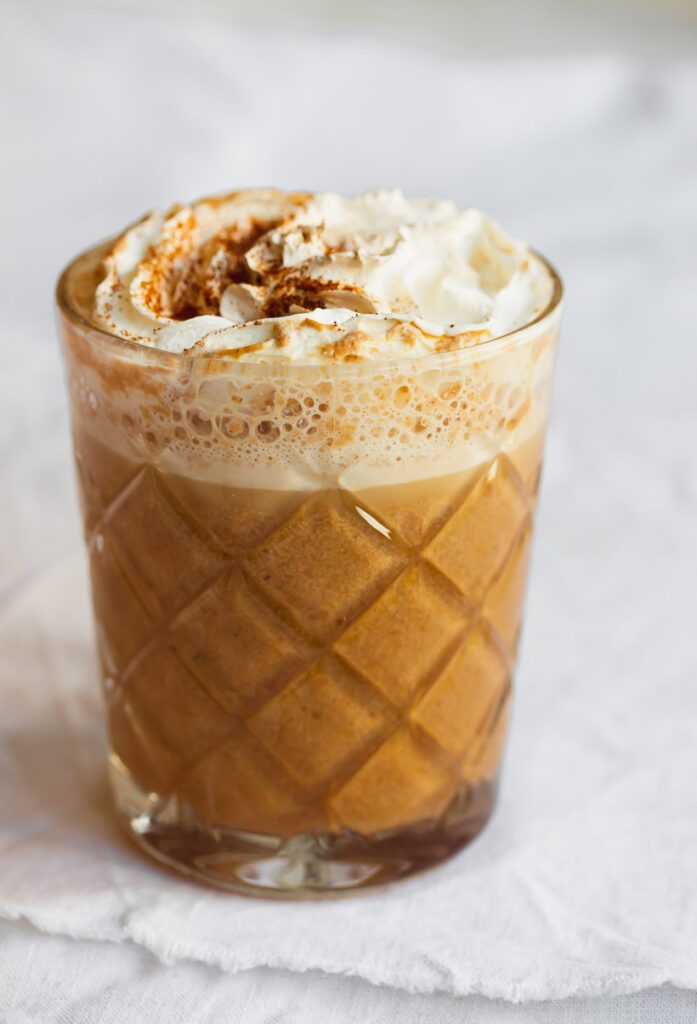 How to make the perfect pumpkin spice latte
Place all ingredients in a medium saucepan.
Heat together, mixing frequently until the sugar is dissolved and the liquid is very hot.
Optional: use an electric, handheld frother to aerate the latte.
Divide between two mugs and top with whipped cream and a dash of cinnamon, if desired.
Tip: Feel free to add more or less of each ingredient, depending on how you like your latte. Add more coffee if you like it stronger, or less sugar if you prefer it less sweet.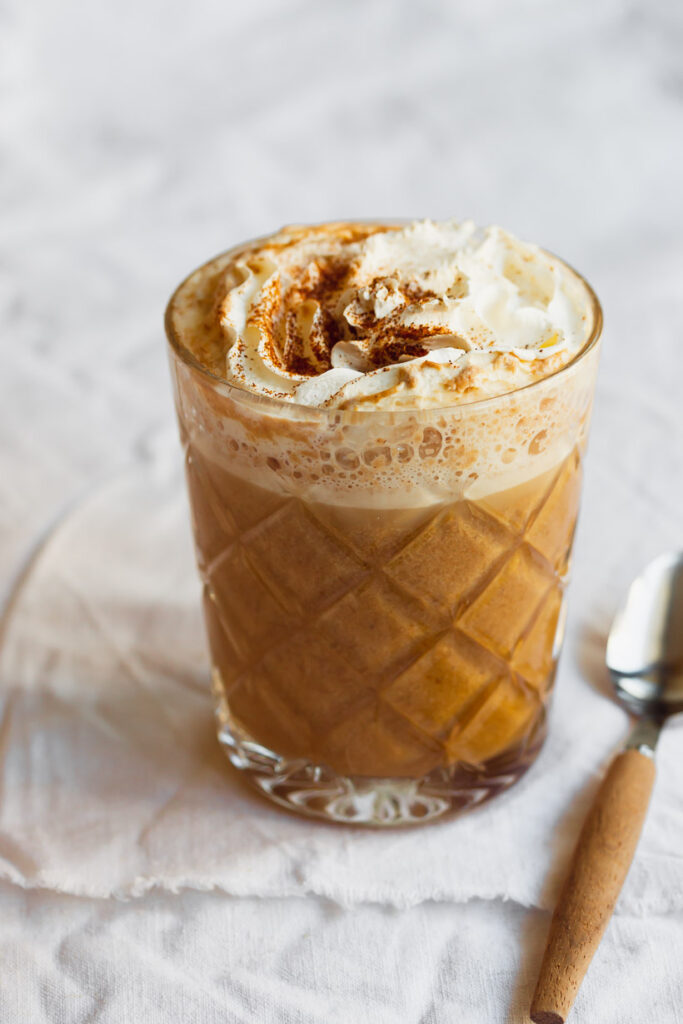 Frequently asked questions
What kind of milk should I use for my pumpkin spice latte?
You can use any type of milk you like. I personally prefer using whole or 2% milk because I like the richness of them, but any kind of milk will work. To make your latte vegan, try using almond or oat milk.
Can I use regular sugar instead of brown sugar?
Regular sugar will work in this recipe, but brown sugar contains molasses which, in my opinion, tastes better with the pumpkin flavors.
How can I substitute regular coffee for espresso?
No espresso machine? No problem. Simply brew a strong pot of coffee by brewing 2 tablespoons of coffee to 6-ounces of water. This will make enough coffee for two lattes (½ cup/4oz), with a bit left over if you want to make your latte stronger.
Do I need a frother?
This pumpkin spice latte can be made without a frother. You can simply heat all the ingredients together in a saucepan and pour directly into a mug and enjoy (I highly recommend the whipped cream, though:)!
Check out my post on my favorite pumpkin dessert recipes for more amazing fall and winter desserts.
More of my favorite warm and cozy drinks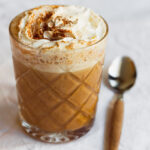 Pumpkin Spice Latte
This warm and cozy pumpkin spice latte is the perfect drink, especially as the temps start to cool. Top it with whipped cream and a dish of cinnamon and you'll be in pumpkin spice heaven.
Ingredients
2

cups

(480 ml) milk of your choice

¼

cup

light or dark brown sugar, plus more depending on how sweet you like your latte

¼

cup

pumpkin puree

½

teaspoon

pumpkin spice mix*

1

teaspoon

pure vanilla extract

2

shots

espresso or ½ cup (120 ml) strong coffee

Whipped cream

for topping, optional
Instructions
Place all of the latte ingredients into a medium saucepan and mix together. Stirring constantly, heat the mixture on medium-heat until the sugar is dissolved and the mixture is very hot.

Optional: Use a handheld frother to gently aerate and foam the latte mixture.

Divide between two mugs. Top with whipped cream and a dash of cinnamon or pumpkin spice mix, if desired.
Recipe Notes
*If you don't want to make an entire batch of pumpkin spice mix, substitute ¼ teaspoon ground cinnamon plus a pinch of each of the following:
Ground ginger
Ground nutmeg
Ground allspice
Ground cloves
–Feel free to add more or less of each ingredient, depending on how you like your latte. Add more coffee if you like it stronger, or less sugar if you prefer it less sweet.